A Guide to The Wakayama Dentetsu-Kishigawa Line - Famous for Tama the Cat Station Master!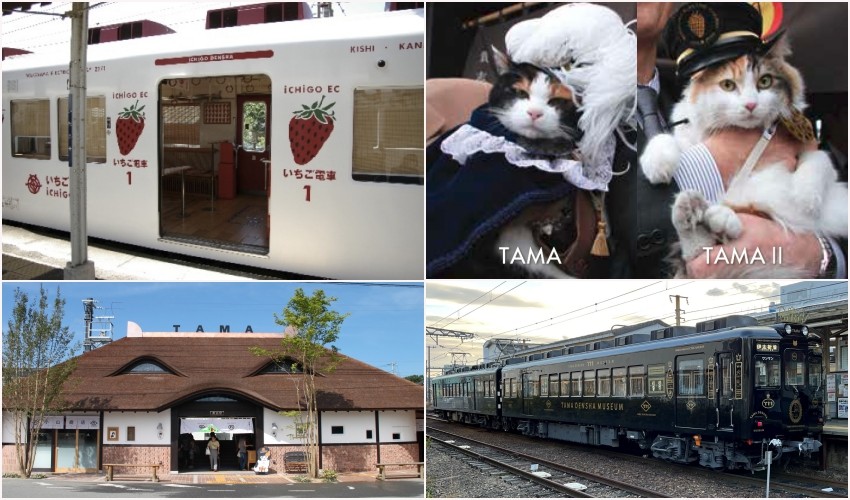 The Wakayama Dentetsu-Kishigawa Line is a famous train line in Japan for things such as having a cat stationmaster, a unique "strawberry train", and more. Where can you ride this interesting train line? When and where can you meet these cat station masters? Make sure to use this article during your next trip to Japan when planning ahead!

About The Wakayama Dentetsu-Kishigawa Line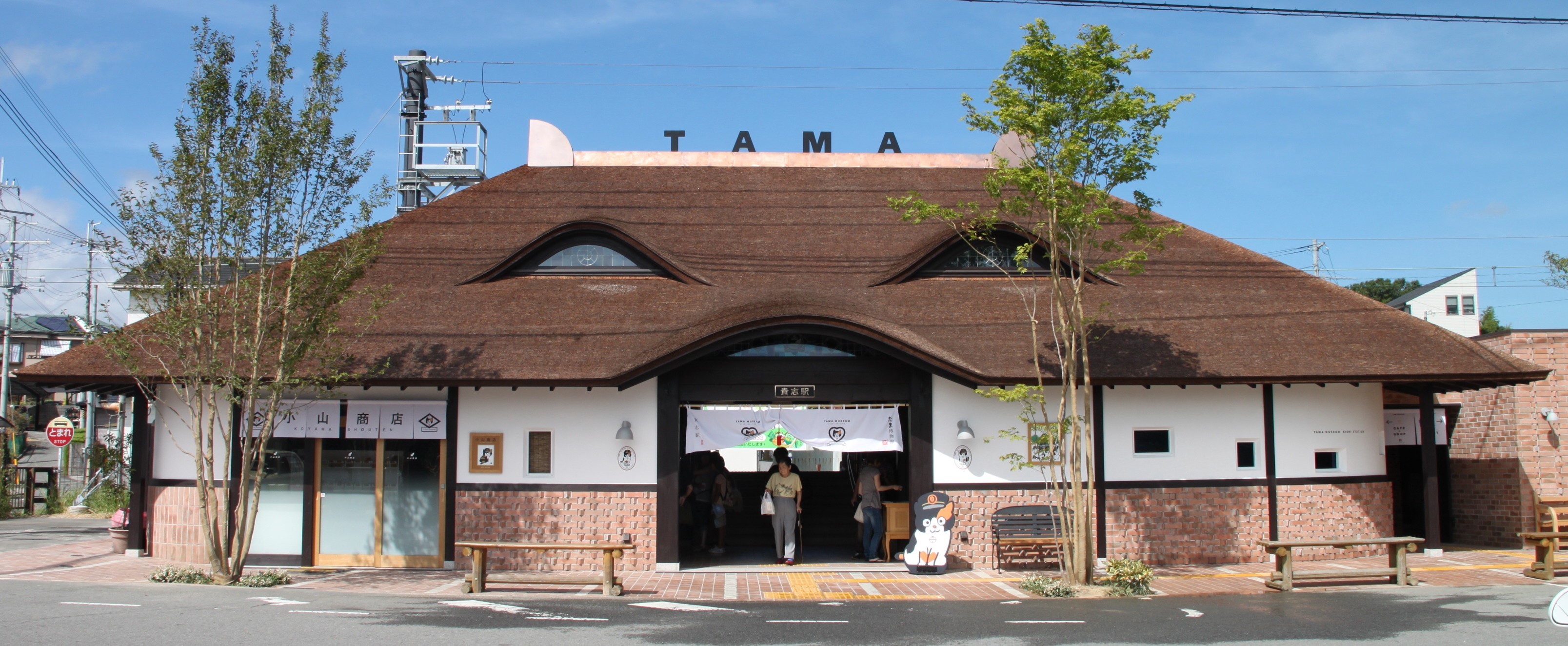 The Wakayama Dentetsu-Kishigawa Line is based in the Kansai region, Wakayama Prefecture. It's a local line that heads east from Wakayama Station to the more tranquil zones within the prefecture. To reach Wakayama Station you're looking at a 1 1/2 hour ride from Osaka Station, or a 40-minute ride from Kansai International Airport making it extremely easy to access.

Reaching Wakayama Station from Osaka
You can reach JR Wakayama Station from JR Osaka Station in a single train ride. You just need to ride the Osaka Loop Line Nishikujo bound Kishu-Ji Express. It's important to ride somewhere between cars 5 and 8 during your journey. If you're wondering why it's because part of the train will split during its journey at Hineno Station where cars 1 through 4 will begin heading towards Kansai International Airport.

Reaching Wakayama Station from Kansai International Airport
The most convenient has to be the airport limousine bus which is JPY 1,200 for a one-way trip lasting approximately 40 minutes. If you want to go by train, you can take the Kansaikuko Line from JR Kansai-Airport Station heading for Hineno Station, then finally use the Hanwa Line to reach Wakayama Station.

Riding the Wakayama Dentetsu-Kishigawa Line & Route Guide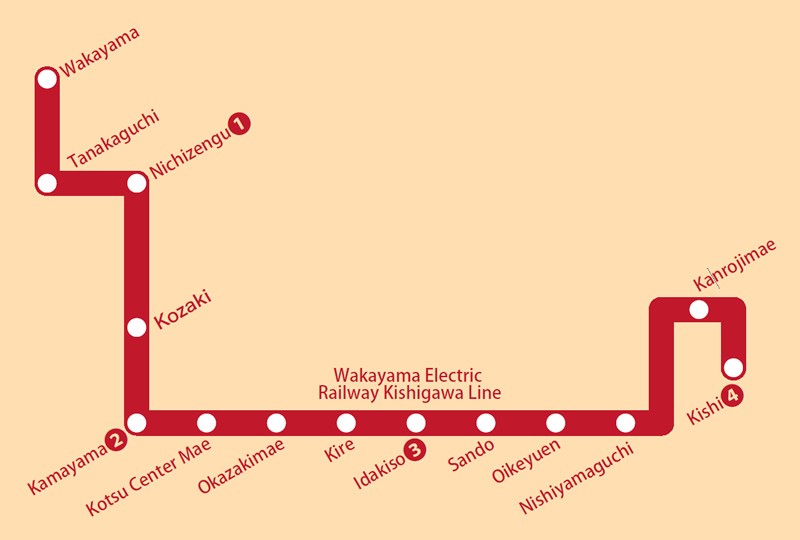 It's possible to transfer within Wakayama Station, and there are 9 total platforms from which you can ride the Kishigawa Line.
You can buy tickets for the Kishigawa Line within platform 9. Unfortunately, you can't use IC cards here, so don't forget to bring some cash!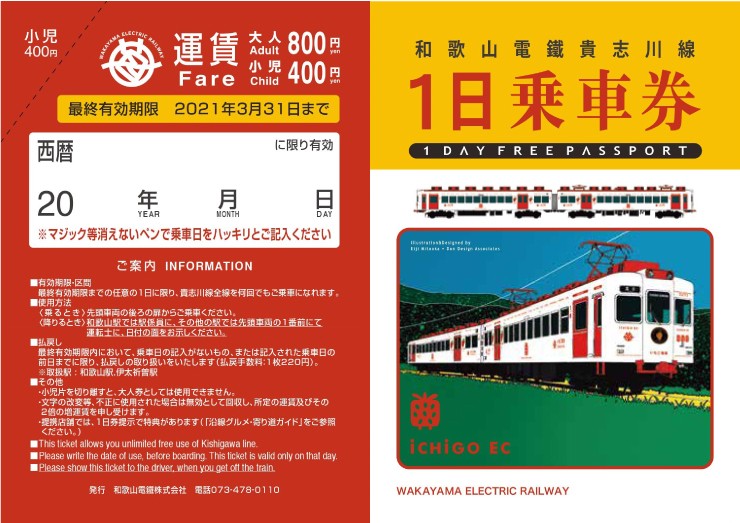 You're also able to purchase a 1-day pass that goes for JPY 800 for adults and JPY 400 for children. It's JPY 410 from Wakayama Station to Kishigawa station for a one-way trip meaning the 1-day pass is extremely good value for money. They're sold on platform 9 at Wakayama station.

All About Tama the Station Master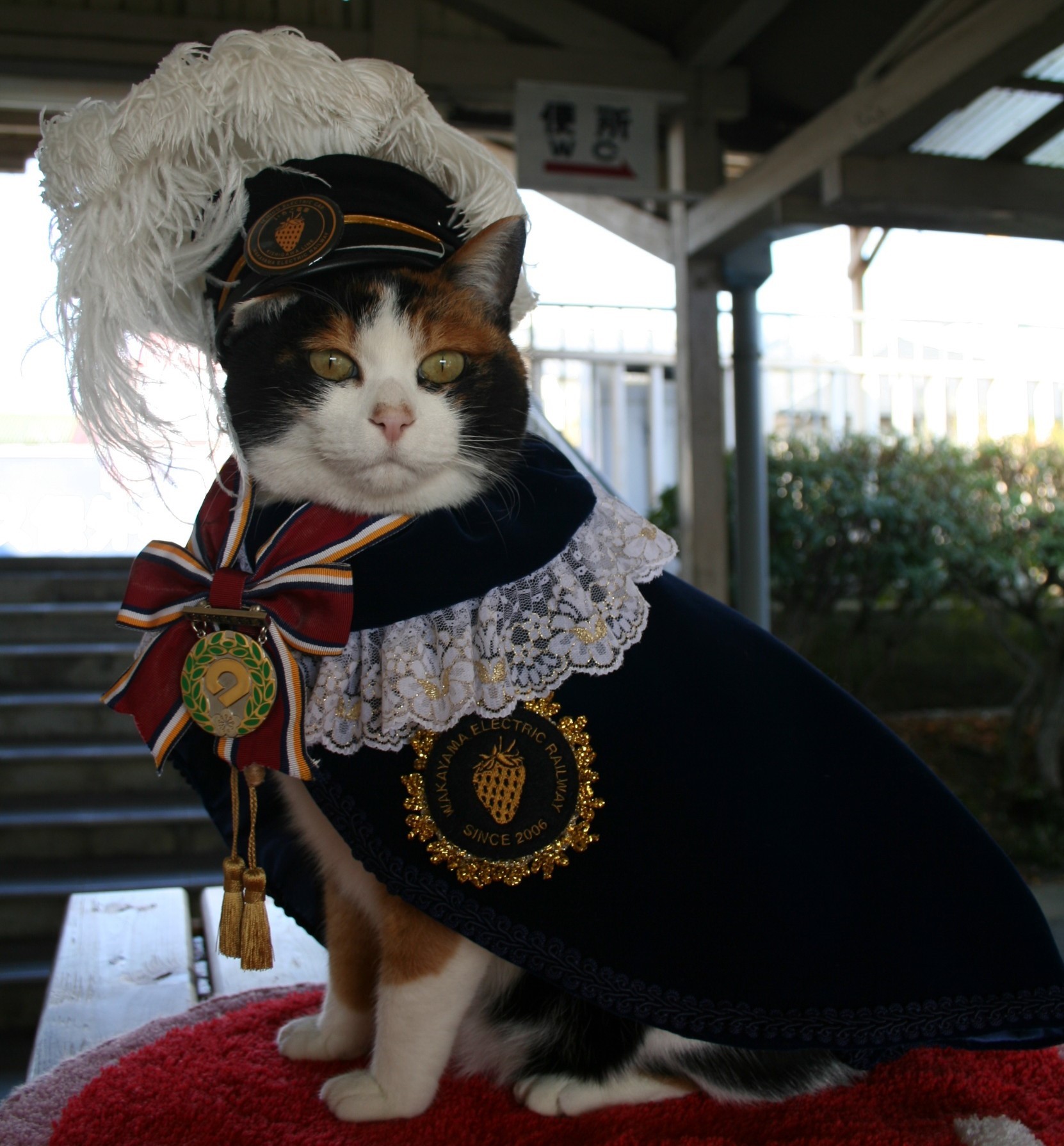 The reason behind the Wakayama Dentetsu-Kishigawa Line being known around the world is thanks to Tama the cat station master. She once lived at the neighboring store, but eventually became known as the World's first cat station master in January 2007, slowly but surely becoming a worldwide superstar. Unfortunately, Tama lost her life in 2015 but was appointed eternal station master, with ultra station master Tanima and super station master Yontama still working to this day.

If you want to learn even more about Tama the station master, check out the article linked below!
→ The Story of Tama the Station Master - Japan's Most Famous Cat Station Master
How to Meet the Cat Station Masters?
There are currently 2 cats working for the Kishigawa Line. Here are their working schedules below! (Information accurate as of January 2022)

| | | | |
| --- | --- | --- | --- |
| Name | Place of Work | Holidays | Time |
| Tanima | Kishi Station | Wed / Thu |  10:00~16:00 |
| Yontama | Idakiso Station(Kishi Station on Wed / Thu) | Mon / Fri |  10:00~16:00 |
Tama Train, Ichigo (Strawberry) Train.... 

Wakayama Dentetsu-Kishigawa Line's Unique Trains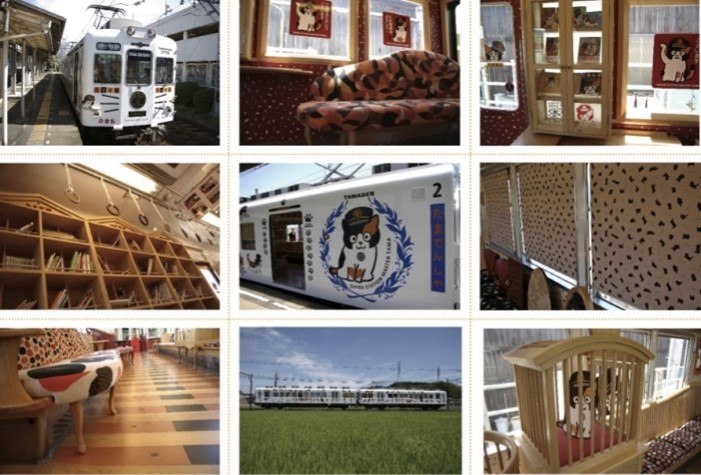 Wakayama Dentetsu-Kishigawa Line has many unique trains running along its tracks all with their own unique concept. the "Tama Train" is dedicated to 101 cute cat station masters running rampant, sleeping, and relaxing throughout the cars. The straps for the seats are the same 3 colors as Tama herself, with the seats themselves being unbelievably colorful. You're sure to lose track of time while waiting to reach your destination taking pictures of everything to be found!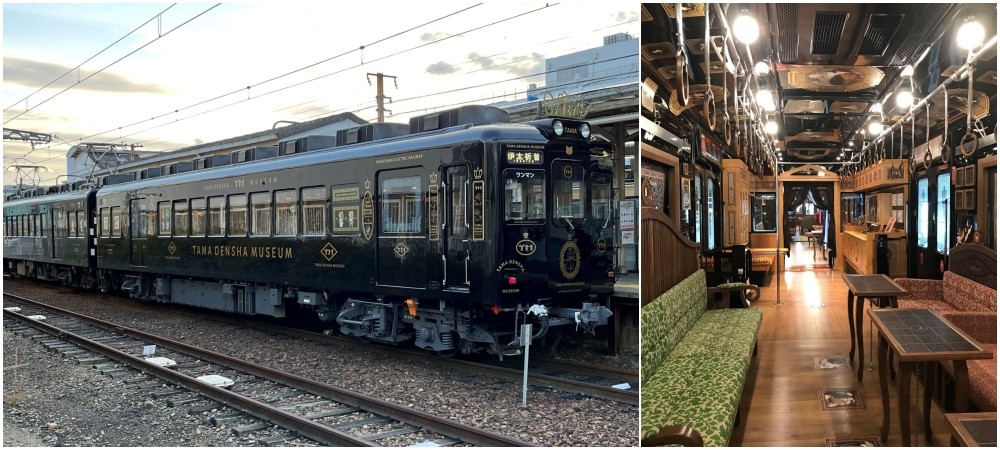 In December 2021, the Tama Densha Museum made its debut. It's covered from floor to ceiling with over 777 different illustrations and objects dedicated to teaching visitors the history of trains, you're sure to find something new every time you visit.

Furthermore, you have the train dedicated to dealing with the abundance of delicious strawberries that are harvested around Kishi Station, the "Ichigo Train", as well as the "Umeboshi Train" which has a motif and concept of Wakayama's world-first level Japanese apricots "Nanko Ume", and even trains that show the appeal of special products from all across the surrounding regions. It's sure to be a fun trip checking out everything to see and do.

To check which train you can ride and when, let's look at the Wakayama Dentetsu-Kishigawa Line timetable (English Only).

→ https://www.wakayama-dentetsu.co.jp/timetable/mobileE/
DESIGNED BY EIJI MITOOKA + DON DESIGN ASSOCIATES
Kishi Station's "Tama Station Village" Shop & Cafe
Kishi Station Tama Cafe
With an original menu that has Tama the station master as its motif, this cafe offers light food and drinks to visitors. The menu contains items such as a "Gelato Sandwich Set" (JPY 580), A Hotdog that's actually a... "Hot Cat"? (JPY 360) and more!

Business Days: Open All Year ※Closure for Maintenance(Irregular)
Business Hours:10:00~16:00
Kishi Station Tama Shop
Here you'll find some cute items made in the image of Tama, Tanima, and Yontama. You can also pick up a 1-day pass and other tickets.

Business Days: Weekends & Holidays Only(For Information on Long Holiday Periods, Please Check Official Website)
Business Hours:11:00~16:00
Some Famous Sights Alongside the Wakayama Dentetsu-Kishigawa Line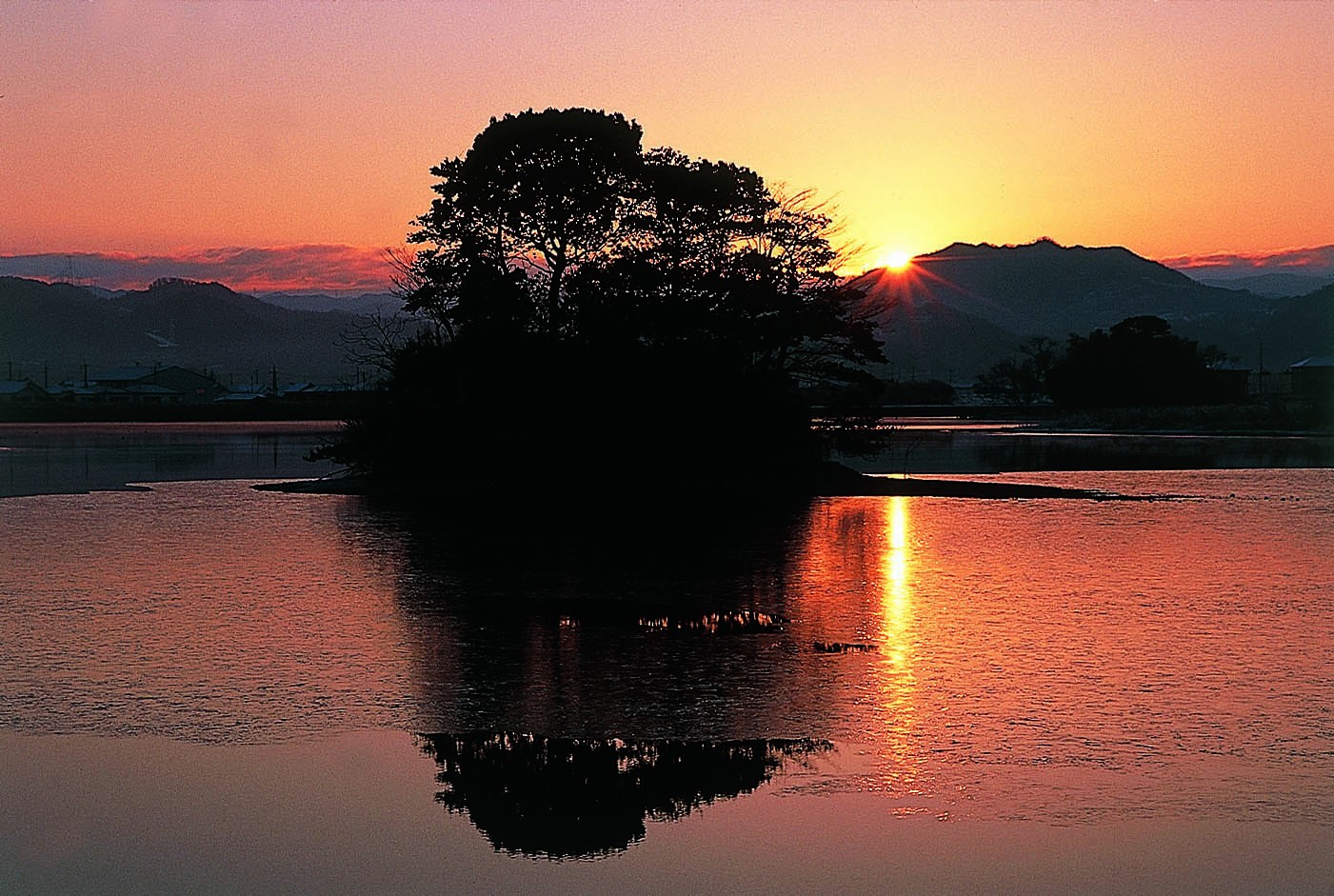 The Kishigawa Line is not only known for Kishi Station! There are places such as Hiraike Ryokuchi Park which are known as the "Paradise of Wild Birds" close to Kanroji-Mae Station, Cherry Blossom trees, Azalea, beautiful autumn leaves at Oikeyuen (Oikeyuen Station), and more. Don't forget, if you're visiting in Winter, the area is famous for its strawberries, so make sure to go and try picking some for yourself.

Wakayama Dentetsu-Kishigawa Line Kishi Station Information
Address:Kishigawacho Kodo, Kinokawa, Wakayama
Cautions: No Car Park
[Survey] Traveling to Japan
Recommend