Beautiful Beaches in Wakayama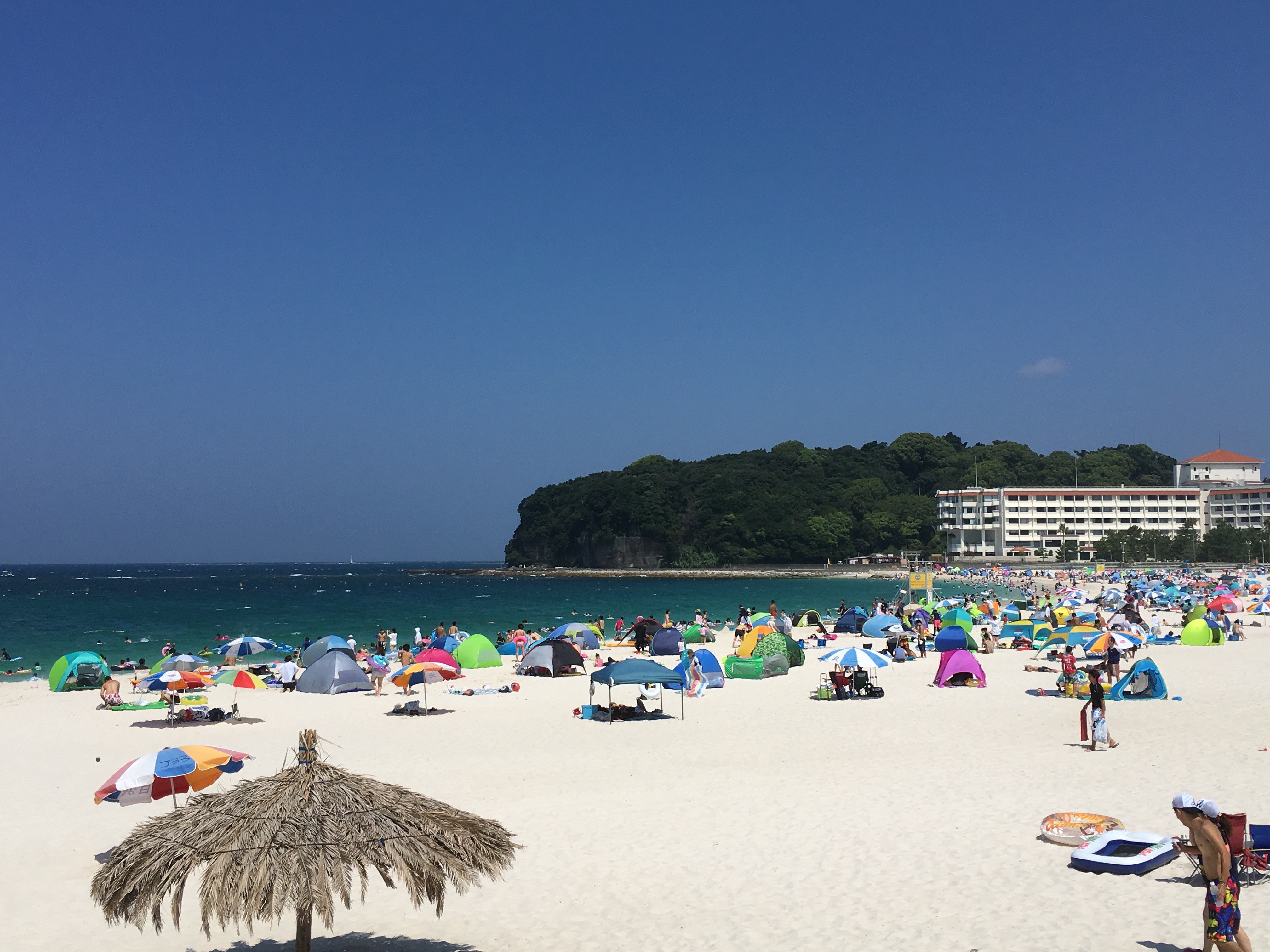 Wakayama is primarily known for its ancient forests, mountain ranges and sacred sites, but it is also home to some of Japan's most popular beaches. As home to the Kii Peninsula - the largest peninsula of Japan's main island Honshu, it has a mix of landscapes, from the ancient forests of the Kii mountain range to the white sands of Shirarahama. One of the most popular beach resorts in Japan, Shirahama town is easily accessed from Osaka and is known for firework displays, traditional hotel resorts and is even paired with Hawaii's Waikiki Beach!

Shirarahama Beach in Wakayama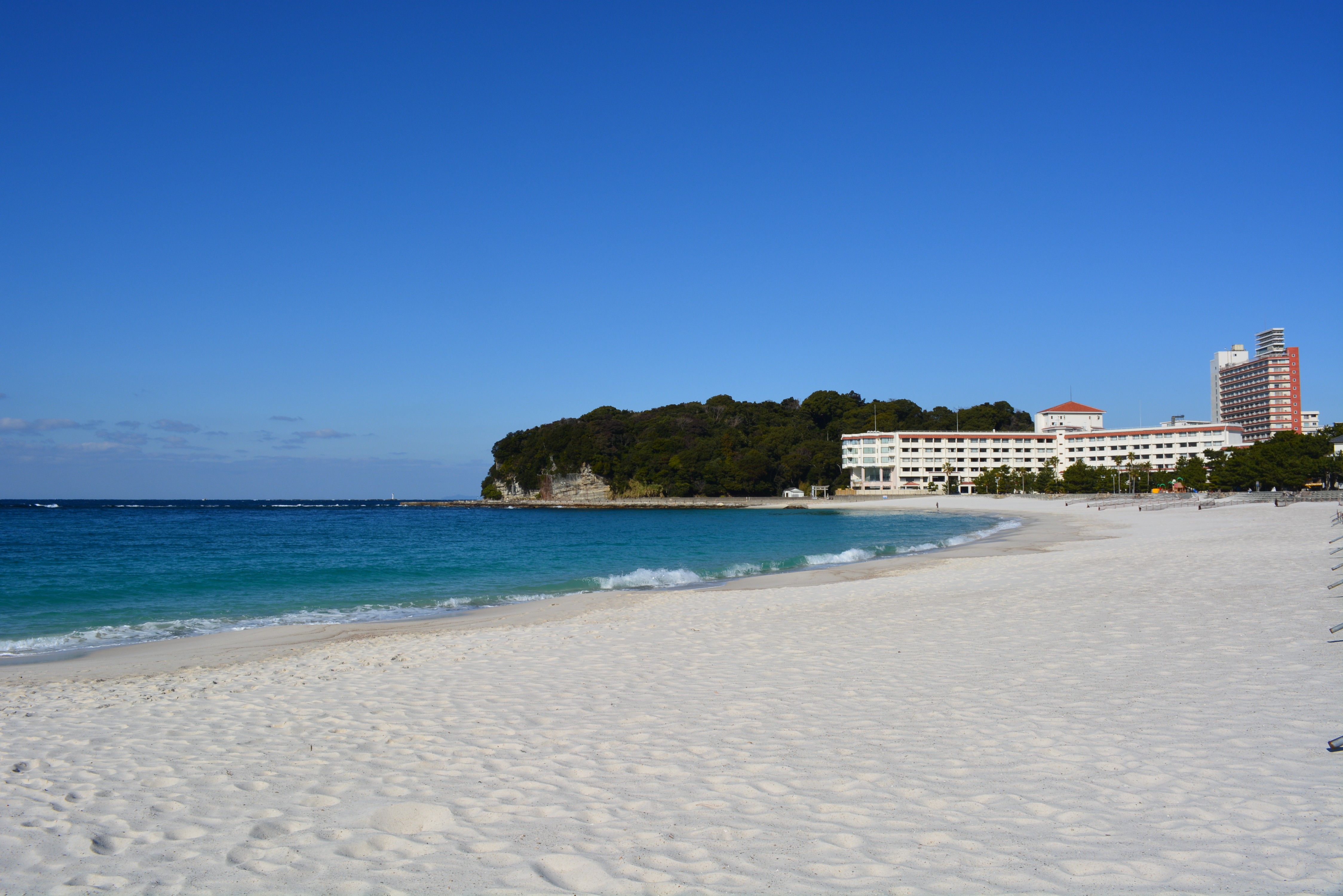 More than just a beach, Shirarahama is found in the delightful resort town of Shirahama, filled with hotels and onsen to relax in. Meaning 'white beach', Shirarahama is more than 600m long and has some of the finest sand in the region, as 90% of the beach is quartz. The curve of the bay means calm waters and it's known for having some sand imported from Australia in 1980, when the original sands were washed away by typhoons.
Dotted with palm trees and looking out onto emerald seas, it's a picture-perfect spot for a getaway. Given its beautiful scenery, it's no surprise that its sister beach is the stunning Waikiki Beach of Hawaii, and a handy alternative if you don't have time for the 8-hour flight.
Where is Shirarahama Beach?
Shirarahama Beach is located on the south coast of Wakayama, on the Kii Peninsula. It's around 100km away from Osaka, making it a great overnight escape from the neon city. One important tip is not to confuse Wakayama's Shirarahama beach with the others dotted across Japan. Izu's Shirahama beach in Shizuoka is a popular 800m stretch of sand which is closer to Tokyo.
How to get to Shirarahama Beach
If arriving by train you can head to Shirahama Station on the JR Kisei or JR Kuroshiro Lines and catch a local bus to Shirahama Bus Station, which takes around 10 minutes and cost around 300 yen per person. The bus station is right beside the beach and many of the area's popular hotels. It is also close to the Nanki-Shirahama Airport, which has shuttles into the city and towards the beach for visitors which take 15 minutes.
From Osaka: There are regular Limited Express trains from Shin-Osaka to Shirahama which take two hours and twenty minutes, costing just over 5,000 yen (unreserved).
From Kyoto: From Kyoto you can take a shinkansen to Shin-Osaka in 14 minutes costing just over 3,000 yen (covered if using a JR Rail Pass) or a regular rapid train taking 20 minutes and costing 570 yen. From there you can catch the same hourly services to Shirahama.
From Wakayama: If you are traveling from Wakayama city you can catch the same Limited Express service that starts in Osaka. The journey takes one hour and costs just over 2,000 yen.
Beach Activities to Enjoy in Shirahama Town
As well as sunbathing, snorkeling, swimming and surfing, there are some more unusual activities to enjoy in Shirahama. No Japanese summer is complete without fireworks, and what better way to soak you surf-weary muscles than a dip in a hot-spring?
Hot Springs in Shirahama Town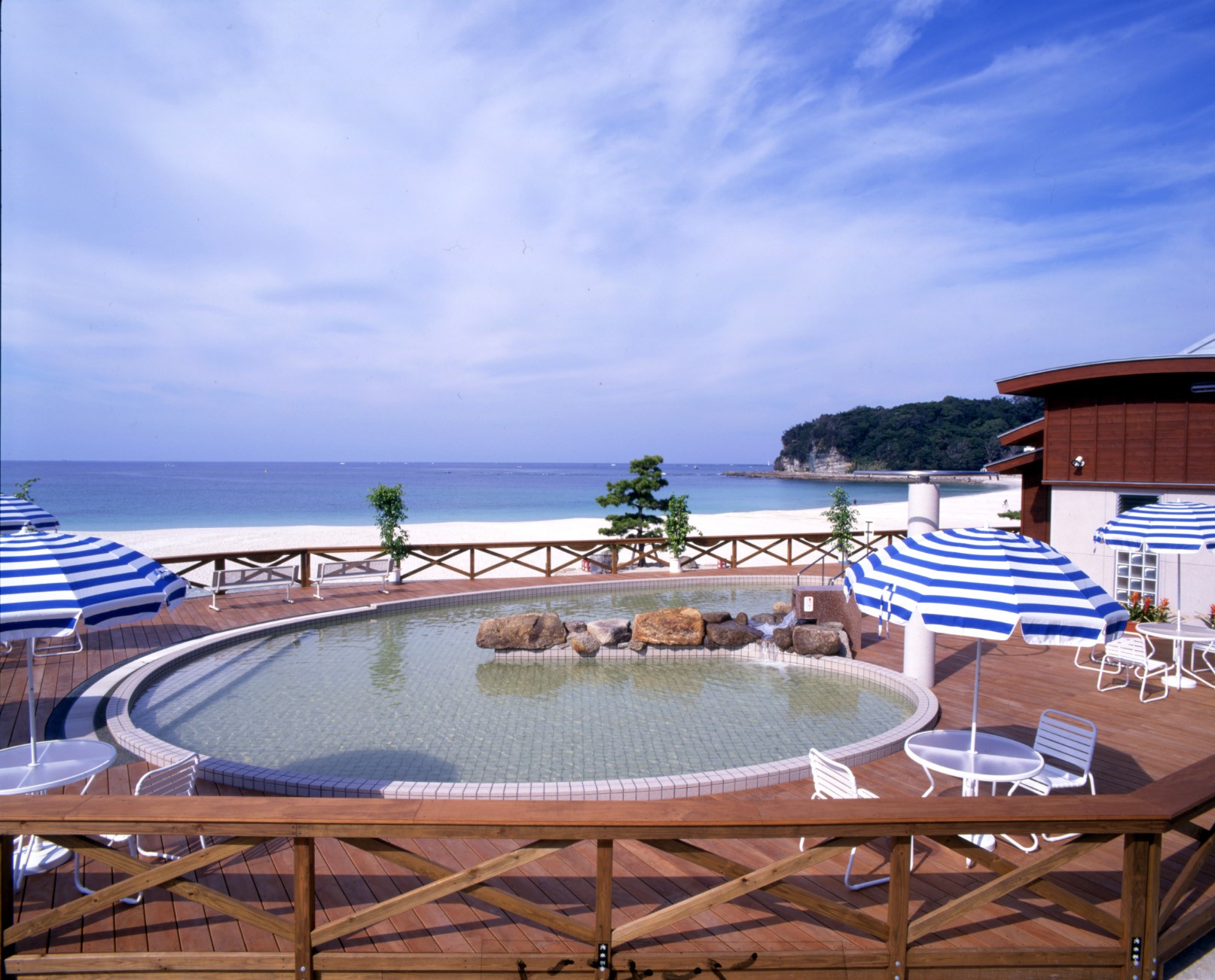 As well as having white sandy shores, Shirahama town happens to be one of Japan's 'three ancient hot springs'. Named in historical texts dating back to the 7th century, its waters are used for hotel baths as well as public ones, with free footbaths dotted around the city and even a museum dedicated to hot-spring history. The waters are sodium chloride, simple hypertonic or alkalescent hypertonic springs and can be good for muscle pain, joint pain, improving blood flow and aiding skin problems.
There are six bathhouses with hot springs open to the public, but only two have outdoor baths:
Shirasuna is located beside the beach and can hold up to 100 people. As it is a mixed bath and not enclosed, swimsuits are required - unlike most hot springs in Japan. It costs 200 yen to bathe in the summer months but is free between October and April. It is open from 10am - 3pm and until 6pm in July and August but is closed on Mondays.
Sakinoyu is also beside the sea and dates back over 1,000 years. It's open from 8am - 5pm with later hours during summer months, and costs 500 yen per person.
Fireworks in Shirahama Town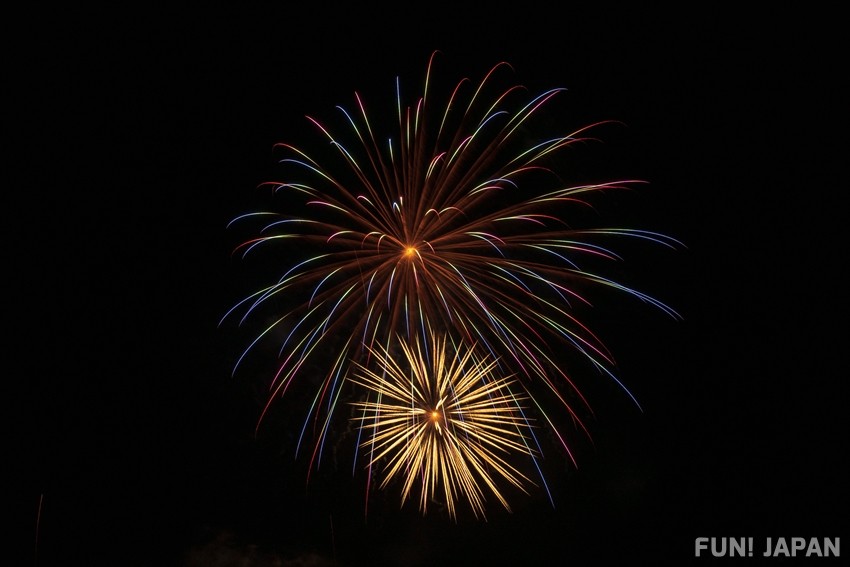 Every night in summer, Shirahama's skies are illuminated with impressive firework displays. For July and most of August, small displays take place each night, wth a few nights hosting larger displays. On July 30th around 3,000 rockets are fired, with the largest event held on August 10th. This evening holds the famous Niagara Falls display. There are festival stalls, delicious street-food snacks and a great summer atmosphere, so while it will be busy, it's a great time to visit Shirahama town. Please note that as in 2020, some events scheduled to be held in 2021 may be canceled due to the Covid-19 pandemic.
Fresh Fish Market in Shirahama Town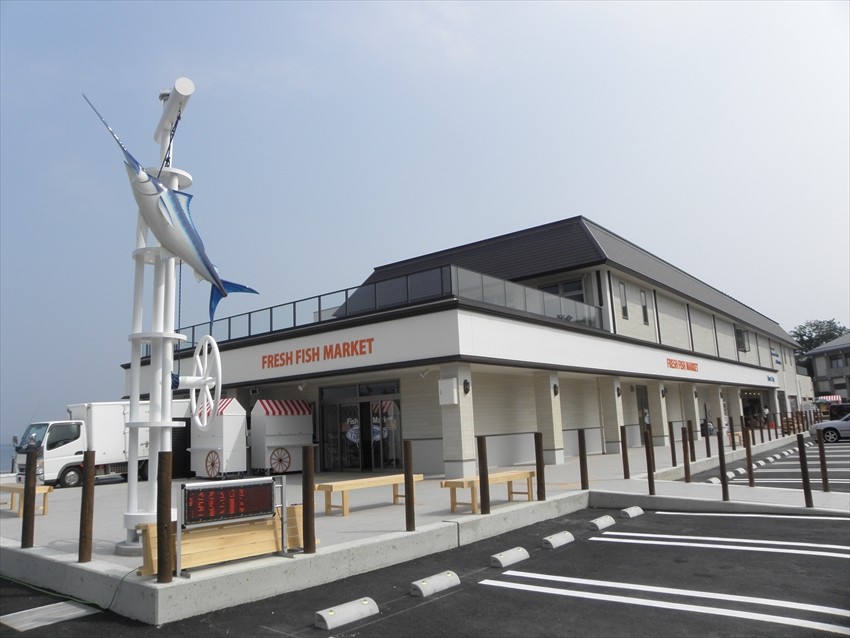 While Tokyo's fish markets may be famous, Shirahama town is actually home to one of the largest in Japan. Fresh Fish Market is run by the local fishermen's cooperative and have incredible displays of the local catch as well as fish from across Japan. There are restaurants serving sashimi, rice bowls and all kinds of delicacies as well as stallholders with great recommendations for your beachside supper or barbecue.
Spot Information
Name: Fresh Fish Market (フィッシュマーケット)
Address: 1667-22, Shirahama, Nishimuro, Wakayama
Access: The market is located to the south of Shirarahama beach, in the Fisherman's Wharf. It is a 10-15 minute walk from Shirarahama Beach with Muro Onsen along the way.
Best Beach Hotels in Shirahama Town
There are dozens of hotels to choose from in this resort town, but these are some of the most popular.
Nanki Shirahama Marriott Hotel: A Luxury Stay
One of the more up-market options in the area, the Marriott offers a class stay complete with hot springs, fine dining and great sea-views. It is only 150m from the south end of Shirarahama beach, meaning it's close to the fish market as well.
Spot Information
Name: Nanki-Shirahama Marriott Hotel
Address: 2428 Shirahama, Wakayama, Japan
Rates: From 10,000 yen per room
Shiraso Grand Hotel: A Family-friendly Resort
One of the largest resorts in Shirahama town, the Shiraso Grand Hotel has great value rooms with plenty of facilities. It is right beside the north section of Shirarahama beach and offers waterside views in many of its rooms. Guests can choose from Japanese or Western rooms with outdoor hot springs, an outdoor pool and private, reservable hot spring available as well.
Name: Shiraso Grand Hotel (白良荘グランドホテル)
Address: 2428 Shirahama, Wakayama, Japan
Rates: From 10,000 yen per room
Yado Musashi: A Japanese Ryokan
A traditional Japanese ryokan, Musashi has stunning beach-view rooms with traditional Japanese futons or Western-style beds. The hotel hot springs are large and beautifully designed with indoor and outdoor sections. There is a Japanese and Western buffet available and a restaurant serving local specialties.
Spot Information
Name: Yado Musashi Ryokan (紀州・白浜温泉むさし)
Address: 649-2211 Shirahama, Wakayama, Japan
Rates: From 11,000 yen per room
More Great Beaches in Wakayama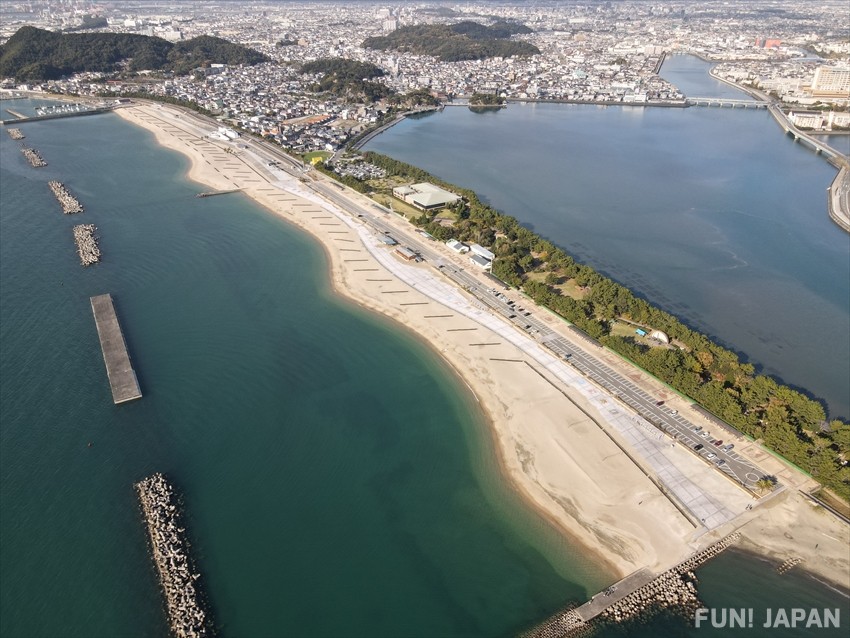 While Shirarahama beach is the go-to for most people visiting Wakayama, there are plenty of other great beaches to visit. Some of the best are located around Wakayama city, meaning you don't have to travel too far when looking for that beach escape.
Isonoura Beach
A sandy beach with palm trees, Isonoura Beach is a holiday getaway to the northeast of Wakayama city. The beach is popular with surfers, swimmers and families with plenty of space.
Spot information
Name: Isonoura Beach (マリンパーク磯の浦)
Address: Isonoura Beach, Isonoura, Wakayama, 640-0114
Access: The beach is a minute away from Kada Station on the Nankai-Kada Line.
Kataonami Beach
Kataonami beach is a long, thing stretch on a narrow peninsula to the south-east of Wakayama city. Another great surf beach, Isonoura is a well-maintained and popular beach for families with a long stretch of park running alongside it.
Spot information
Name: Katanaomi Beach (片男波海浜)
Address: Katanaomi Beach, Wakauraminami, Wakayama, 641-0022
Access: The closest station is JR Kimiidera on the JR Kinokuni Line.
Hamanomiya Beach
A city-beach, Hamanomiya has views of the nearbySun Bridge and is only a stone's throw from the tip of Kataonami Beach.
Spot information
Name: Hamanomiya Beach (浜の宮ビーチ)
Address: Hamanomiya Beach, Kemi, Wakayama, 641-0014
Access: The closest station is JR Kuroe Station on the JR Kinokuni Line.
[Survey] Traveling to Japan
Recommend