Make Time in the Kitchen More Fun with The All-New Japanese "Toffy" ♪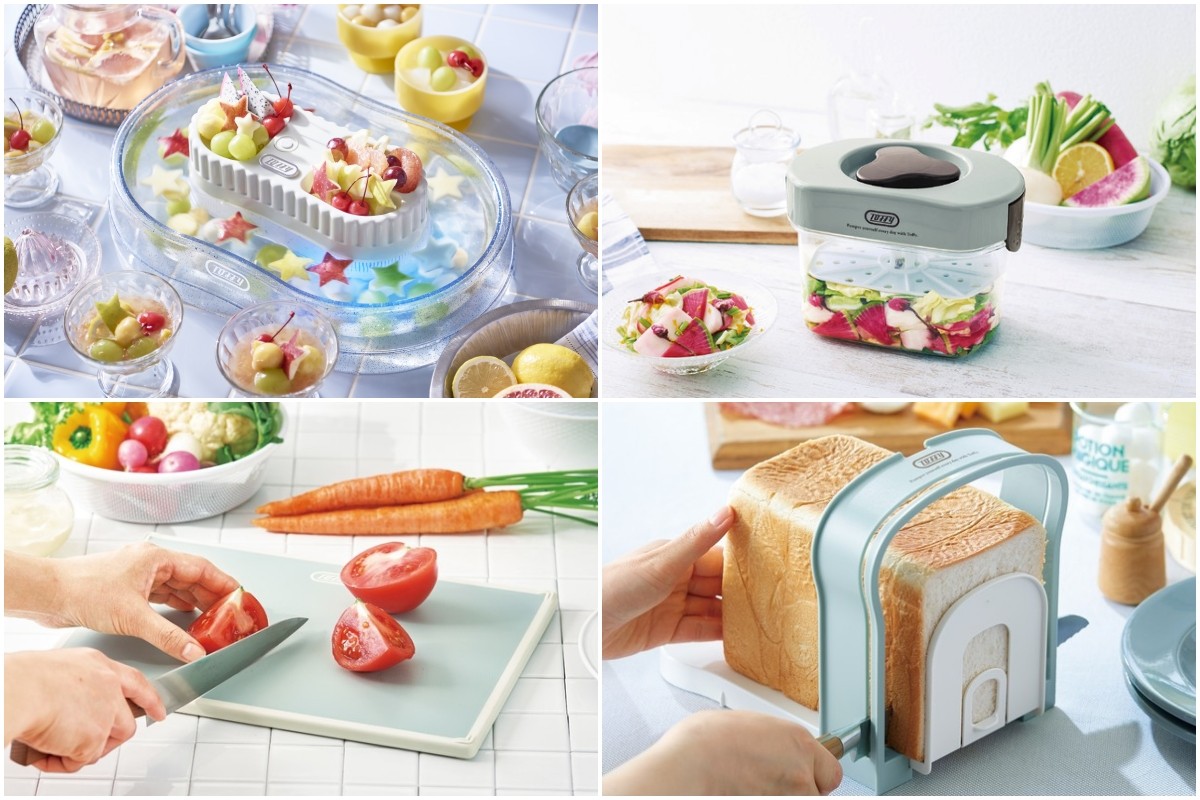 This is a product that is sure to be a help in your everyday life. With included safety precautions, we're sure there are many of you out there interesting in the sleek and stylish design. In this article, we're going to be taking a look at the Japanese product line "Toffy"! It began sales in 2021, meaning it's stylish and new, check it out below!

The Perfect Snacking Size - The Toffy Half Hot Sandwich Maker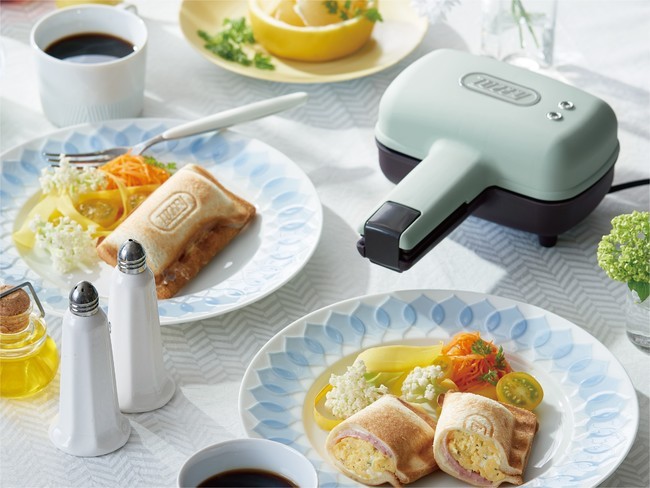 This is an electrical hot sandwich maker where you can use a single piece of bread folded in half to make delicious hot sandwiches. The size makes it perfect for people watching their diet and kids. It's extremely simple to use, simply place the bread and the ingredients you want before pressing down! It's also super compact in size, making it easy to store or take with you when traveling.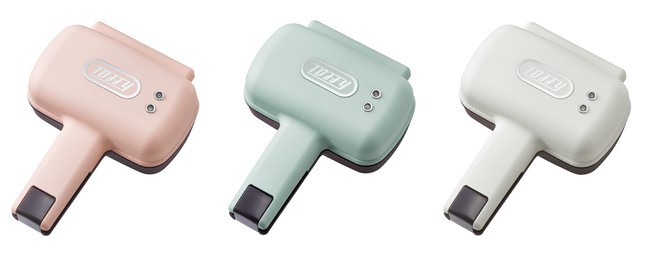 The device has 3 colors, "Pearl Aqua", "Ash White", and "Shell Pink". The classical and retro color scheme alongside the sleek and compact form factor makes it fun to use every single day. It's perfect not only for breakfast but also for a snack during the day and for almost anything else you can think of!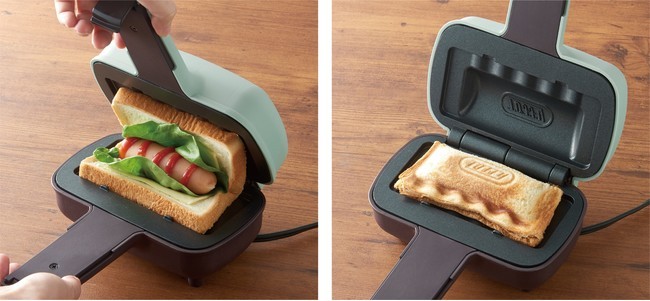 Product Information
Name: Toffy Half Hot Sandwich Maker
Code/Color: K-HS3-PA(Pearl Aqua)/ K-HS3-AW(Ash White)/ K-HS3-SP(Shell Pink)
Price:¥4,950(Tax Inc.)
Size:167(W)×96(H)×220(D)mm
Weight : Approx. 750g
Power: AC100V 50-60Hz
Power Expenditure:500W
Power Cord Length: Approx. 0.7m
https://prtimes.jp/main/html/rd/p/000000104.000001231.html
The Toffy Bread Slice Guide - Cut a Perfect Slice Every Time!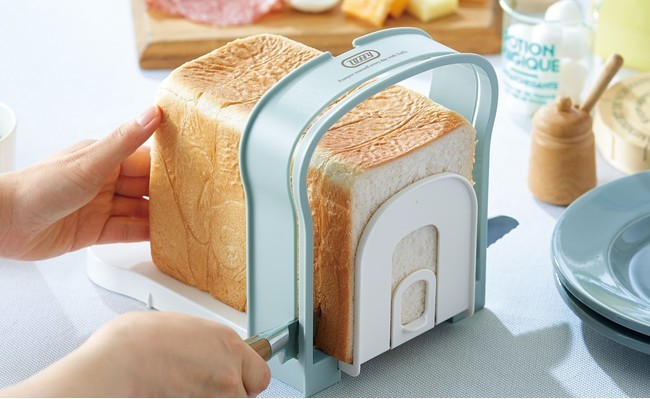 The Toffy Bread Slice Guide does what it says on the tin, it allows the user to cut the perfect slice of bread every single time. You're able to adjust the slice guide for 5, 6, 8, and 12 slices, with the ability to change the machine to fit your personal perfect slice. It comes with an anti-slip pad to ensure no accidents happen when in use. Furthermore, if you use the attached thickness adjuster, you're able to use the machine even when there's not much of the loaf left. When not in use, fold it up and store it away nice and easy.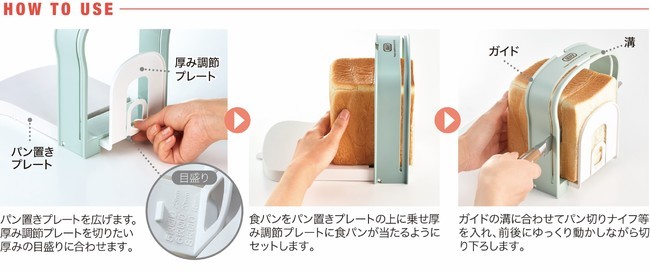 Using the Toffy Bread Slice Guide is extremely simple! Adjust the plate to your desired size, place the loaf of bread in at your desired size, then simply slice. The device itself comes with anti-slip pads meaning it won't move while you're slicing your bread.

STEP 1: Ensure the device is unfolded. Adjust the thickness plate to your desired thickness.
STEP 2: Place the loaf of bread onto the device, and ensure it's touching the thickness plate.
STEP 3: Place your knife into the provided slot on the device, and slowly move the knife back and forth to slice the bread.
Product Information
Product Name: Toffy Bread Slice Guide
Code/Color: K-KU8-PA(Pearl Aqua)
Price:¥1,760(Tax Inc.)
Size:Approx. 165(W)×190(H)×60(D)mm ※When Stored
Weight: Approx. 240g
https://prtimes.jp/main/html/rd/p/000000103.000001231.html
Toffy Pickle Maker 1.6L - Easy Home Pickling ♪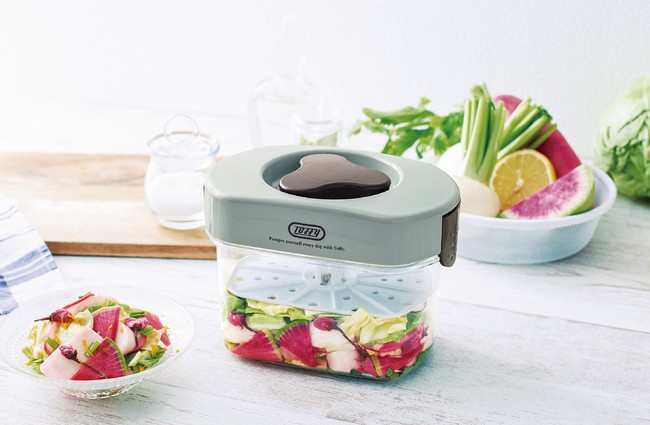 By placing the lid on the top and turning the handle you can make your very own delicious pickled vegetables at home! Thanks to the downward force of the press the device allows for quick and efficient pickling. It has been designed to be compact and flat for easy storage in a refrigerator. It can help you to ensure you get your required vegetables every single day. Make sure to use some colorful vegetables for a colorful after product!


3 Simple Pickeling Steps! Place the ingredients as flat as possible at the bottom of the device, then place the lid on top and turn the knob to press the vegetables down. All you have to do then is place the container into the refrigerator and wait! Three extremely simple steps to make extremely delicious pickled vegetables!

Product Information
Product Name: Toffy Pickle Maker 1.6L
Code/Color: K-KU6-PA(Pearl Aqua)
Price:¥2,200(Tax Inc.)
Size: Approx. 190(W)×140(H)×120(D)mm
Weight: Approx. 400g
Capacity:1.6L
https://prtimes.jp/main/html/rd/p/000000101.000001231.html
Toffy Antibacterial Cutting Board - Protect Yourself & Your Food from Germs & Bacteria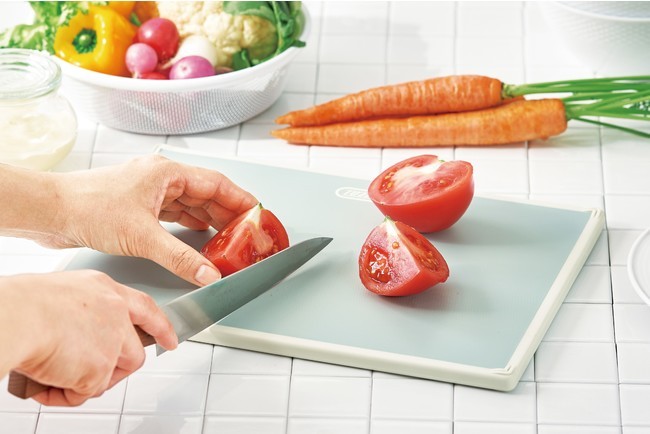 The Toffy Antibacterial Cutting Board uses silver antibacterial treatment to create the most hygienic chopping board you've seen! While it has a comfortable thickness, it sits at a light 330g total weight! All 4 corners of the board have an anti-slip pad to ensure no accidents happen when you're chopping food. It can be used in both dishwashers and dryers and is even able to be bleached without issue. It's the perfect addition to anyone's kitchen.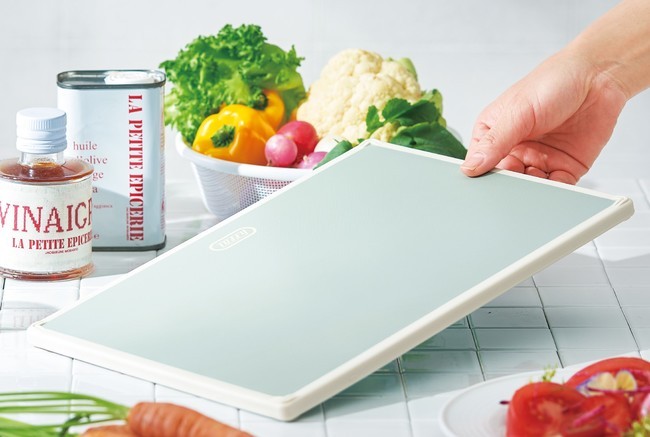 The board has a heat resistance of up to 90℃ allowing it to be used within dishwashers and driers making it easy to clean and use every day. It's also been made to be resistant to bleach meaning you can ensure it stays as clean as possible!

Product Information
Product Name:Toffy Antibacterial Cutting Board
Code/Color: K-KU9-PA(Pearl Aqua
Price:¥2,090(Tax Inc.)
Product Dimensions: Approx. 300(W)×220(H)×13(D)mm
Weight: Approx. 330g
https://prtimes.jp/main/html/rd/p/000000105.000001231.html
Toffy Shining Nagashi-Somen Device - Enjoy Japanese Food Culture at Home ☆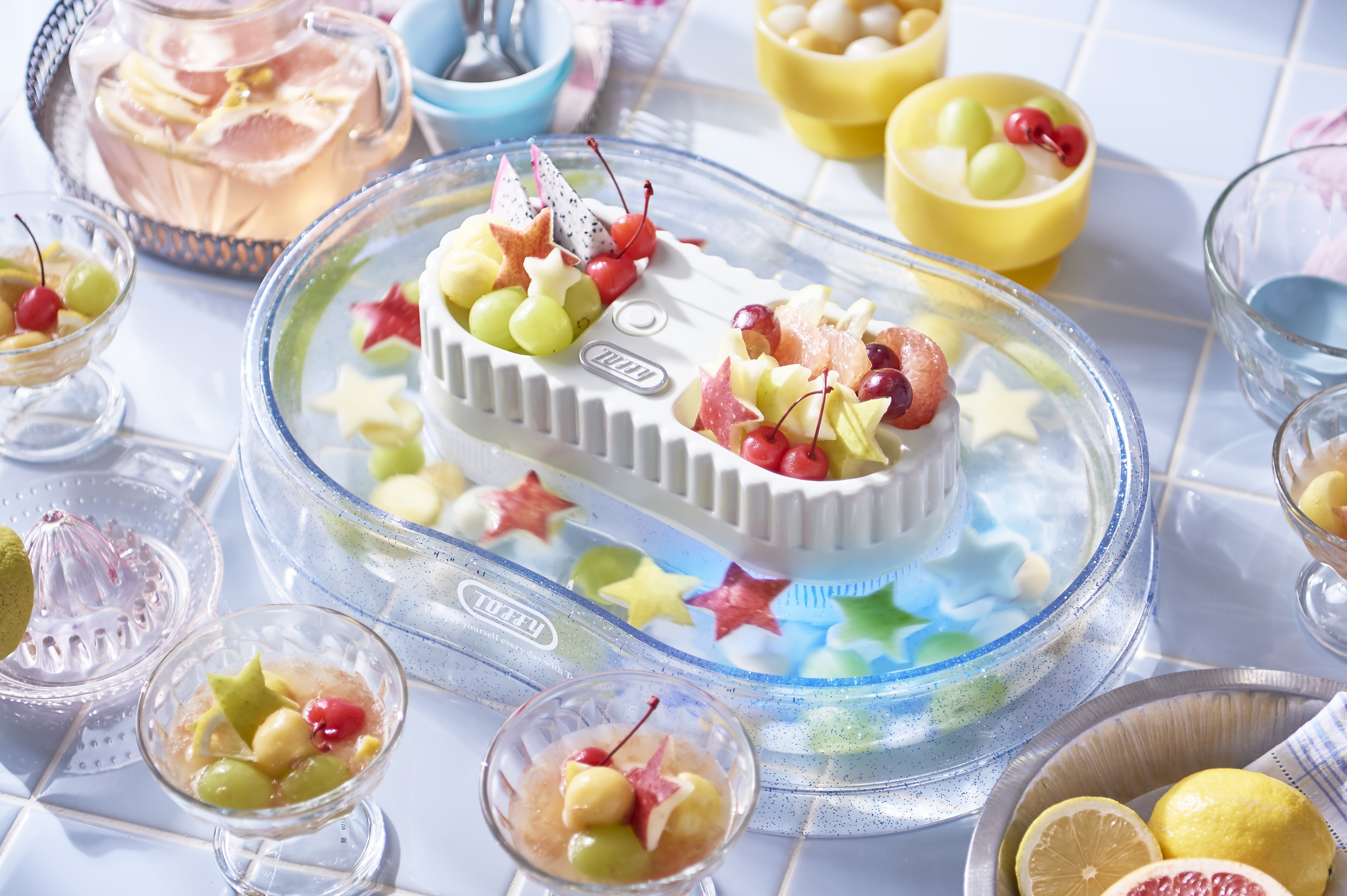 Nagashi-somen is a style of serving noodles that appears in Japan during the summer where the noodles will be sent down a flowing stream. It's refreshing to eat the cold noodles on a hot summer's day, and fun to take the noodles out from the flowing water! This LED device has been made to allow people to enjoy that cultural Japanese activity at your table. It's a great pick for parties and family meals with its shining lights ♪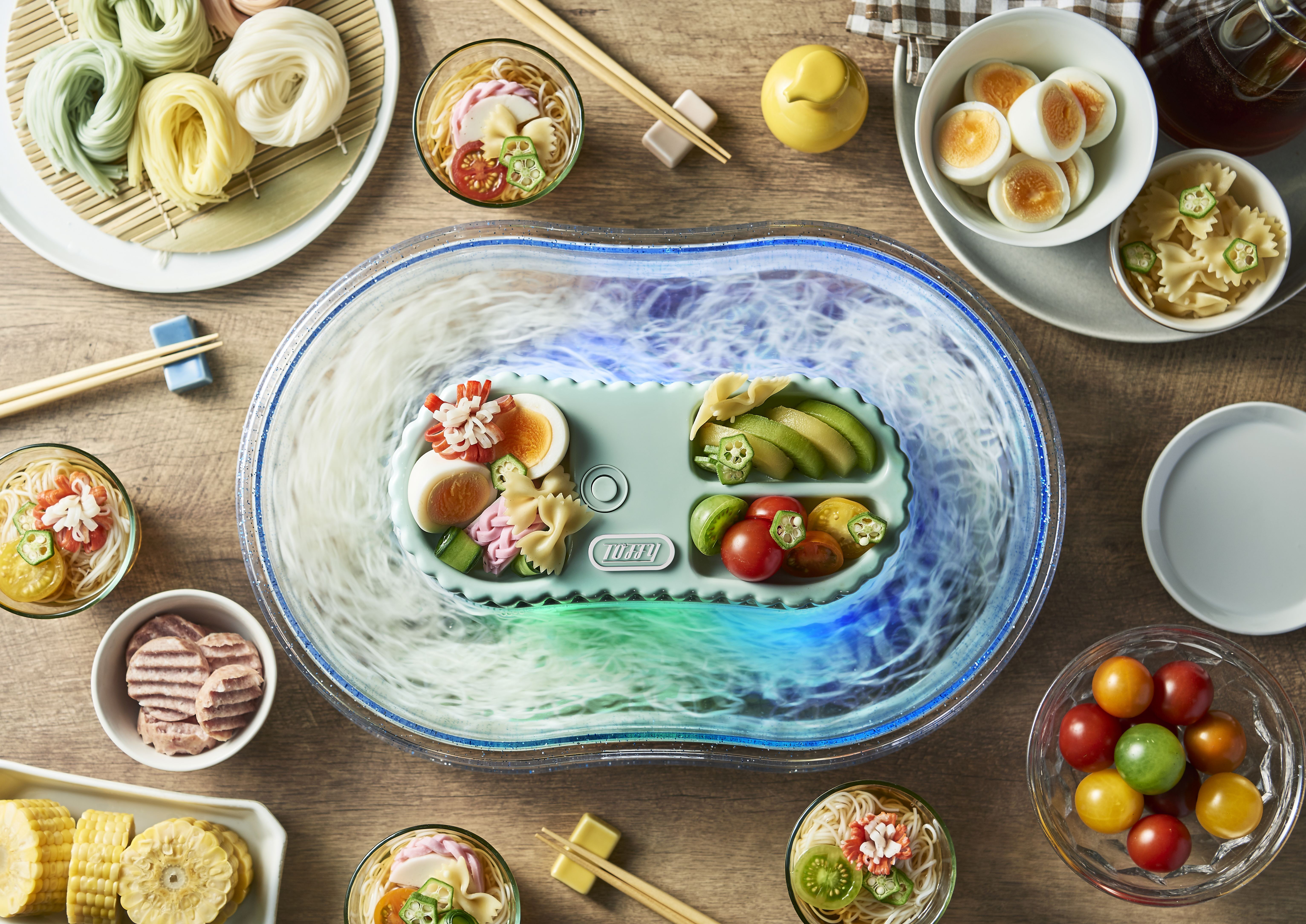 You can also place some small pieces of cucumber or tomato and other summer vegetables to be sent around the stream, maybe even use the device to create a delicious fruit punch and much more. Creating a colorful and creative feast also makes for some perfect pictures for your SNS channels!

Product Information
Product Name: Toffy Shining Nagashi-Somen Device
Code/Color: K-NS2-PA(Pearl Aqua)/ K-NS2-AW(Ash White)
Price:¥4,000+VAT
Size: Approx. 415(W)×100(H)×280(D)mm
Weight :Approx/ 1,080g(Batteries Not Included)
Power:Main Device:2x D size Alkali Dry Cell Batteries (Sold Seperately)
Continuous Usage Time:30 Minutes
Battery Usage Time(Approximation): Approx. 3 Hours
Water Tray Capacity: Approx. 3L
https://prtimes.jp/main/html/rd/p/000000099.000001231.html

[Survey] Traveling to Japan