All About Virtual Japan Platform
About Virtual Japan Platform(VJP)
VJP is a web application. Participating in virtual experiences in our daily lives provides us with new thrills and discoveries, we continue to create new fans of Japan all over the globe through both on and offline connections. Through VJP, every region of Japan is connected to the world. Thanks to this, we will be helping to enhance the attractiveness as well as the development of the region and provide a new simulated experience of Japan in the VJP space that is not affected by time, place, or environment.

How to register

1. If you are registering for the first time, first click the "LOGIN/SIGN UP" button which can be found at the top right-hand side of the screen. Then, from the dropdown menu, click the "SIGN UP" button.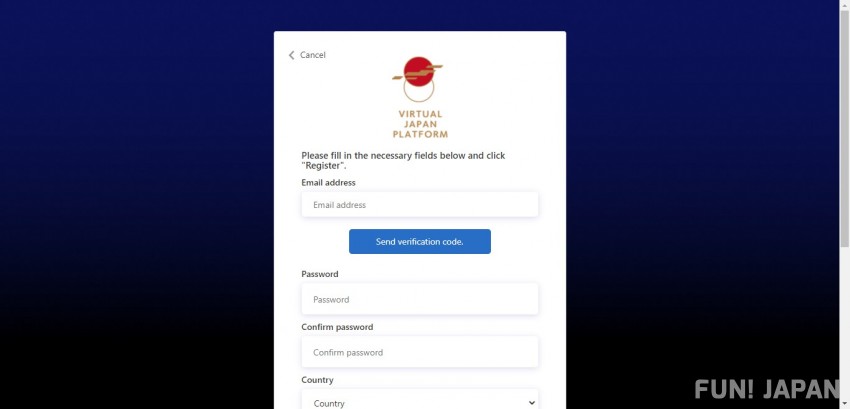 2. Follow the on-screen instructions, enter the email address you supplied during pre-registration, and enter the verification code sent to your email inbox by the system.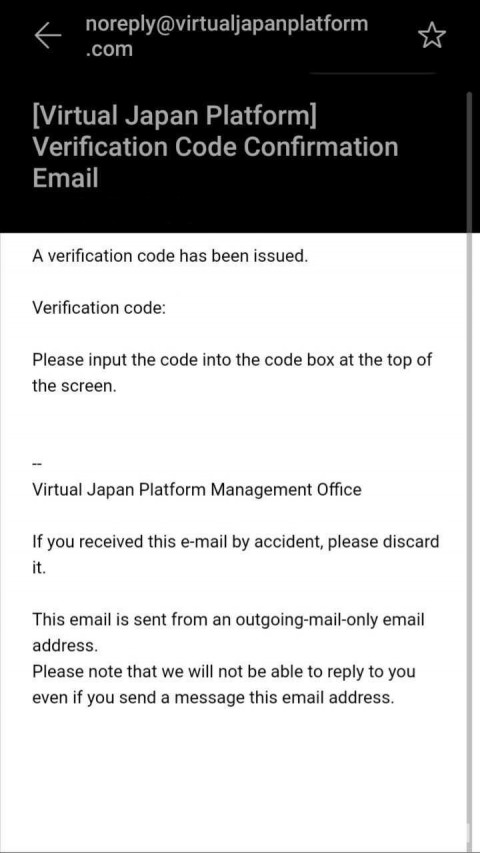 3. Only e-mail addresses that have been used during pre-registration will be approved. Anyone else who attempts to register will get an error message stating "INCORRECT VERIFICATION CODE" even if an e-mail address is entered.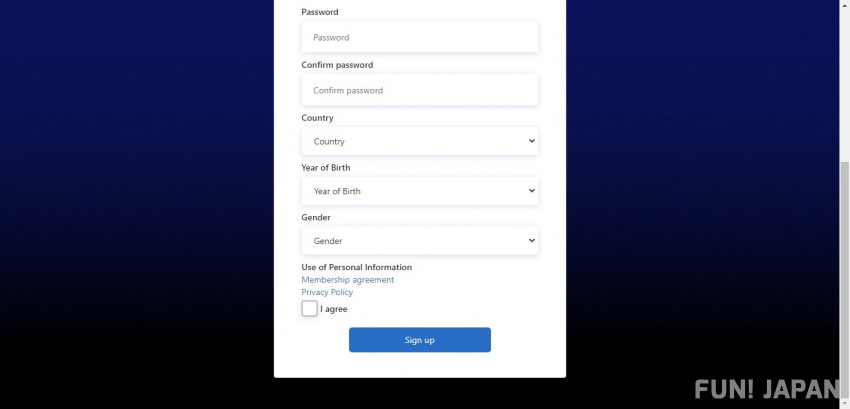 4. Please fill out the other required fields, read the membership contract and privacy policy, tick the "I agree" box, and then click the Sign up button.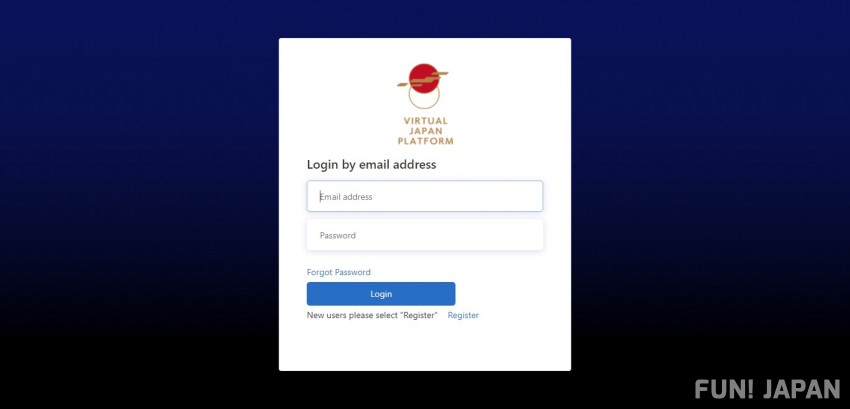 5. Registration has been completed! Now you may enter the space as many times as you wish by logging in with your e-mail and password.
Controls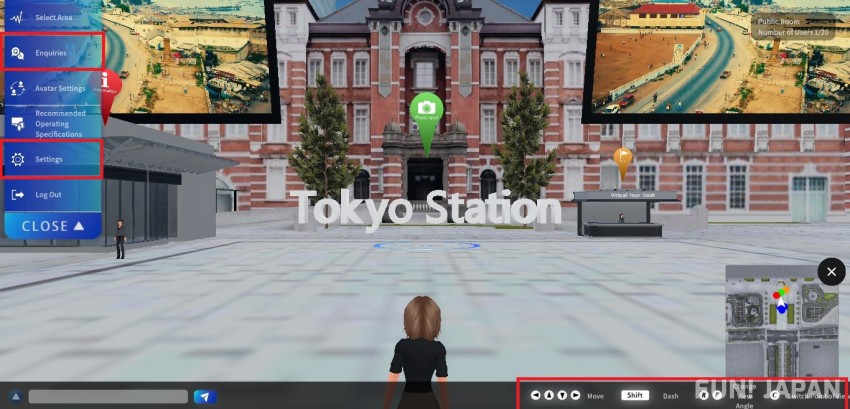 PC: Mainly uses keyboard and mouse. You can move the avatar with the arrow keys and change the viewing angle with the "R", "F", and "C" keys, or dash by pressing the "Shift" key and arrow keys at the same time. For more details, refer to the tutorial found in the bottom-right corner of the screen as shown above.
Smartphone: Tap to move your avatar or change the camera angle. Swipe to run!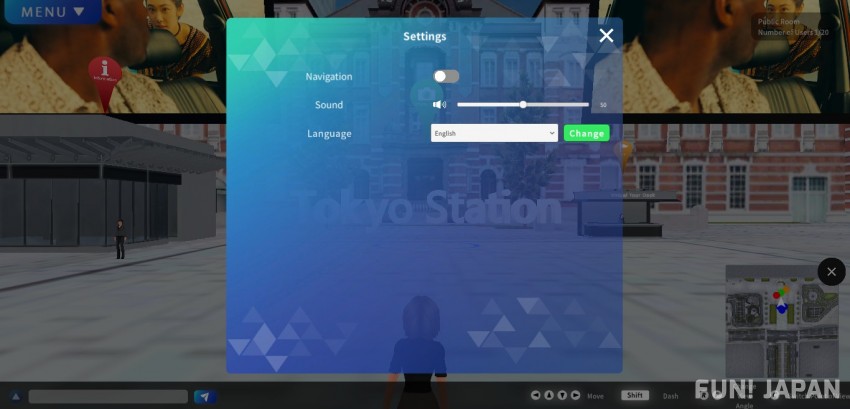 To change the language, you can select English or Japanese in the settings menu. The volume can also be adjusted here.
If you have any questions about the network environment, please feel free to contact us via the inquiries section of our website.
FAQ
① What is a web application?
What is a web application?
"Web applications" are applications that can be used within a browser, such as free mail services, video sharing services, and Internet calling services. You can use the application if you have a device and an Internet connection, meaning there's no need for direct installation to your personal computer.


How are they different from native applications?
A "native app" is an app that is installed and used on the operating system via an application store such as the App Store or Google Play Store.


Why was VJP made into a web application and not a native application?


While there are many reasons, including that it allows people to use the service seamlessly on their PC and smartphones freely, here are some of the main reasons:
1. You can use the service on various devices, just by creating an account.
2. Since there is no limit on information, a variety of content can be provided.
3. You can always display the most up-to-date information. 
② What devices can be used?
You can use the service on any Windows or Mac device.
The service is planned to be implemented for smartphones in the near future.
③ Recommended environment
What is the minimum operating environment?


The minimum operating environment refers to the minimum specification requirements which do not cause operation delays when the data load is low. Since the data load can vary depending on the event or world, the number of participants, the performances, etc., please use a device with the highest specifications possible.

This service also communicates with a server. Please use the service with the fastest and most stable network environment possible. Please note that we do not guarantee or support operation outside the recommended specifications.
Recommended Specifications
Desktop version
Windows
CPU: Intel Core™i5 / AMD Ryzen™5 or newer
Memory: 4GB or more 
Mac
CPU: Intel Core™i5
Memory: 4GB or more
Recommended browsers
Microsoft Edge / Google Chrome
* Please use the latest version of the software
Display size
Network environment
Usable port numbers are as follows:
Port number: 80, 443, 19090, 19091, 19092, 19093, 19094
④ About the VJP Area
Currently, only Tokyo is available to visit, do you have any plans to add more places in the future?
We plan to add more, but when they will be added is currently undecided.


Are the real buildings and tourist spots shown accurate replications?
There is a mix of exact replicas and pseudo spots.


Is there any other content available to play in the area?
Not currently, we plan to add new content. However, the timing is currently undecided.


How long can I stay in the VJP space?
Once you have registered as a member, you can enter the space any time you wish.
However, if irregular maintenance or repairs are being performed, you may not be able to log in for a certain period of time.


Can I buy Japanese souvenirs inside the VJP space?
An online shopping function is scheduled to be implemented in 2021.


Are there any spaces that reproduce the streets and tourist spots of Japan?
A number of areas are scheduled to be implemented in 2021.
⑤ About the Avatars
There are currently only 4 to choose from (as of May 24th, 2021), will more be available in future updates?
More avatar choices are scheduled to be added, but the date has not been finalized.


Are we able to become friends with other users and use voice chat with them?
Voice chat is scheduled to be implemented in 2021.
⑥ About the Interface Language
What languages are supported?
English, Traditional Chinese, and Japanese are available. More are scheduled to be implemented.

⑦ About Fees
Is there a fee to use the VJP service? 
It is largely a free service. In the future, however, we plan to add special paid content, as well as paid spaces, in addition to the free content.