What is Japanese Tsukemono? The Perfect Pickles in Japan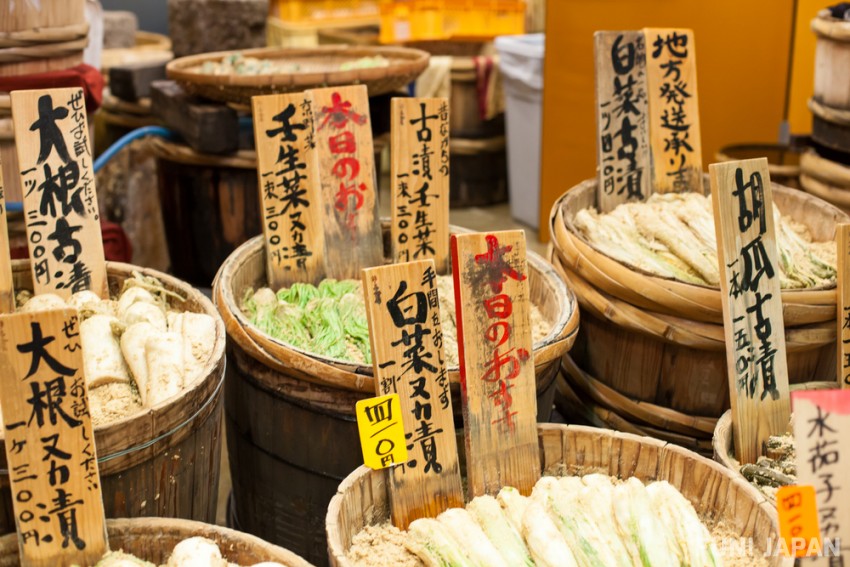 Whether they're placed alongside a traditional Japanese set meal or hidden inside a rice ball, Japanese Tsukemono (漬物) are ubiquitous in Japan. These small, flavour-packed vegetables are easy to miss if you've never tried them but once you do you'll come to crave their punchy boost.
What is Tsukemono?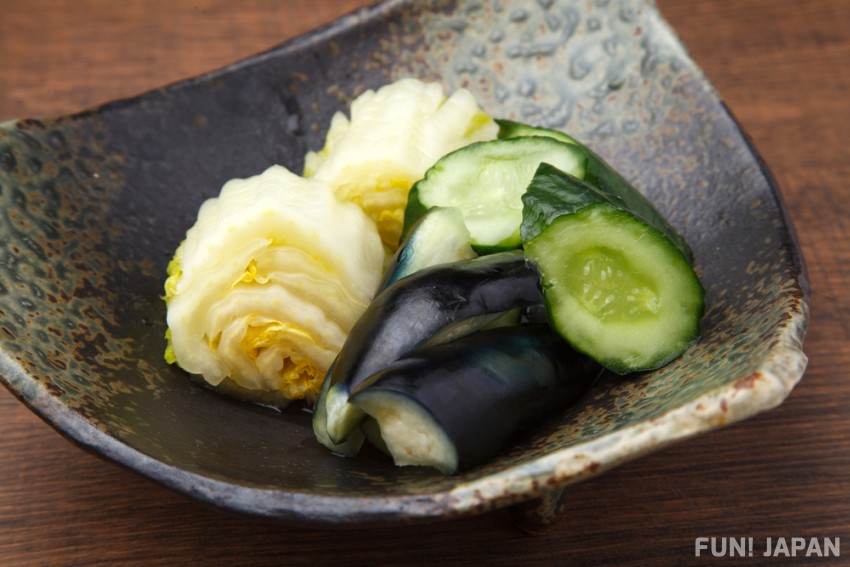 Tsukemono are known simply as Japanese pickles and the term covers a wide range of vegetables, preserving techniques and combinations. They are a staple of the simple Japanese meal, served with rice and miso soup. There are a variety of local specialties that make the most of local, seasonal produce, using traditional techniques dating back centuries.
Different Tsukemono Pickling Methods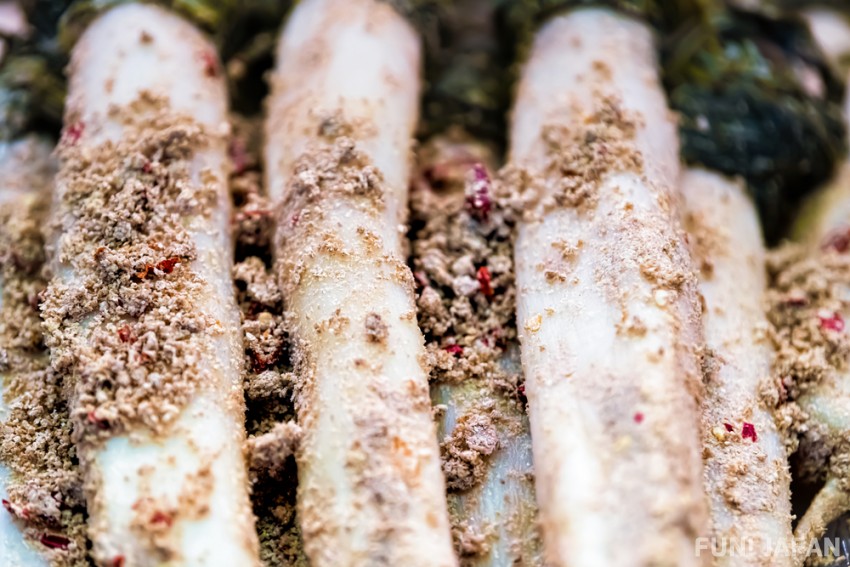 There are a wide variety of pickling methods which involve salt, vinegar, miso and soy sauce as well as other ingredients. Each style gives a distinct flavour to the pickled vegetables and leads to some of the most familiar pickles such as Umeboshi (pickled plums) or Gari (pickled ginger).
Shiozuke: Salt Pickling (塩漬け)
The simplest pickling method, shiozuke, uses salt and water to preserve vegetables. It is one of the oldest methods and as well as preserving the vegetables, the salt breaks down fibers, making them softer and easier to eat. One great thing about shiozuke is that it keeps the bright colours of vegetables, so you will be able to add a pop of colour to your meal.
Suzuke: Vinegar Pickling (酢漬け)
An enhancement of the shiozuke variety of pickles, suzuke adds vinegar into the simple salt and water mix. This helps them keep their crunch and creates a tangy flavour. One of the most well-known examples is the salmon-coloured ginger known as gari which is often served with sushi or fried rice. The fresh, sweet and sharp flavour makes it a great palate cleanser and the sugar keeps it from being too intense. One of the most common examples of a suzuke pickle is hakusai no suzuke which is cabbage, often with added citrus and chili. Asazuke (浅漬け) is a faster version of this process which means 'lightly pickled' and is most often used for cucumber, especially at summer festivals.
Amazuzuke: Sugar Vinegar Pickling (甘酢漬け)
Amazuzuke is a popular take on suzuke pickling that adds sugar to the vinegar to preserve vegetables. The sweeter taste goes well with chili and is perfect for ingredients like ginger, carrots and scallions. The latter is known as amazuke rakkyo (らっきょ) and is a great accompaniment to curry.
Misozuke: Miso Pickling (味噌漬け)
Using one of Japan's staple flavour bases, misozuke uses miso paste and mirin (a sweet, low alcohol rice wine) to preserve vegetables. As miso has a relatively high salt content (red miso especially) no additional salt is needed. These are the pickles you are likely to see in barrels at Japanese markets like Nishiki Market in Kyoto.
Kasuzuke: Sake Lees Pickling (粕漬け)
Using the run-off from sake production, this is a great example of a zero-waste approach to cooking. Not only can you use up a product that would otherwise be discarded, you can preserve seasonal vegetables. The lees is mixed with mirin, salt and sugar and can have a mild alcoholic edge to the flavour.
Common Tsukemono Dishes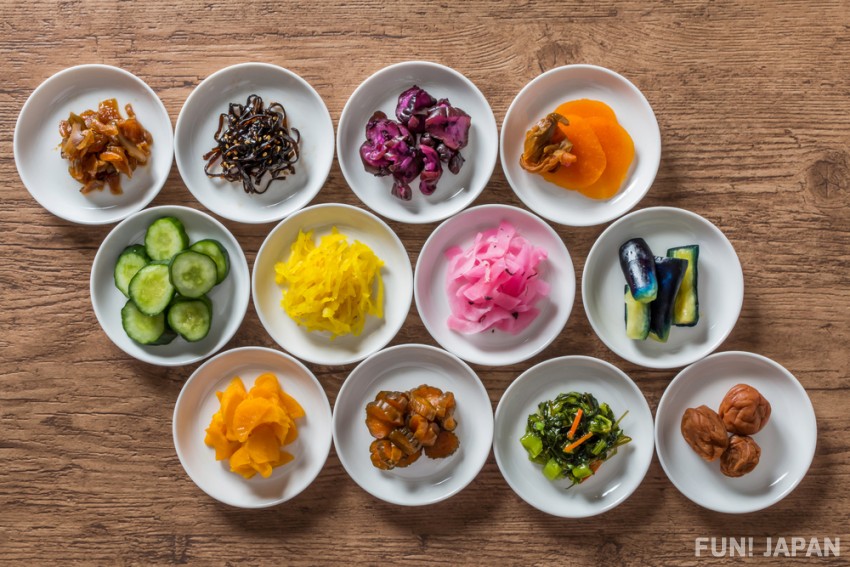 | | |
| --- | --- |
| Umeboshi (梅干し) | The most ubiquitous pickle, these intensely sharp plums are found on rice and even serve as a popular hangover cure. They are soaked, packed with salt and red shiso leaves, dried in the sun and then stored until ready to eat. |
| Beni Shoga (紅生姜) | Bright red and often served with yakisoba (fried noodles) or okonomiyaki (a cabbage pancake), this shredded ginger gets its colour from the leftover brine of umeboshi (pickled plums). |
| Takuan (たくあん) | These bright yellow discs are a common accompaniment to a simple meal set is believed to be good for digestion as well as full of flavour. They are a popular example of nukazuke (ぬか漬け), which uses rice bran in the pickling process. |
| Fukujinzuke (福神漬) | Almost chutney-like in its sweetness, this mixed pickle is served with curries and is made using the shoyuzuke (醤油漬け) method (soy sauce pickling). |
How to Make Tsukemono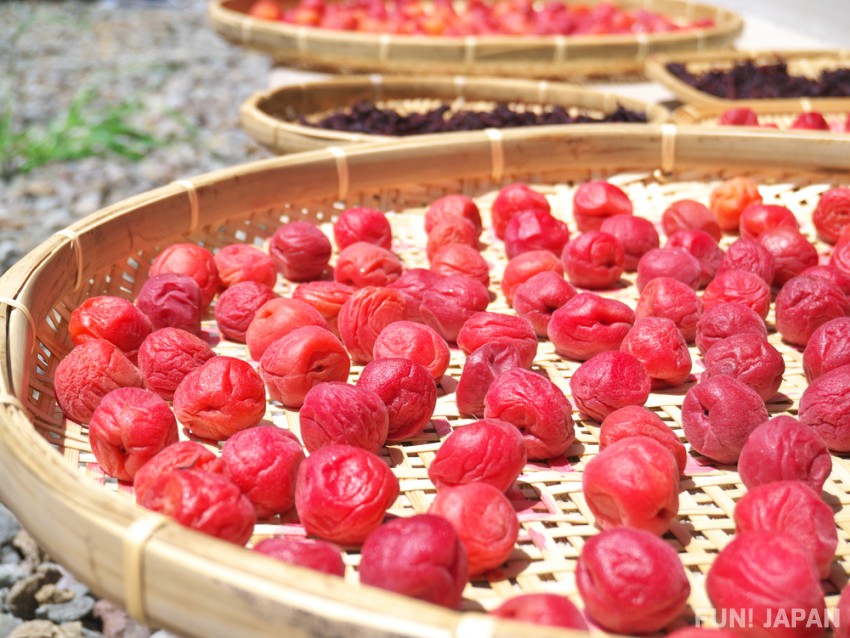 Pickles are a very simple and easy dish to make at home, even if they are not the fastest. The most important thing to understand is the salt content and how this impacts the pickling time. If you are using a higher salt content (for example 5-10%) you need to pickle for longer (overnight for shiozuke) while lower content (2-5%) can be pickled for a shorter amount of time.
Vegetables can be cut or un-cut and peeled or unpeeled, but it is important they are roughly the same size. Make sure vegetables are covered in the mixture (try to keep a 2:1 ration of veg to brine) and remember to keep them pressed when pickling - either by using weights or a special pickling box. You can make your pickles your own by adding additional flavours such as garlic, ginger, chili, lemon or peppercorns or wasabi.
If making shiozuke pickles, you simply place vegetables in brine of 5-10% salt to water and leave pressed overnight. You can add ginger, chili or garlic for extra flavour. If you have less time, you can pickle for just a 2-4 hours and make asazuke (meaning lightly pickled). While the other recipes are not too complex in comparison, the do require additional ingredients such as miso-paste or soy sauce, so be sure to read recipes in full before starting.
How to Enjoy Tsukemono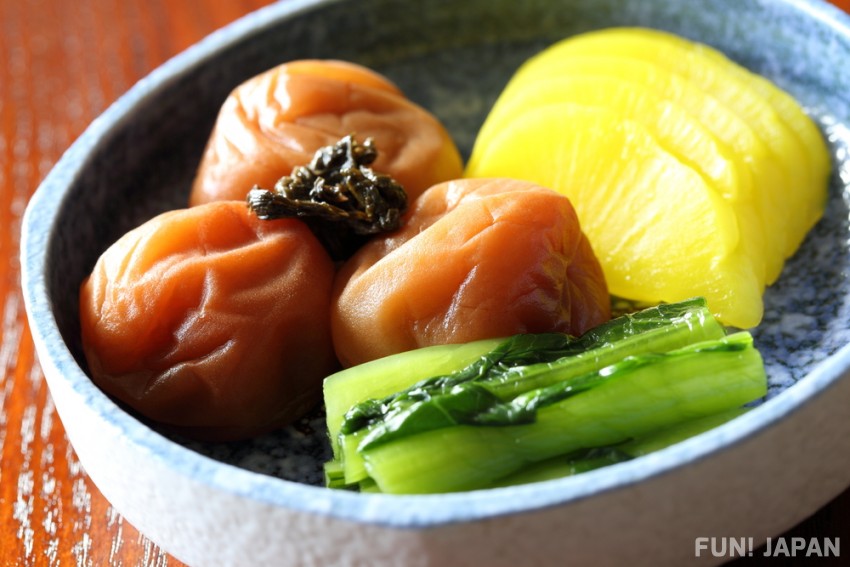 It is easy to enjoy Japanese pickles when you eat a typical Japanese diet as they are never far away. While they are an accompaniment in many way, try to appreciate them as a single dish ad pay attention to the different flavours. You will soon be able to discern the different pickling methods ad can experience new flavours when you branch out to miso or shoyu pickles. Making your own is also a great way to alter the flavours of Japanese pickles, making them spicier or fresher. Supermarkets have a fantastic range of pickles and are a great way to try incorporating them into your meals, but local pickle shops will always have the best products!
[Survey] Traveling to Japan