Discerning Women's Refreshing Lemon Tea Bags【F_039】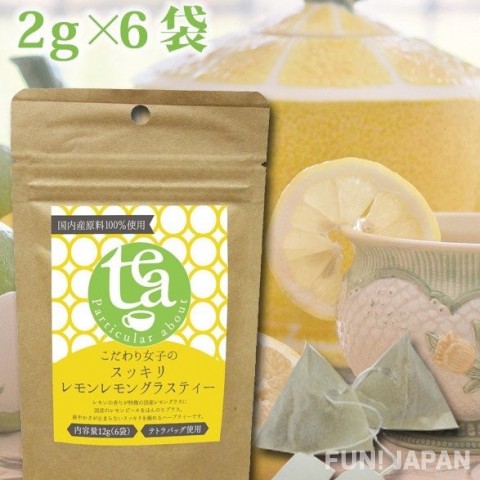 The Introduction of Discerning Women's Refreshing Lemon Tea Bags
After a meal, it is refreshing with a lemon scent, and the organic lemongrass grown in-house is combined with Japan lemon peel. It has a refreshing scent that is often found in lemons and a slight bitterness, and is easy to drink without the acidity of lemons. It is a non-caffeine herbal tea that is extremely refreshing and refreshing.
The Product Information of Discerning Women's Refreshing Lemon Tea Bags
Producing area: Tokushima Prefecture
Manufacturer name: Ogawa Seiyaku
Ingredients: Organic lemongrass, lemon peel. No colorings, fragrances or preservatives are used.
Weight: 2g x 6 bags
Estimated delivery date
Any time from the middle towards the end of the following month after your purchase is made.
Cautions
* Delays to shipping times may occur depending on the order status, the supply of materials, manufacturing process, etc
* Depending on the monitor settings, the colors actual products may appear differently.
*After a product arrives, returns and refunds will only be accepted if the product is defective upon arrival.
*If the number of orders is much more than the prediction, delivery may be delayed, or the orders exceeded may be cancelled.