Top 5 Sightseeing spots to see Red Spider Lilies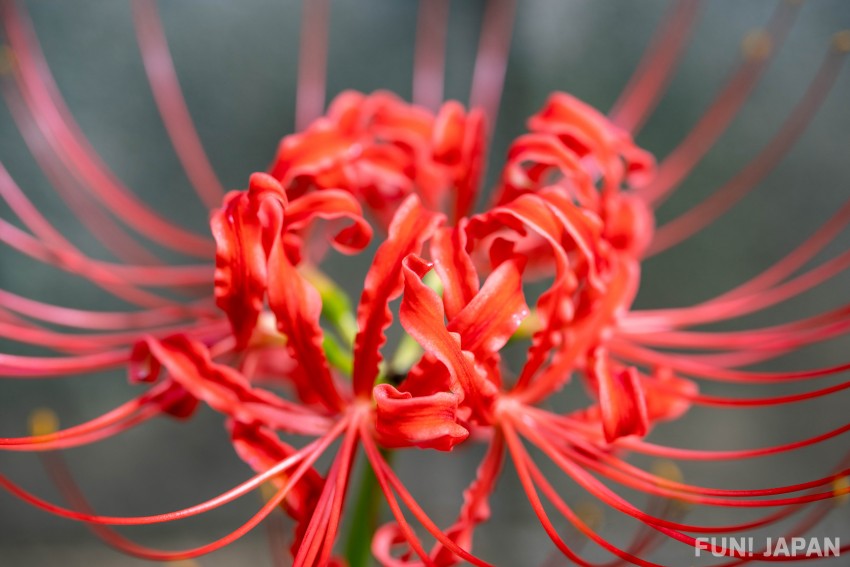 In Japan the red spider lily is well known as a flower of fall. It has also been called "Rikorisu" or "Manjushage", and blooms during Japan's "equinoctial week". The stalk grows long and thin, and it's most distinguishing feature is the flower which looks like an exploding firework. In this article, we are going to go into detail about our top 5 most recommended locations where you can see these beautiful flowers.

1. Miyagi Prefecture's Hagurosan Park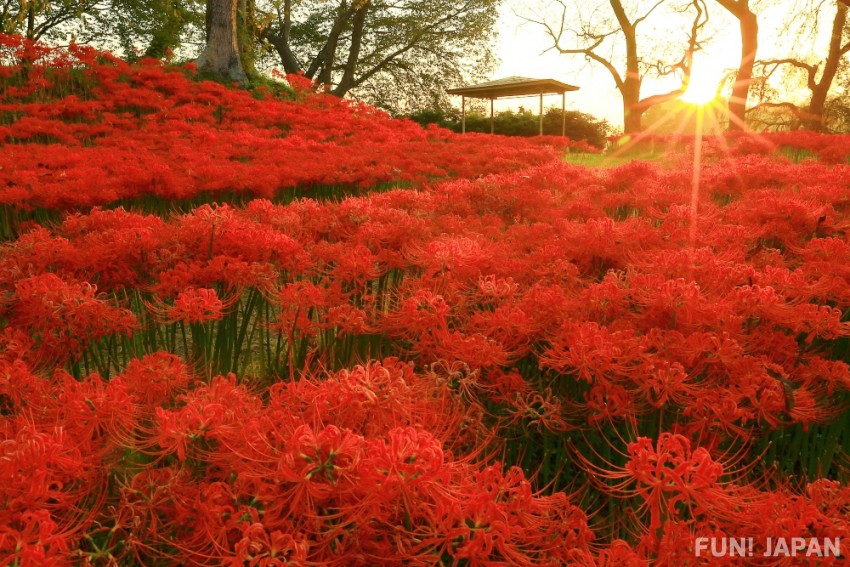 "Hagurosan Park" which can be found in Miyagi Prefecture. In the spring you can see sakura, and in the fall you can see these beautiful red spider lilies, with many more amazingly beautiful flowers all year round, you see a lot of people visiting during the peak season when these flowers are blooming.
There are so many flowers spread out along the park that it's almost like a bright red rug has been laid before your very eyes. It is said to be the best in the entire prefecture for it's powerful and overwhelming view. There are also playgrounds within the park making it perfect for a family day out.
Information
Location:Hagurosan Park
Address:Haguro Furukawakono, Ōsaki, Miyagi 989-6251
Access:

20 minutes via car / bus from Tohoku Bullet Train Furukawa Station
15 minutes by car via Tohoku Expressway Furukawa IC

Estimated bloom time:After the middle of September
2. Saitama Prefecture's Kinchakuda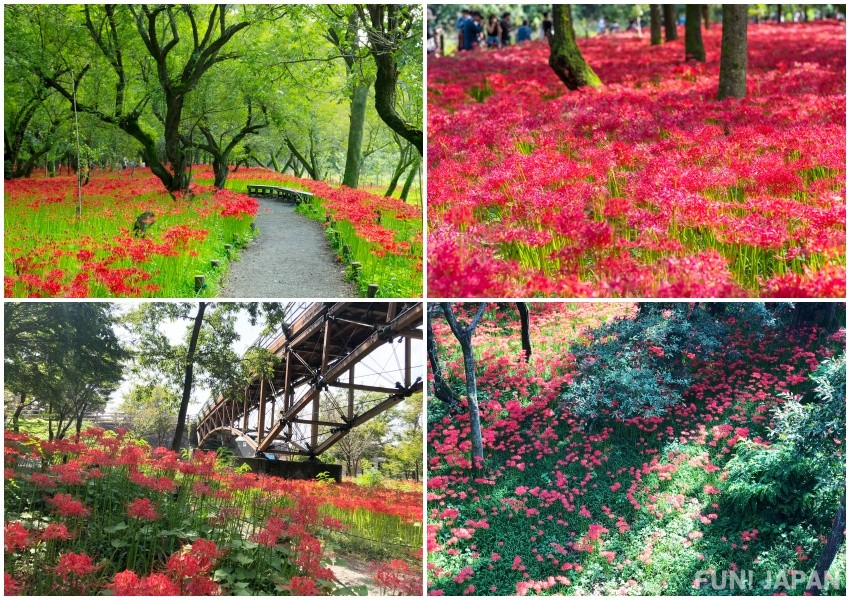 Kichakuda is a well-known red spider lily spot surrounded by a stream known as Komagawa. During the peak season over 50 million flowers can be seen budding, and the entire area is filled with a beautiful red color.
At "Kinchakudamanjushage Park" you can find one of the most enjoyable red spider lily festivals across the entirety of Japan, you can also experience some local foods, watch stage events, as well as buy some local souvenirs!
Information
Location:Kichakuda
Address:125-2 KomahongōHidaka, Saitama 350-1251
Access:15-minute walk from the Seibu Railway Koma Station 
Estimated Bloom Time:Middle of September towards the beginning of October
Fee:300 Yen ※Only during peak season when the flowers are blooming
3. Aichi Prefecture's Yakachi River Area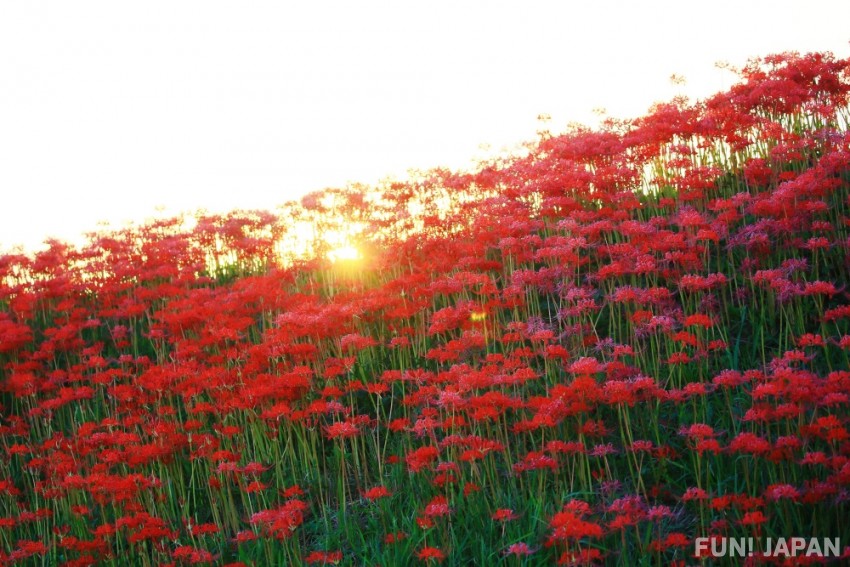 "Yakachi River", famous in Japan from the children's story "Gon, the Little Fox", becomes just that, something out of a children's story, when the red spider lilies are in full bloom around the area near the river. The flowers bloom over an area of 1.5km with over 30 million in total, it turns into a magical scene.
During the blooming season there is also the "Gon's Autumn Festival" which takes place, and you can participate and watch various events near the river or at the Nankichi Niimi Memorial Museum such as kamishibai (storytelling with pictures) and marriage ceremonies.
Information
Location:Yakachi River
Address:Yanda Handa, Aichi, 475-0001
Access:20-minute walk from Meitetsu Handaguchi Station (Until Nankichi Niimi Memorial Museum)
Estimated Bloom Time:Middle of September towards the beginning of October
4. Shiga Prefecture's Katsurahama Park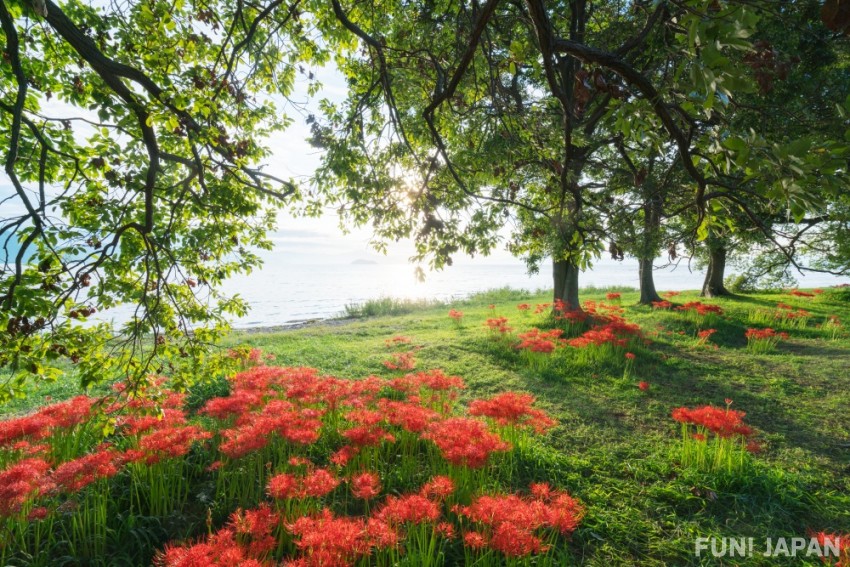 The red spider lilies bloom all around Shiga Prefecture's Takashima, near the lakes and within the country. Within these is Katsurahama Park which sees an especially large amount of red spider lilies and is well-known throughout Japan.

In spring you can see the famous "Raphanus sativus" flower blooming, and in fall the beautiful red spider lilies with the lake as their backdrop. In recent years this location has become more and more popular among photographers due to the almost otherworldly-like scenery.

Information
Location:Katsurahama Park
Address:ImazuchokatsuraTakashima, Shiga 520-1602
Access:10 minutes via taxi from JR Ōmi-Imazu Station
Estimated Bloom Time:The middle and end of September
5. Fukuoka Prefecture's Tsuzura Rice Terrace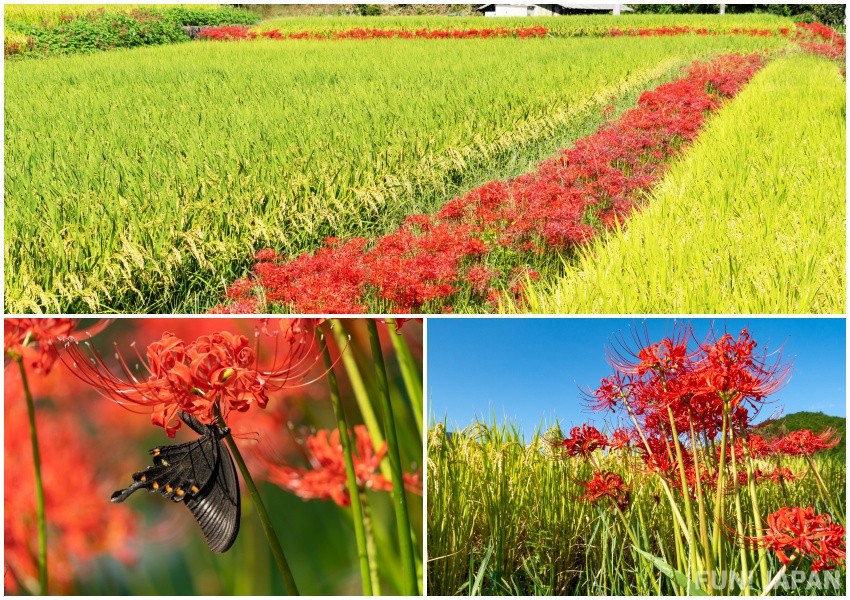 "Tsuzura Rice Terrace" is an amazingly beautiful location where you can experience over 50 million red spider lilies blooming whilst being surrounded by gorgeous mountain ranges. It was nominated in "Top 100 rice terraces in Japan" by the Ministry of Agriculture, and can be enjoyed year-round no matter the season with each offering new and unique experiences and views.
Once the flowers begin to bloom, the "Higanbana Meguri & Basara" festival is held. This event sees lots of people from all over Japan visiting the prefecture.
Information
Location:Tsuzura Rice Terrace
Address:3227 Ukihamachi NiikawaUkiha, Fukuoka 839-1413
Access:30 minutes by car via the "Haki IC" Oita Expressway
Estimated Bloom Time:The middle of September
[Survey] Traveling to Japan