Experience a "Japan National Online Festival & Firework Show" in Your Own Home! (*Includes Latest Information for 2020)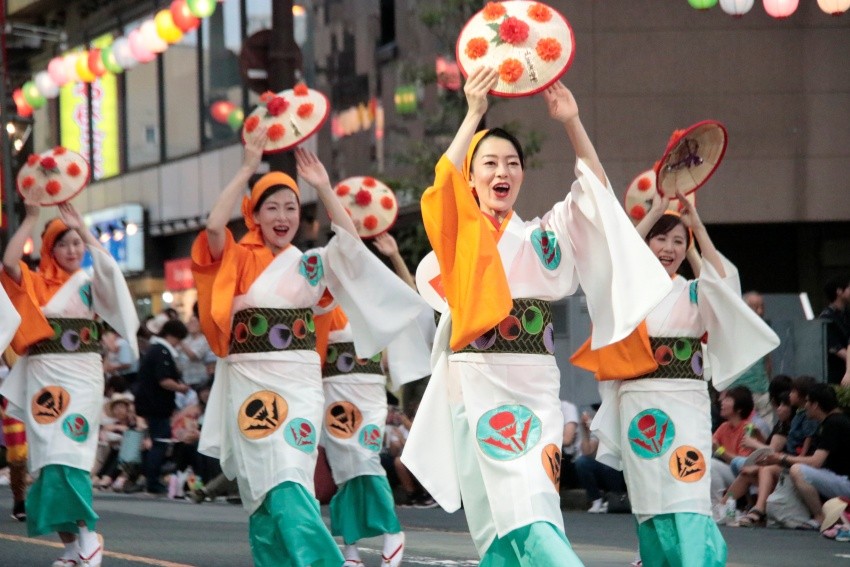 This year has seen many of Japan's festivals and firework shows either be cancelled or postponed until further notice, lots of people who were planning to visit these festivals have expressed their feelings of disappointment about the situation. To try and bring a smile back to everyone, we have created a plan for a brand new series of special feature articles! First of all, let's take a look at Japan's 12 most famous festivals & firework shows!

After receiving the permission and many lovely pictures from various people from around Japan, alongside events that are still planned to take place, in this article we are going to be introducing many amazing festivals to you one after another! There are many festivals here which pack a great punch for excitement, and after seeing all of the performers dancing away, you'll surely have a smile on your face. There may be festivals you already know about, but you may even find some new festivals which you want to visit on your next visit to Japan?

①【Hokkaido】YOSAKOI Soran Festival
Image Provided by:YOSAKOI Soran Festival Organization Committee
Outline
The YOSAKOI Soran Festival was created in 1992 and is what reminds the residents of Sapporo-shi, Hokkaido that summer has finally begun. The 2 rules for participating is to hold a "naruko (clapper)" and use it alongside the "Sōran Bushi​", a popular Hokkaido folk song which will be playing.

Event Period:June 10th ~ June 14th (This year has been cancelled)
Event Location:Sapporo-shi, Hokkaido
②【Aomori Prefecture】Hachinohe Sansha Taisai Festival
Outline
The Hachinohe Sansha Taisai Festival which takes place in Aomori boasts over 300 years of history and tradition. One of the greatest things you can see at this festival are the magnificent parade floats and the parade showing the portable shrine. This festival was registered as a important intangible folk culture asset​ as well as a UNESCO intangible cultural heritage.

Event Period:31st of July 2020 ~ 4th of August 2020 (Select parades are not taking place this year)
Event Location:Aomori, Hachinohe
③【Akita】Akita Kantō Festival
Outline
One of the three Tohoku great festivals, the Akita Kanto Festival. Its most prominent characteristic is using a part of your body to life up a Kantō​. Balance plays a major part in not falling! Can you believe this traditional festival has been taking place since the Edo period of Japan!

Event Period:3rd of August 2020 ~ 6th of August 2020 (Cancelled this year)
Event Location:Akita, Akita-shi
④【Akita】Omagari Fireworks
Image Provided by:大仙市役所

Outline
The Omagari Firework festival began in the year 1910 and has been held over 90 times since its creation, it is known as one of Japan's top 3 firework festivals. Omagari, which boasts the title of "Town of Fireworks", has top-class pyrotechnists from around the country, they often perform overseas and are showing Japan's firework display prowess to the entire world. One thing you cannot afford to miss when experiencing this festival is the wide starmine which takes an entire year to create.

Event Period:29th of August 2020 17:15 ~ 18:00 (Noon Event) 18:50 ~ 21:30 (Night event)
Num. of Fireworks:18,000 (2019 statistics)
Event Location:Akita, Daisen
⑤【Yamagata】Hanagasa Festival
Outline
The Yamagata Hanagasa Festival, a festival that decorates the summer of Yamagata. The symbol being the hat which has been decorated with safflower. They carry a hanagasa (hat decorated with flowers) and dance whilst chanting "Yasho, Yasho", it is a festival loved by all across Japan.

Event Period:5th of August 2020 ~ 7th of August 2020 (2020 event cancelled)
Event Location:Yamagata, Yamagata-shi
⑥【Yamagata】Akagawa Fireworks Festival
Outline
The Akagawa Firework Festival is the #1 most popular festival within Yamagata and even entered the top 10 in the "Japan best 100 firework festivals" showing it is well received nationwide. It is one of very few firework festivals across Japan that has a firework design council. It is a firework show where pyrotechnists from around the country come together with their skills to create something truly amazing. The length in which the fireworks are shot up can read up to a stunning 700 meters and even year the people who watch are moved by the amazing show. The FUN! JAPAN editorial team highly recommended the ending.

Event Period:August 15th 2020 (2020 event is cancelled)
Num. of Fireworks:12,000 (2019 statistics)
Event Location:Yamagata, Tsuruoka
⑦【Tokyo】Asakusa Jinja Reitaisai Festival (Sanja Festival)
Image Provided By:365ASAKUSA
Outline
The Sanja Festival is a festival held by the beloved shrines around Asakusa, and is a representative festival for Japan's Shitamachi. Boasting an enormous turnout of over 8.8 million people over a period of 3 days, it is something that reminds the residents of Tokyo that summer has started.

Event Period:May 15th 2020 ~ May 17th (This year's event has been postponed until the 16th of October lasting until the 18th of October)
Event Location:Tokyo, Asakusa
⑧【Tokyo】Sumidagawa River Toro Nagashi
Image Provided By:365ASAKUSA
Outline
The nation-wide famous Sumidagawa River which has supported Tokyo through and through, will have lanterns floating down it that have had many different feelings placed into them, it is a calm and relaxing sight which turns the river into an almost otherworldly atmosphere. It's free to see and is very popular with visitors from abroad.

Event Period:15th of August 2020
Event Location:Tokyo, Asakusa
⑨【Tokyo】Koenji Awa Odori Festival
Image Provided By:Suginami City
Outline
The Tokushima-originated "Awa Odori" has made its way to Tokyo! Over half a century has passed since it's first appearance in Koenji, with over 10,000 dancers and a million visitors every year, there's no doubt this is one of Japan's leading summer festivals.

Event Period:22nd of August 2020 ~ 23rd of August 2020 (Cancelled this year)
Event Location:Tokyo, Suginami City
⑩【Saitama】Chichibu Kawase Festival
Outline
Whilst in the winter months you have the Chichibu Night Festival, summer sees the Chichibu Kawase Festival. One of the festival's most characteristic events is when the 400 kilogram portable shrine is washed in the river, known as the "Portable shrine washing ceremony". There is also a firework show that comes alongside the festival which takes the entire event to a whole new level of excitement. 

Event Period:19th of July 2020 ~ 20th of July 2020 (2020 specific events + firework show cancelled)
Event Location:Saitama, Chichibu
Saitama Festival Official Website:https://www.saitamatsuri.jp/
⑪【Saitama】Chichibu Night Festival
Outline
The Chichibu Night Festival, another of Japan's great 3 festivals. The luxurious stands and kasaboko (combined umbrella and halberd carried on floats in some festivals) have a separate name known as "A moving gate of light", upon these stages you can see a performance which is rare even within Japan. Make sure to check out the fireworks that light up the winter night sky also!

Event Period:2nd of December 2020 ~ 3rd of December
Event Location:Saitama Chichibu
Saitama Festival Official Website:https://www.saitamatsuri.jp/
⑫【Tokushima】Awa Odori Festival
Image Provided By:Tokushima
Outline
The awa odori festival is one of Japan's three create bon dance festivals, in summer is takes place nationwide, however Tokushima is the center of this event and sees over a million people visiting every year, this piece of Japanese tradition and history is starting to become more and more known worldwide.

Event Period:12th of August 2020 ~ 15th of August 2020 (2020 event cancelled)
Event Location:Tokushima, Tokushima City
[Survey] Traveling to Japan