Yellow Kimono Which Has The Meaning of Colour of Light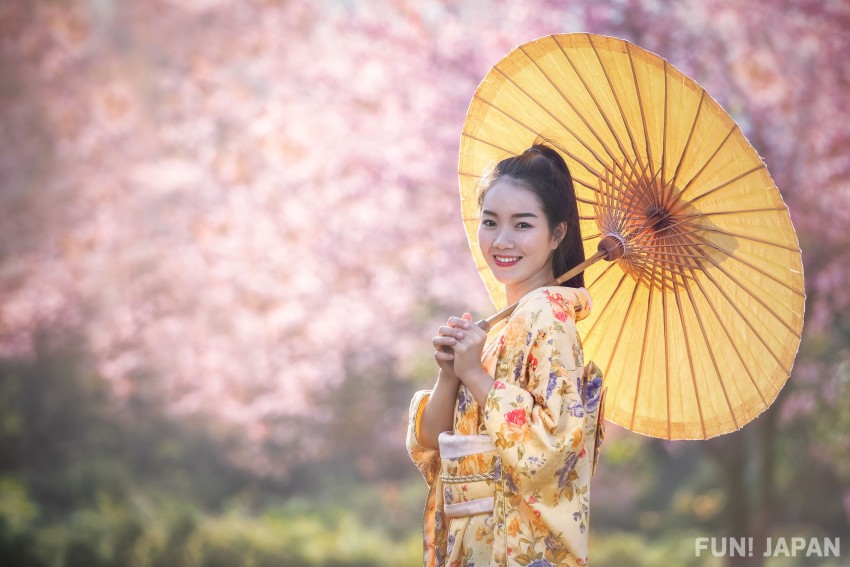 Yellow kimono can express the change of seasons depending on its colour, and the choices expand according to age. Let's take a closer look at the warm image of yellow kimono, which means the colour of light.

Yellow Kimono's Meanings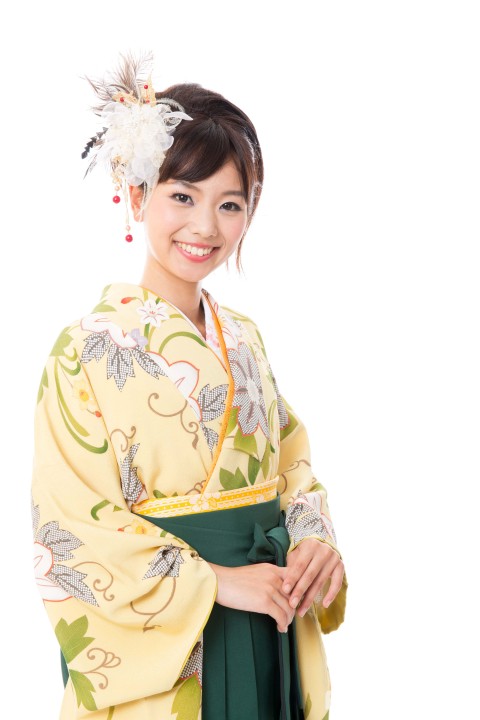 For the Japanese, yellow is the colour of light, and the warmth of the sun is soothing and the benefit of light is most felt. Therefore, the yellow kimono has the meaning of "warm", "active", and "gorgeous" that the light has. It also means "youth," "hope," and "change."

Colour Types of Yellow Kimono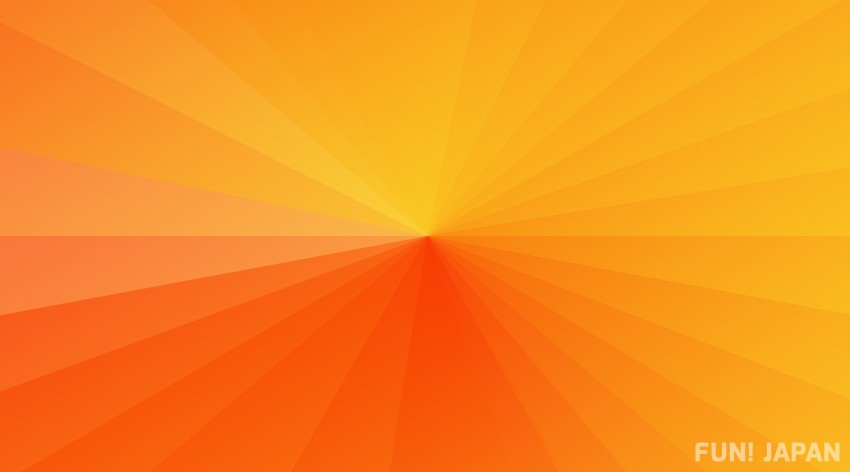 Although yellow is yellow, there are various yellow colours in traditional Japanese colours.
Chicken's Youngling colour (鳥の子色 Torinoko-iro): Very pale yellow with a reddish tint. It is a color from the Kamakura period, and the color name "Torinoko" (鳥の子 bird's younglings) refers to an egg rather than a chicken's chick, and is derived from the color of its shell.
Yellow Patrinia (女郎花 Ominaeshi): A bright greenish yellow like the flowers of Ominaeshi (Yellow Patrinia) that bloom in autumn. Yellow Patrinia is one of the seven autumn herbs. It is also known as "thought grass" (思い草 Omoi-kusa and has been composed in many poems since Manyoshu (万葉集 anthology of Japanese poetry).
Lemon colour (檸檬色 Remon-iro): Light yellow with a slight green tinge. The colour name derived from the fruit lemon, the paint "Lemon Yellow" (Remon Iero in Japanese) that was born in Europe in the 19th century became known in Japan and came to be called "Lemon colour" (Remon-iro).
Turmeric colour (鬱金色 Ukon-iro): A bright reddish yellow dyed with Ukon's roots. The English name is "turmeric". In the early Edo period, when the showy and bright colors were preferred, it was loved as the background colour of pongees and kimonos, and the word Ukon (鬱金) means "money will increase vigorously". It was a popular colour for dyeing wallet and furoshiki for good luck.
Mustard colour (芥子色 Karashi-iro): A slightly dull yellow like spice "Karashi" made from mustard seeds powdered and kneaded. Karashina (芥子菜) or Mustard is a perennial plant of the Brassicaceae family and has small yellow flowers and small seeds in the spring. "Japanese Mustard" (和辛子 Wa-garashi) is a spice made from the powdered seeds.
Yamabuki colour (山吹色 Yamabuki-iro): A bright reddish yellow like a flower of Yamabuki (Japanese Marigold). The colour name comes from Yamabuki, a plant that produces yellow flowers, and has been used since the Heian period.
Amber colour (琥珀色 Kohaku-iro): Kohaku (琥珀 Amber stone) colour; a transparent yellowish brown colour. Or after picking up English, it is also called Amber.
Kitsurubami (黄橡 Kitsurubami): A reddish fluffy yellow-brown color close to golden. "Tsurubami" (橡) is an old name of Kunugi (Sawtooth Oak), a family of Beech, and the juice of decoupling its acorns has been used for dyeing since ancient times.
Seasons when Yellow Kimono Shines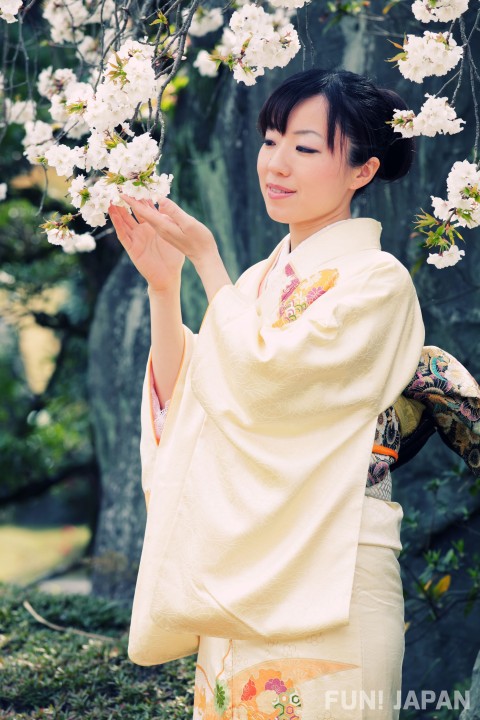 Yellow kimono is a kimono that suits any season, depending on the type of color.
Spring: The thin yellow kimono, such as the Torinoko colour and Ominaeshi, is recommended. When the cherry blossoms are starting to bloom, it is the season to wear pink kimono, so after the cherry blossoms are in full bloom, yellow kimono comes into play. Yellow is said to be the colour of spring, and the pale color is preferred for spring.

Summer: The bright yellow kimono, such as the Lemon colour, gives a cool and refreshing impression.
Autumn: Yellow kimono such as Mustard colour and Yamabuki colour, which has the image of autumn leaves. And as autumn deepens, yellow kimono which has a color close to brown, such as Amber and Kitsurubami, is cherished.
[Survey] Traveling to Japan