Kimono Obi: Types, Patterns, and Accessories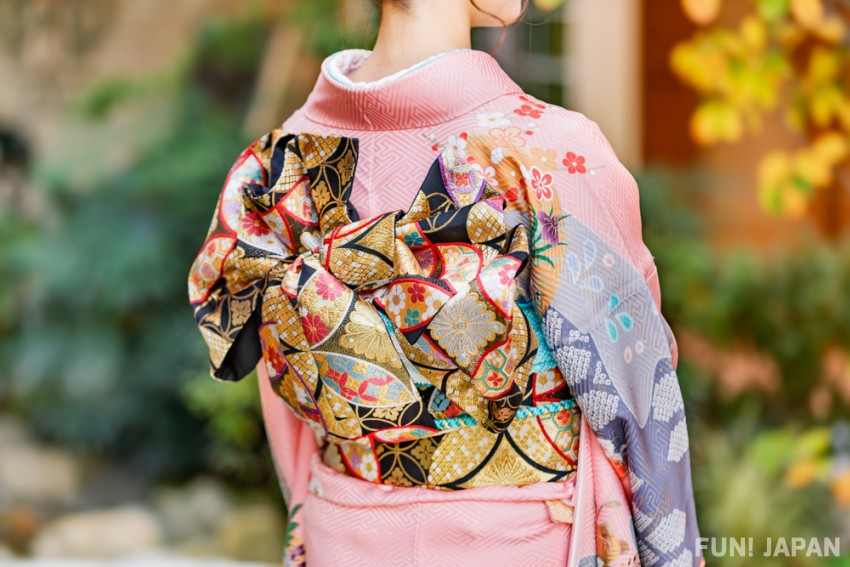 Kimono is known as the national dress of Japan. In Japan, where there a marked difference between spring, summer, autumn, and winter, it is customary to change kimono and obi (帯 sash) according to the season.

The obi serves as a belt keeping a kimono wrapped tightly closed. Different types of obi are used for women and men, and depending on the kimono and occasion for which they are worn. Of course, the patterns are also diverse. In this article, we will take a look at the various types of obi, patterns, and accessories.
Obi for Women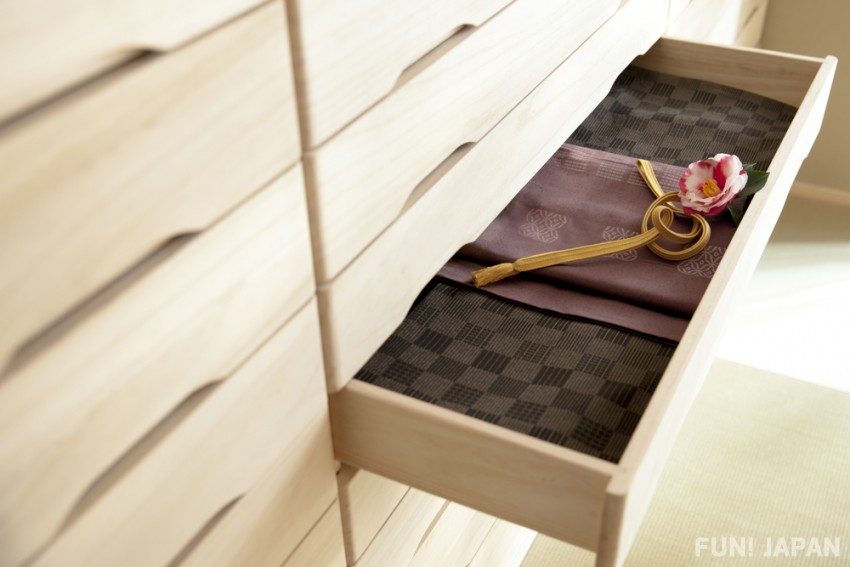 The type of obi should be selected according to the occasion for which you wear your kimono. We will introduce typical obi for each occasion.

"Fukuro Obi" for Formal Kimono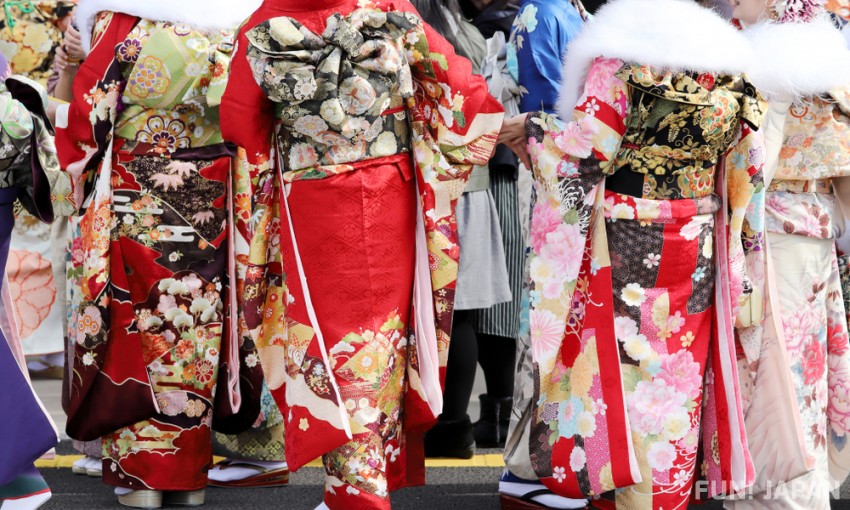 This obi is suitable for wearing with kimono such as tomesode for attending a wedding, homonngi (visiting clothes), and furisode for coming-of-age ceremonies.

At about 430-450 cm long and just over 31cm wide, it is the longest and widest obi used.
The materials forming the front and back are sewn together to form bag-like waistband, a process signifying "joy and happiness overlap". This obi is longer than other kinds to allow for a "Kazariobi" (飾り結び decorative knot) that makes the whole outfit look even more gorgeous.
"Nagoya Obi" for Semi-formal Kimono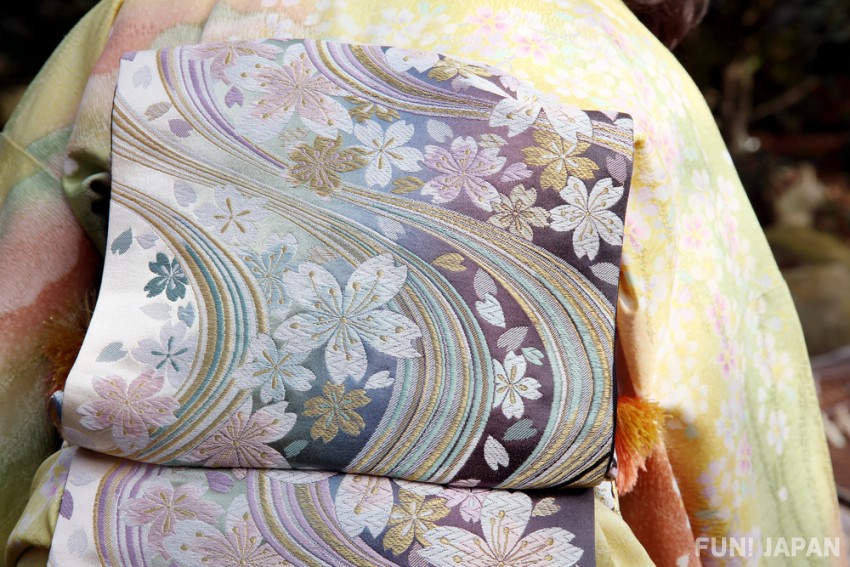 This obi is for everyday wear. It emerged after the Fukuro Obi, as an improvement on the Fukuro Obi which was difficult to put on, with the seams partially sewn to make it easier to tie and arrange.

It is slightly narrower at about 30 cm wide, and is 360-380 cm long, much shorter than the Fukuro Obi. So the effect is less gorgeous when tied up, but the advantage is it is easier to wear.
"Hanhaba Obi" (半幅帯 Half-width Sash) for Casual Kimono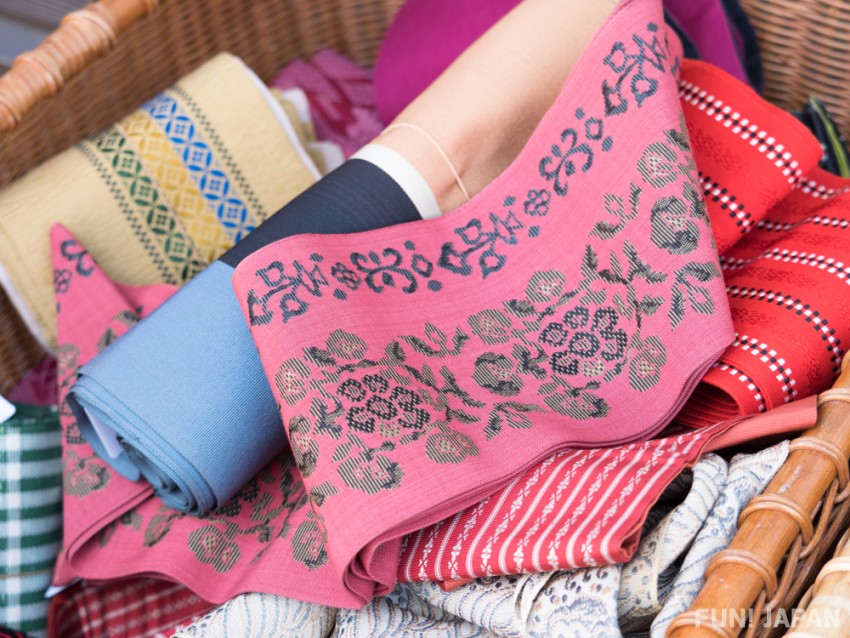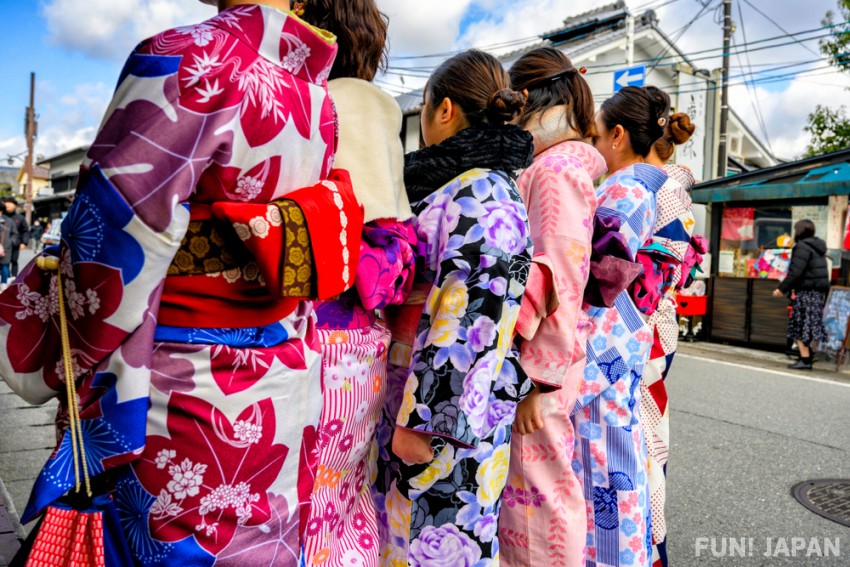 As the name implies, the width of the Hanhaba Obi is about half that of the Fukuro Obi, at about 17 cm wide, while it is 360-400 cm long. The sash can be tied more casually, and since it is long and thin, even novices can easily tie it. It is generally tied to resemble a ribbon bow, and is used when wearing a yukata which is made of thin fabric.

Also, the materials vary depending on the season. In summer, there are "Ro (絽), a combination of gauzy and regular fabric, "Sha (紗), a fine-meshed gauze, and "Ra (羅), a coarse-meshed gauze. At other times of the year, wear an obi with a lining that is not visible.
Obi Patterns for Women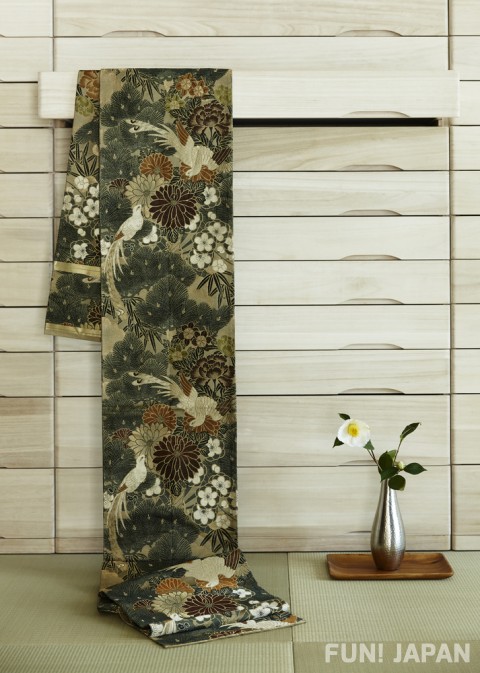 There are three types of obi differentiated by the proportion of the pattern. "Zentatsugara" (全通柄 means entirely patterned and is self-explanatory, "Rokutsuugara" (六通柄 6 part patterned) with a pattern covering 60 percent of the obi, and "Otaikogara" that has a taiko drum motif on the back part and a pattern in front part (covering about 30% of the obi).

As with kimono, there are standard obi patterns and designs that match the four seasons.
Classic Seasonal Patterns
Spring (March-May): Nature motifs such as cherry blossoms, peonies, clouds, and rain

Summer (June-August): Hydrangeas, flowing water, fireworks
Autumn (September-November): Moon Viewing, Autumn foliage, leaves
Winter (December-February): snow, camellias, plum blossoms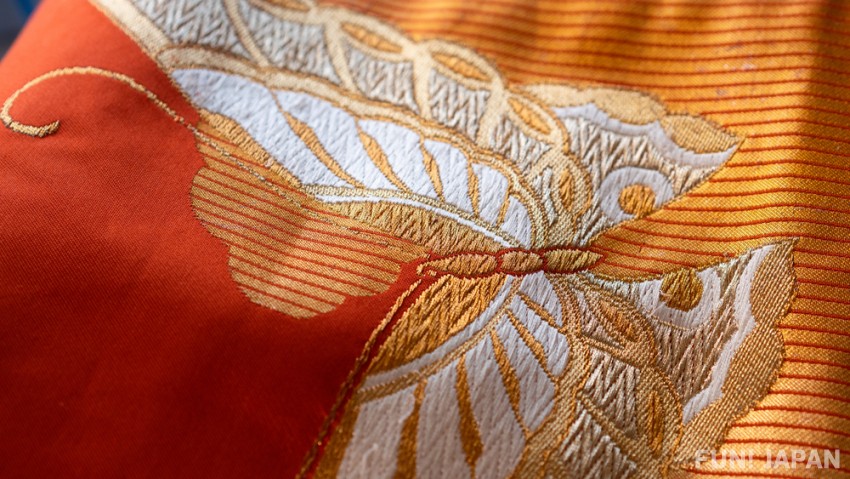 There are also patterns that can be worn all year round. For example, a combination of Shochikubai (松竹梅 pine-bamboo-plum), Mizuun (瑞雲 cloud), Tsurugame (鶴亀 crane and turtle), butterflies, phoenix, and other auspicious motifs, as well as plum, bamboo, chrysanthemum, and orchid, are used to combine the flowers that represent the four seasons, such as the Shikunshimonyo (四君子文様 four plants crest) pattern.

Obi Accessories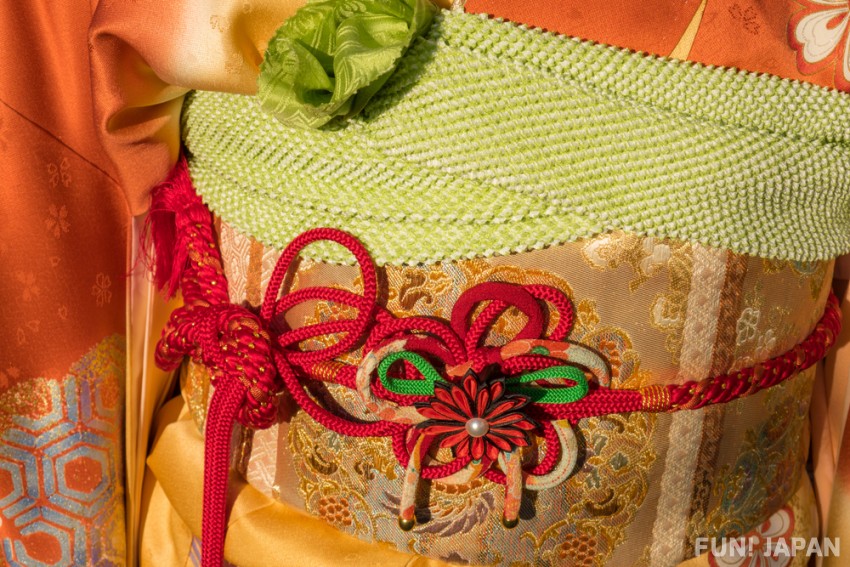 You can also wear small items around the obi to make it more stylish and fashionable. The first is the "obi-age" (帯揚げ) cloth that decorates the upper side of the obi. Since it is visible above the obi, it is important to coordinate its color with the kimono and maintain the overall balance. Next is the "obi-shime" (帯締め) a cord tied around the center of the obi that plays a role in securing it. The obi-shime has various knots and arrangements to create an elegant and gorgeous look.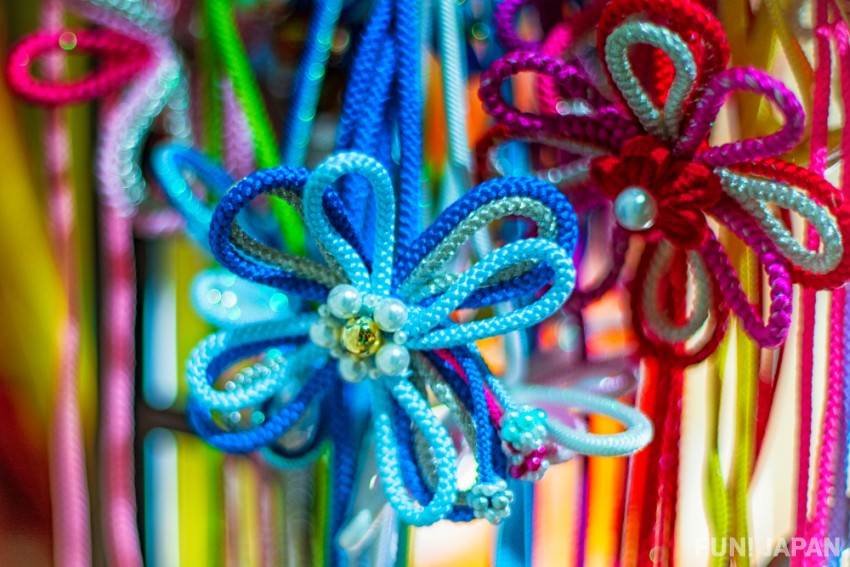 Lastly, there is the decorative "obi-tome" which looks like a belt buckle and is attached to the top of obi-shime. This is just an accessory, so you don't have to wear it, but it is recommended for those who want to coordinate their own style because they are fashionable. It is customary to match the pattern and color of the obi with the kimono, but you can match your footwear too for a completely coordinated look.

Examples of Women's Obi Knots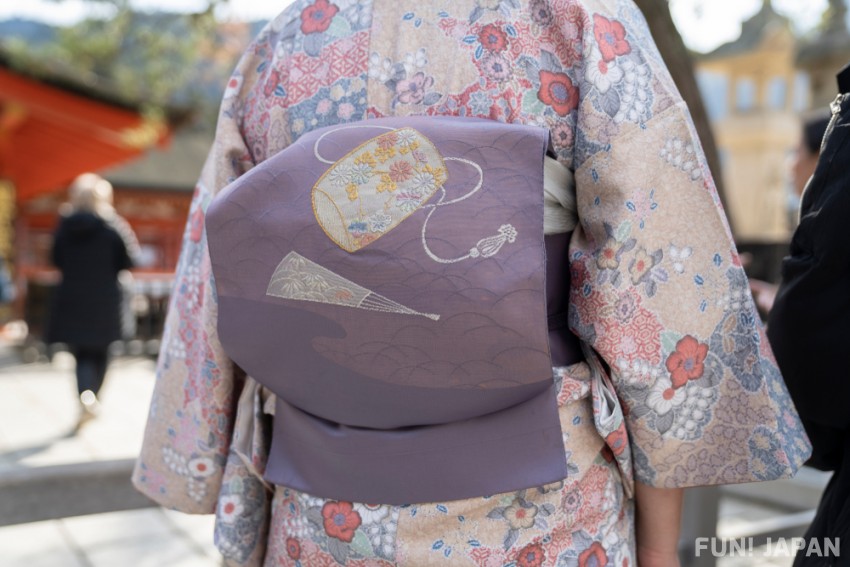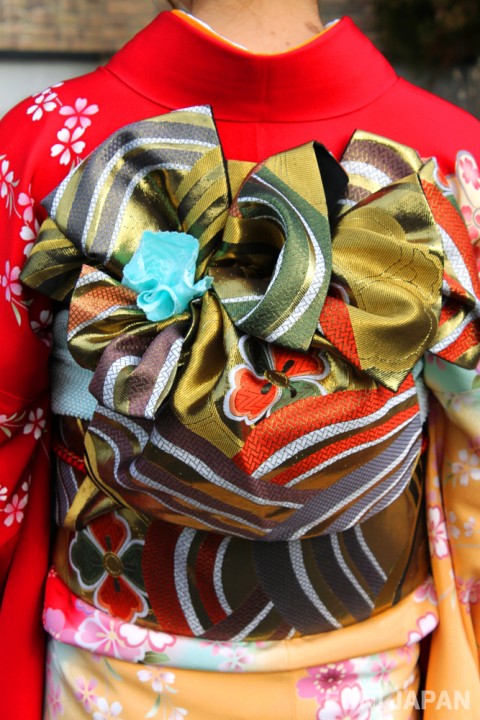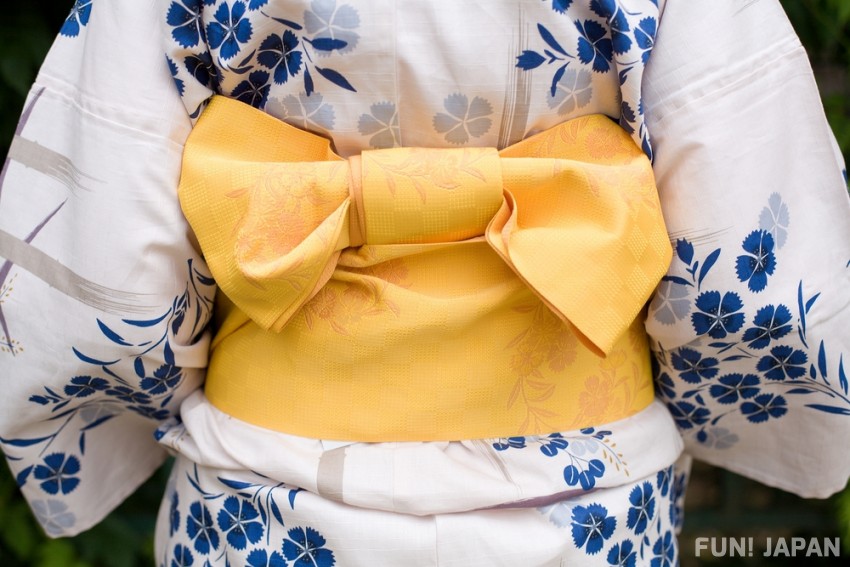 Obi for Men
Men's obi are completely different from women's. There are just two types; "Kaku-obi" (角帯) and "Heko-obi" (兵児帯).

Kaku-obi: A obi that is commonly used for kimono.
Heko-obi: Unlike the kaku-obi, the fabric is soft and wide, so it does not put a strain on the body when tightened. So it is customarily used when relaxing at home.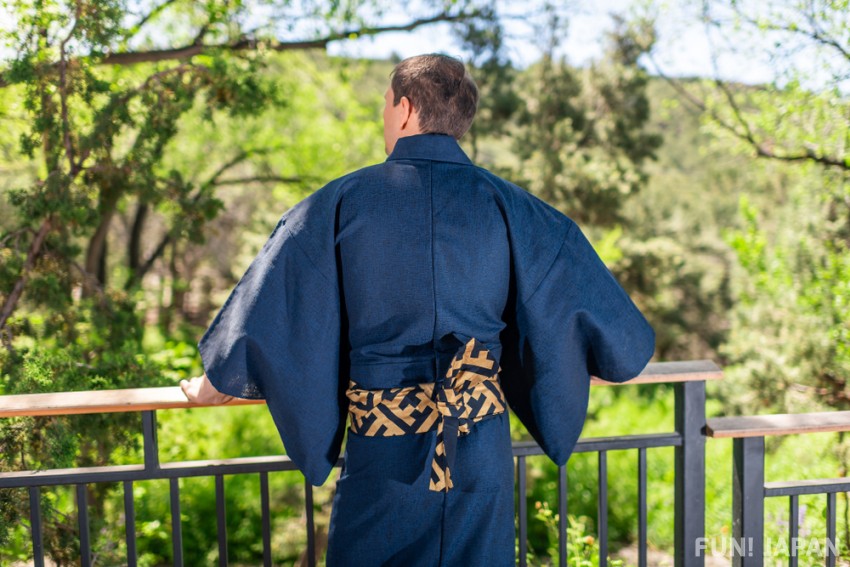 There are various ways to tie the obi, and the impression created by the kimono changes depending on the method of tying. Enjoy styling by arranging the knots according to where you are going to wear your kimono.

[Survey] Traveling to Japan