The Dream Collaboration Between Chibi Maruko-chan & Hello Kitty!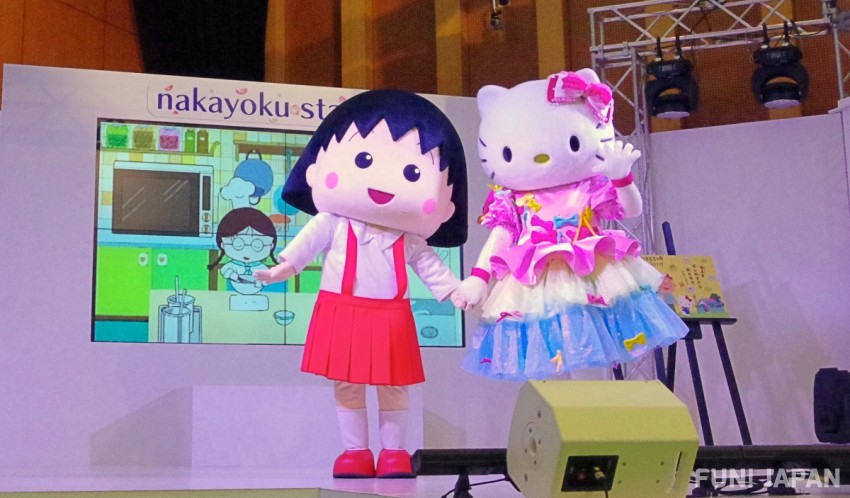 Chibi Maruko-chan is celebrating its 30th anniversary of the anime adaptation this year, and a collaboration of Chibi Maruko-chan and Hello Kitty has been announced!
Chibi Maruko-chan x Hello Kitty Sure Win Lottery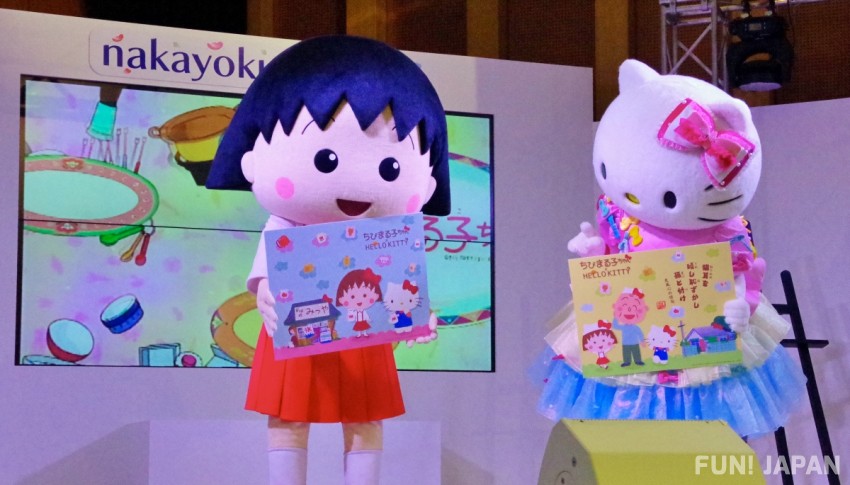 From the beginning of June 2020, the Chibi Maruko-chan x Hello Kitty Sure Win Lottery can be purchased at all Sanrio stores, Sanrio corners in shopping centres, Lawson, Mini Stop, Daily Store, and book stores. You will definitely get something cute from this lottery series. There will also be more projects which will launch later for this collaboration.
Adorable Design With Hello Kitty Ears
This collaboration has designs such as a Hello Kitty ribbon on Maruko's head, and her grandfather Tomozo wearing a hat with Hello Kitty cat ears.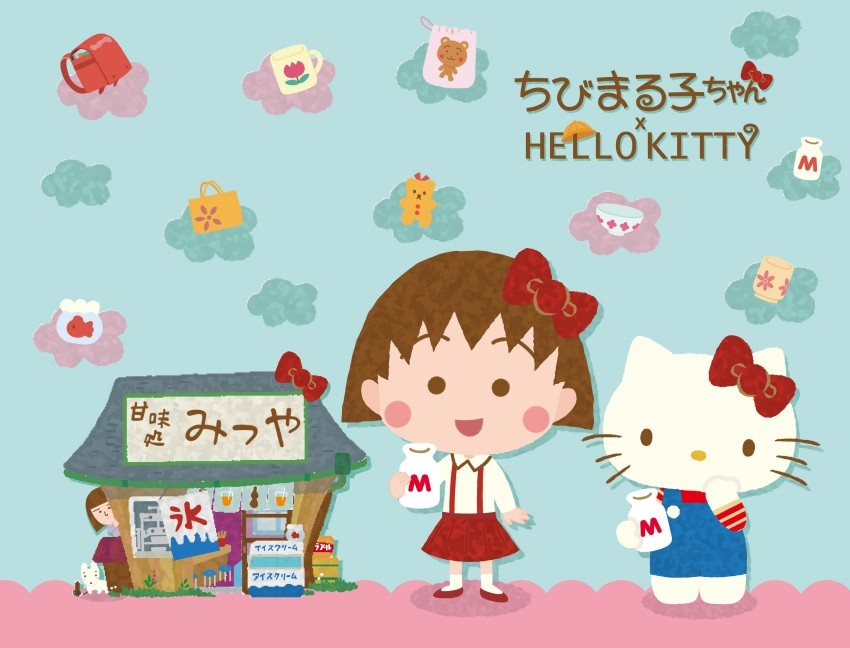 The collaboration also features a scene where Chibi Maruko-chan and Hello Kitty are drinking milk bought from a snack shop called Mitsuya, while Emiko spies on her from behind the shop.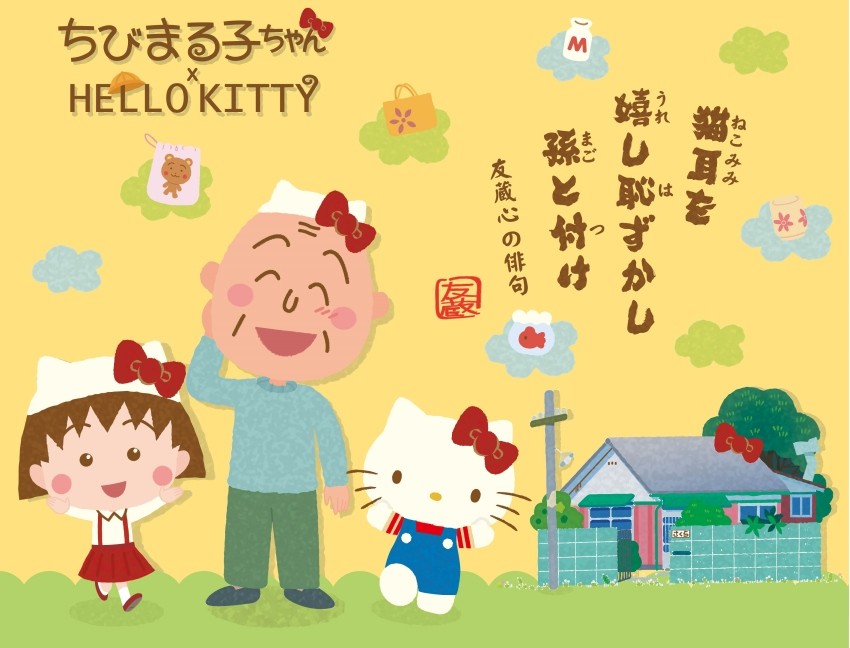 The other design features Maruko and grandpa Tomozo playing cheerfully together with Hello Kitty, while Tomozo recites an original haiku for the collaboration: "Kitty ears, how embarrassing, with my granddaughter".

Also, we can see Hello Kitty entering into a scene with Chibi Maruko-chan in her daily life.  All of these scenes are very nostalgic, however, they all also have a new, fashionable design.
Various Items to Win from the Lottery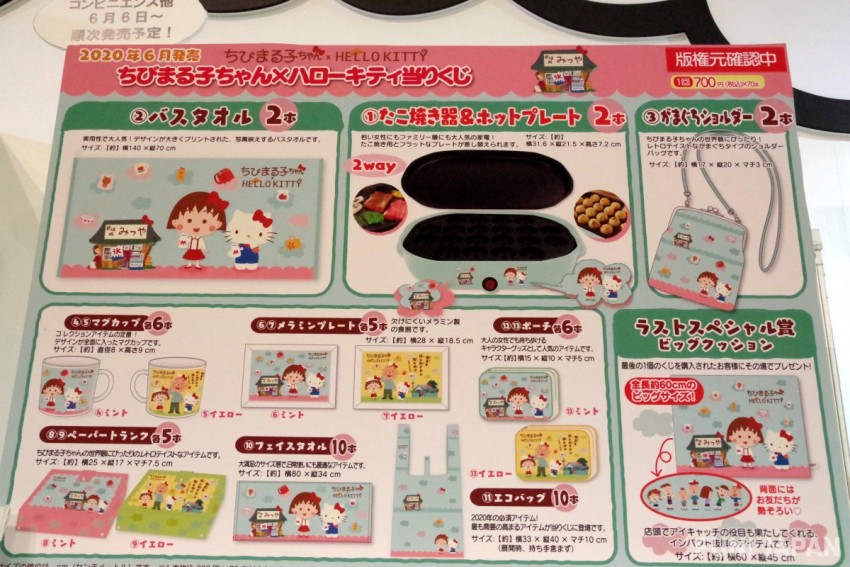 Prizes of the lottery which will start from the beginning of June will have both versions of the design. Items include Takoyaki and a Hotplate Cooker which you can switch between a takoyaki pan and flat hot plate, bath towel with a large print of the collaboration design, and a shoulder bag with a retro feel. There are also mugs, plastic plates, pouches and other daily items to be won as well.

It's difficult to make up your mind on which to get when there are so many cute choices, right? 
Product Information
Product name: Sanrio Lottery - Chibi Maruko-chan x Hello Kitty

Price: 700 JPY (tax incl.) for one roll

Start date: Early June 2020 

※Date varies with each store
Locations: Sanrio direct stores, Sanrio corner of shopping centres, Lawson and etc. ※Might not be sold at some stores
[Survey] Traveling to Japan