New Travelling Standards and Style in Hokkaido! The 3 Best Area with Striking Views to Cycle (Australia Route)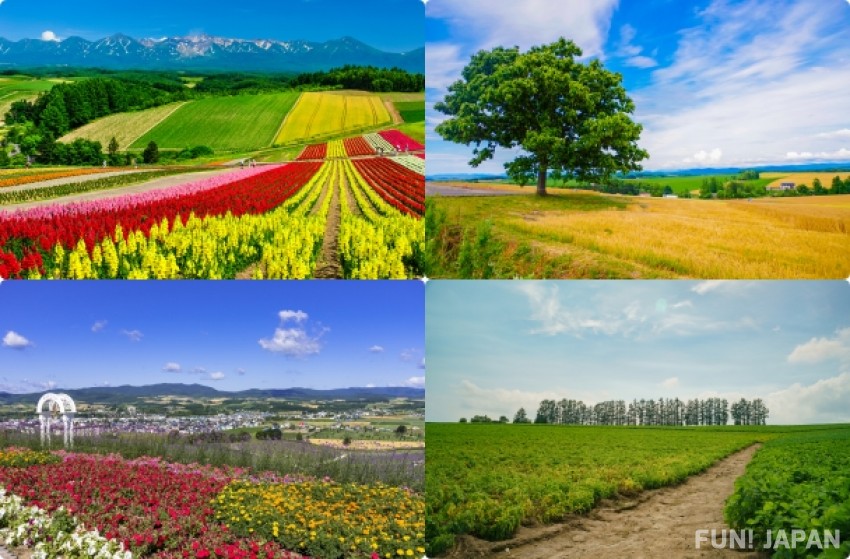 What come up to your mind when we talk about Hokkaido- the northernmost of Japan? Snow? Hot spring? Niseko? Hokkaido sounds like a destination in winter while, in fact, it is also wonderful to visit Hokkaido in the greenish season from May to September for the clear air, refreshing wind, and the cozy weather in summer…to fully enjoy all these, you want to tour around on a bike.
Absolutely Safe and Secure Even for Beginners! You Might Want to Know Before You Go…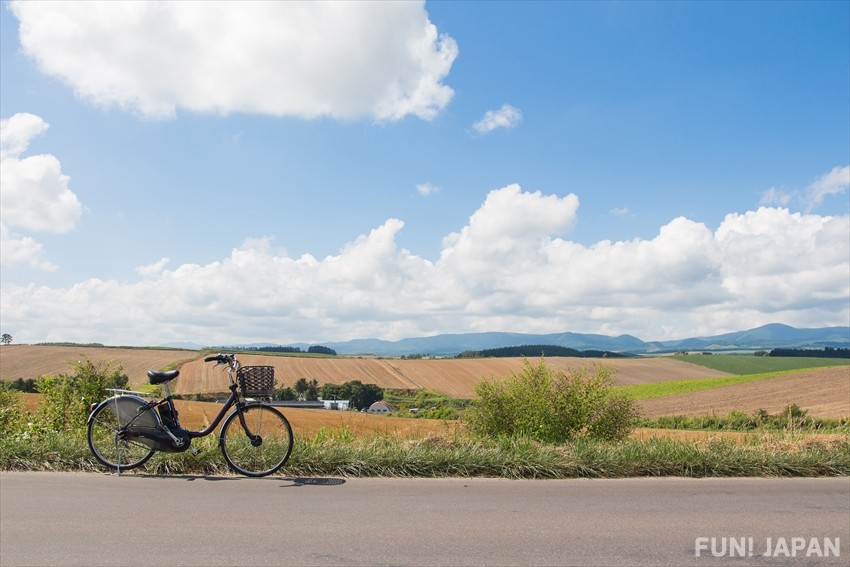 Cycle Hokkaido, the paradise for cyclists on all levels- not much traffic on the road, beautifully paved trials and farms, and easy spots close to train stations. On a bike, you can explore more unlike any other trips, you can indulge in more superb views, enjoy delicious gourmets, hot springs…filling up your days with the spots you love is simply enjoyable, no matter you are travelling alone, with your family or with your friends. Feeling anxious for your first try? Have a look on Hokkaido Cycling Tourism Guide for tips for your plan. 

In the site are all you need to know, such as details of the cycling routes, information about visiting spots, important points to note, cycling time, etc., you may want to bookmark it for your trip to Hokkaido. And now, let's look at some recommended areas with gorgeous views chosen by FUN! JAPAN.
Furano is Much More Than Flower Farms in Summer- Experience History on Your Bike!
"Furano" is a hotspot in Hokkaido well known for its flower farms and fruits in summer. Now that we have come all the way on your bike, why don't we explore some more? What about a secretive cheese factory or photo spots that taken Japan by storm lately through dramas set on them? Your whole new journey in Hokkaido awaits for you to simply rent a bike at JR Furano station!
Rokugonomori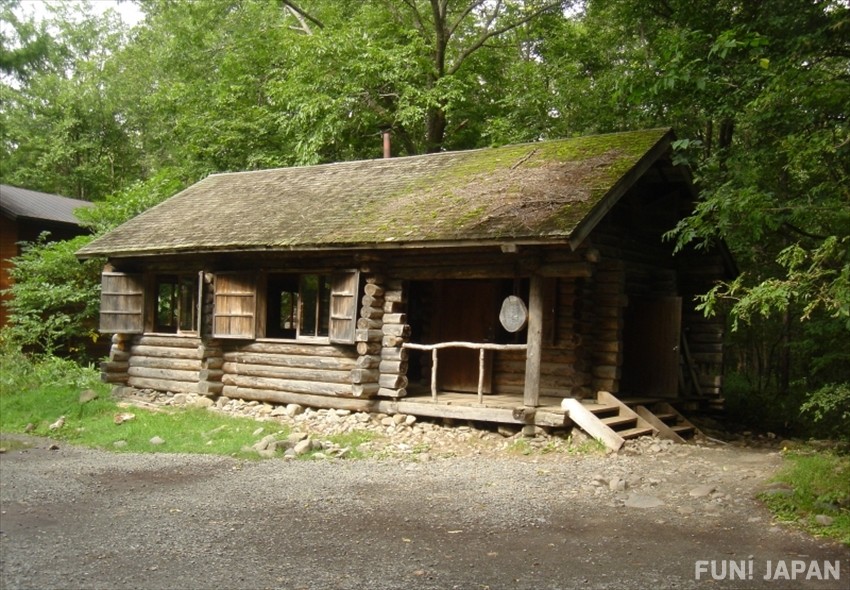 "Kita no Kunikara" (also known as "From the Northern Country"), a hugely popular drama from 1981 to 2002. "Rokugonomori" is one of the important filming locations of the Japanese classic long drama. Historical architecture like the "Marutagoya" (log house), the 3rd "Goro house" (which is wind-powered), and the café all surrounded by trees appeared in the drama, and they are open for visit. Even though you may not be familiar with the drama, the spirit-soothing scenes are promising, no doubts.
Torinuma Park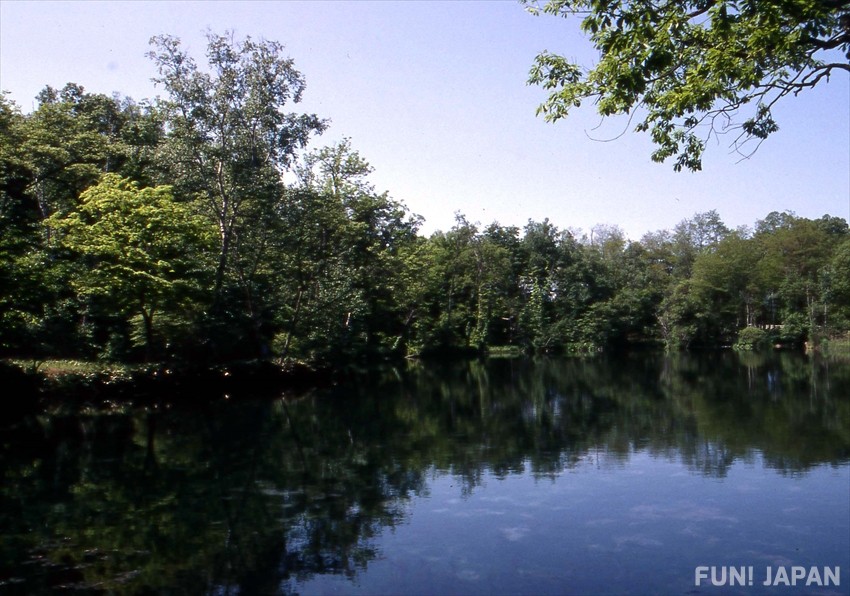 Another filming location of the drama "From the Northern Country" and a secretive spot in Furano City, Torinuma Park. Without a shadow of doubt, the crystalline water and emerald trees are breathing! Shall we rent a boat for free and take in the natural, scenic views on the water?
Furano Cheese Factory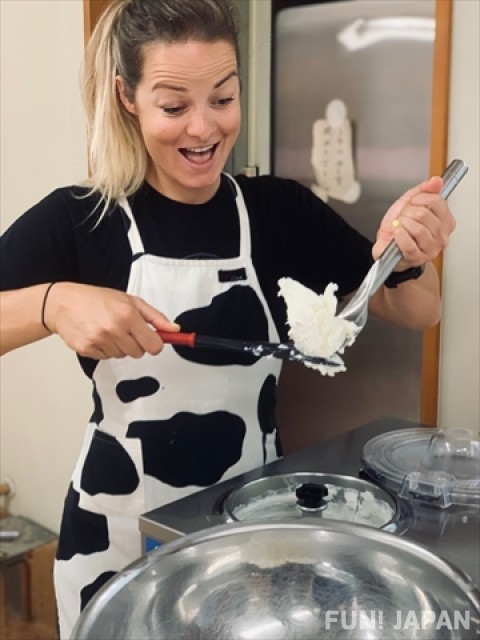 Hokkaido is super famous for dairy products so your Hokkaido trip without cheese or milk is not a trip! At "Furano Cheese Factory", visitors can learn how to make cheese, try them right there, or join the 40-min handmade butter, ice-cream workshop! Enjoying what you have made by yourself- no matter it is eating there or bring home, certainly relieves the weariness of travel.
New Experience of Kamifurano on a Bike- Hot Springs and Splendid Flowers!
Kamifurano-cho is at the center of Hokkaido, and is commonly referred as "a lavender town" with a tremendous number of visitors from mid to late July for the heavenly flower. Yes, lavender is a must see while what you may not want to miss out is other nice spots named "The 8 Best Scenes in Kamifurano". Let's look at 3 of them, which are all easy to reach out by a bike. 

The Roller Coaster Road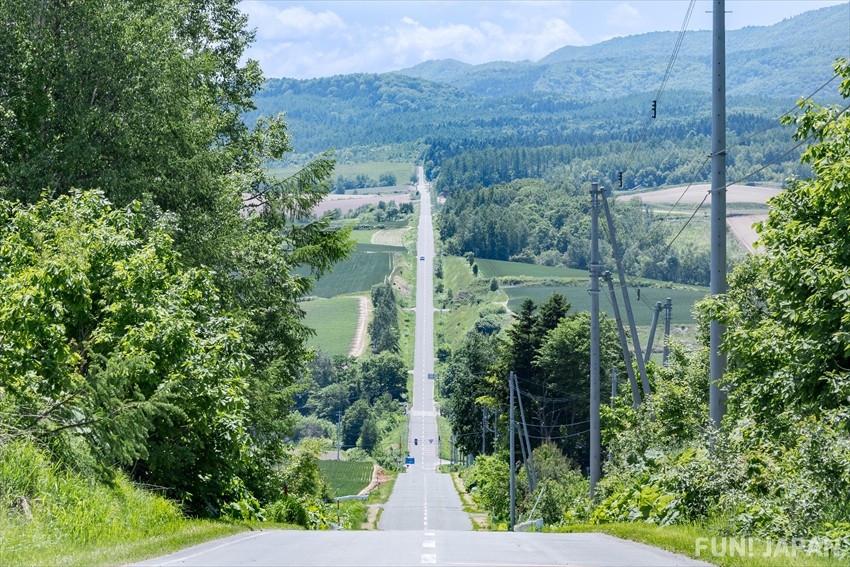 The perfect single pathway for cycling. As its name, it is a straight "roller coaster road" with steep slopes continues for as long as 2.5 km! The altitude difference of the road reaches 100 meters, it is where to enjoy a borderless horizon with dynamic landscapes of hills, farms, and nature.
Hinode Park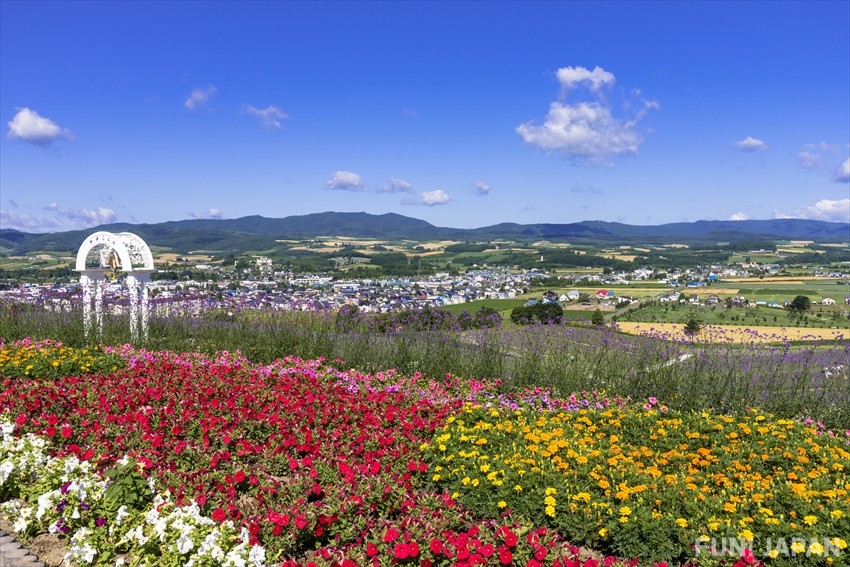 From late May to late September, "Hinode Park" is filled with lovely flowers of the season- catnips, roses and lavenders. Nothing could be comparable to the wide scenic flower fields on its observatory deck; and the park is called "paradise for couples" for the pure white "Love Bell", believed to be a monument of true love. Visit the park in July for its "Kamifurano Flowers & Passion Festival of the Colourful Seasons" for the full blossoms of lavender, it attracts as many as 30,000 visitors annually indeed!
Tokachidake Hot Spring Resort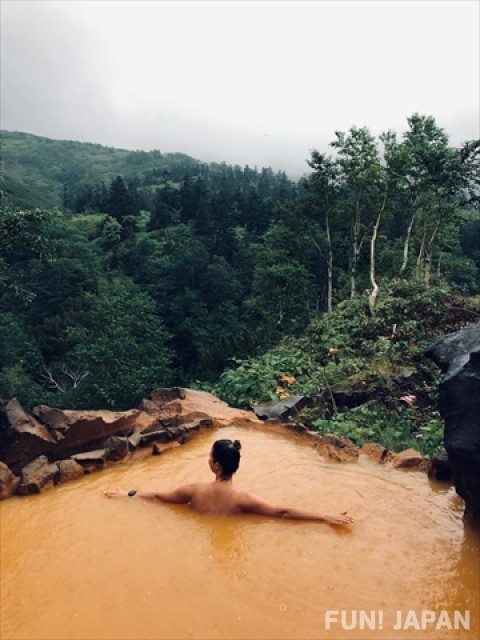 Let's head to the highest land of Hokkaido for the utmost soothing experience! "Tokachidake Hot Spring Resort" with an altitude of 1,280 meters is a hotspot in Hokkaido for its open hot spa with breathtaking, bird eye's view of the mountains of Tokachidake. The hot spring is good to cure fatigue, and the hot spring inn "Yumoto Ryounkaku" with brownish baths is especially popular! Pamper yourself in the natural scene. You may able to see sea of cloud if you are lucky enough!
Nature in Biei is Simply Second to None!
Biei-cho is world famous mainly for its classics- the "Blue Pond" and "Tomita Farm". The town is photogenic from any angles, so let's take undefeatable photos while enjoying them on a bike! Every scenery is worth a caption; the artworks if nature are the wats to heal your gut.
Shikisai-no-oka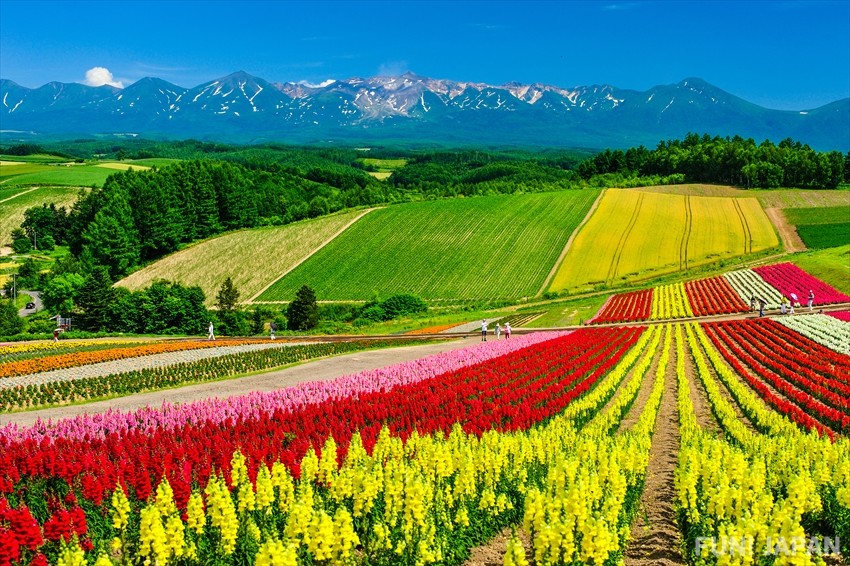 Shikisai-no-oka is a must see if you are around Biei in summer. The spot is 15 hectares large, with hills all covered by the carpet of natural patchwork of over 30 flower species of the greenish season- tulips, sunflowers, cosmos, etc. The spot is particularly colorful from July to September with the extra layers of lavender. You do not want to miss a thing here, this rainbow-colour natural garden.
The Seven Star Tree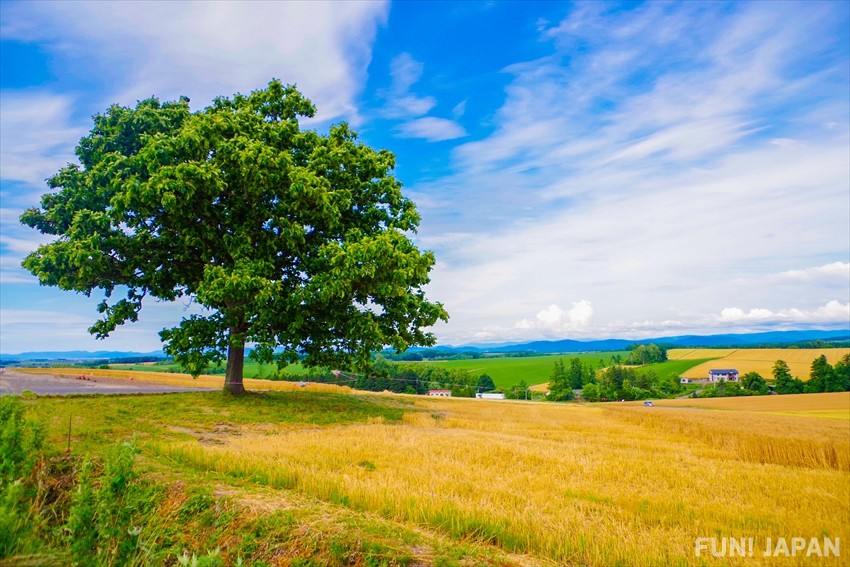 "The Seven Star Tree" became an overnight sensation in 1976 when its image was used on a package of the "Seven Star cigarettes". It is 7 km away from JR Biei station, with a 10 meters tall oak tree standing alone in the hills of Biei which continues on in all directions. It is one of the scenic spots that represents the beautiful scenery of the hills of Biei.
Mild Seven Hills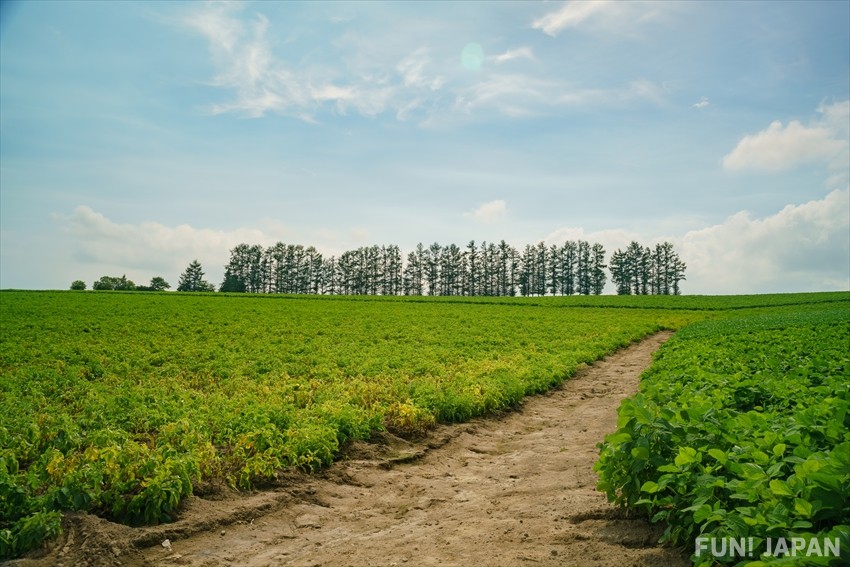 Travel another 8 km from the "Seven Stars Tree" to reach out "Mild Seven Hills", which is another representative spot of Biei appeared in the commercial of a tobacco brand. It features a large windbreak of larch trees lined up on a slope in front of a hill. It has different colors in every season, with green accents in spring and summer with a splendid contrast with the white potato flowers and the azure sky. The best angle for the trees is from a far one, with the tree lined up for your artistic shots.
Plan your Cycling Trip!
So, do you like these spirit-soothing views along a cycling route? Hokkaido has much more for you to discover on a bike besides those mentioned above. Pick your favourites, and create the greatest memories for yourselves.
Let's check other areas NOW!
Hokkaido Cycling Tourism Guide
http://hokkaido-cycling.en.visit-hokkaido.jp/
Sponsored by Hokkaido Tourism Organization