7-Eleven: The Combini Giant of Japan with the Most Locations!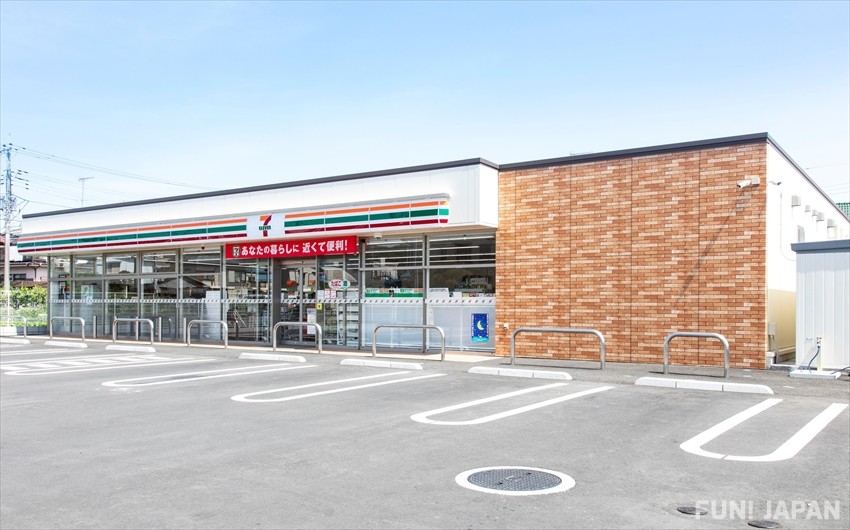 For the modern person in Japan, things you can't live without probably include your cell phone, money, and "combini" or Japanese convenience stores. Japanese convenience stores are popular spots that international tourists seek out as must-visit spots. Looking at the market shares of Japan, 7-Eleven stands at the top. In July of 2019 the number of 7-Eleven shops domestically counted an incredible total of 21,000 shops. On top of that, on July 11, 2019 the very first 7-Eleven opened on the islands of Okinawa, making 7-Eleven become the convenience store available in all regions of Japan. Here is a little bit of trivia: Do you know the meaning behind the colors of the 7-Eleven logo? Orange represents "sunrise," green represents "oasis," and red represents "sunset." These three colors are meant to show that this store is there to be the oasis for customers from sunrise to sunset. Now let's take a look at the highlights of Japan's 7-Eleven shops.
7-Eleven Begins in America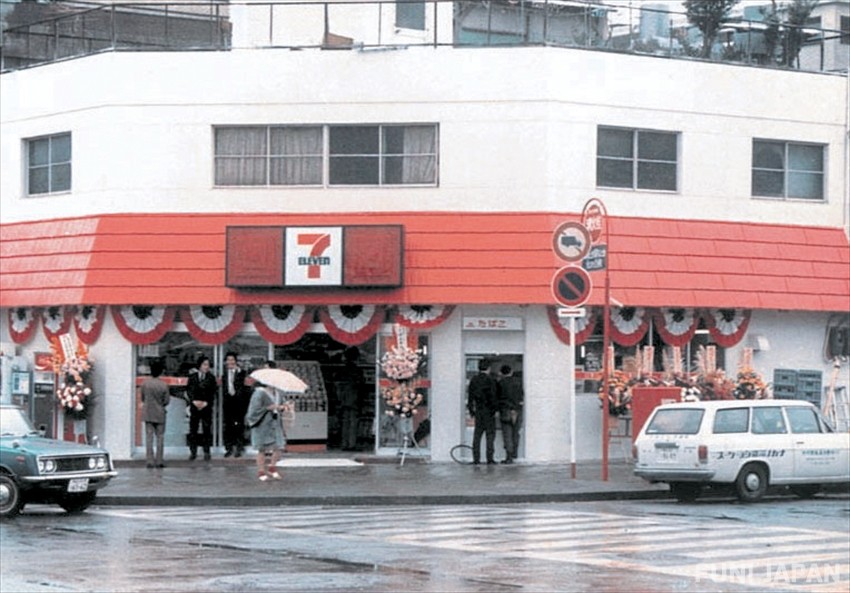 7-Eleven's history begins with its establishment in 1927. Its first shop was a small shop selling ice in America. Back then household electronics and refrigerators were not widely used yet, so ice shops were very convenient for people. Along with selling ice, they began selling things like eggs, milk, and bread with demand from customers. Following the changes with time, they began fulfilling the various needs of customers by becoming a chain that operated every day from 7:00 in the morning until 11:00 in the evening from 1946. In 1974 the first 7-Eleven opened in Toyosu of Koto ward in the city of Tokyo.
The Goods and Services Offered at 7-Elevens in Japan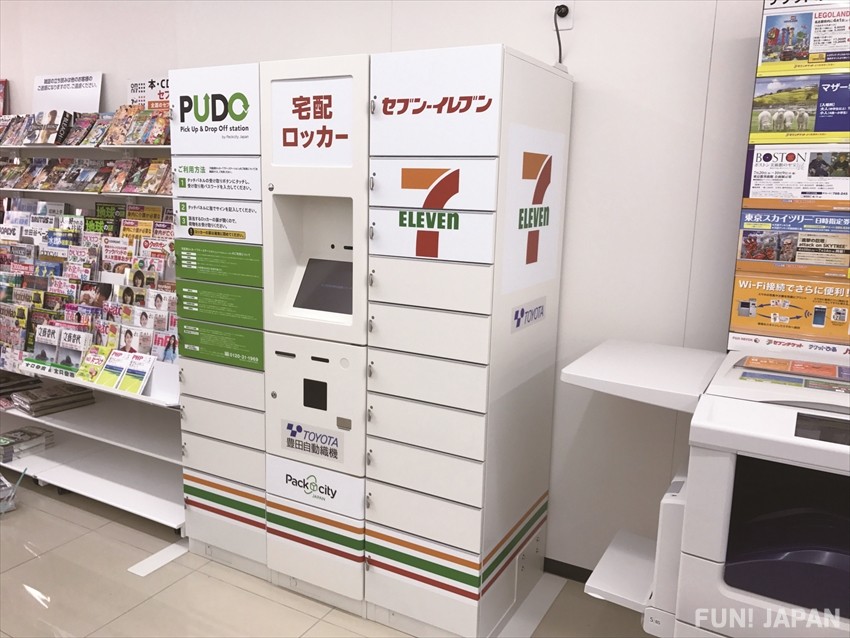 Japan's 7-Elevens offer an abundance of services. Stores offer free WIFI (7SPOT), and within the 23 wards of Tokyo some shops offer a 24-hour membership for laundry services as well. Some stores in Tokyo, Saitama, and Kanagawa offer lockers for package deliveries allowing you to pick up your orders whenever you want. This is an especially nice service for people who like to shop online a lot.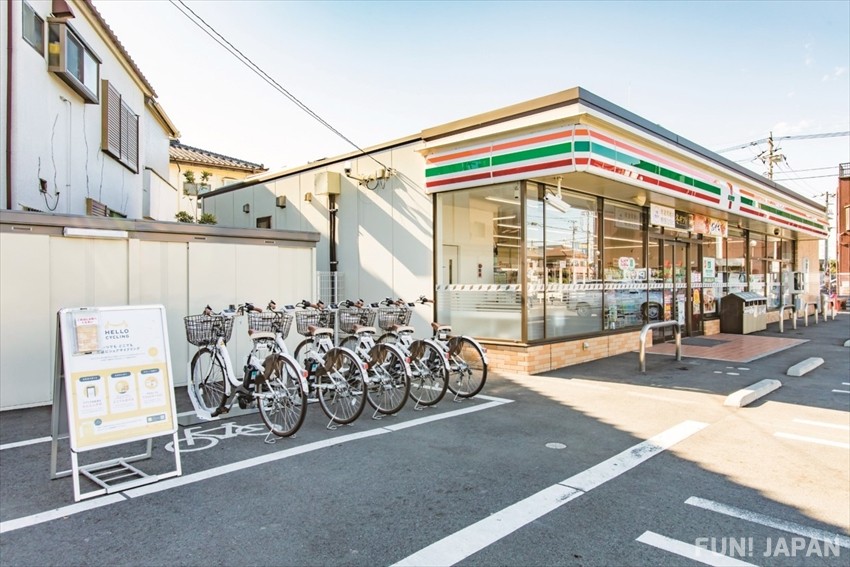 Another recently popular service is their bicycle sharing service. Once you register as a member, you can easily borrow a bike and go cycling. It is still limited to certain areas in Tokyo, Saitama, Osaka, and Miyagi cities at the moment, but if all shops domestically were to offer this service, it would really make traveling fun for many tourists who want to sightsee!
Japan's 7-Eleven shops have an amazing variety of goods and items they offer. Along with your usual brand name items, 7-Eleven also offers their own private brand "7-Premium." 7-Premium items include refrigerated foods, ice and frozen foods, packaged and manufactured food and plenty more different types of items. An example of a 7-Premium item are their Japanese sweets and candies, with many being priced at a mere 100 yen, making it a popular item by many for its affordability. 7-Eleven offers a variety of hot snacks as well which include their "Nana-chiki" fried chicken, American corn dogs, yakitori, and many other piping hot snacks ready for you to eat. There are also shops that specialize in serving coffee called 7-Cafes, supporting a variety of lifestyles people have. 
A Large Selection of Collaborative items for Tourists and Music fans!
7-Elevens in Japan often have special collaboration items. For example, Kanjani Eight or Nogizaka46 idol groups have special collaborative items sold at 7-Elevens, along with movies or anime titles with their special marketing collaborations like Ichiban Kuji lottery goods. There are many people who look forward to new collaborations that 7-Eleven has in store for the future.

Several cosmetics brands have special collaborations that are offered by the Seven and i group. An example is the "Botanical Force" product developed by FANCL with Seven and i, making the perfect cosmetic gift. Answering the requests of tourists, some shops offer tax exemption services as well. The ATMs that 7-Eleven has in stores known as 7Bank ATMs allow the usage of cash or credit cards issued outside of Japan, allowing easy withdrawing of Japanese yen for anybody!
Keep an eye out on the Different 7-Elevens Domestically!
After hearing about all the cool things 7-Elevens in Japan offer, don't you feel like going and checking some stores out? Some 7-Elevens around Japan have special shop designs to match the scenery around the shop. For example, the 7-Eleven in Shimoda city of Izu is colored brown, with white lettering and black contours. So, keep an eye out when visiting different parts of Japan, you might run into a special shop design!
[Survey] Traveling to Japan