Where is the Spectacular Iya Valley in Japan?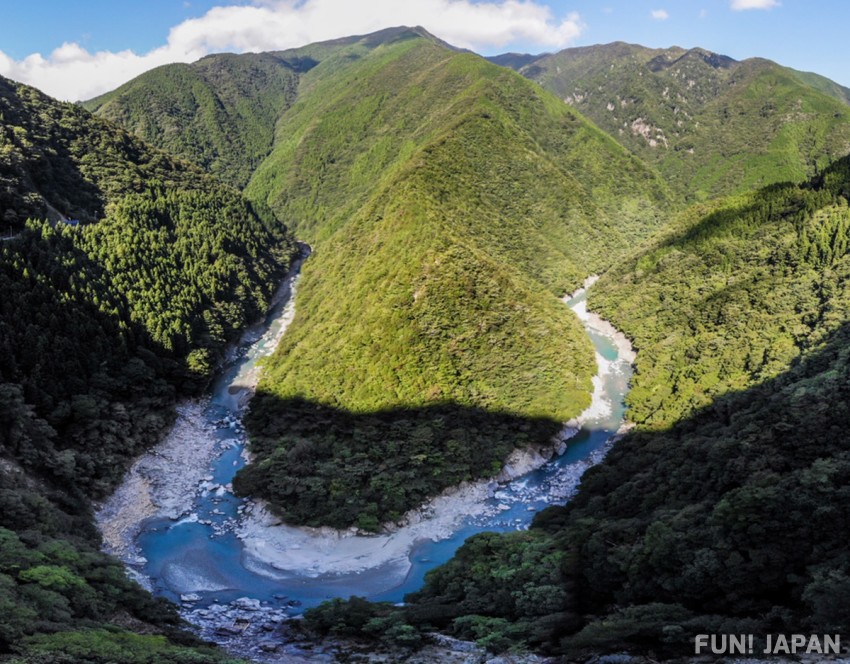 Iya Valley, which is Located in Japan's Tokushima Prefecture is a deep, V-shaped valley with a river running through it. With thrilling steep cliffs and emerald green water running through the river in the center, it is surely a place where you can see some amazing sights. Experience different sights through every season of the year with the most popular being the beautiful colors during fall. The entirety of the surrounding mountains starts to become covered in beautiful oranges and reds.
Iya Valley, Located in Shikoku Region of Japan!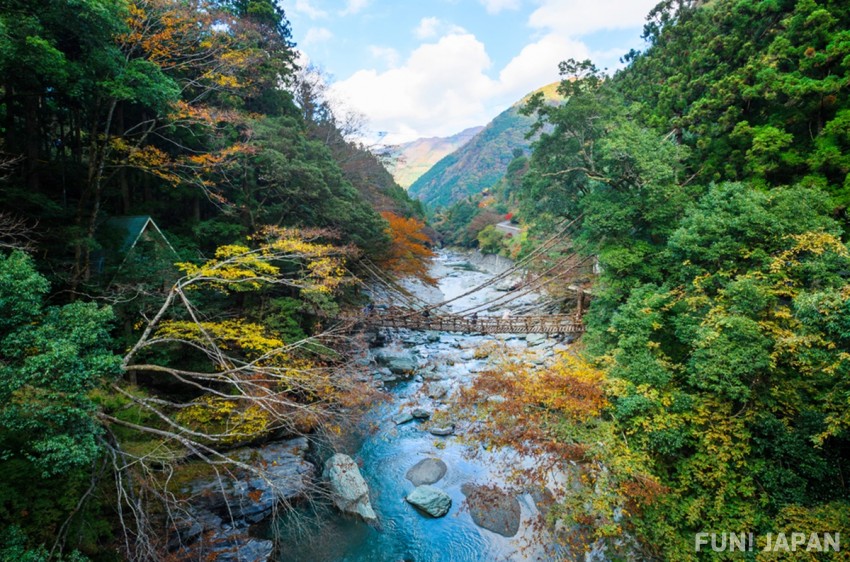 Iya Valley is located in Miyoshi city, Tokushima Prefecture and is a deep V-shaped valley. To further specify where it is located, it is within the western part of  Tokushima Prefecture in the mountainous regions. In the center of the valley there is an emerald green river running through, looking at it from above will have you lost in its beauty. In the spring you can see cherry blossoms, wisteria as well as azalea flowers, in the summer all of the fresh green leaves. In fall you can experience the beautiful oranges and red colors and in winter the pure white blanket of snow that covers the surrounding areas. This is a location where you can fully experience the four different seasons of Japan to their fullest.
Iya Valley's Places to See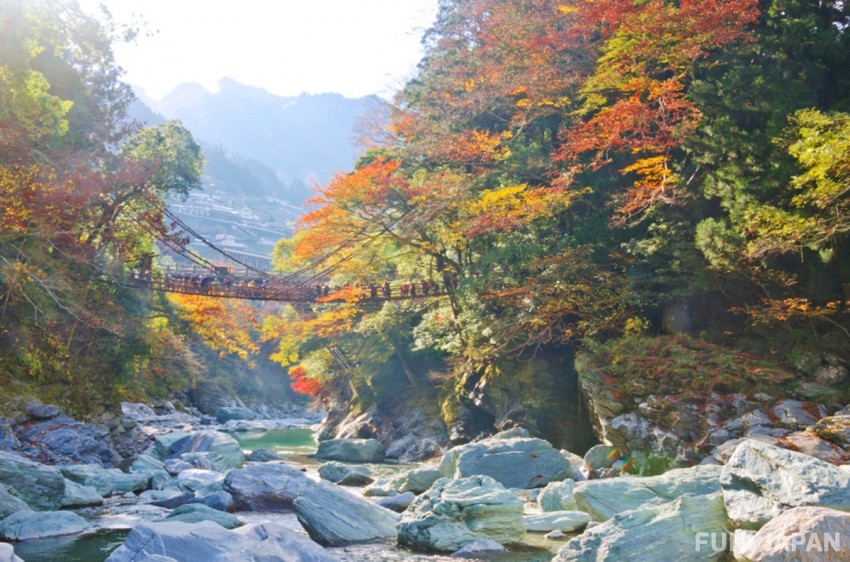 One place you cannot afford to miss when visiting Iya Valley is the river which has emerald green water running through it, as well as the surrounding nature allowing for a relaxing experience. Visit at different times of the year and see different scenes for every season! There is a Manneken Pis (小便小僧, cupid like statue) above the rocks of the riverbanks of the river, which is said to have been created after some local children decided to do a test of courage from the spot in the past.
Iya no Kazura-bashi
Iya-no-Kazura-bashi is a suspension bridge spanning 14 metre above the valley's river and has a length of 45 metre and a width of 2 metre. It is said to have been made out of over 5 tonnes of a plant called Hardy kiwi and once every 3 years is being re-straddled. In the past you were not able to cross the cliff-sides, but in recent years they have undergone maintenance allowing even large buses and cars to travel across them, opening up more opportunities for sightseeing. With every step on the bridge creating a creak and shaking slightly, it is a spot full of thrills. The fee for the bridge is 550 yen for an adult and 350 yen for a child. The operation hours are from sunrise to sunset (differs based on time of year). It is open all days of the year.
Iya Valley's Onsen Ryokan and Hotel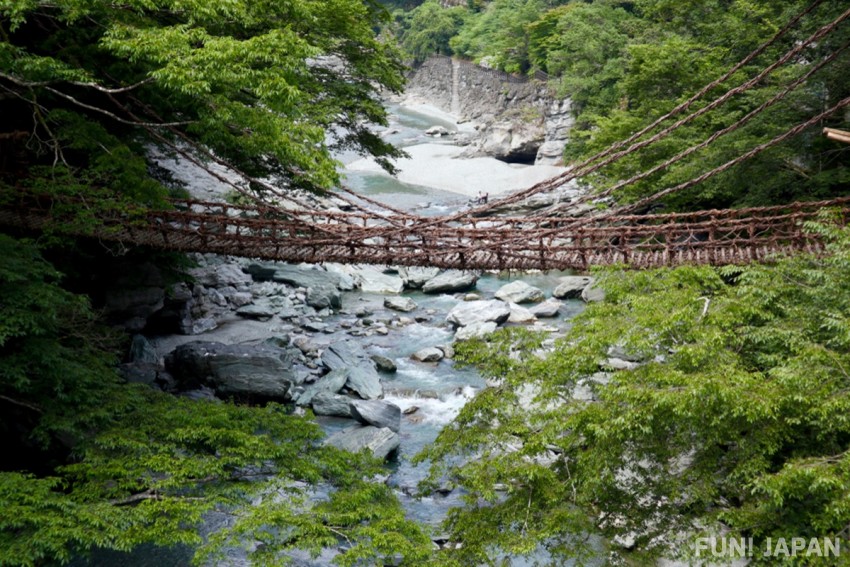 In Iya Valley, there are various institutions such as traditional Japanese inns, hotels and guest houses all in a located, surrounded by luscious nature. At the traditional Japanese inn, there is the Ivy Valley Onsen which is said to be "Hikyou no yu" which translates to "Hot water from an unexplored region". You can enjoy a relaxing rest in the onsen here whilst looking down towards the emerald green river that runs through the center of the valley. Not only this but there is even an option to ride a cable car and enjoy an open-air bath. Please, after a long and adventurous day, take a rest here and look down on the areas you visited that day.
How to Get to Iya Valley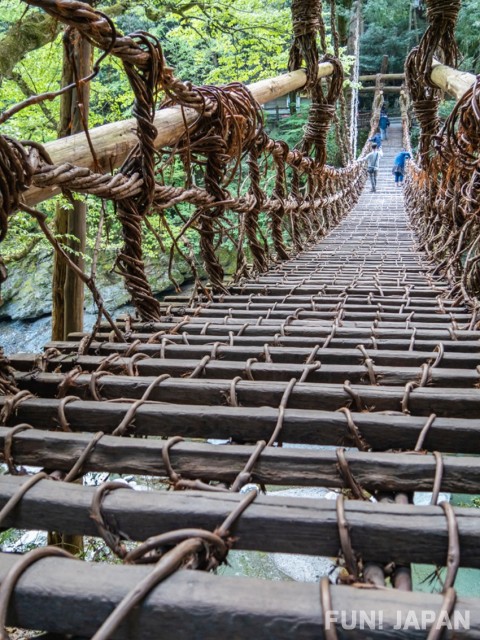 To reach Iya Valley from inside of Tokyo, first you need to ride the Shinkansen from Tokyo station for around 3 hours and 20 minutes. After reaching Okayama Station, you can change to the JR Limited Express and ride until Ōboke Station. Once you have arrived at Ōboke Station, you then need to take the Shikoku Kotsu Bus for around 30 minutes where you will arrive in front of the Iya Valley Onsen from which you can walk for 5 minutes to reach your destination.
Spot Information
Spot name: Iya no-Kazura-bashi
Address: 162-2 Nishi-iyayamamura Zentoku, Miyoshishi, Tokushima
Access: Tokyo Station→[Shinkansen]Approx 3 hours 20 mins→Okayama Station→[JR]Approx 1 hour 50 mins→Ōboke Station→[Bus]Approx 30 minutes→Iya Valley Onsen Entrance…5 minute walk
Wi-Fi: Unavailable
Language: Japanese only
Ticket: Ticket Window on-site
Credit cards: Not accepted
[Survey] Traveling to Japan