The Holy Land for Gamers! Shinjuku's Official SQUARE ENIX Café and Goods Shop "ARTNIA"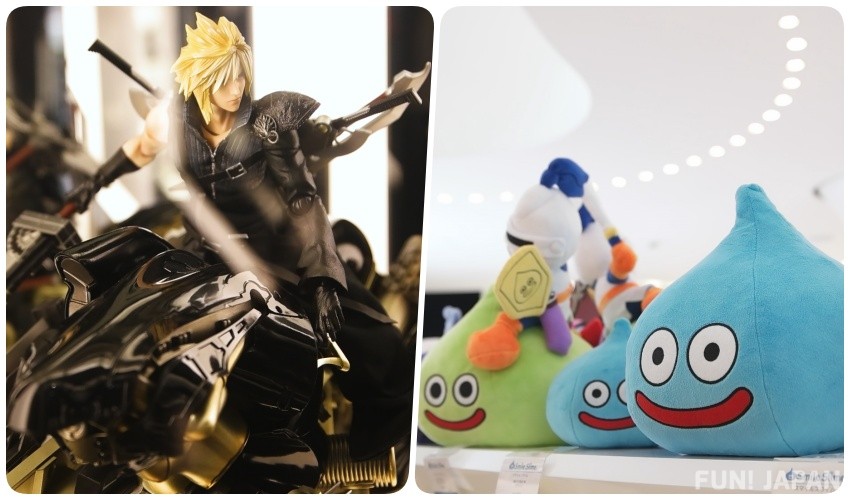 Anyone who calls themselves a gamer is familiar with popular titles such as 「FINAL FANTASY」, 「DRAGON QUEST」, and 「KINGDOM HEARTS」. This time, we'd like to introduce you to game development company SQUARE ENIX's cafe "ARTNIA." Visitors to ARTNIA can enjoy a cup of coffee in the cafe area, or enjoy browsing the various SQUARE ENIX game title related goods. Join the FUN! JAPAN team on this pilgrimage to gamer holy land!

ARTNIA - an All-in-one Café and Shop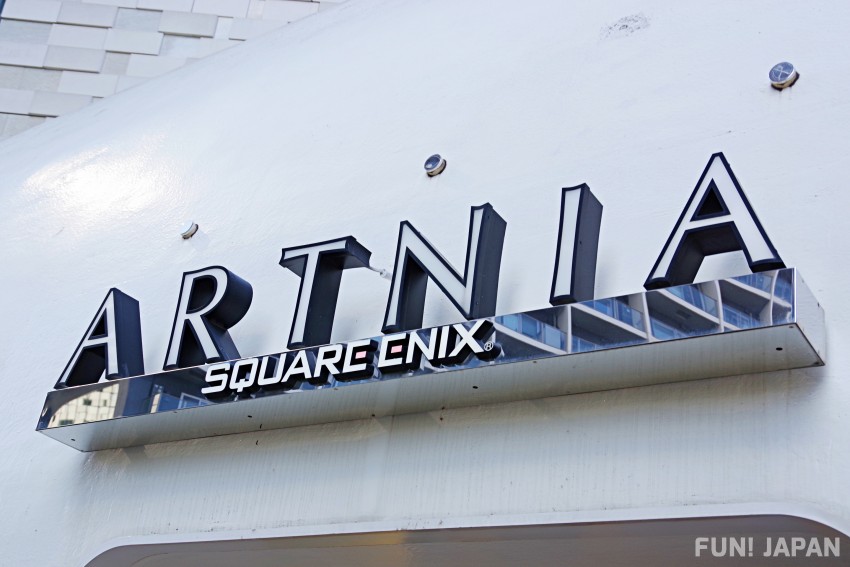 ARTNIA is conveniently located right outside Higashi-shinjuku's subway station. The name "ARTNIA" is derived from a combination of the words "ART", "AREA", and "NEAR". It's a great place for fans of SQUARE ENIX titles to buy goods from their favorite series and enjoy specially selected menu items in the cafe. The interior of ARTNIA makes you feel as though you've been transported directly into an RPG. Fans of SQUARE ENIX's games will be delighted to hear familiar tunes as they peruse the various seasonal displays. Now, let's take a look at the three main areas of ARTNIA!

Delve into the world of FINAL FANTASY in the "Luxury Area"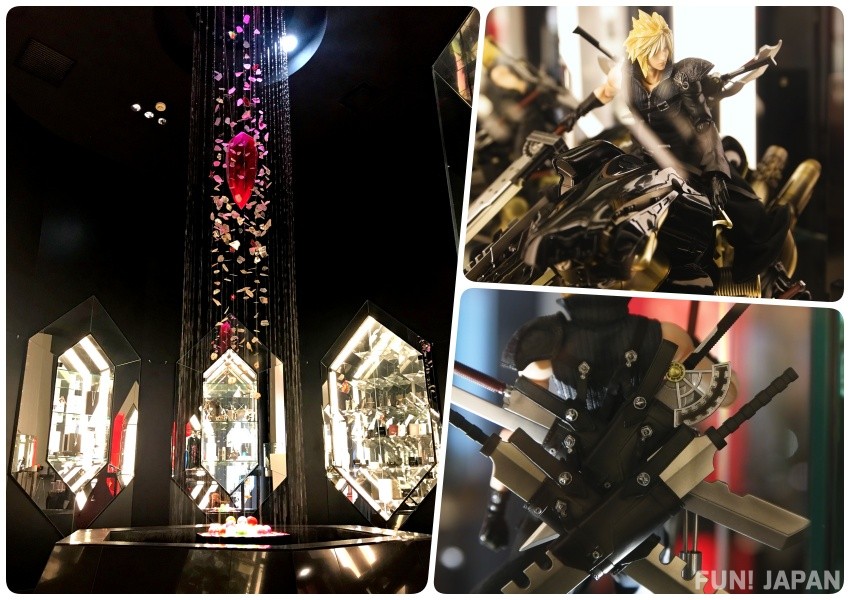 The "Luxury Area" is based on the crystals synonymous with the FINAL FANTASY series. Each crystal in this area is a glass display case filled with items that can be tried on or purchased. The red crystal floating in the center of the room surrounded by falling crystal shards paired with the faint sound of water falling will make you feel like you've been transported directly into one of the games from the series. Fans of the series will immediately recognize the gems under the red crystal to be none other than, you guessed it, materia!

Enjoy cute and tasty treats at the "Café & Bar Area"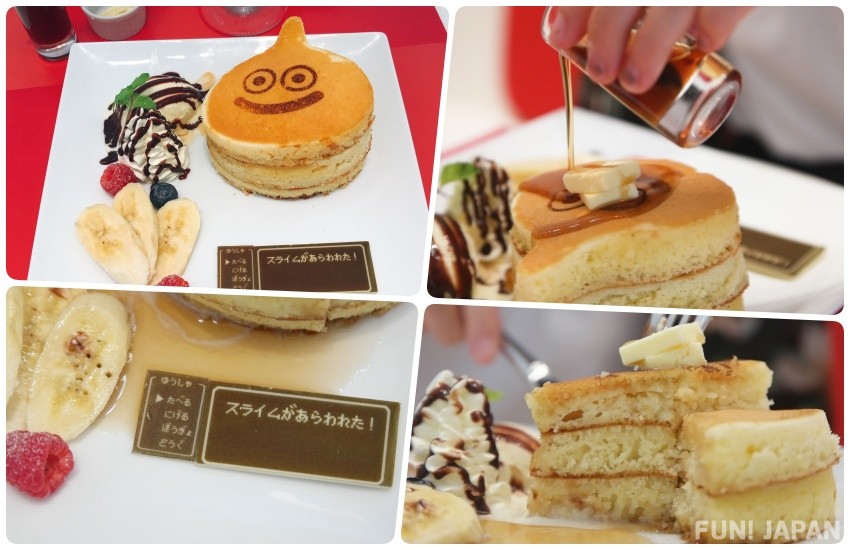 Is that a slime on my plate?! ARTNIA's "Slime Pancakes" (1,030 yen) are a fan favorite. This cute character sweet with three fluffy pancakes stacked on one another is sure to sate your appetite. There's even a chocolate message box that says "A slime has appeared!" and shows the action "eat," making you feel like you've entered battle in one of the DRAGON QUEST games!

ARTNIA is very particular about the menu items it offers. All pancake batter is made in-house from scratch using yogurt and honey and each pancake is carefully fried one-by-one. The slime pancake plate is a feast for the eyes and the taste buds!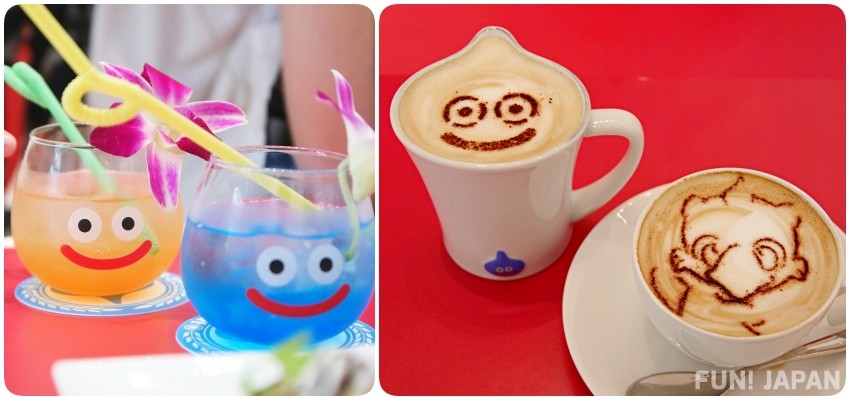 The cafe also offers "Jiggly Slime" and "Slime Beth" (590 yen each); fizzy beverages filled with gooey jelly bits in Slime and She-slime themed glasses. Don't miss the chance to try one of the cafe's amazing latte art drinks (610 yen and up) as well! Look at that slime-shaped mug! Order a coffee beverage besides the one in the slime-shaped mug and your drink will come topped with 「FINAL FANTASY」 or 「DRAGON QUEST」-themed latte art.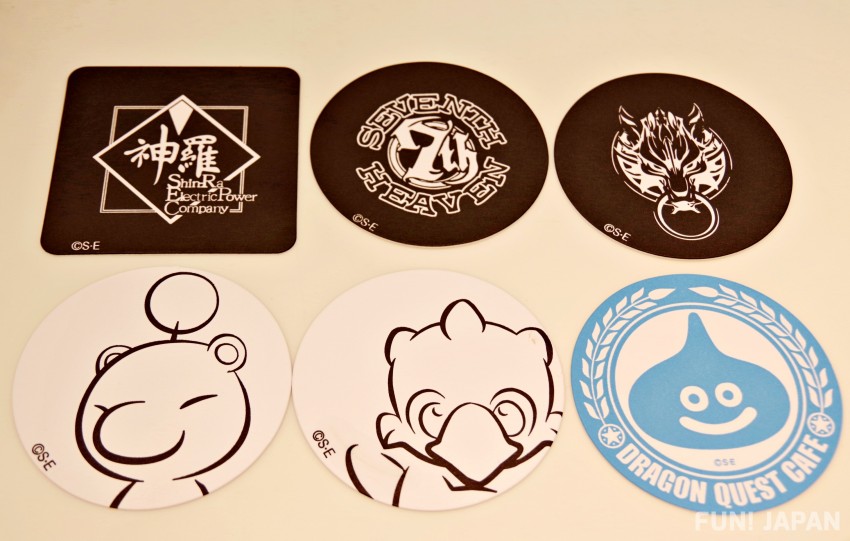 Order a cold beverage and you will receive a random coasted based on the theme of your drink. The coaster is yours to keep!

ARTNIA offers a wide variety of menu items such as pastas, brunch, and various desserts. There are special seasonal menu items.
ARTNIA strives to greet new guests and regulars alike with a sense of originality in their offerings.
Check out official SQUARE ENIX goods in the "Fancy Area"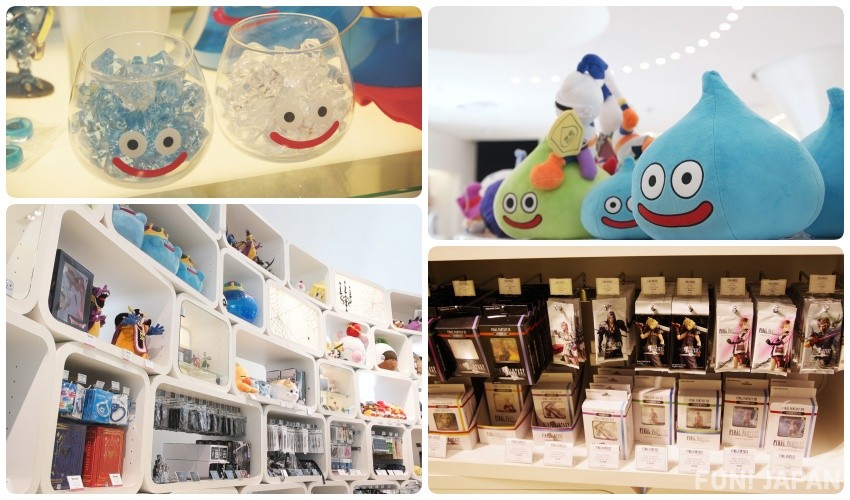 ARTNIA also sells SQUARE ENIX goods. The goods area is spread across white shelves throughout the building, making it easy for visitors to find character and novelty goods from their favorite series. The store is a great place to buy a souvenir and has plenty to offer, from stuffed character goods to keyholders and tote bags. ARTNIA also offers special limited goods that can't be bought anywhere else. The silver-rimmed version of the Slime mug used in the cafe can only be purchased at ARTNIA. You can even buy the glasses used for the Jiggly Slime and Slime Beth drinks!

If you love SQUARE ENIX games and happen to be in Tokyo, don't forget to stop by 「ARTNIA」!

Shop Info

Shop name: ARTNIA
Address: Shinjuku East Side Square 1F, 6-27-30 Shinjuku, Shinjuku-ku, Tokyo 160-0022
Phone: 03-6457-6714
Hours of operation: 11:00 am - 10:00 pm (Last order - food: 9:00 pm, drink: 9:30 pm)
Reservations: Not accepted (however, reservations may be required for events)
Fixed holiday: none
Access:

Right outside exit A3 of Tokyo Metro Fukutoshin Line/Toei Oedo Line's Higashi-shinjuku Station

A 6-min walk from exit E1 of Tokyo Metro Marunouchi Line/Fukutoshin Line/Toei Shinjuku Line's Shinjuku-sanchome Station
[Survey] Traveling to Japan