Cuisine, desserts, and breathtaking views- 5 of the Most "Scenic Train" Journeys in Japan (West Japan)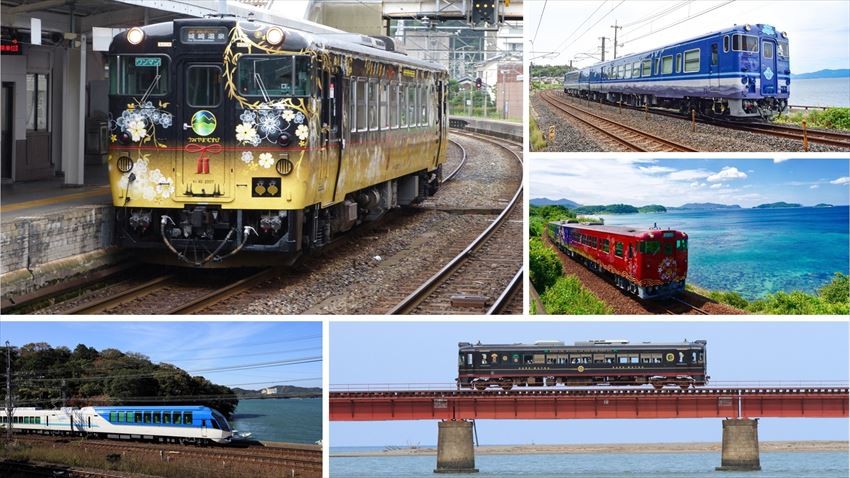 Rail transport is a major means of travelling around Japan. Now that we are moving around by trains, what about making our journey more pleasant by nice views and gourmets? 
Scenic rail tours have been revived as an alternative to traditional sightseeing in recent years- authentic meals, desserts, local liquors…enhancement of the value of our travel. Another part of the fun is to take pictures on the lovely trains, not to mention to indulge in enjoyable moments on it. This time, we have a handy guide for you to plan your next train ride in West Japan.

A Relaxing and Luxury Ride:「The Shimakaze Sightseeing Limited Express」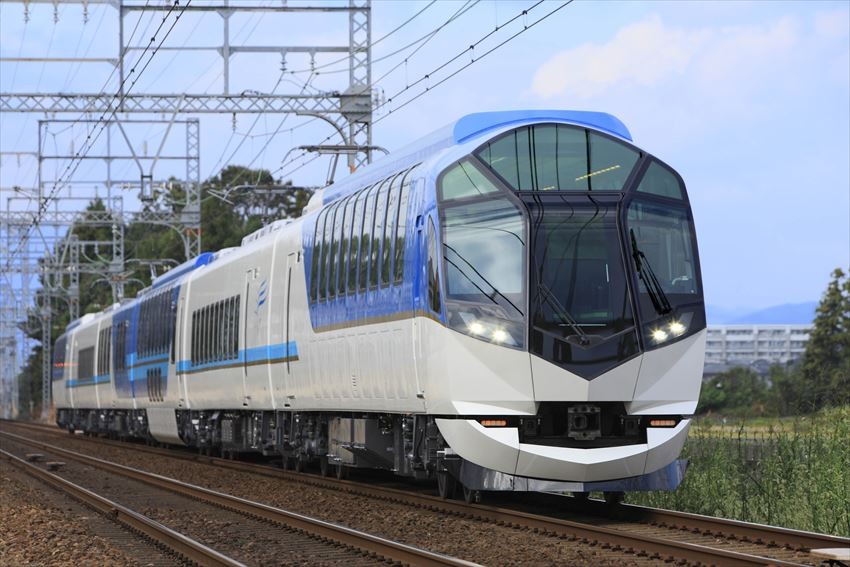 The Shimakaze is presented by Kintetsu railway, it is a luxury sightseeing train that runs from Osaka Namba/ Kyoto/ Kintetsu Nagoya to Iseshima (Mie). Since its debut in March 2013, it has been one of the most representative scenic trains in the Tokai and Kansai areas, as well as in Japan as a whole, which enjoy enormous popularity.

This train has deluxe seating with nice meals in its a café car- salon seats for 4-6 persons and Japanese/ western private rooms for 3 -4 persons. 
Moreover, it provides free Wi-Fi and a powder room with 3-side mirrors and a round chair. In its 1st and 6th compartment, there are free lockers and storage for large suitcases. It is absolutely a traveller-friendly train designed entirely for local and overseas tourists.

Information
Name of train:The Shimakaze Sightseeing Limited Express
Service area: Osaka Namba - Kashikojima /Kyoto - Kashikojima / Kintetsu Nagoya - Kashikojima 
Availability: 1 round trip tour per day (no train from Osaka Namba every Tuesday, no train from Kyoto every Wednesday, and no from Kintetsu Nagoya on every Thursday. All trains run on holiday, summer, winter, and spring holidays.)
Fares: Osaka Namba - Kashikojima =5,040 yen/ Kyoto - Kashikojima = 5,680 yen/ Kintetsu Nagoya - Kashikojima =4,700 yen (general boarding fare + express fare + Shimakaze special car fare)
How to purchase a ticket: online, Kintetsu's ticket boxes, and travel agencies. Reservation (purchase of the express ticket) starts at 10:30 am, one month before the boarding day.
A Mobile Dining Room to Run through "Sea of Kyoto"- 「Tango KURO-MATSU Train」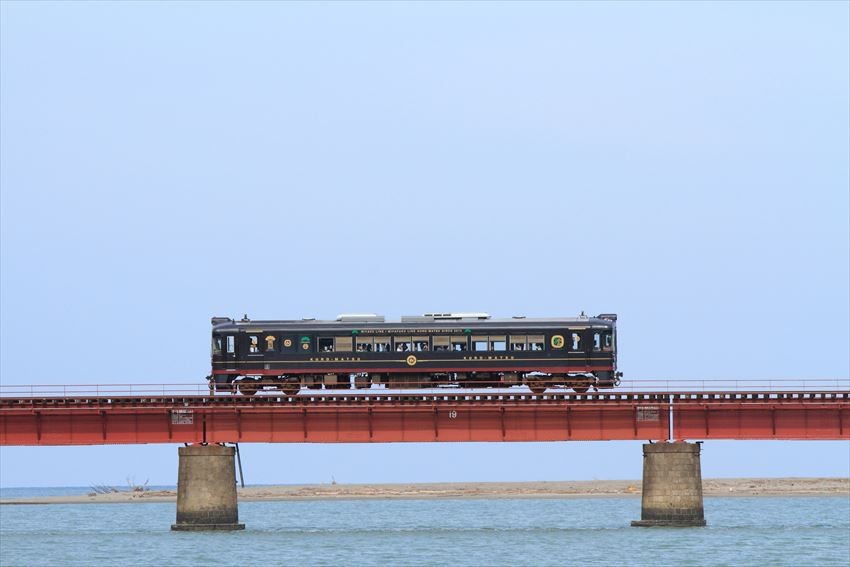 Kyoto Railway offers three sightseeing train- Tango KURO-MATSU, Tango AKA-MATSU, and Tango AO-MATSU. Tango KURO-MATSU is a scenic train serves nice dining made from fresh local ingredients from Tango.
Tango has been commonly called "another Kyoto" since the ancient time. It is as attractive as the Kyoto city with a huge number of striking tourists spots centering on Amanohashidate, one of the 3 Best Views in Japan. Embark on tasting journeys at this scenic train and explore an array of four different Lunch plans all prepared with local nice food ingredients while soaking in amazing breathtaking views of Kyoto.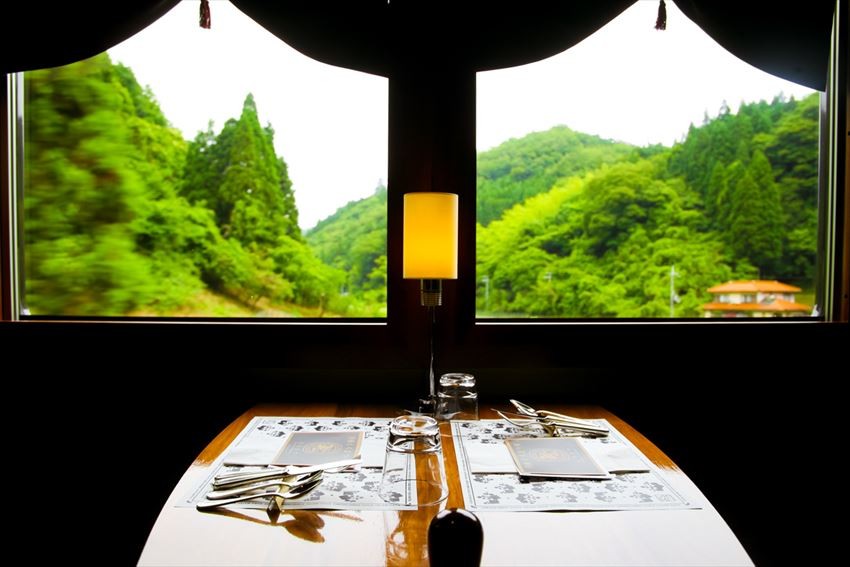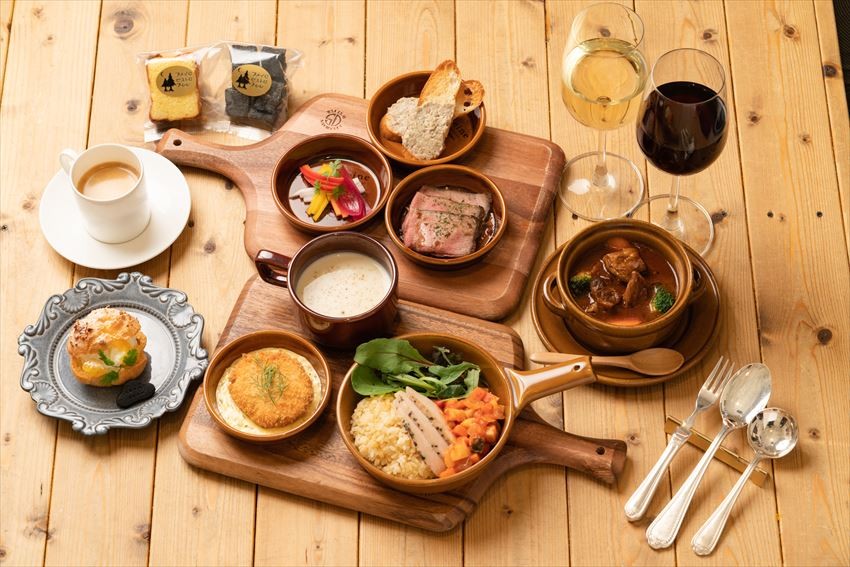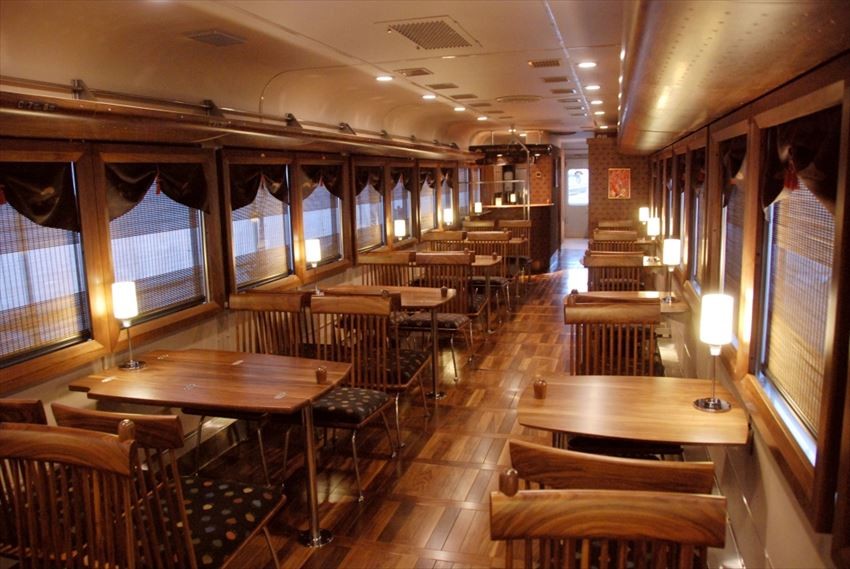 What about an indulgence in tantalising drinks and nibbles at "Tango KURO-MATSU " and create a long-lasting memory with your family and friends?

Information
Name of train: Tango KURO-MATSU Train
Service area: dessert plan…Fukuchiyama → Amanohashidate
Lunch plan, Tea ceremony plan, Selectable Drinking plan… Amanohashidate station ⇔ Nishimaizuru station
Availability and no. of trains: (Dessert plan, Lunch plan) Fri/Sat/Sun/ holidays
(Tea ceremony plan , Selectable Drinking plan) Sat/Sun/ holidays
所Travelling time: 
・Dessert plan- 1 hour 43minutes
・Lunch plan-2 hours 2minutes
・Tea ceremony plan- 1hour 2minutes
・Selectable Drinking plan- 1hour 28minutes
・Dessert plan-4,900 yen
・Lunch plan- 11,000 yen
・Tea ceremony plan-3,900 yen
・Selectable Drinking plan-4,500 yen
※ Tax is included in the above prices
※Contents of the course menu subject to changes to ensure all ingredients are season fresh
How to purchase a ticket:
・At designated Tango Railway ticket counter and official homepage. Reservation is available from 3 months to 3 days in advance to the day of boarding
・Alternatively, reserve at travel agencies JTB, Nippon Travel, Kinki Nippon Tourist Co., from 3 months to 5 days in advance.
The Warm Railway Connecting Seas and Mountains- 「Umiyamamusubi」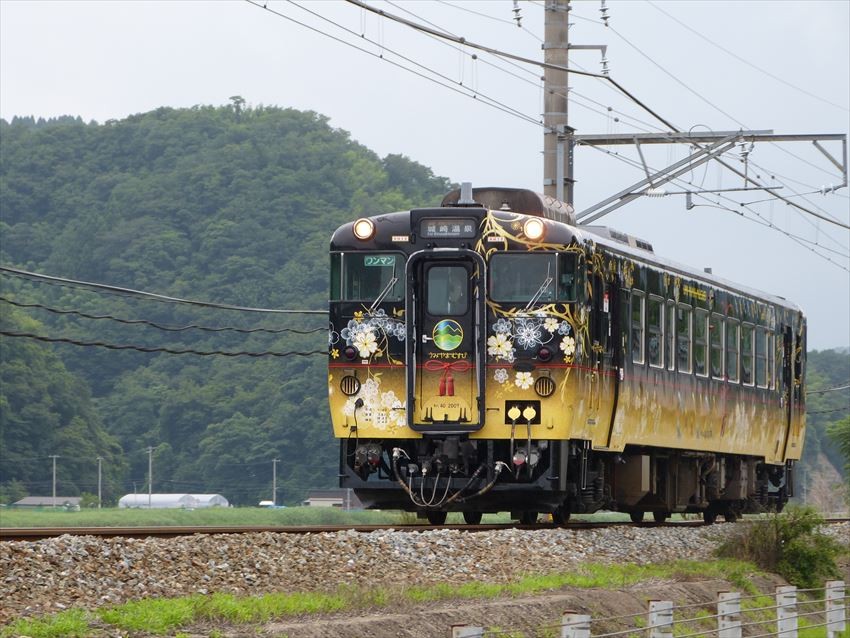 "Umiyamamusubi" is the upgraded scenic train tour from its original "Castle of the sky Takeda castle ruins" with "treasure box" as its concept.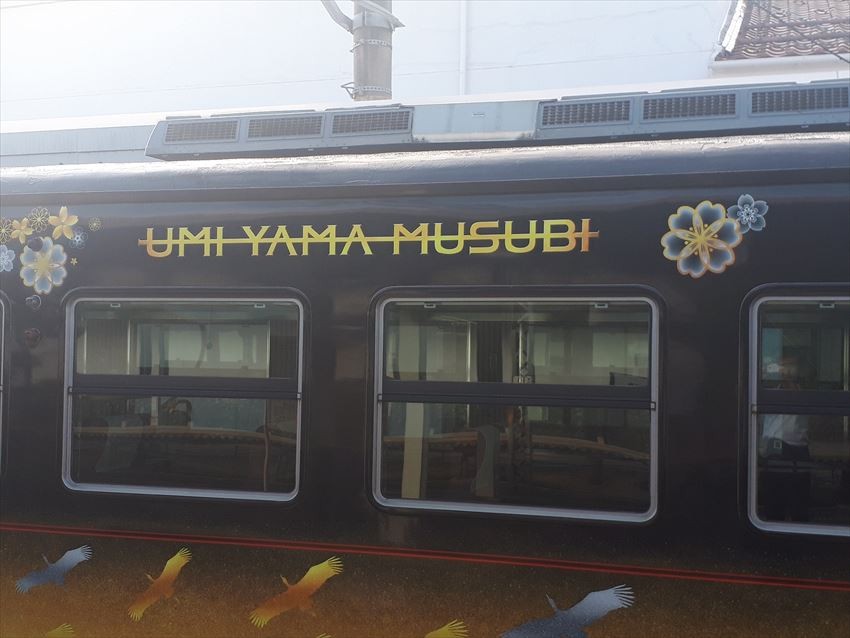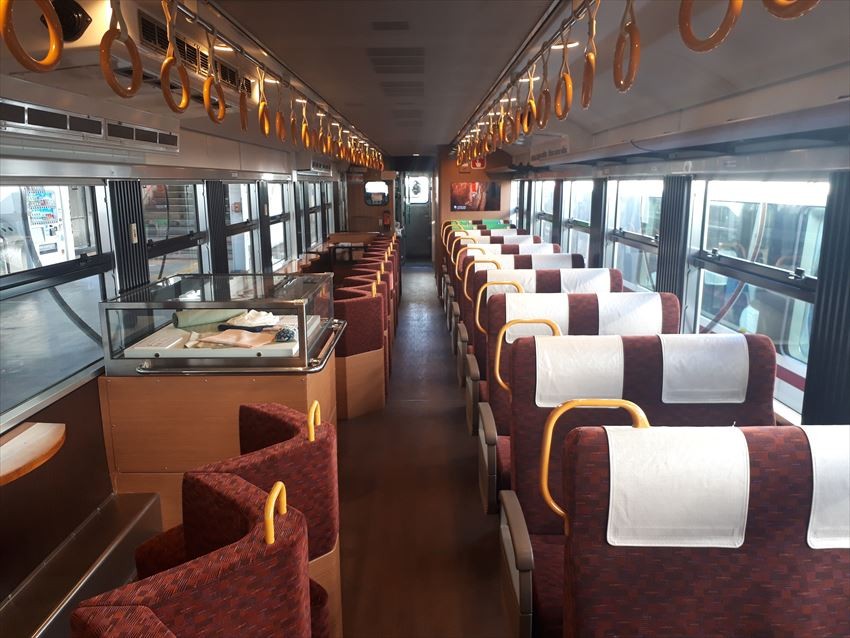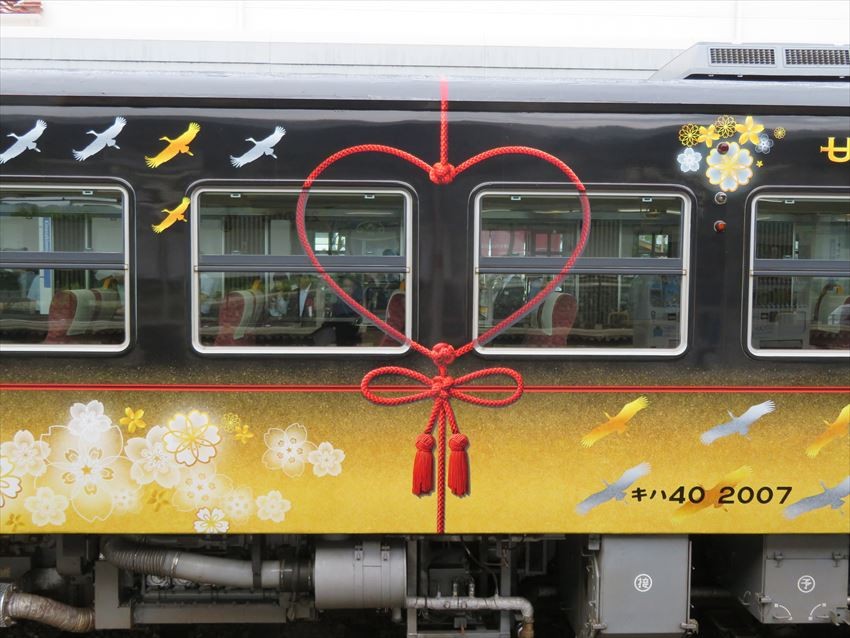 It is a train connecting seas and mountains, as well as friends, important people, and important encounters. It is not only a bonding between lands, but a warm thread twisting around people; it is also a treasure box treasuring its passengers and the precious moments on board. This is the concept behind this nice train tour.
Information
Name of train: Umiyamamusubi
Name of train: Castle of the sky Takeda castle ruins
Service area: Kinosaki onsen (9:08 am) → Teramae (11:28 am) Teramae (02:09 pm)→ Kinosaki onsen (04:24 pm)
Availability: 5th, 6th, 12th, 14th, 26th, 27th October 2019
                     2nd, 4th, 9th, 10th, 16th, 17th, 23rd, 24th, 30th November 
The breathtaking views along San'in line: 「Marumaru no Hanashi」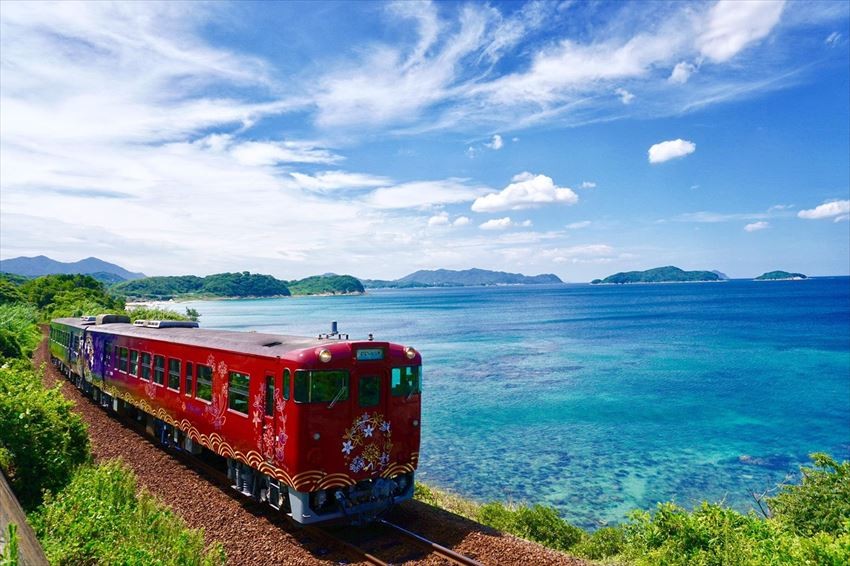 Marumaru no Hanashi is a sightseeing train connecting Hagi (HA), Nagato (NA), and Shimonoseki (SHI) along a splendid coastline. The train exterior features the "ocean connecting Japan and the West" extending over the two compartments, along with depictions of the summer "mikan flower" and "spider lily", flowers that have watched over the history of this area.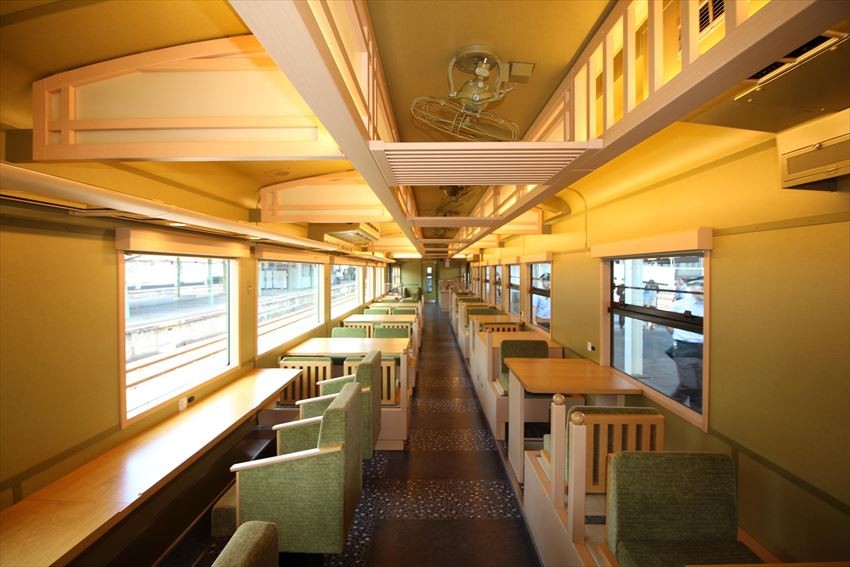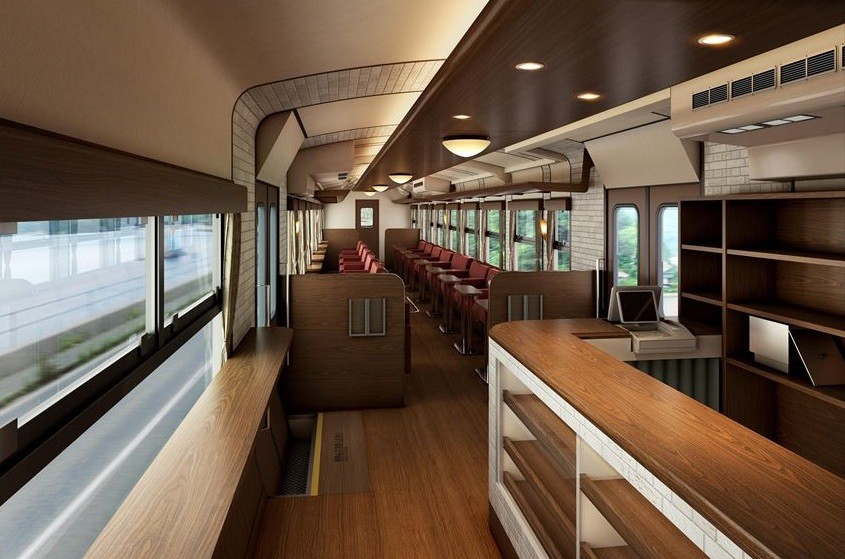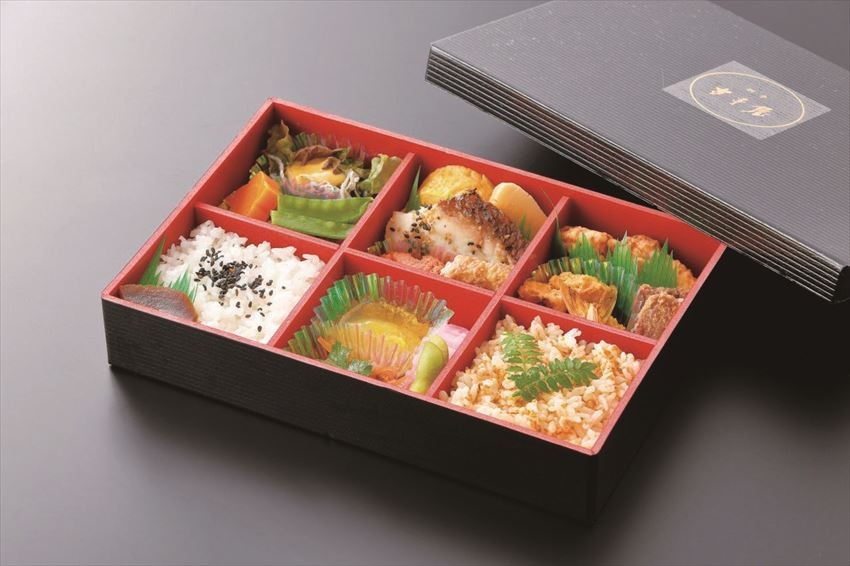 There are two different interior design concepts for the two train compartments- "the West as admired by Japan (Western style)" and "Japan as admired by the West (Japanese style)." Besides, there are also original product for passengers to enjoy exclusive shopping privileges on train! The railway journey is overwhelmed by the East-meets-West culture and history, striking sceneries and dining experience. 
Information
Name of train: Marumaru no Hanashi
Service area: Shinshimonoseki 〜 Higashihagi
Availability and number of trains: 1 train (round trip) per day on Sat, Sun, and holidays until 28th Feb 2020
※ (Except 22nd Oct, 28th Dec, 29th Dec 2019 and 1st Jan, 4th Jan, 5th Jan 2020)
※ Kindly wait for further notice for schedule from March 2020 onward
Fares: 530 yen for adults and 260 yen for children
※All seats are reserved, and you need one set of a boarding ticket plus a reserved seat ticket to get on board.
How to purchase a ticket: reserve from 1 month (starting at 10:00 on the day) in advance at major JR stations' ticketing window (Midori No Madoguchi), and major travel agencies
Indulgence in San'in in Five Senses:「AmeTuchi」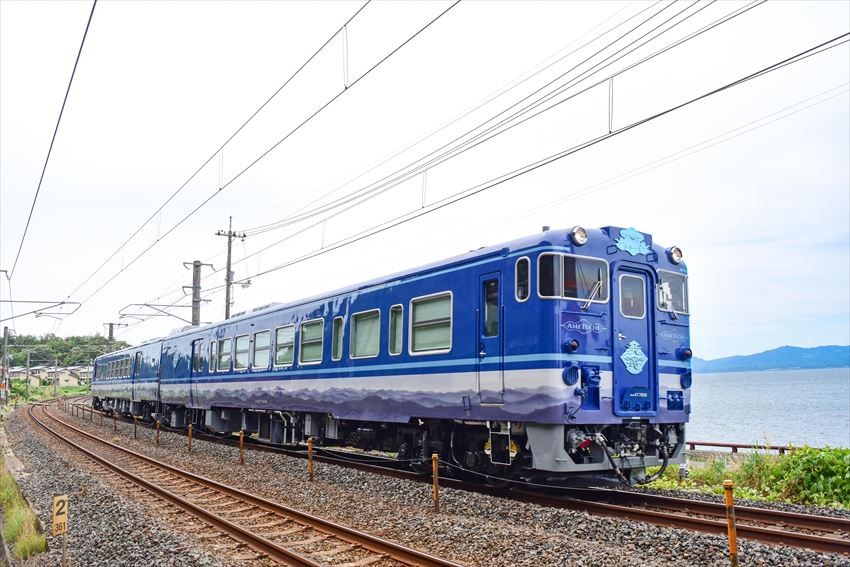 The scenic train "AmeTuchi" began in July 2018. Its concept is "native Japanese" that provide passengers with a fascinating typical Japanese route to experience shrines, liquors in the lands of San'in area. It is a journey to discover "a new Japan with history", you can find nowhere outside San'in.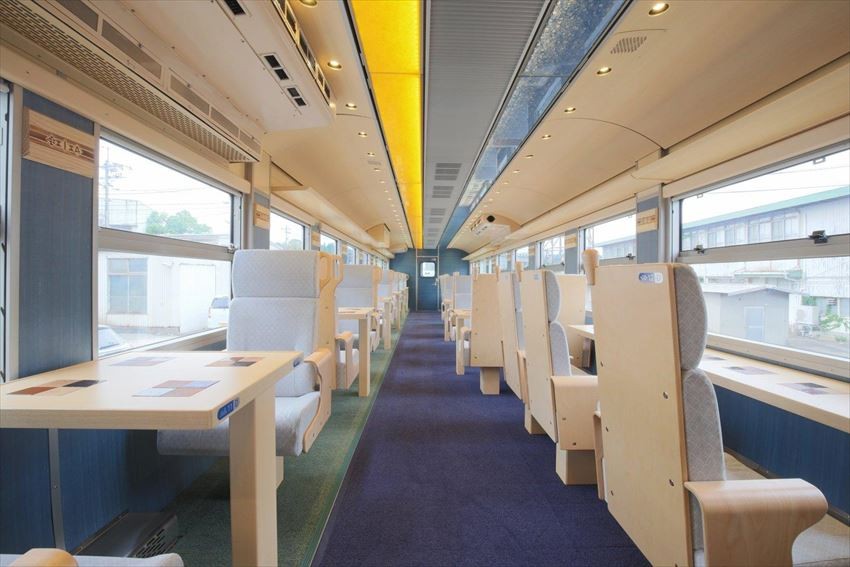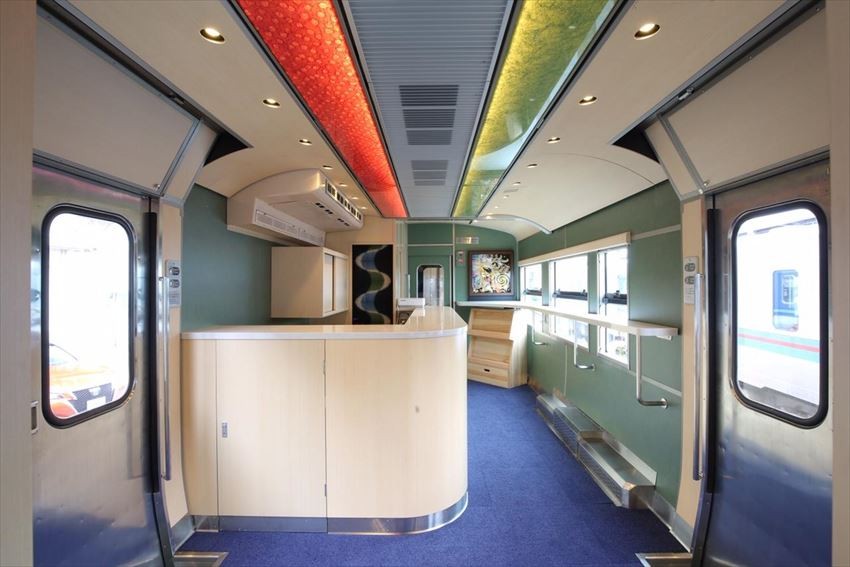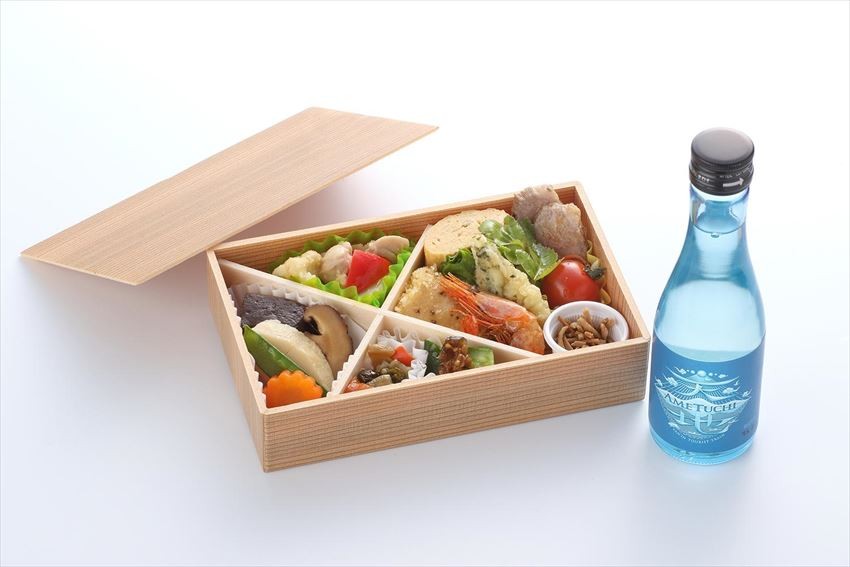 By reservation, you are invited to the many options of San'in local cuisine, delicate and exquisite desserts and confections prepared by famous brand names in the area. Also be amazed by the traditional handcraft displayed on train, and take in the superb views of Mt. Daisan, Lake Shinji along the relaxing journey.      

Information
Name of train:AmeTuchi
Service area: Tottori - Izumo-shi
Availability and no. of trains: Mainly at weekends and some Mondays, 1 round trip train per day
Fares: adult boarding ticket + a green car ticket 4,630 yen (Tottori - Izumo-shi station)
※All seats are reserved, and you need one set of a boarding ticket plus a green ticket to get on board.
How to purchase a ticket: reserve from 1 month (starting at 10:00 on the day) in advance at major JR stations' ticketing window (Midori No Madoguchi), and major travel agencies
[Survey] Traveling to Japan