"Arashiden-Kannon Train", where you can see many helping hands of thousand handed Kannon once you get on the train!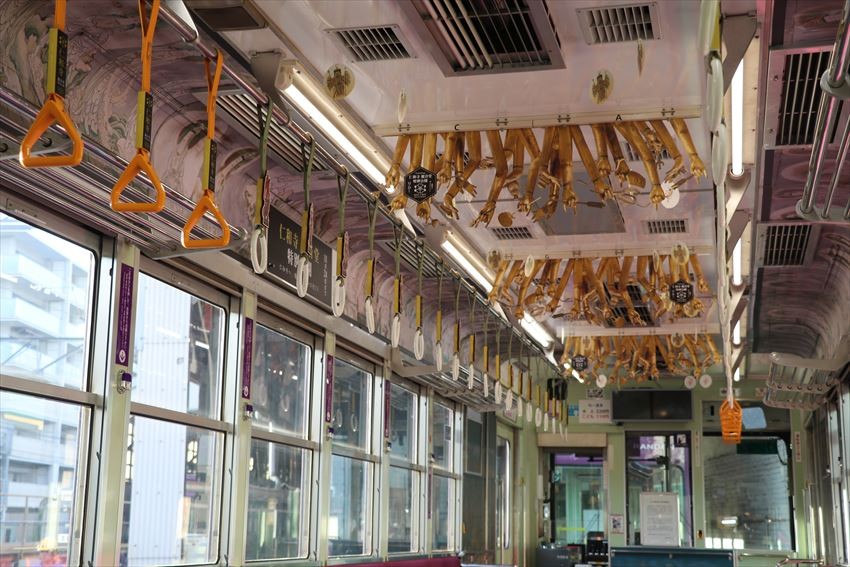 When I got on the train, there are a lot of hands jumped into my view! What is your reaction if you are the one who saw that? If it is night, it might be a little frightening when we see this, right?
This is the actual train "Arashiden-Kannon Train" that has become hot topic in Kyoto currently. You can get to see the train at Keifuku Electric Railway Arashiyama Main Line and Kitano Line. Let's find out further the details of the train.
Why was "Arashiden-Kannon Train" started?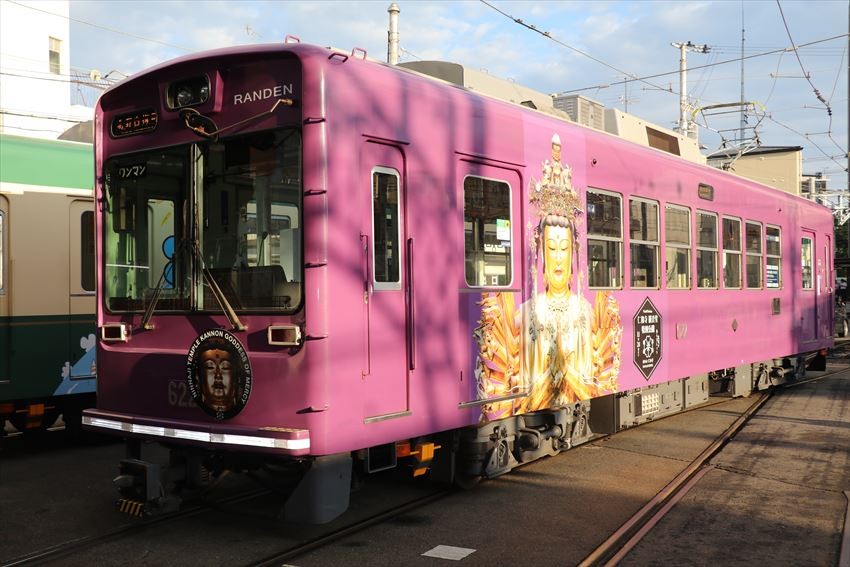 Ninna Temple, which is a World Cultural Heritage Site, has completed the renovation of its Kannon-do in the spring of 2019, and has specially opened for public. Therefore, in order to get many customers to know about the opening of Ninna Temple Kannon-do which normally doesn't opened for public, Keifuku Electric Railway has decided to decorate one of Arashiden's vehicles with this special specification of Buddha image and the background picture of Ninna Temple Kannon-do.

Exterior and interior design of the train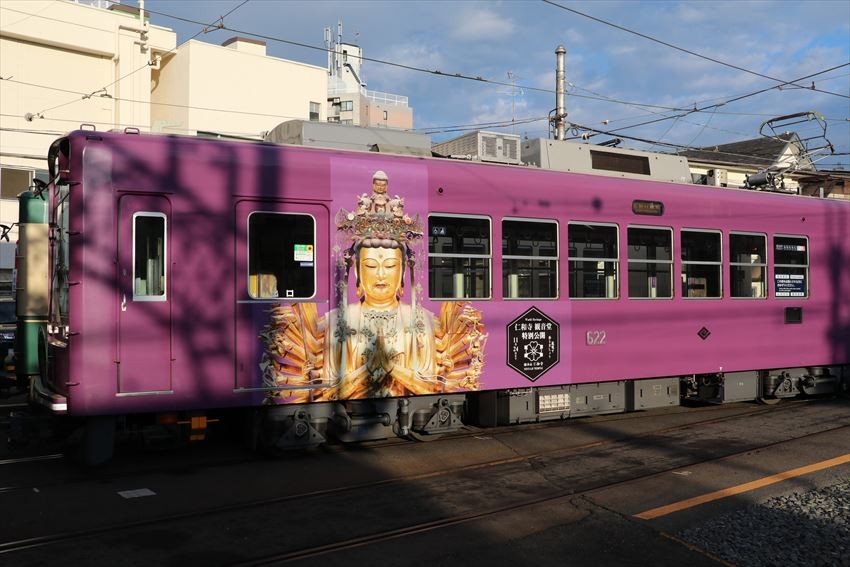 Exterior design of a thousand-handed Kannon statue.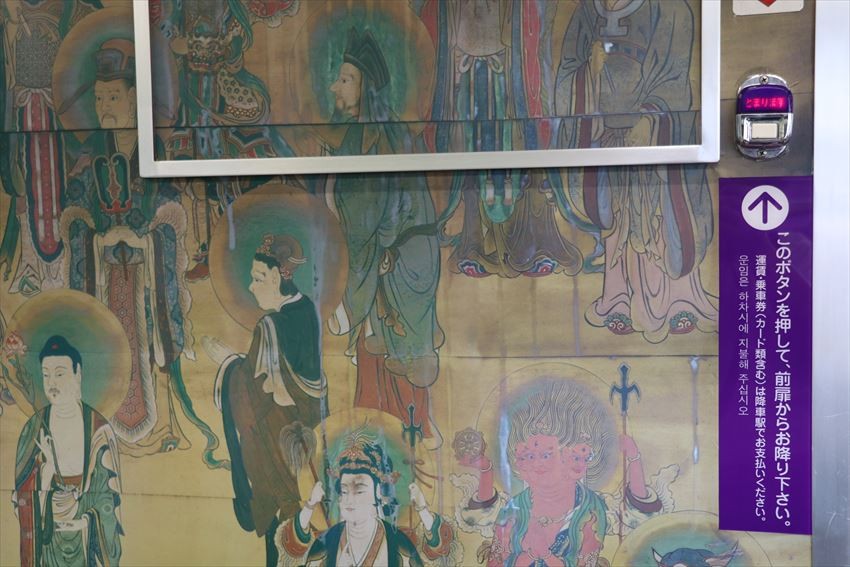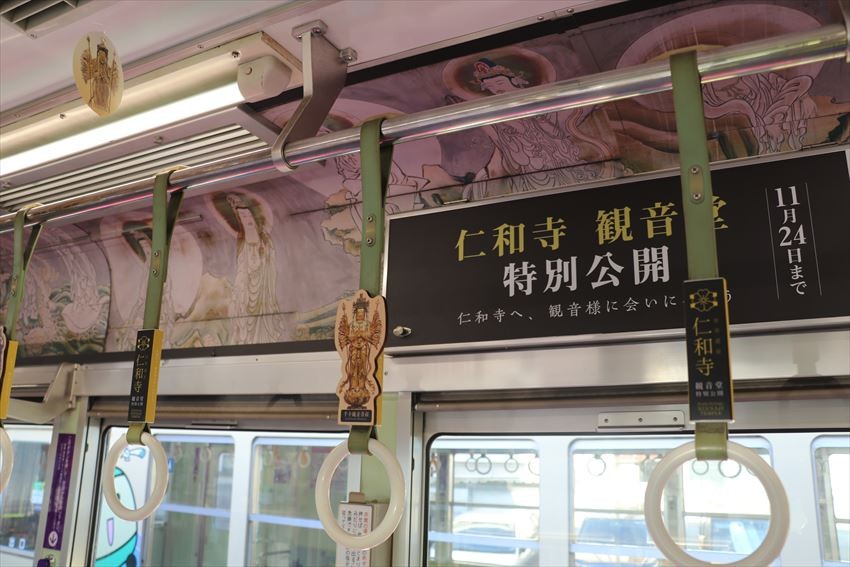 The interior of the car is decorated with the wall painting and the hanging painting wooden board of Thousand Hand Kannon and the 28 statues. There is the environment that you can feel the impact from the Buddha statue and wall painting.

I was a little frightened when I see that. However I know these hands bring us a lot of message.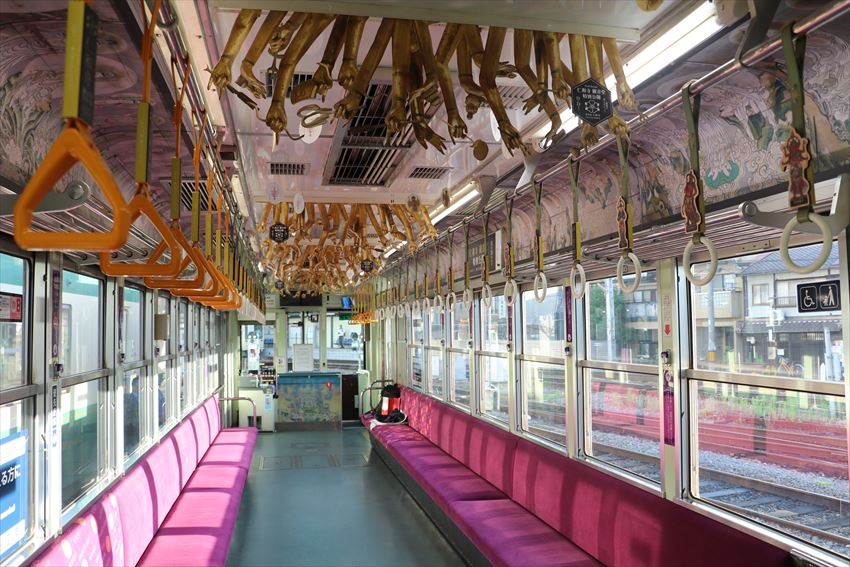 The train is decorated with many ceiling hanging advertisement. This design is inspired with the image of hands of thousand hands Kannon, which represents the vastness of the mercy and power that saves many people, and also the image that Kannon is extending hands to help the people from heaven.
If you get to Kyoto or Arashiyama to see autumn leaves, please grab the opportunity to take this Kannon Train and visit Kannon-sama at Ninna Temple!
Information of Kannon Train of Arashiden 
Vehicles: Arashiden Mobo model 621, 622th car (1 car train) 
Operation Period: 29th June 2019 (Sat) - 24th November 2019 (Sun) 
※The final day of Ninna Temple Kanondo opening period 
Operation Section:  Arashiyama Main Line & Kitano Line
Operation time, etc: It is on operation within the operation period normally.  (However, the operation section and operation time might change depending on the day. There are days when it does not operate for inspections purpose, etc.) 
[Survey] Traveling to Japan