[Rewards #49] ~Survey on trip to Chiba~ Get 3,000pt! just by taking this survey!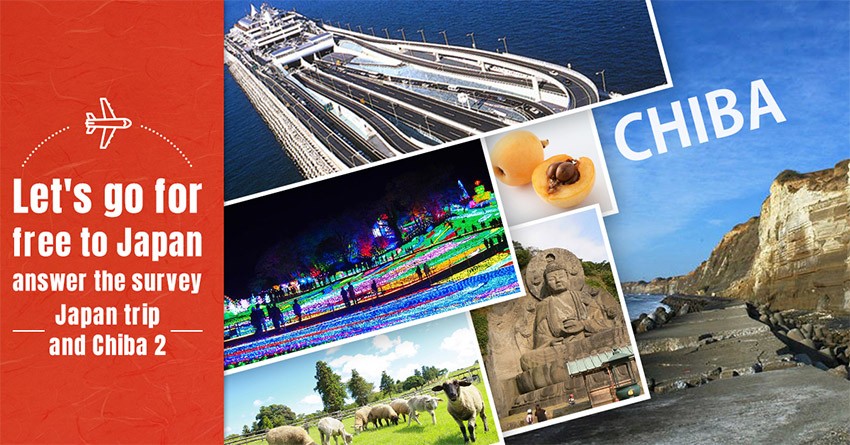 FUN! JAPAN is conducting a survey. We previously conducted a survey on Travel in Japan and Chiba, and this survey is meant to dig a little deeper into that.

Chiba Prefecture welcomes a lot of travelers via Narita International Airport (NRT), but the majority of them go directly to Tokyo, leaving Chiba Prefecture in the dust. As such, we are hoping to survey and examine the differences between those who have traveled and stayed in Chiba Prefecture in the past, and those who have simply used Narita Airport without staying in Chiba Prefecture. If you belong to one of the above groups, please consider participating.

It may take some time to complete, as many questions require written responses, but we'd love to hear your honest opinions. By responding to this survey, you will receive 3,000 FJ Points.
Note: Points will only be provided to those eligible for the survey.
FUN! JAPAN regularly holds raffles for 5-day, 4-night trips.
You can apply with 3,000 FJ points, so consider saving up points with this survey!
■■What is "FUN! JAPAN Rewards"?■■
This is a quick survey that we get to know more about you :)
From the survey result, we are going to make some brand-new articles that you will be interested more!
This is one of the ways that you get and save FUN! JAPAN points to apply campaigns.
You can do the same questionnaire only once, please take another questionnaire if you save more FUN! JAPAN points.
Here we have another one: Check all FUN! JAPAN Rewards.
■■What FUN! JAPAN Point is?■■
Check it from here!
Recommend