★☆Result (Part 1) ☆★ The most amazing FUN project! Let's try out the taste of all Taiwan's popular delicacies which are famous among the Japanese Vol.2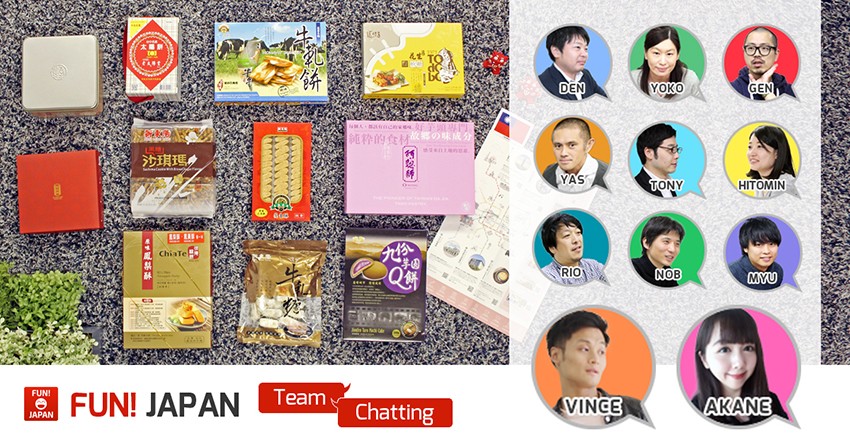 After the crazy tasting and hot debates, the result is finally out for the "Japanese's most loved Taiwanese delicacies", a project by FUN! JAPAN! I am sure you must have been looking forward to it! Let's me gently remind you, the testing was only among the staffs in FUN! Japan, and we covered only a small portion of Taiwanese delicacies. Well, we all know that, there are so many Taiwanese delicacies, one can never able to try all of them! 

As for the outcome, it is just for fun! But what I can be sure is all Japanese in the company love Taiwanese food! Alright, let's have a look at the ranking! The 6th to 10th place are…?!
Before that, let's look back at what we have for the candidates.
The most amazing FUN project! Let's try out the taste of all Taiwan's popular delicacies which are famous among the Japanese Vol. 1
After the crazy tasting…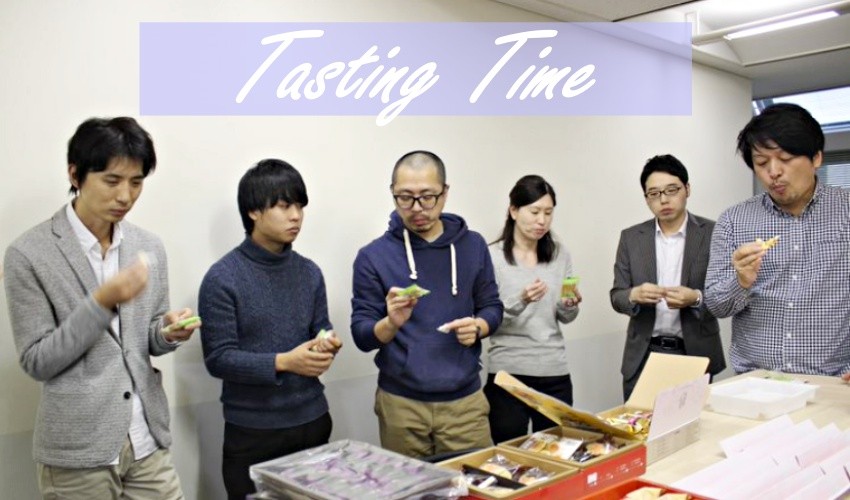 Not many can remain calm when there are so many delicacies in front of them. Our Japanese colleagues, though usually they look like cool-headed, after the tasting, they were all scratching their heads struggling for the voting, as each only had a green "Jin Ho Chak" (3 points), 3 black "Jin Ho Chak" (1 points) and 1 red "Pai Chak" (-1 point). Everyone had 5 cards and these would determine the fortune of these delicacies. What a "huge responsibility"! We got to be careful!

How does it feel after tasting all 11 delicacies? To be frank, never had I tried before to have so many in one shot…

Taiwanese food is fantastic! Nice! 👍👍👍

Finally, I have them all, what I never try before! Super satisfied~~

What a pleasant tea time! Yippy~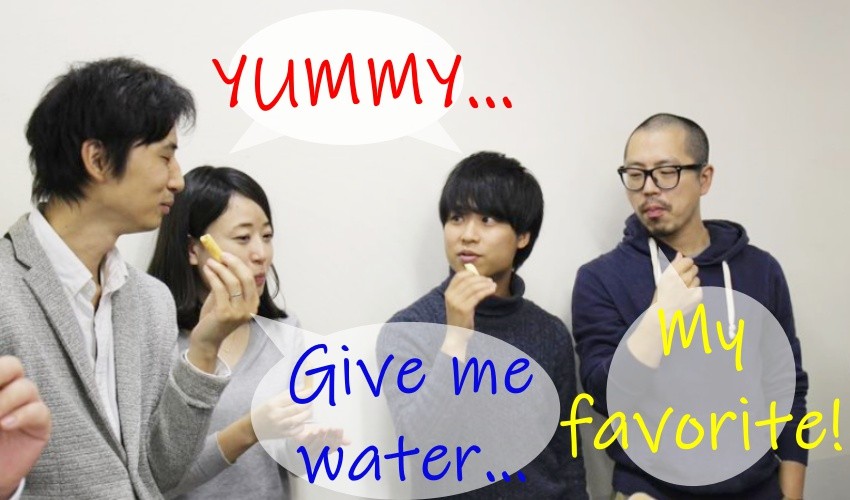 I have found my favorite♡

I know what to get for my trip to Taiwan in coming December!

I know what's going to be the No.1 in my heart! Hehe~

I want to go to Taiwan again! VINCE, please tell me where can I get it from! Don't you hide it~

I cannot think of other word apart from Jin Ho Chak~ Can I change all the black "Jin Ho Chak" to green??

Seems like Taiwanse delicacies are getting good review! Why not we just replace the "Pai Chak"!
All: Agree!!!! (All cheering)

Yay~ NOB is so MAN!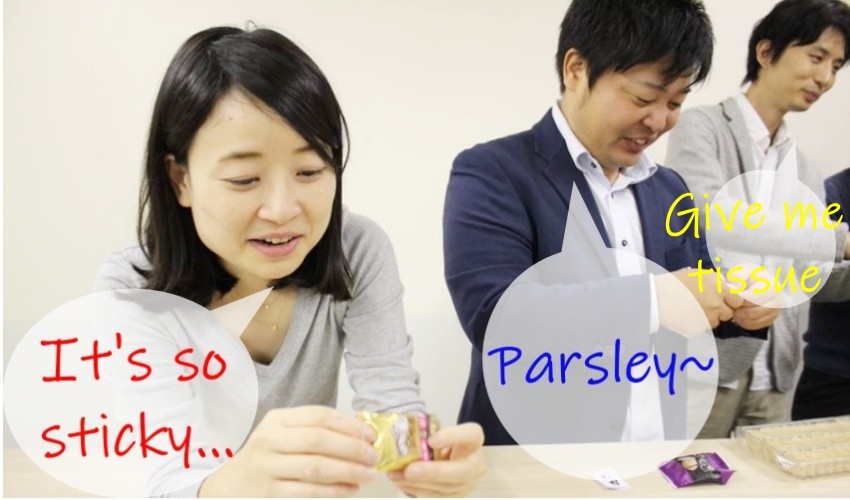 ★☆FUN! JAPAN Ranking of Japanese Most Loved Taiwanese Delicacies ☆★
(Scoring: In case of same points, the ranking will be based on the numbers of green "Jin Ho Chak"; if it is still the same, then they will be ranked the same)
Rank No.10 Tai Yang Ping: 1 point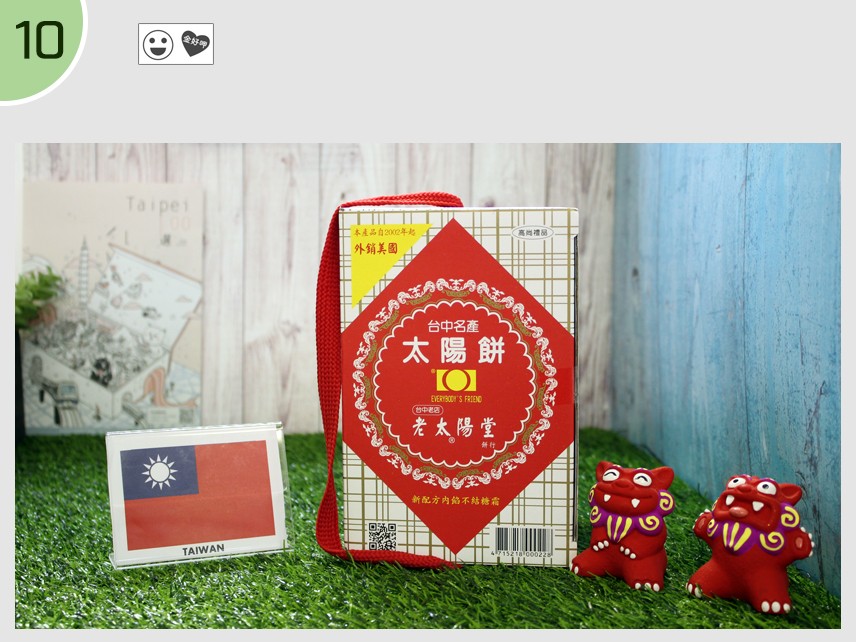 Ah, the crumbs are everywhere…I feel sorry for the cleaner!!! (Pick up the crumbs while eating…)

It doesn't taste very sweet like what I have thought~ Good~

I told you! Taiwanese generally like it.

The more you chew, the more you can taste its good fragrance! It tastes good.

This is Jin Ho Chak~ Don't want to try more? Okay, I will have them all~ seem like I am the only one who knows the good of Tai Yang Ping! (while hand reaching for another piece)
Rank No.10 Taroimo Cake: 1 point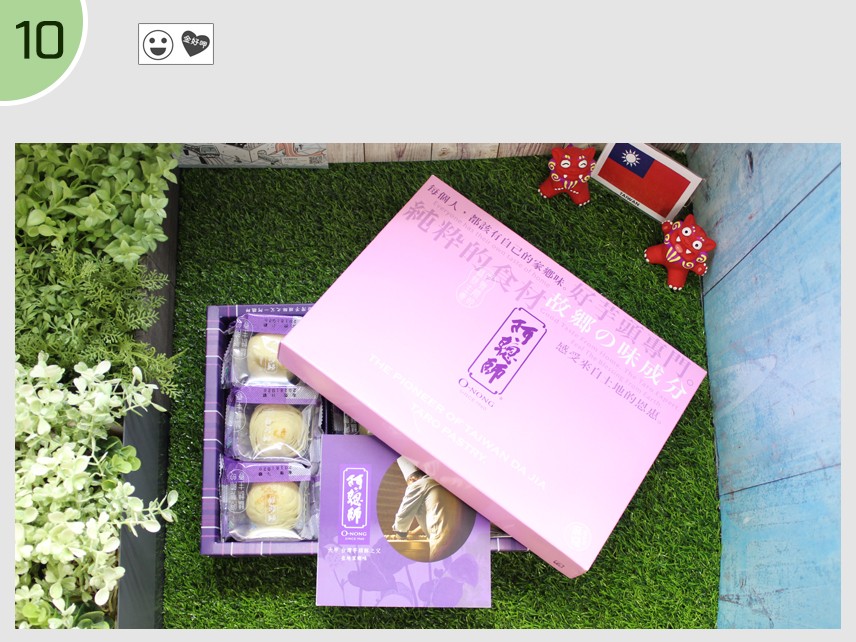 It's what I like! Love it so much~


It doesn't taste very sweet too~

So many layers~ And it is not sweet like what I've thought~ (trying to find out why the cake has so many layers of crust~)

Hmm, I kind of expecting Tai Yang Ping's ranking, but it surprised me that the Taroimo Cake with mocha inside is ranked this low…

I'd like to to say "Don't mind!" to friends in Taichung! I love Tai Yang Ping and Taroimo Cake, they are so special to me.
Rank No.8 Jiufen Taro Mochi Cake: 2 points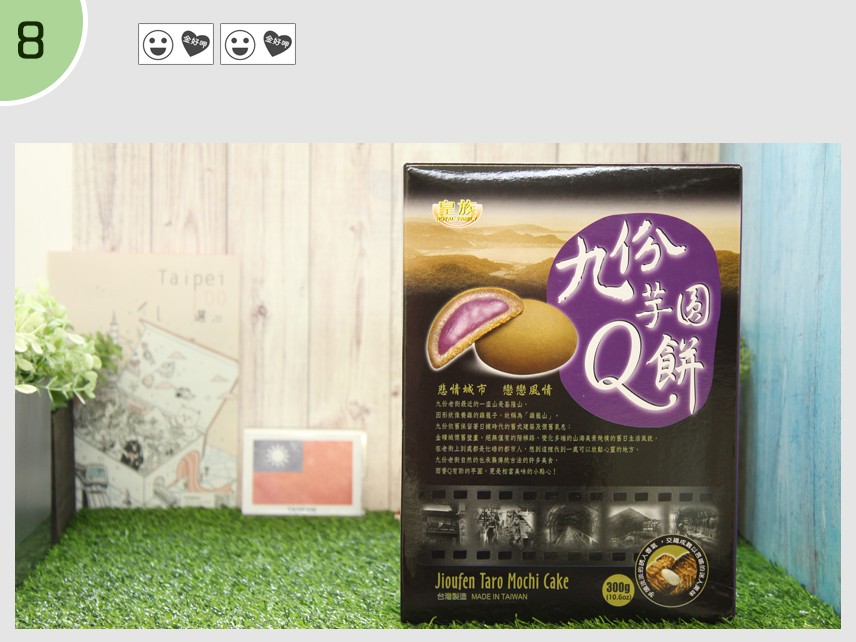 I have never been to Jiufen, but I can proudly say that I have tried the Jiufen Taro Mochi Cake! (Full of confidence)

It is so chewy and nice~ Okay, that's in my shopping list!

Jiufen is such a good place~ Now I remember the Jiufen Old Street with antique feel, its sea and its people~

Not very sweet, nice, Jin Ho Chak~

RIO keeps saying "Jin Ho Chak~" from the beginning, is there anything "Pai Chak (not delicious)" for you? 

NO! There are only "Ho Chak~ (delicious)", "Jin Ho Chak~ (very delicious)", and "Very Jin Ho Chak~ (very very delicious)"! 
Rank No.8 Peanit Nougat: 2 points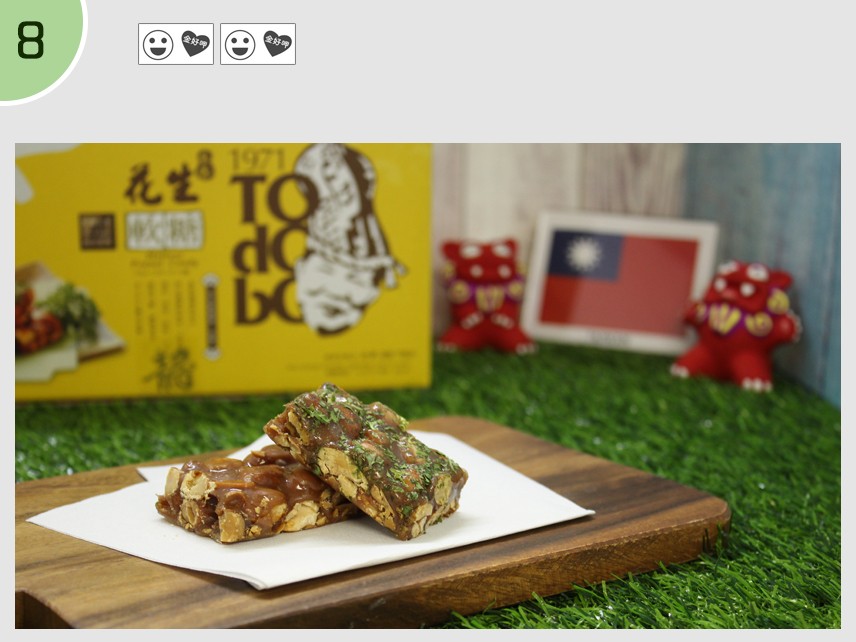 There are parsley, sesame, seaweed and original flavors. Which one do you want to try?



Parsley~~~~

Sesame sounds good~~


Please give me seaweed~

It is sticky! And lots of peanuts~ Tea? Where's my tea?

It's snickers!

If you are hungry, then have snickers! (Like)
(As this is the first time the Japanese saw the sticky peanut nougats, everyone was so surprised…)

It's like eating miso peanuts!

If you are on diet, you need to be careful! It's 140 kCal per piece!
Rank No.7 Nougat: 4 points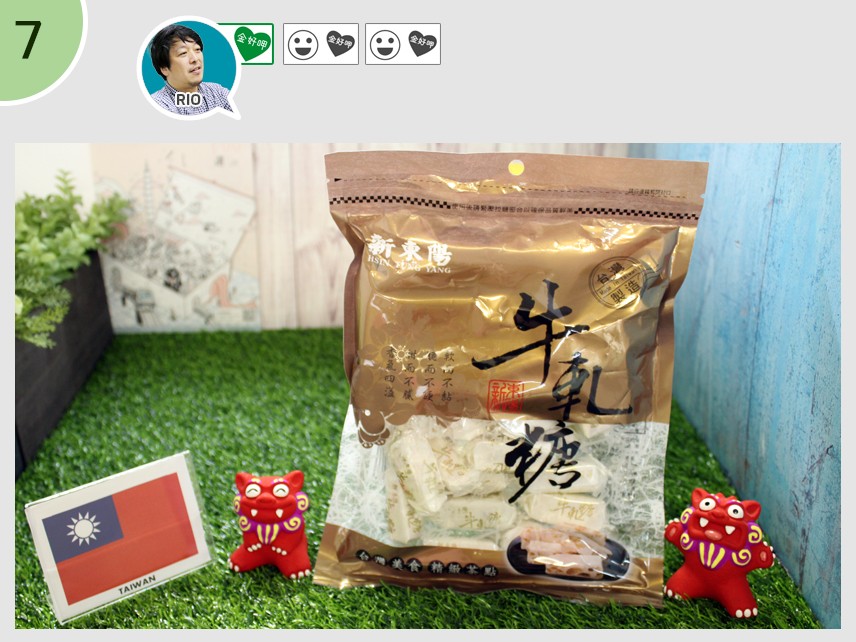 Okay, if you have done filling on your tooth before, you need to be careful! I think it can stick to your filling~

Really…It's better to take care (Laugh)

Ya…Ya~ Well, you know it is not cheap to see a dentist… If you need to do a filling because of eating the nougat, I guess the dentist and the nurses will have a good laugh (Laugh)

Oh, my cheeks feel sore!

What? Can eating nougat help face sliming? (Heart)

Ho~Ho~Chak~~ (Chewing)
Rank No.6 Green Bean Small Moon Cake: 5 points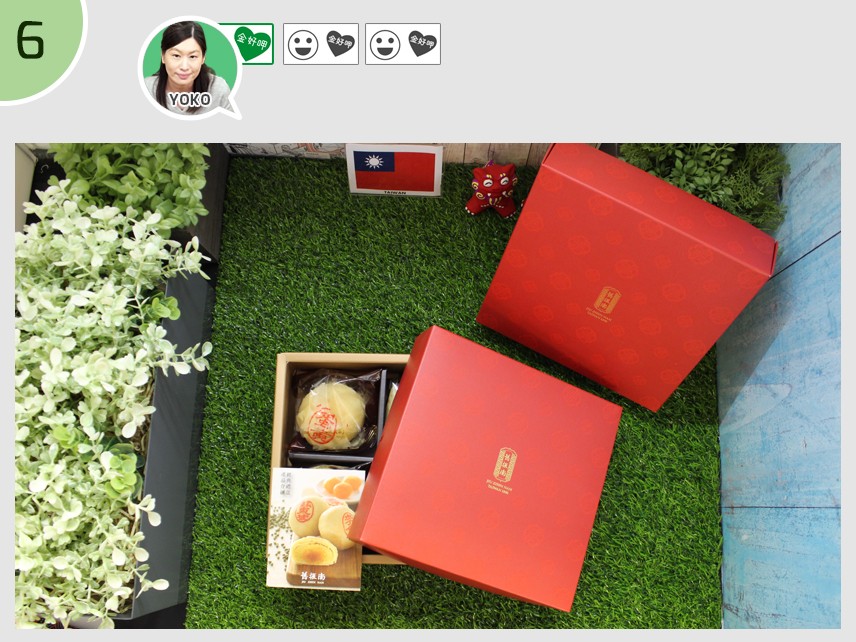 Taiwan has a tradition of eating mooncake during mooncake festival. The green bean small mooncake is one of the popular among the many options on market! Of course, there are many who buy even when it is not the festival!

Oh, so this is mooncake! So small and cute~ And it tastes just good and not too sweet.


oh oh oh oh! It is salty inside~

It is salty because of the egg yolk.

I had so many egg yolks today… (gently touching the stomach)

I cannot describe the taste. (Laugh). It is quite special.
Wow, I didn't realize that it was so competitive just to decide the 6th – 10th. Surely it is more competitive for the top 5! Don't go yet, we are going to disclose to you soon! 
Ranking Top 5: ★☆Result (Part 2) ☆★ The most amazing FUN project! Let's try out the taste of all Taiwan's popular delicacies which are famous among the Japanese Vol.3
[Survey] Traveling to Japan
Recommend