The most amazing FUN project! Let's try out the taste of all Taiwan's popular delicacies which are famous among the Japanese Vol. 1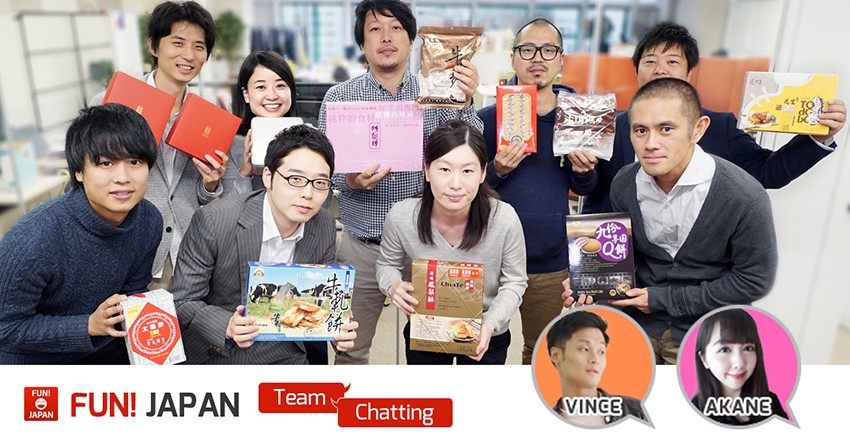 Greeting to all the fans of FUN! JAPAN from FUN! JAPAN Tokyo headquarter office. For me, it is so fun to work at this company. Staffs from eight countries gather and work together at this place. In the snacks corner, there are always full with delicacies which brought back from colleagues during their travel to outstation. This time, FUN! JAPAN produced a special project! We have our Japanese staff join and try the taste of Taiwanese popular delicacies, and then we picked the most favorite delicacies and created our own Taiwan's delicacies ranking! 

It rewinds back to the time when we inspired the idea of this project…
One day, Vince who is planning to have a business trip to Taiwan on the next day was secretly given an important mission.…


Yo! Vince! I heard that you are going to a business trip to Taiwan tomorrow? Good. I think you already know what you should do, right? (* ̄▽ ̄)フフフッ♪


Yes, of course! You meant delicacies, right?! Leave it to me. By the way, what kind of delicacies should I buy? I'm no idea of what to buy.

Of course, is up to you! I have no doubt that you will choose the best one for us!

Well then, I have to think properly about it. However, I think they (Japanese) often travel to Taiwan, they should have tasted a lot of Taiwan delicacies!


Hahaha! Never mind! Taiwanese food are delicious overall! Anyway, if you worried why don't you bring back all of the delicacies? My stomach can put in everything, as you know.

If you say so, I will definitely buy a lot!
As a result of the above conversation, this happens
…

…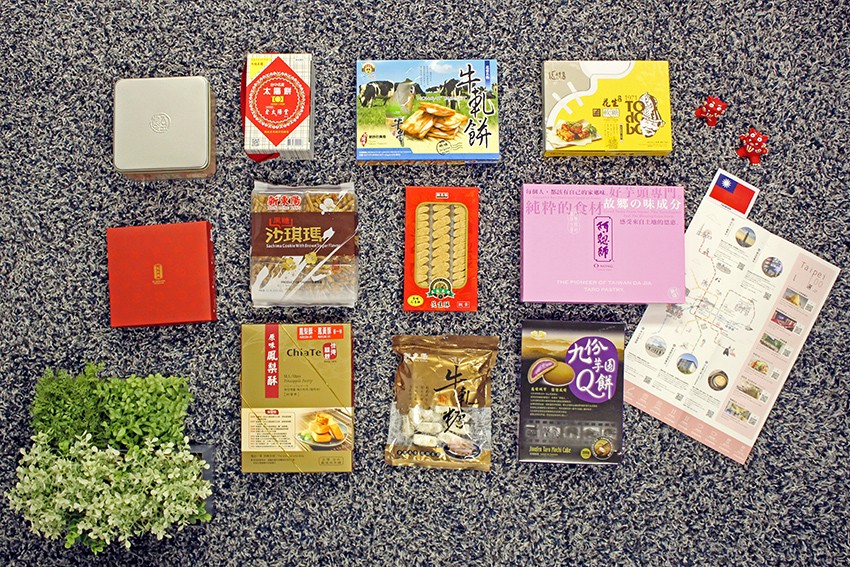 Vince ... Don't tell me that you have bought all duty free shop items? ... (stunned)

I've asked you not to be worried and just leave it to me! Haha! That's why I bought eleven kinds of delicacies from the north until the south at those delicacies shops in various area in Taiwan! Since you said you will eat all of them, so I brought back all! When checked-in my luggage at the airport, my baggage weight was almost exceeded limit. 


If I alone I will not be able to finish it even until Heisei era ends. Definitely no! Let's get everyone to share these good thing together. Let's organize a tasting competition! Let's choose the most popular delicacy, create a ranking and make it as FUN! JAPAN most amazing project in history! Let me prepare the project proposal and send to everyone immediately. (Fully motivated) 


Your energetic is so amazing and frightening! 

On the day of the tasting competition

With the powerful compellation by NOB, 9 tasters are gathered today. Everyone raised their hand to join when heard that there are plenty of delicious delicacies to be tried during the competition.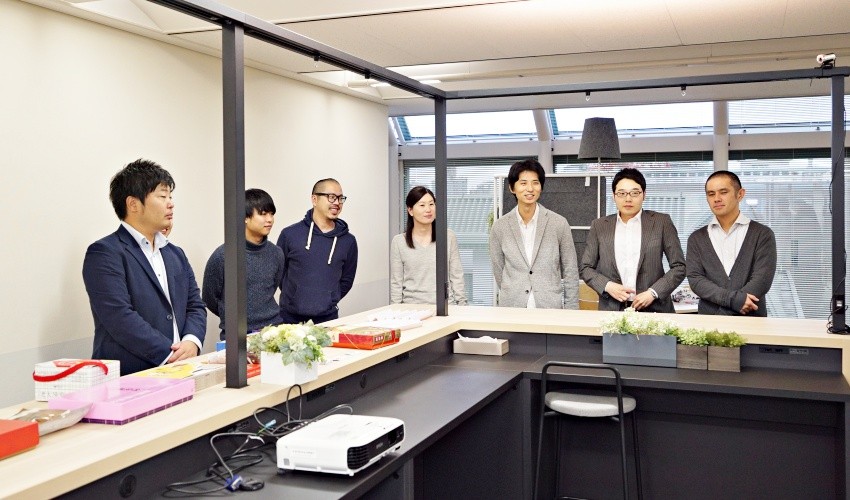 Here I'm going to announce the first Taiwanese delicacy tasting competition is going to start now!!! There are 11 delicacies to be tasted this time. Let's enjoy it together!
(Applaud)

Before we go to the delicacies introduction section, please allow me to explain the voting rules first! A voting ticket of one green vote "Jin Ho Chak (Very delicious)" and three black votes "Jin Ho Chak (Very delicious)" and one red vote "Pai Chak (bad taste)" will be distributed to every participant and each has 3 points, 1 point and negative 1 point. We will conclude the statistic at the end of the voting, and the highest score's delicacy will be the first place of the ranking.


What is the meaning of "Jin Ho Chak"? (raised hand)

"Jin Ho Chak" means "very delicious" in Taiwanese, while "Pai Chak" means "Bad taste".
Everyone: I see! Jin~Ho~Chak~

Taiwan's food is Jin~Ho~Chak~! Jin~Ho~Chak~! Jin~Ho~Chak~!
Result prediction of the best Taiwan's delicacies
Here, the competition began! Vince and Akane are person-in-charge of delicacies explanation and also to predict whether Japanese staff will like the delicacies. First of all, what are the reaction of Japanese staff when seeing the delicacies packaging?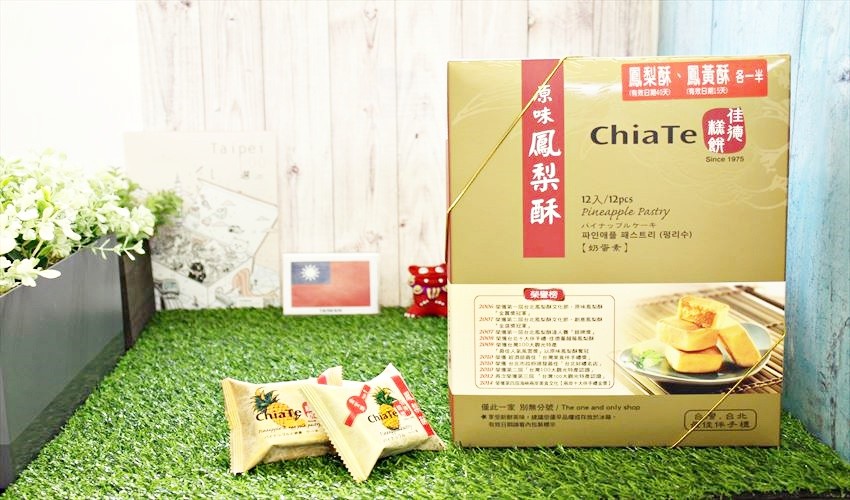 Taiwan's long-established store "ChiaTe" pineapple cake, egg yolk pineapple cake are very popular and you have to queue up at least 20 minutes in order to get it even on weekdays. Pineapple cake is delicious, you may think that "Is pineapple cake again?!", since many of you have already eaten before.


I have eaten pineapple cake, but I have never eaten egg yolks pineapple cake!

I always hear that Taiwanese pineapple cake is famous, finally I got the chance to try it!

So you have queued up 20 minutes to get this? Thank you so much brother Vince!
★It seems that there are only two people haven't tried this before. Can pineapple cake remain its first place in the ranking of Taiwanese delicacies?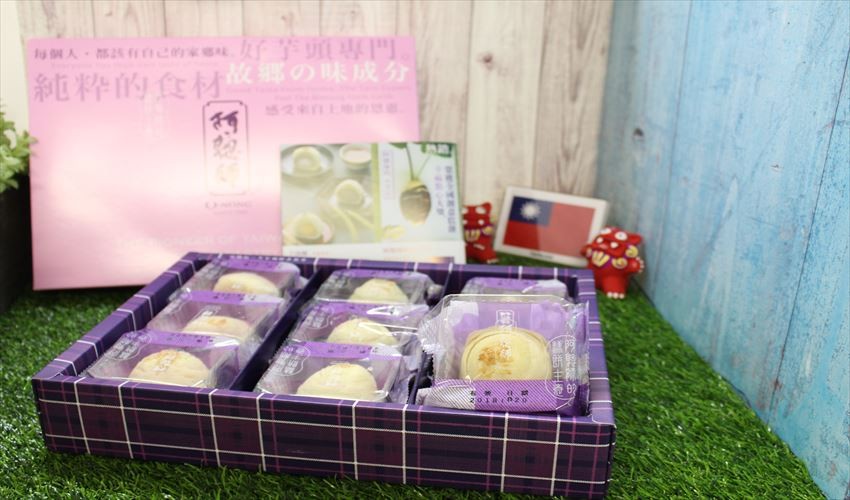 Every Japanese might have eaten sweet potato before, but probably you never tried the purple taro(yam). " O-NONGS (brand's name) Taroimo Cake" is one of the ten greatest delicacies in Taichung. Every product is handcrafted, with rice cake ingredients inside. Even though there might be lesser Japanese tried this before, but I think this will be popular among Japanese.


There is even Japanese written on the packaging! However I don't really understand this Japanese Sentence…

Probably it means the taste of Ah ma(grandmother)!

It looks cute in purple color!
★There isn't any participant has tried the delicacies! Let's guess whether this delicacy with Japanese description can grasp the Japanese heart?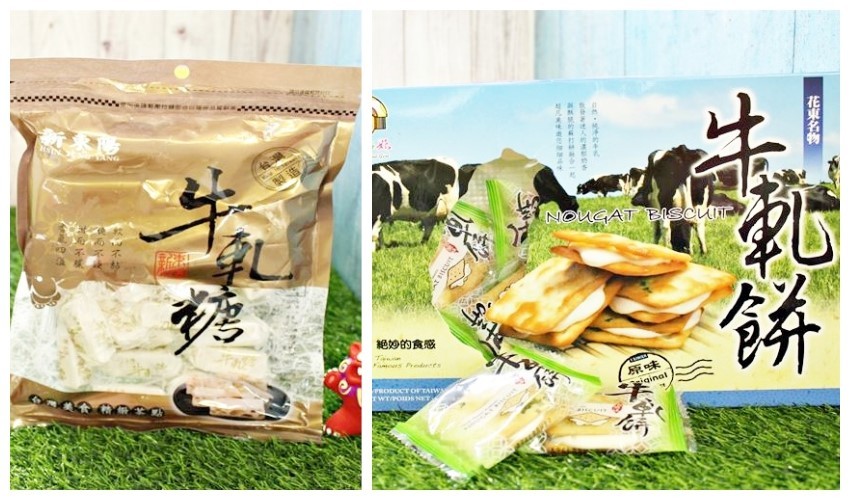 Everyone probably know about nougat. May be some of you are even familiar with the taste of nougat. Other staff also have bought nougat of other brand such as "SUGAR & SPICE Tang Cun", "Cherry Grandpa", etc. It was as delicious as everyone of us wish to finish the whole packet once we start eating. What I bought this time is a special nougat biscuit. Nougat is sandwiched between salty and sweet biscuits. The nougat sandwiched between the biscuits is sweet and tasty. I think it is a new taste for Japanese! Who has eaten it?

All: No~~

But, you guys ate Nougat before, aren't you?
Everyone: Yes!!! (raised hand)


Oh? Why DEN didn't raise hand?

I have not eaten before. (P.S.: DEN was often on a business trip, so when he came back from business trip all nougat have been finished. Thanks to DEN's hard work. Please eat more later!)

★Almost all of the participants have tried nougat before but none of them has tried nougat biscuit. Will Nougat Biscuit become the most popular delicacy in the ranking?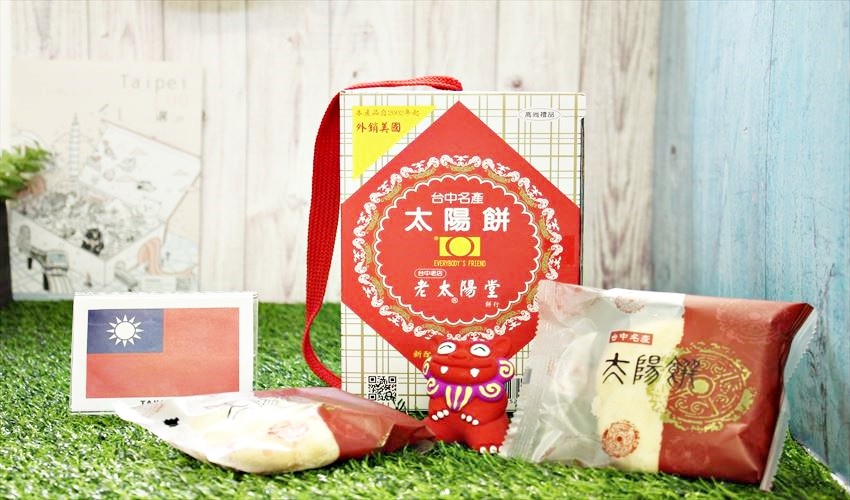 Tai Yang Ping is a very famous cake in Taichung. However, when you eat this, the cake will absorb all the moisture in your mouth, and at the same time the crumble of cake drops when you eating. So this delicacy is a little troubling for Japanese people who emphasize the importance of cleanliness. I got confidence that 90% of Japanese do not like this absolutely.


Is this really popular in Taiwan?

There are quite many Taiwanese like this this! It is as popular as "Tai Yang Ping" has almost become synonyms of Taichung! GEN, have you ever eaten before?

I do not think so.... (Look at the "Tai Yang Ping".) Oh! I have eaten this! Is this "Tai Yang Ping"?! Yes, since the crumble will drop my whole body was covered with the cake after I ate. I recalled my memory after look at the actual thing.

I guess we have to wash our clothes also after this competition? (holding head)
★There are only two people have tried this cake before. Is Vince's prediction accurate?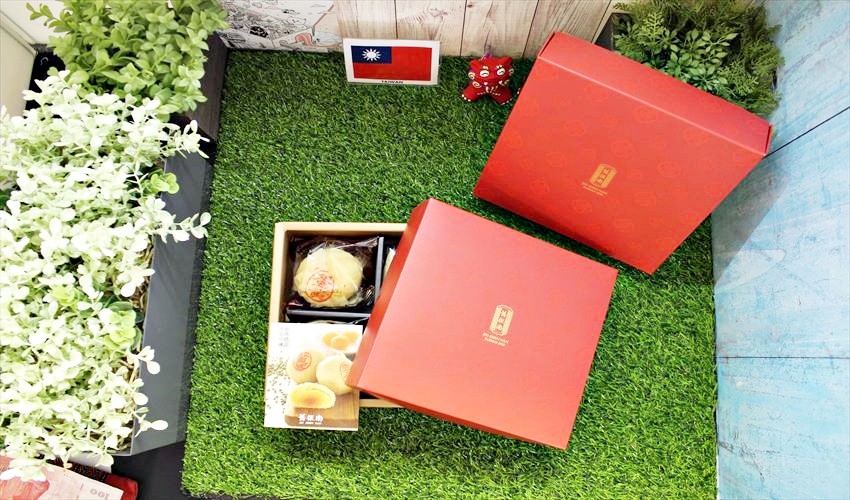 Jiu Zhen Nan Bakery is an old-established store which is well known around Tainan and Kaohsiung in Taiwan. See! The design of this packaging has such traditional feeling! The elderly relatives are most happy when they get this as a wedding gift. But "Egg Yolk Green Bean Small Moon Cake" is somewhat similar to the Tai Yang Ping. But you will definitely want to drink a cup of tea after you eat! Yes, in addition, Jiu Zhen Nan Bakery opened in 1890 and is a shop full with history.


That's right ... It was founded before Sino-Japanese War..
Everyone: That is really long history.. (Everyone show the emotion like understood something)

★Every participant has never eaten "Egg Yolk green bean small moon cake". Is this taste of over 100 years' history manage to grasp the hearts of everyone? Will they become regular customer to purchase this brand moving forward?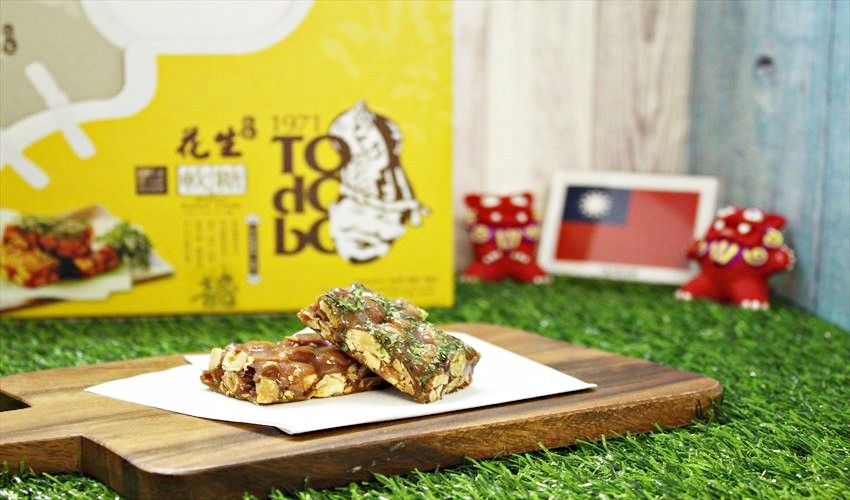 This is Taiwan Tao Yuan specialty, "Lung Ching" (brand name) Peanut Nougat. There are 4 types of taste available which are original, parsley, seaweed and sesame. Even there are peanuts inside, but it is mixed with starch syrup and it might stick to the teeth, I guess 50% of the participant will like it while 50% of them might do not like it.

Everyone: What?! Parsley?! (Everyone shocked and just cannot believe it!)


It's so hard to imagine that this is a confectionery……

I love parsley!
★Everyone has never eaten peanut nougat. Confectionery which will stick to teeth are rare in Japan. Can they accept this?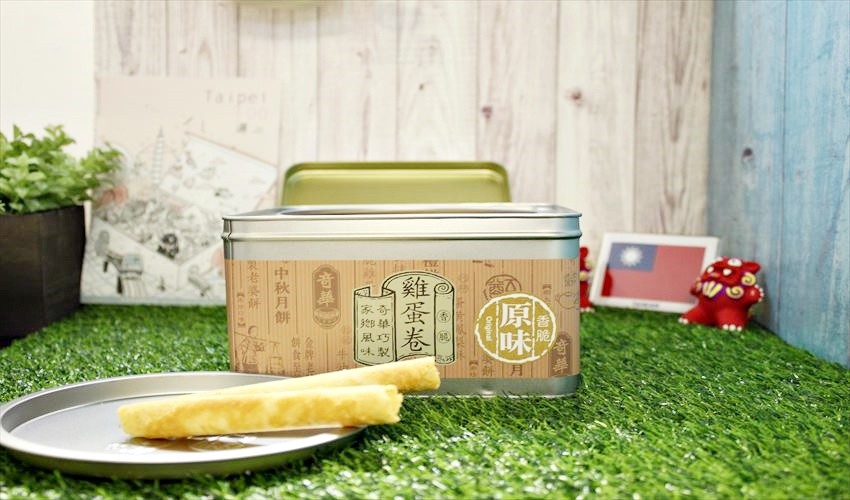 Kee Wah Bakery is a bakery from Hong Kong, however it is so famous in Taiwan! Egg roll is the most popular product at this bakery. The packaging iron box is sophisticated, beautiful and probably will attract attention. I think Japanese will like it! As soon as I open the box cover, the smell of rich milk and egg spreads out from the box. Everyone please come nearer to smell this!

All: Ooooooooooo! It is such a nice scent! Nice scent!


It looks like YOKUMOKU! This is absolutely delicious! (PS: YOKUMOKU is a famous Japanese brand egg roll)
Everyone: It's true! It's YOKUMOKU! (Everyone sniffs the egg roll smell)

★There are three people ate this before. Will Japanese staff like the egg roll which is similar to the Japan famous confectionery?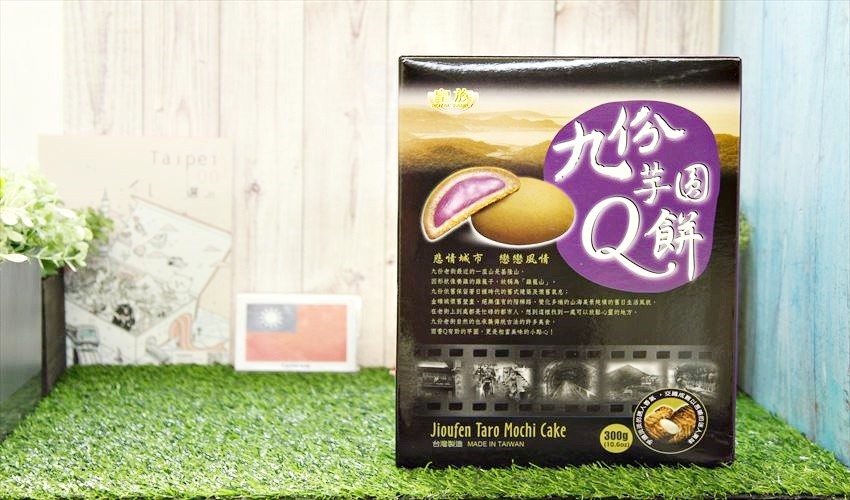 Taiwanese are not often eat this Taro mochi cake which is famous in Jiufen. (Jiufen is a famous tourist spot at north part of Taipei in Taiwan). However it seems that it is quite popular in Jiufen. The texture is like a rice cake. The advantage of this confectionery is that the crumble will not drop everywhere. It perhaps will fall at the middle of the ranking.


How many of you have tried this?
Everyone: (Silent...)


If then, who knows about this?


Me! (Hand up)
Everyone: Ooooooo ... as expected RIO has wide knowledge regarding these! (All stare at RIO in an adoring manner)

★All of them have never tried this. But since this is a famous confectionery at the famous attraction spot, Jiufen, I guess there will be at least few votes for this product?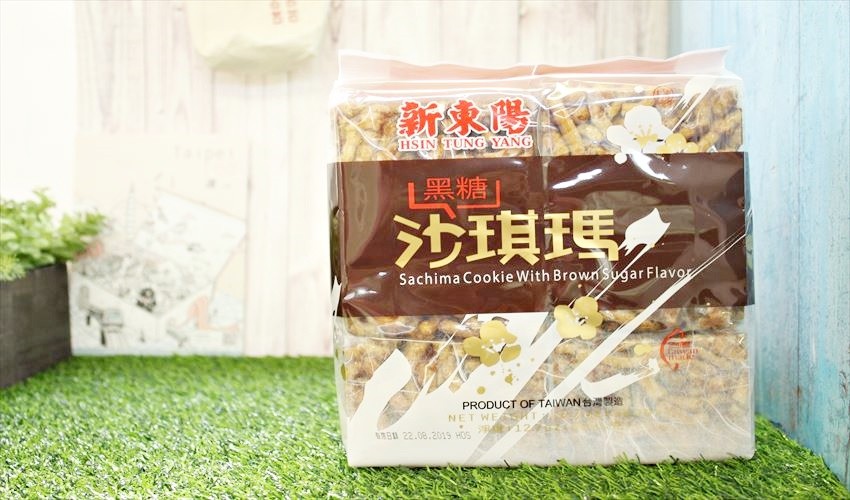 This is a traditional confectionery. It might be our grandmother or grandfather's favorite type confectionery when they are young. Perhaps, the youngster in Taiwan have never eaten this either. However since it has the strong smell of brown sugar, I think most of the Japanese staff will like it!


It looks like Karinto(fried dough cookies)!

Yes, is a bit similar to Karinto! However, it is softer than Karinto!

I guess this may sticky to teeth also.
Everyone: Sticky again? Why Taiwan got so many sticky food like this? (All raising their voice and wondering)

★No one has tried brown sugar flavored "Sachima"! Will Japanese like the retro taste of Sachima?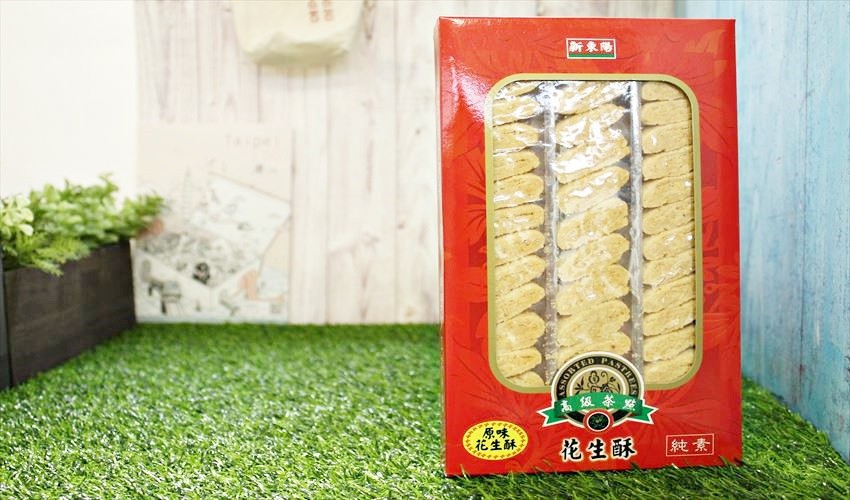 This peanut biscuit is also one of the Taiwanese's favorite product. But it might too sweet for Japanese. Since crumble also drops when you eating this, so probably it will not gain good reputation from Japanese.

This is pretty famous, isn't it? I have eaten this before!

Me too! A lot crumble drop when I ate……

It seems like it starts to absorb the moisture in my mouth even I just looking at it.
★There are only two person have eaten this before. Do Japanese can accept this sweetness? 

Wow! Seems like everyone knows well about Taiwanese food! Among all the delicacies in the list, there are few item that Japanese have never tried before. What is the result for the ranking of most favorite Taiwanese delicacies in everyone's mind? Please stay tune for the next article!

[Survey] Traveling to Japan
Recommend