Feature Article on Beauty– Ready for Summer? Vol 3: 5 Best Whitening Skincare Products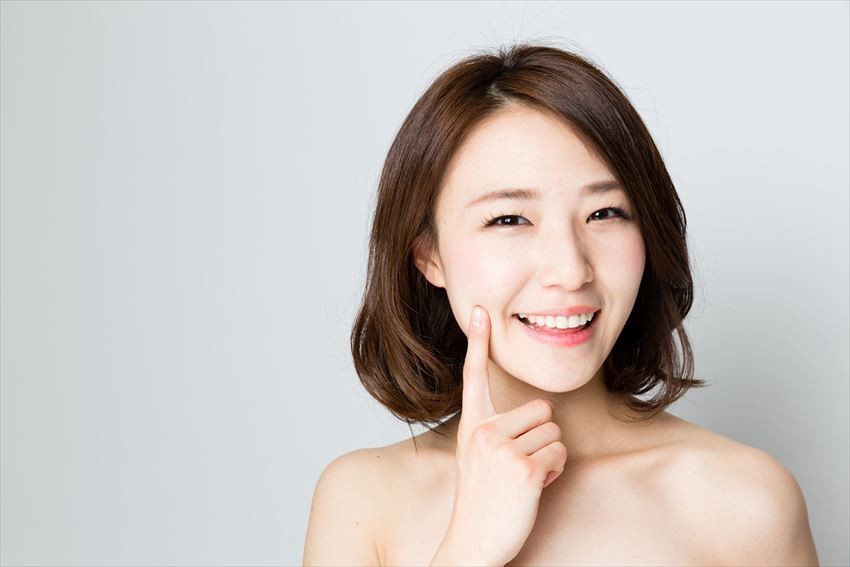 In order to maintain their porcelain-like white skin and to combat skin-damaging nemeses such as dark spots, freckles, wrinkles and dry skin, Japanese women follow basic skincare rituals fanatically all year round from a young age. And for that reason alone, drugstores in Japan boast a vast range of whitening skincare products. In this article we'll get up close and personal with the popular products easily found across the nation's drugstores, tried and tested by our female staff at FUN! JAPAN.

The Basics Of Whitening Skincare - A Must-read Before We Get To The Point
The most effective compound for diminishing brown spots, the archenemy of smooth white skin, is called "Hydroquinone". Although skin brightening products available at drugstores are reasonably priced, not many of them contain high rate of this substance. Such affordable skin lotions or serums are mainly for precautionary measures, preventing the skin from darkening rather than getting rid of dark sunspots or lightening skin tone.
Facial spots are particularly stubborn and won't go away unless you use whitening skincare products with effective compounds – not to mention your daily regime for UV care and prevention must not be overlooked!
Astalift White Series

Are you for real? A photographic film manufacturer is producing cosmetics! Your reaction is only natural… As a matter of fact, skincare products developed by Fuji Film have been reputed among Japanese women for brighter skin. In addition to the widely popular Arbutin and Vitamin C derivatives, an originally developed whitening ingredient named Nano AMA is contained in the product range, enhancing moisturizing and whitening effects on skin. They also attack the root cause of brown spots, preventing the outbreak of facial spots in the future. You can find:
Trial Kit (Whitening Lotion 18ml, Whitening Essence 5ml, Whitening Cream 5g, Jelly Aquarysta 10 portion sachets, Perfect UV Clear Solution 5 portion sachets) 1,000 Yen (excluding tax)

Whitening Lotion [Medicated]<Skin brightening lotion>130ml/4,104 Yen

Whitening Essence Infilt [Medicated]<Whitening essence>30ml/7,560 Yen

Cream [Medicated]<Whitening facial cream>30g/5,400 yen

Perfect UV Clear Solution<UV clear essence and makeup base>30g/4,212 yen

Brightening Mask [Medicated]<Whitening facial mask sheet>1 sheet/1,420 yen

Clear Treatment<Wipe-off essence>100ml/4,104 yen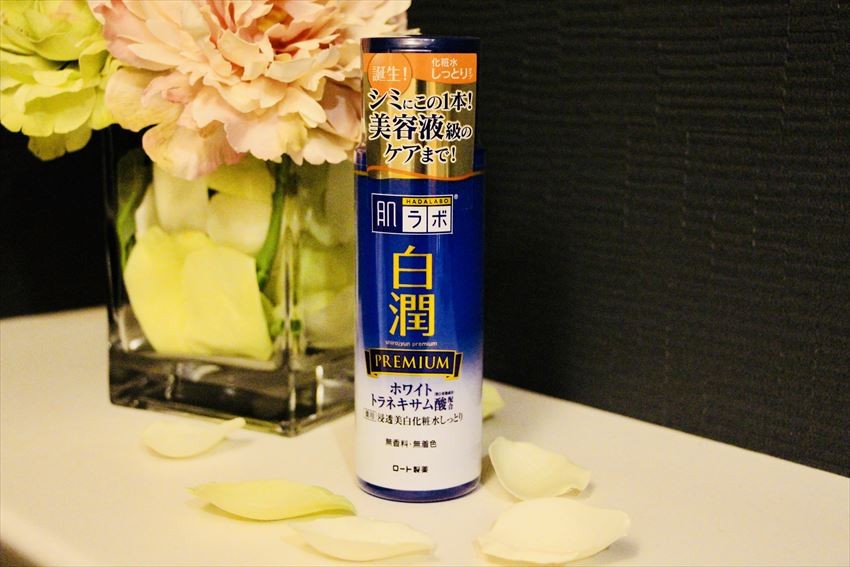 HADA LABO Shiro-jyun skin brightening products

These products are widely acclaimed for "giving a less tingling sensation when applied compared to other brightening skincare products" and "lives up to its naming by whitening and moisturizing your skin. What's more, it won't break your wallet." Shiro-jyun products contain both the brightening compound Arbutin, and Hyaluronic acid Na, the moisture-binding ingredient. Here is a list of the range of products:

Shiro-jyun Medicated Clear Lotion 170ml/Open Price

Shiro-jyun Medicated Clear Lotion Shittori (Moisturizing) Type 170ml/Open Price

Shiro-jyun Medicated Clear Milk 140ml/Open Price

Shiro-jyun Medicated Clear Cream 50g/Open Price

Shiro-jyun Cool Hyaluron Jelly 200ml/1,000 Ye
Shiro-jyun Medicated Clear Mask 4 sheets/Open Price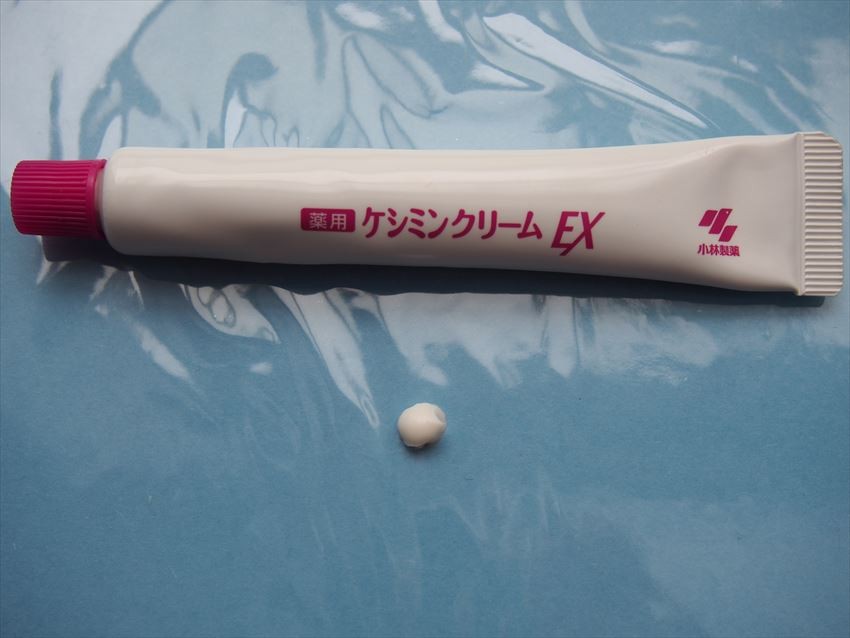 Nuru Vitamin C Pharmaceutical Medicated Keshimin Cream

After extensive testing and research, this groundbreaking product was developed by a long-established pharmaceutical manufacturer specializing in ointments and liniments. With the active ingredients of Vitamin C derivatives widely known to curb the outbreak of facial spots, as well as Vitamin E that enhances blood circulation, Medicated Keshimin penetrates and works into the outermost layer of your skin, suppressing the production of melanin. Use after your normal skincare by applying onto existing blemishes. We also like its sister products: skin lotion, emulsion and serum.
Net: 30g

Price: 1,800 Yen(excluding tax)

Attention to this item with plenty essence! Two types of Kose's sheet mask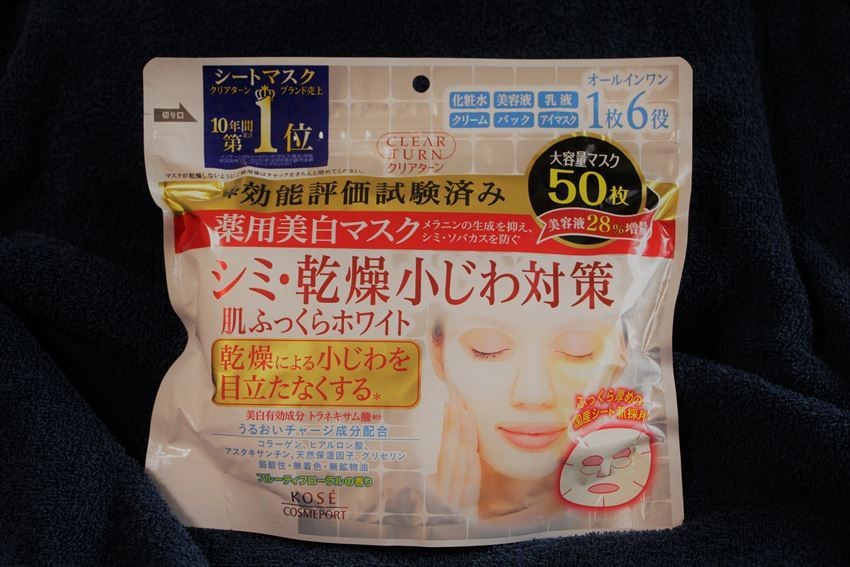 Kose Cosmeport Clear Turn Medicated Whitening Skin Mask

This product is all-in-one mask with 6 distinctive roles that can simultaneously handle spots and dry small skin line. After cleansing your much needy pamper face, you can complete your skin care with just this 1 piece of mask. It is a closely-packed mask sheet which produced from 100% natural material.
Whitening active ingredient Tranexamic acid : reduce the melanin, and prevent skin spot and freckle

Moisturizing Component: Collagen, hyaluronic acid, Astaxanthin, natural moisturizing factor (Serine), Glycerin

Weak acidic, non-fragrance, colorless, mineral oil

Contents: 50 pieces Price (approximately 1,500 yen)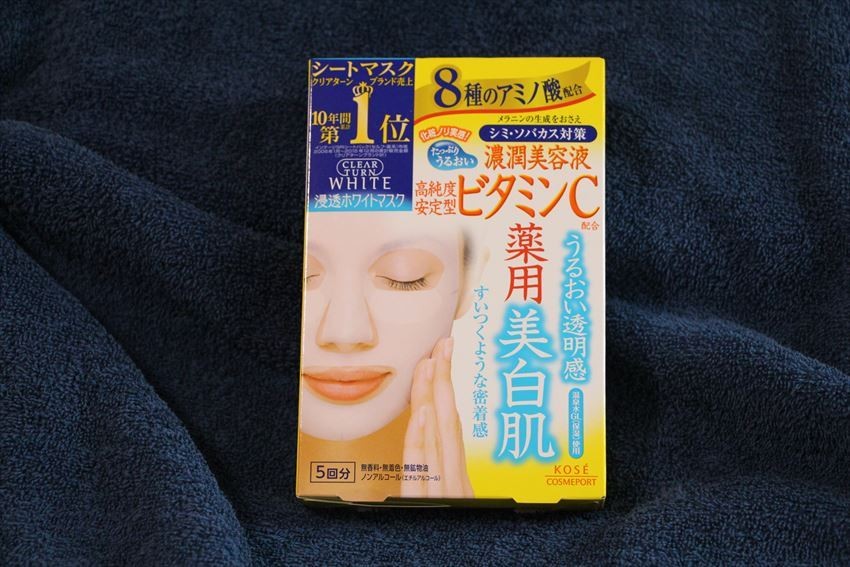 Kose Cosmeport Clear Turn White Mask (Vitamin C)

A mask sheet which contains plethora of concentrated serum. The prized Formula which combined 8 impressive kinds of amino acid which is crucial for whitening and contains highest purity of state Vitamin. The mask sheet has perfect contact with your skin prevents the formation of Melanin, prevent skin spot which caused by sunburn, prevent skin freckles, and helping to improve the skin transparency and whitening.
Mimasaka Onsen Water ,Natural Moisturizing Factor GL (Glycerin) (Moisturizing) esteemed Formula

Non-fragrance, colorless, mineral oil, non-alcohol (Ethyl alcohol)

Contents : 5 times portion Price: approximately 600 yen
Recommend