All about Ameyoko or Ameya Yokocho in Tokyo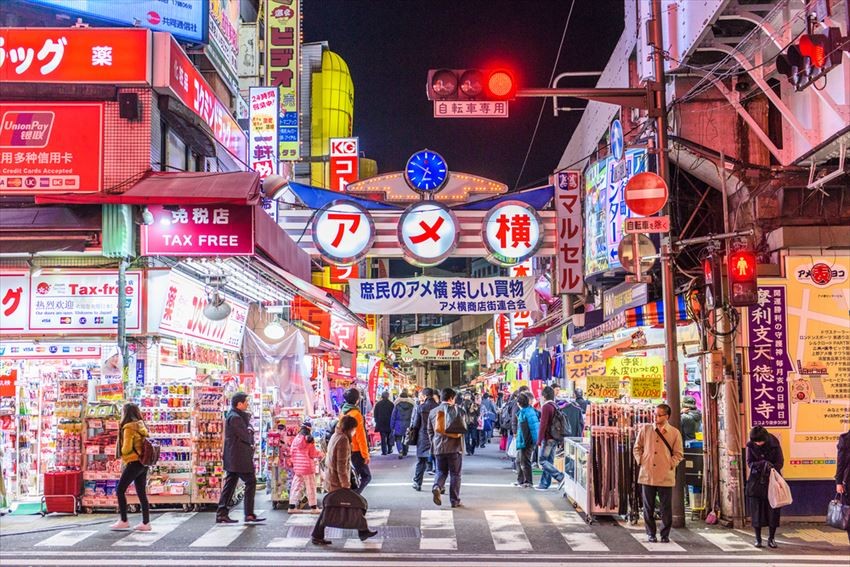 Ameyoko is one of the liveliest places in Tokyo. Unique shouts from fish stores and snack stores are drawing people's attention on this street. At this place, you can buy pre-cut fruits and snacks, and enjoy eating around with them. Also, it is a good to have a lunch or dinner at Izakaya (Japanese pub) located there. Many stores on this street close at 8pm, so it is better to visit there from early hours.
Ameyoko; a very lively shopping street in Tokyo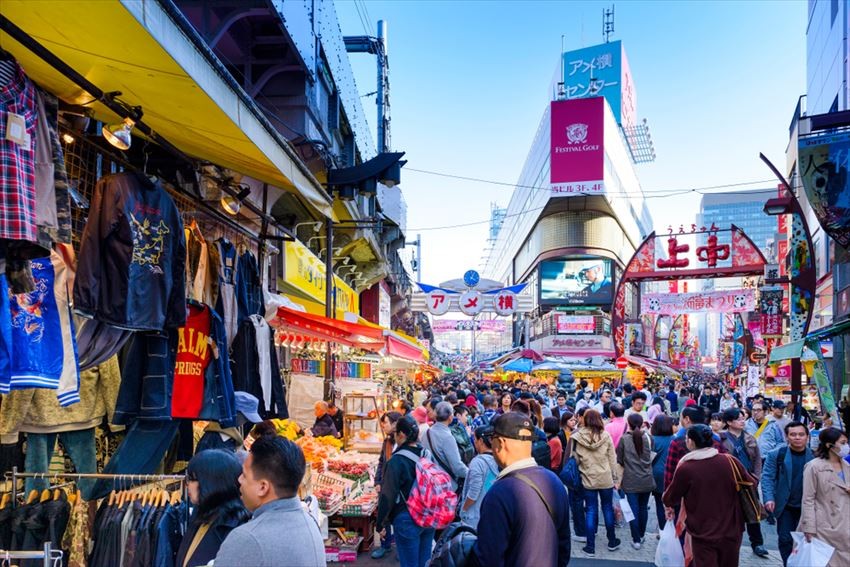 Ameyoko is located at east side of old town area, and this shopping street supports local people's life. There are a lot of food supplies stores selling fresh fish, food produces and so on. This street is famous for always being crowded with a lot of customers. Most of stores are tiny, but they have a large selection of items. Most of products they sell are sold out when they close their stores.
Focus on sales people's shout
In Ameyoko, sales staff always shout with saying "It's cheap" or  "I'll give you a discount" in front of their stores. You can enjoy Japan's busy atmosphere, so this place is indispensable attraction for the visitors. Many store employees can speak foreign languages, such as Chinese, English and so on, so you can enjoy shopping, too.
The famous snack shop, Shimura Shoten
There are many famous stores in Ameyoko, but Shimura Shoten is one of the most famous one. This store is famous for its snack bargain sale performance. They fill snacks into bags with shouting "Let's just put more!" or "One more for free!". They put snacks into bags until a bag fills up with snacks. If you want to know how much snacks you can get, you should go there to buy this snack bag.
Ameyoko Gourmet is FUN! 
We recommend you enjoy food when you come to Ameyoko. The easiest food to eat is pre-cut fruits. Fruits, such as melon, strawberry, pineapple and so on are cut to bite-size and skewered, so it is easy to eat around. Also, you can find some stores sell a typical food stand selling takoyaki or okonomiyaki. 

Enjoy food and alcohol at Izakaya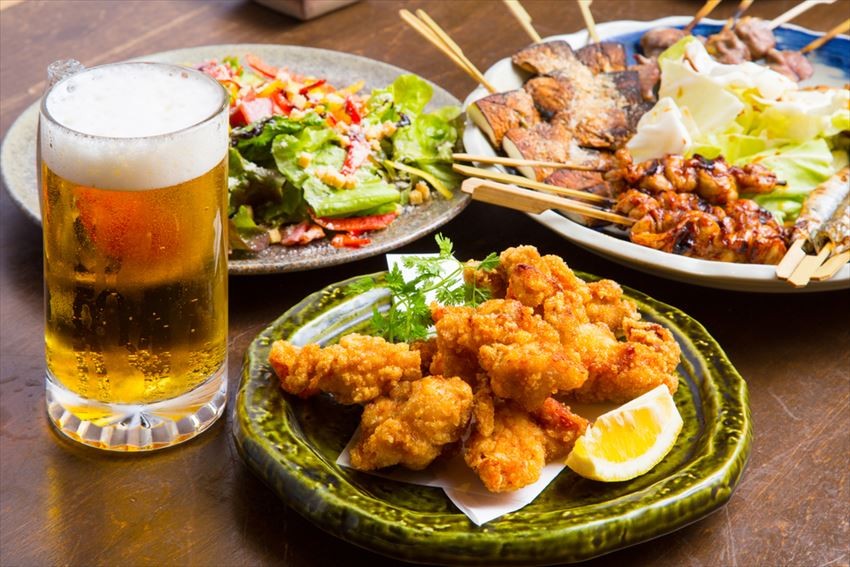 Izakaya is Japanese traditional and reasonable style restaurant. At most of Izakaya, you can enjoy some traditional foods including stew and yakitori with alcohol. Each table is so close each other, so you can get to know people who sit around your table.
Visit Ameyoko in Early Hours
It depends on stores, but a lot of stores which sell foods, cloths and general goods are close around 8 p.m. both on weekdays and weekends. So, if you want to get some souvenir, you should go there early. However, many restaurants are open until late at night. 
Access to Ameyoko
Ameyoko is located between Ueno Station and Okachimachi Station. Many of fresh fish stores are located between the sataion and Ameyoko Center Building, and Shimura Shoten is located north side of them. This area is the busiest area of Ameyoko.
Okachimachi Station is third stop from Tokyo Station and next to Akihabara Station when you use JR Yamanote Line. When you come to Ameyoko from Ginza, you can use Ginza line and you will arrive at Ueno Station in 11 minutes.
Information of this spot
 Name of the spot: Ameya Yokocho

 Address: 〒110-0005 4chome, Ueno, Taito-ku, Tokyo

Recommend