The Traditional Yatai Reinvented by a French Cook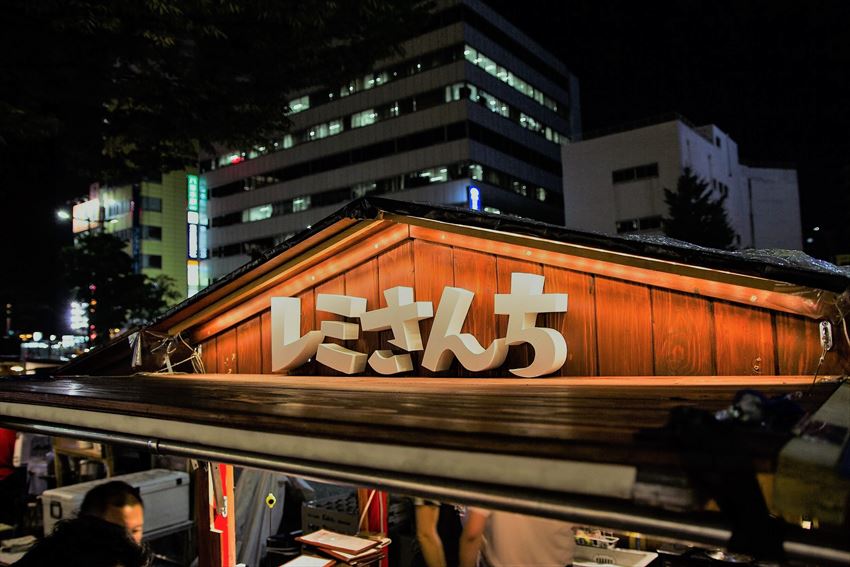 Remy is a French restaurateur who settled on the archipelago 17 years ago. The lucky Frenchman is the first foreigner who succeeded to be chosen for a new Yatai opening in the area. Indeed, since the regulation is really strict, obtaining a space is practically laborious. If you want to know more about the meaning of "Yatai", check out our previous blog on the topic. The just opened commerce was named after its owner "Chez Rémy" ("At Remy's" in English). His long experience in cooking and baking domains, was forged not only among French workers but also in Japan. He spent most of his time working/living in Kyushu region and admires Japanese lifestyle. Therefore, visiting this shop is an unusual experience.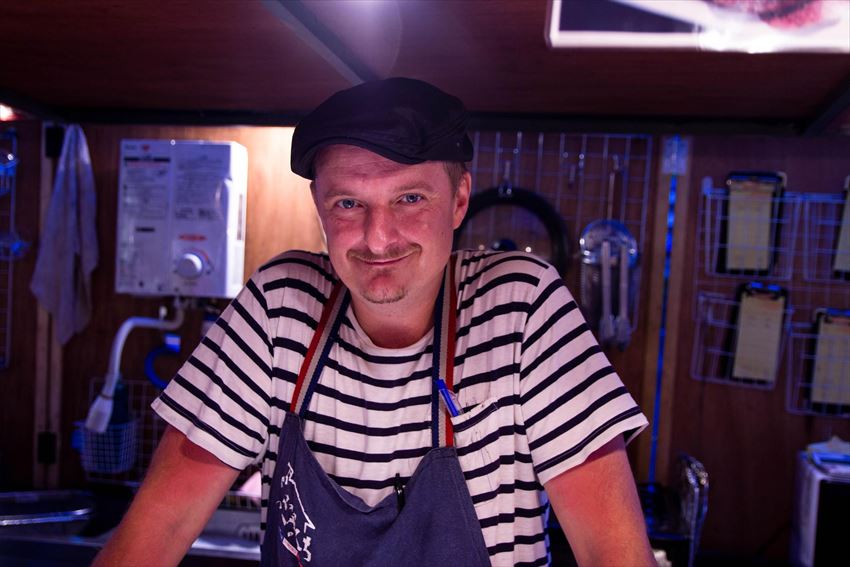 Indeed, in this French realm there is a little bit of Japan, obviously. It is really fun to hear the "irashaimase" ("welcome phrase in shops") among the endless jovial discussions in the language of Moliere. This mix of ambiances will offer, I guarantee, an unforgettable spectacle.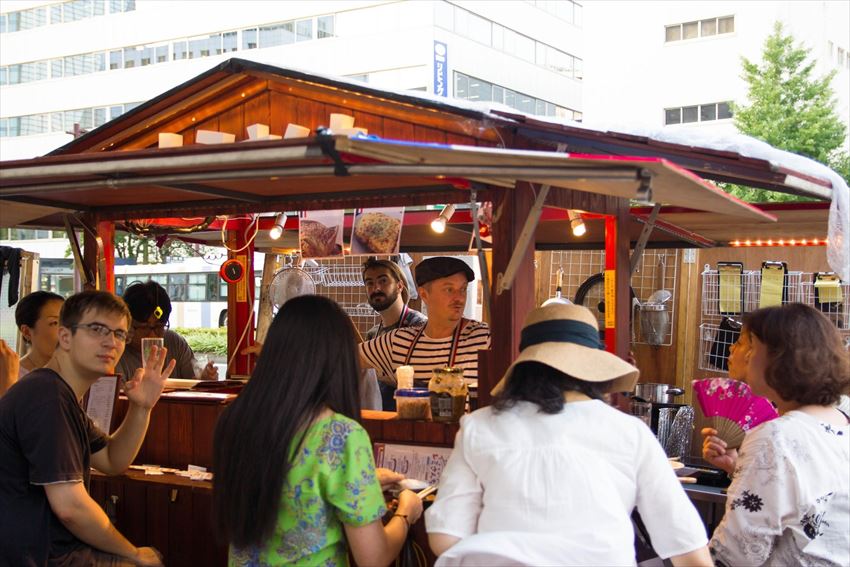 Like every other food stalls it is dismantled every day and reassembled before the opening hours. In fact, the owner has another restaurant in Ijiri district called "Merci Hakata" ("Thank you Hakata" in English) where he prepares the food beforehand, because cooking everything on the spot would be no easy task.
Unique concept
What makes this place unique is its unique concept. To the extend that, since its opening, this brand has earned a wide popularity in the city. Everybody has heard about the "French Yatai" and all the regional TV/Journal made an article on the subject. In other words, this trendy place became topical. One proof of this is the clientele. In "normal" yatais, you can barely see locals coming, but here most of the customers are Japanese. Probably because of the western exotism.
Lovely staff
Every employee working in this stall is always smiling and willing to help. Besides, they gladly bring up the mood with their joyful serving, making the moment all the more animated. It is hard to get bored and not rare to see passersby joining the party, intrigued by the lively attraction.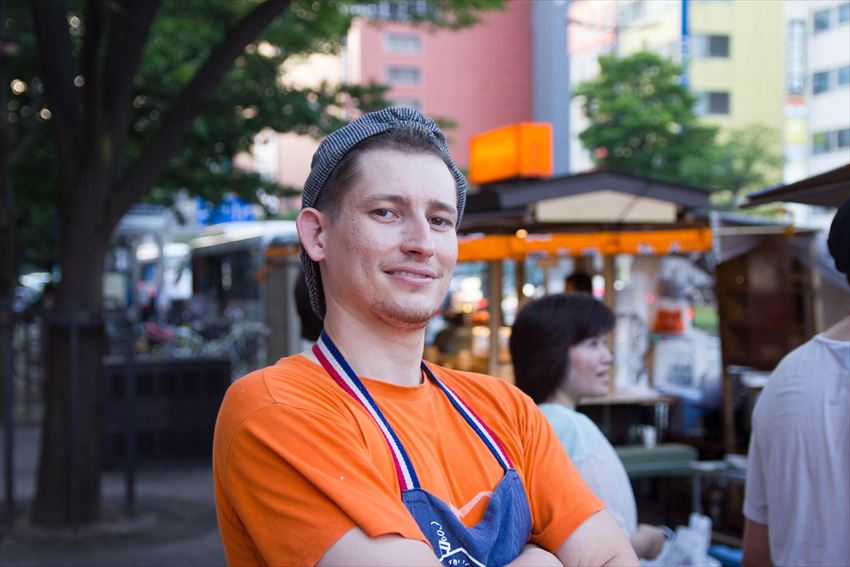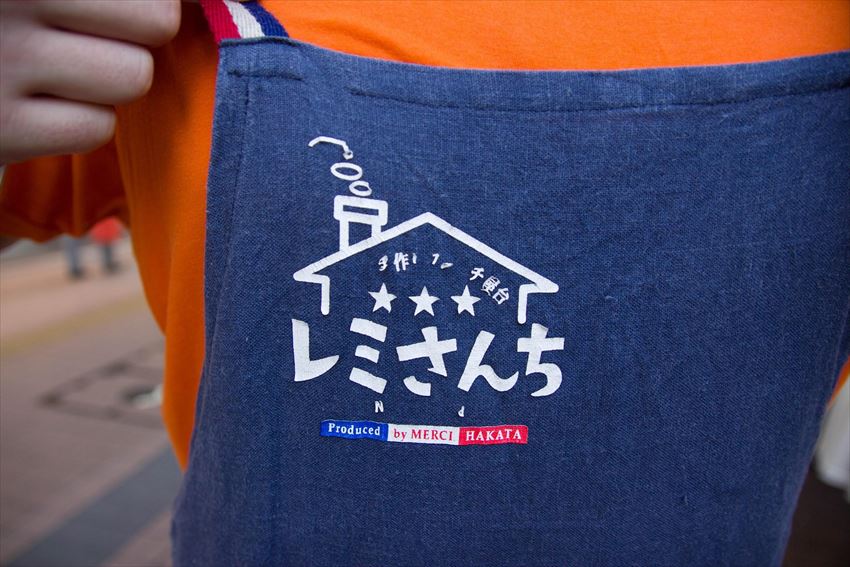 Original food

Usually, imported foreign food struggle to be equally tasty as in their original country, but here, it tasted just like home. On top of that, they offer original recipes with rather unusual flavours. The menu is divided in 6 sections:

- On land (Grilled meat)

- From the sea (Shellfish)

- Gratin (Gratin, lasagna, etc.)

- Bakery (Pizza toasts)

- Tapas (Escargots, shrimps, etc.)

- Drinks (Beer, wine, sake, softdrinks)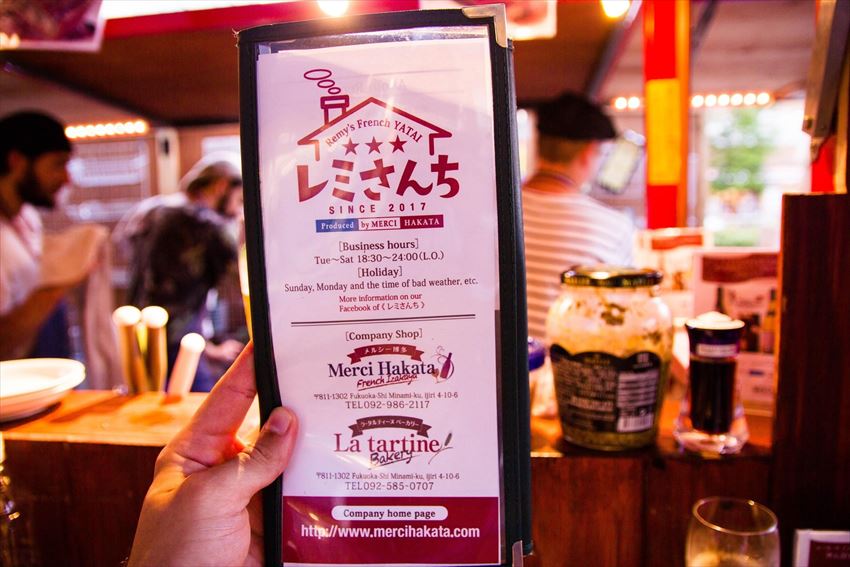 That day was really warm so we started with a fresh draft beer to quench our thirst.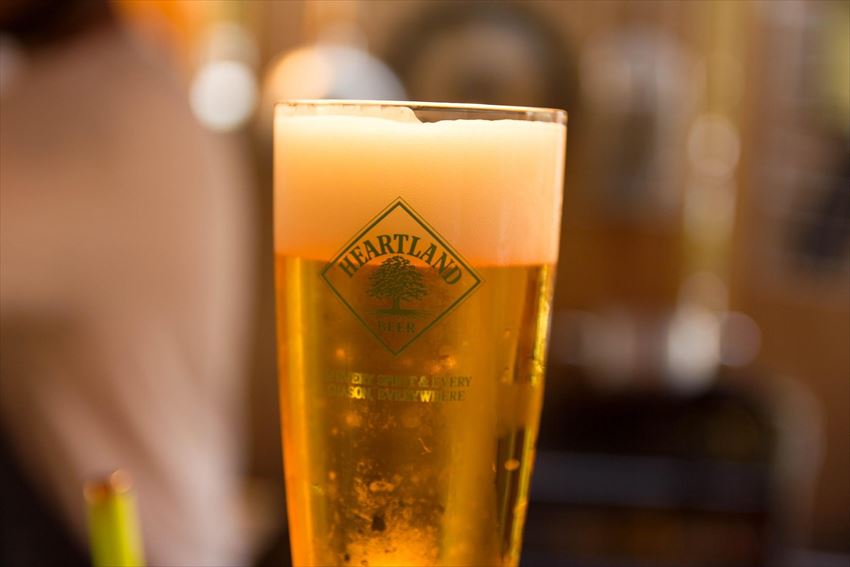 Secondly, we went on a contrasted association of a vegetarian quiche and a homemade grilled sausage. Both were amazing but we agreed to give a thumb up to the crunchy texture of the quiche.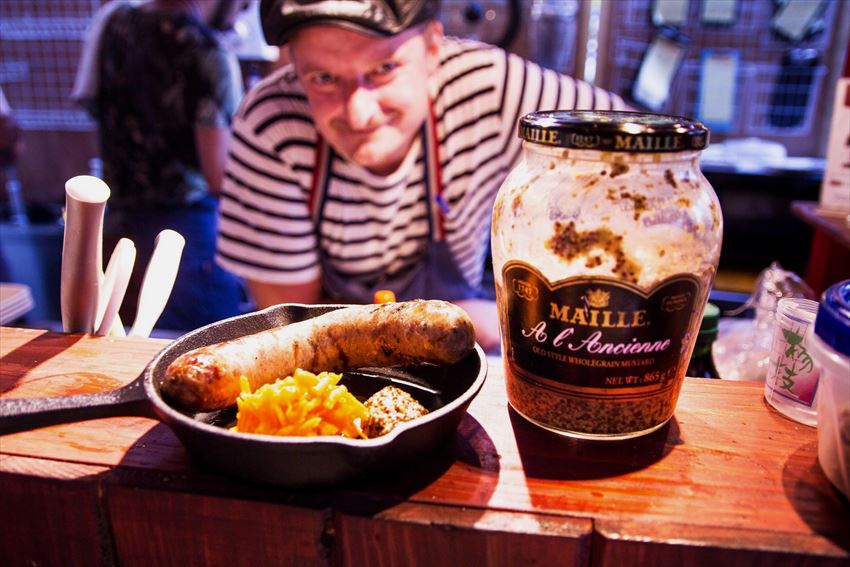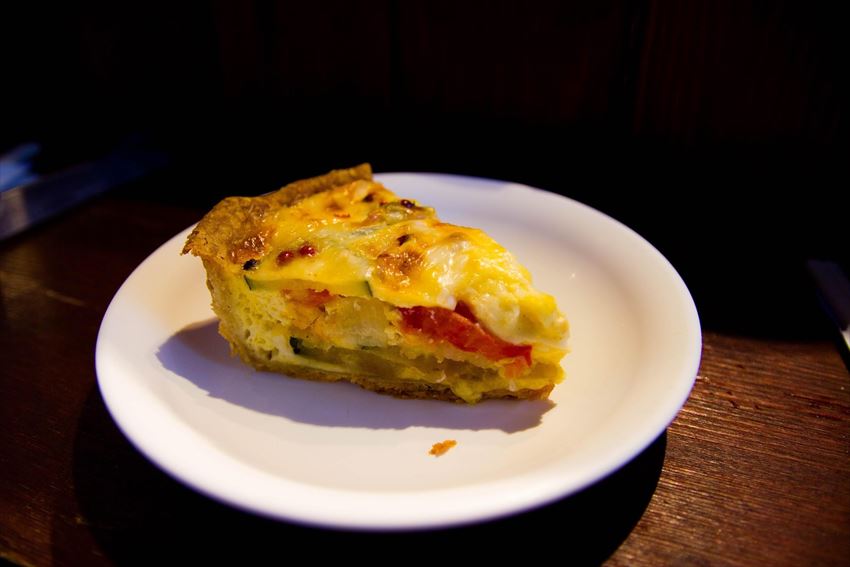 After the resounding success of the first course, we could not stop there. So we decided to try some other, rather generous, mouth-watering dishes. We had the gourmet "3 cheese pizza toast" and "Pizza toast with chilli sauce and chorizo sausage". Like it is often done in French pizzerias, the cheese was accompanied with honey, an audacious sweet-salty combination. No wonder the match was great. Chorizo and chilli sauce spicy then helped reactivate our taste buds.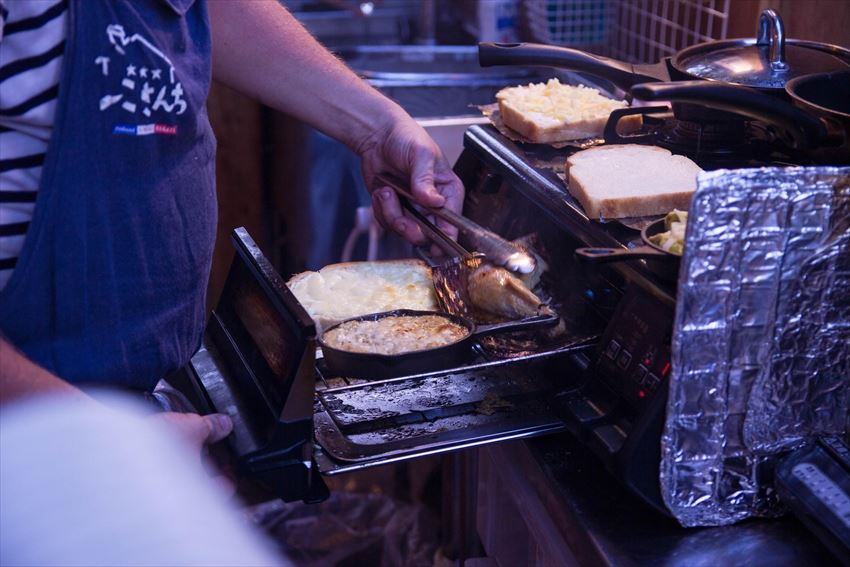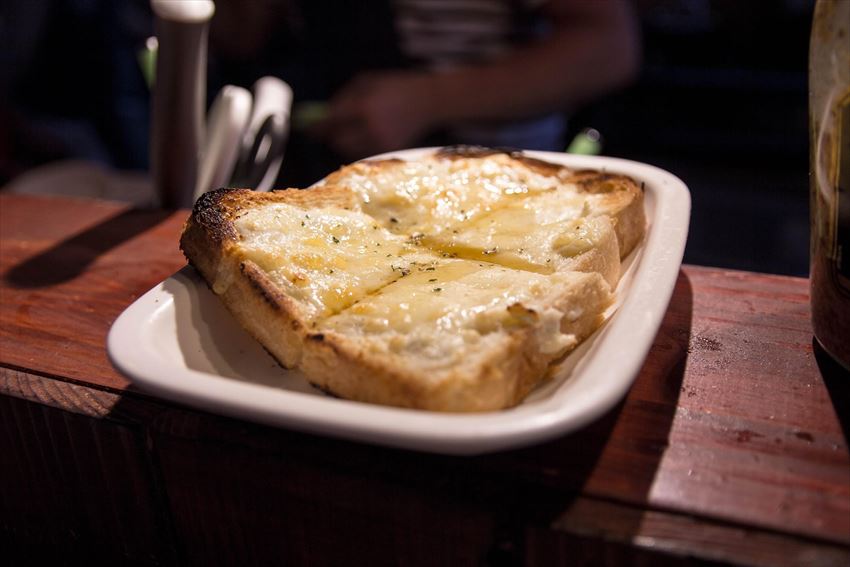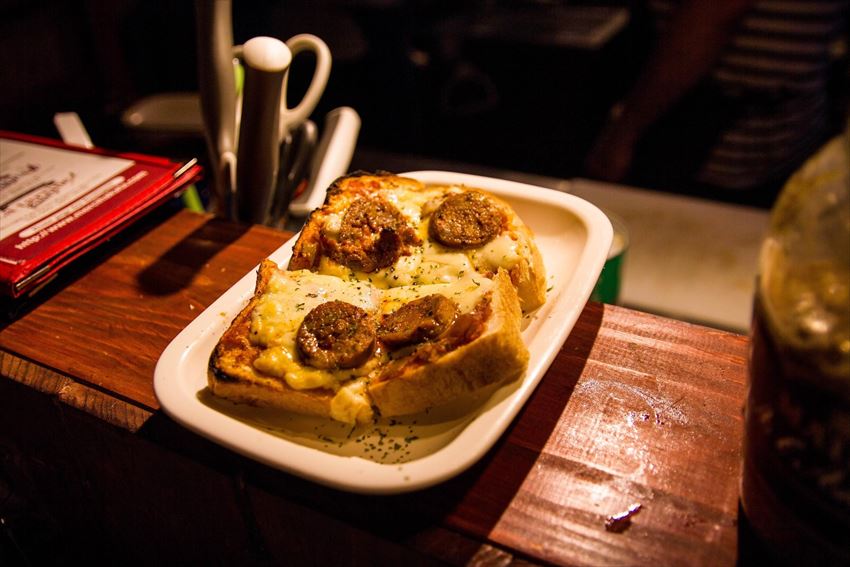 Reasonable pricing

Beside being delicious, those meals are "relatively" good bargains. I say "relatively" because Japanese food stalls, as tourist attractions tend to be overpriced, but this one is reasonable. Around 500 yen per drink and dish. With two dishes and two beverages we spent around 2000 yen, which is not too bad.

Overall, we recommend this shop for the warm welcoming of the staff, the great food and innovative concept. Do not miss it !

Access

2 min walk from Tenjin station. In front of Loft building, on the sidewalk.

Opening hours : 6:30pm to 12:00am

Address : 4 Chome-9 Watanabedōri, Chūō-ku, Fukuoka-shi
Recommend