Seishun 18 - Part 2-Actual Uses of The Ticket Seishun 18(青春18きっぷ)
In the
last post
, we covered the basics of train travels by the Seishun 18 pass. In this post, we're going to talk about our experiences going on trip with the pass, and special techniques to achieve inexpensive long-distance travels with the special Moonlight trains.
Short Day Trip Example: Fukuoka–Kumamoto
Before going on long distance journey with the Seishun 18 pass, we used it to go to Kumamoto first for a short-term one day travel, as we would expect readers 'based' in one location would do in order to save one night of extra hotel.
In terms of price, while the Seishun 18 is 2,370 yen each day on average, the return tickets to and from Kumamoto by Shinkansen cost more than 9,000 yen, which is nearly four times more expensive, although various discounts typically apply (return tickets, online booking in advance, student prices, etc.).
So how does travelling the ordinary train feel like? While we used to take the Shinkansen from Hakata to Kumamoto, which takes as little as 39 minutes, stopping at three stations, even the 'direct' ordinary train (which is not available all the time; other times you need to connect trains) takes nearly three hours, stopping at 40 stations.
Despite the more than four times difference in speed, the experience is comfortable enough, as modern commuter train was used. In fact, we didn't really notice the passing of time. However, since we returned during rush hour in the evening, we were packed like sardines with salarymen and students going home, though that quickly got better over time. (So, choose your time of travel wisely!)
Therefore, in total, the return journeys normally take six hours. That may sound a lot, but if you go at around 7 a.m. and return at around 7 p.m. (arrive at around 10 in both cases), you still have a good seven hours of daytime to your free disposal.
Unfortunately, as we mentioned in the first post, we experienced significant delay of more than two hours due to heavy rain in Kyushu so that we only returned to Hakata after the subway had stopped. Fortunately, JR Kyushu is thoughtful enough to arrange free taxi for all affected passengers.
Overall, we are satisfied with the use of the Seishun 18 for short one-day trip.
The luxurious interior fitting of the Kyushu Shinkansen "Swallow" Tsubame (つばめ)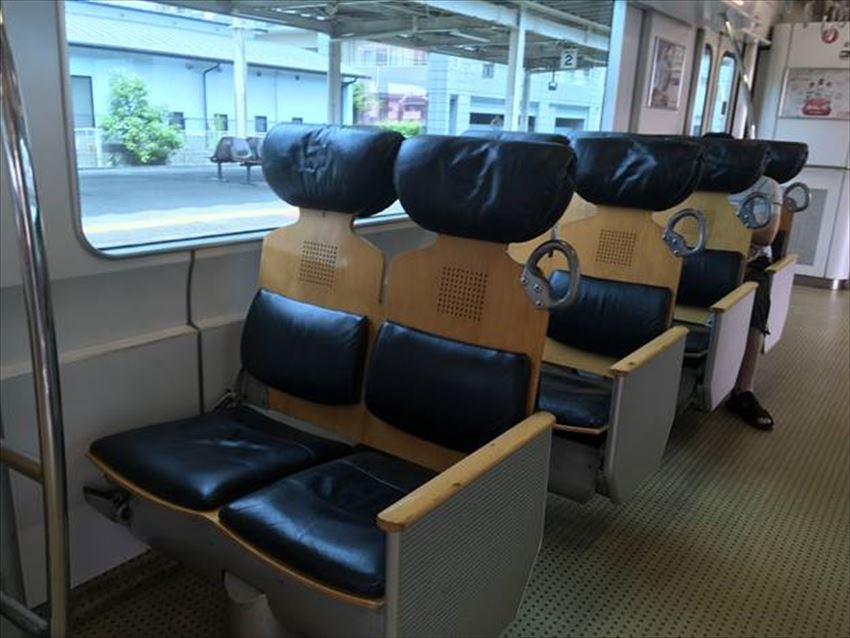 The much more modest commuter train we took.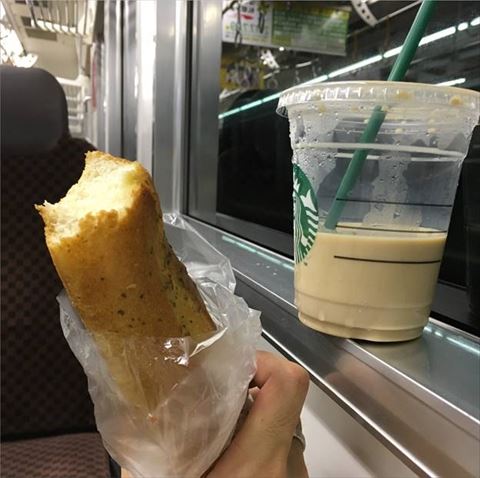 You don't have eki-bens, but coffee and bread go very well with the ordinary train!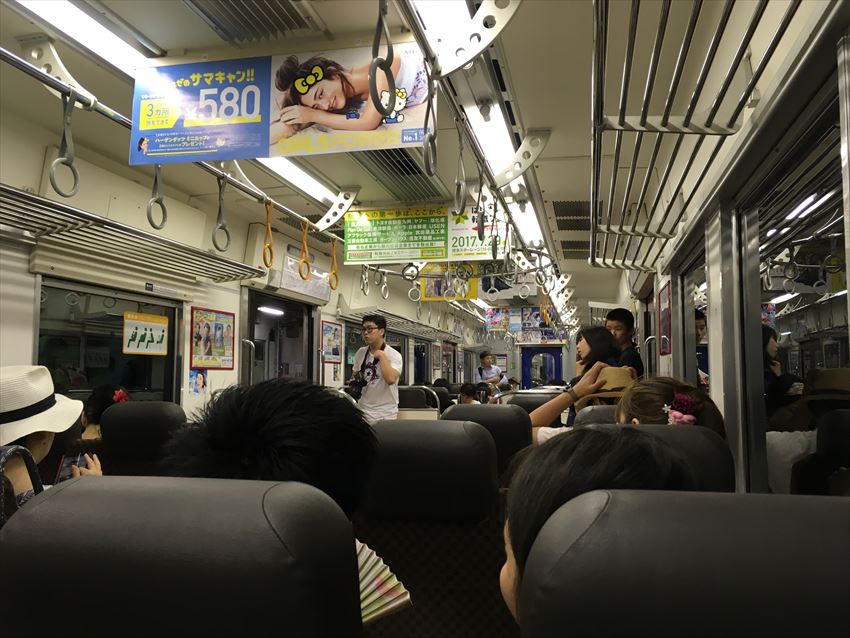 Train packed with people due to delay.
Long-Distance Trip Example: The Moonglight Trains
However, obviously short trips like the above does not make the most out of the Seishun 18 pass economically. Similarly, for the train gurus, just 6 hours on the trains are simply not enough. Before talking about our experience of long-distance train trip with the pass, we'll first talk about the Moonlight trains.
The Moonlight trains, as their name suggests, are the few remaining nighttime trains still running in Japan, apart from the increasingly rare sleeper trains. Currently there are only two left, both having one end in Tokyo: the Moonlight Nagara (to/from Ogaki 大垣 in Gifu prefecture) and the Moonlight Shinshu (to/from Hakuba 白馬 in Nagano Prefecture). They are not usually available, only running in special times like summer and winter.
Mountain trekkers taking the Moonlight train.
Among the two, the Moonlight Nagara is specifically designed for Seishun 18, only once a day during the effective period of the Seishun 18 pass. (Now, the Moonlight trains themselves do not necessarily have to do with long-distance travels, and not even the Seishun 18 pass. Many travellers, for example, take the Moonlight Shinshu simply to go trekking or skiing early in the morning!) It leaves Tokyo at 23:10, arriving in Nagoya at 5:22 and Ogaki at 5:50; on the other way round, it leaves Ogaki at 22:49, Nagoya at 23:20, and arrives in Tokyo at 5:05. In other words, with this train, you can transit between Tokyo and Nagoya without changing. Also, since Ogaki is a mere two-hour train ride away from Osawa, the Kyoto-Osaka-Kobe area is also made possible. (In the Kyoto-Osaka-Kobe region, there is what is called the 'Shin Kaisoku' (New Rapid) which is comparably fast as the express trains but which still qualify as 'ordinary' trains, which go extremely well with the Seishun 18 pass!)
Platform in Ogaki full of young people.
Look for markings on the platform as to the Moonlight Nagara!
Moonlight bound for Tokyo.
Most importantly for our purposes, though, if you connect to other trains in succession, you can reach Kyushu (if you're travelling from Tokyo) and Aomori, the tip of Honshu (if you're travelling to Tokyo)
in one day.
Notwithstanding the extreme long hours in the train this will mean, the economic appeal is obvious. Let us take the extreme and say we are travelling from Fukuoka, Kyushu to Aomori, Honshu. The ordinary Shinkansen (Nozomi from Hakata to Tokyo, and Hayabusa from Tokyo to Shin-Aomori) takes 34,720 yen and nearly 9 hours, whereas using two tickets of the Seishun 18 pass (plus reservation fee of the Moonlight Nagara) costs only
5,260 yen, which is 6.6 times cheaper.
To do that, you leave Hakata at 8:50 a.m. and arrive in Aomori at 22:06 the second night, i.e. total
37 hours
, more than four times longer, and changing nearly twenty times!
In fact, used in this way, you can easily "transect" or cut across Japan from the northernmost station in Hokkaido to the southernmost station in Kagoshima in less than five days, or a little more than 10,000 yen!
Of course, we expect only the most zealous train guru will do something like this. Besides the physical demand of such a plan, as we mentioned in our first post, such a tight plan does not allow any room for mistake, no matter delay or missing a stop. For the majority of us, we can choose the middle options.
The first is to mix the Seishun 18 pass with other transport options like ferry, LCC and highway bus! This is in fact the most ideal because, while there are often cheap and fast ways like LCC of going between large cities like Tokyo, Osaka and Fukuoka, as is well known, there is very few direct flights to places like Aomori. The seishun 18 pass can be used to bridge the areas which normally require trains (and ordinary trains) anyway.
The second thing you can consider is to break down your trips to several days. In our case, for example, we did not go directly from Hakata to Tokyo, but stopped over in Osaka to travel, before going again northwards.
However, it is very important to note that you need
two tickets
for two days! Let us repeat, for example if you want to travel from Hakata to Tokyo, you need first one ticket for the nine or ten train rides up to Ogaki, but you need another ticket to exit Tokyo station! That said, we have a tip for you if you just want to use one ticket. You can buy the normal priced ticket for the one hour travel before the clock turns 0:00. For example, say you are travelling from Tokyo to Ogaki, you can buy the ordinary priced ticket (1,490 yen from Tokyo to Odawara 小田原, where the date changes, then use one Seishun 18 ticket for both the rest of the Moonlight Nagara, as well as for taking other ordinary trains the rest of the day, e.g. up to Hakata as we mentioned. In this way, you can get from Tokyo to Hakata with 1,490 + 2,370 + 520 (seat reservation fee)= 4,380 yen!
Also, as we mentioned in our last post, you need to make a seat reservation as early as one month in advance, at 10 a.m. that day (520 yen as we mentioned above). In our case, although we booked one month in advance, we went only in the afternoon, by which time the window seats are also completely taken! You can reserve either at the ticket office in the JR stations over the country, or at JR East's free website "Eki Net", which is available in English:
https://www.eki-net.com/pc/jreast-shinkansen-reservation/English/wb/common/Menu/Menu.aspx.
Note that, to be a member at that website, you need to have a credit card, and you need to collect your tickets after arrival in Japan.
Lastly, it is still an 'ordinary' trains with lights and the seats are not particularly comfortable. In addition, if you happen to be in the carriage with the groups of young people, chances are that they might be chatting into the night. So, you should bring your (i) air or soft pillow, (ii) earplugs or headphones and (iii) eye masks!
So, that's some of the the more interesting thing you can do thanks to the different combinations and permutations that the versatile Seishun 18 pass allows. Look online, and you will likely see much more discussions on the topic.