Island Hopping and Snorkeling through Okinawa Prefecture
Okinawa Prefecture makes up the southernmost part of Japan. For centuries it was a trading hub for the region and developed its own distinct culture, only recently becoming a part of Japan. The weather is warm, the food is unique, and the beaches are the most beautiful in the whole country.
Most visitors to Okinawa arrive in Naha, the largest city in the prefecture. Not as many people venture out to explore the hidden gems on Okinawa's many other islands. So grab a pair of snorkeling goggles and come island hopping with us!
Tokashiki Island
Tokashiki Island is a good island for snorkeling and scuba diving. The three most popular beaches are Aharen, located near the village of the same name, Tokashiku, and Watari Yoshimi Sik. If you didn't bring your own equipment, there are some dive shops located in Aharen and Tokashiku Villages from which you can rent.
There are two short hiking trails, both of which lead to viewpoints on the top of the hills which dot the island. There is also a "Yellow Submarine," which you can board to get a tour of the bay as well as enjoy underwater views through the glass floor. Between January and April, the area is also popular for its whale-watching.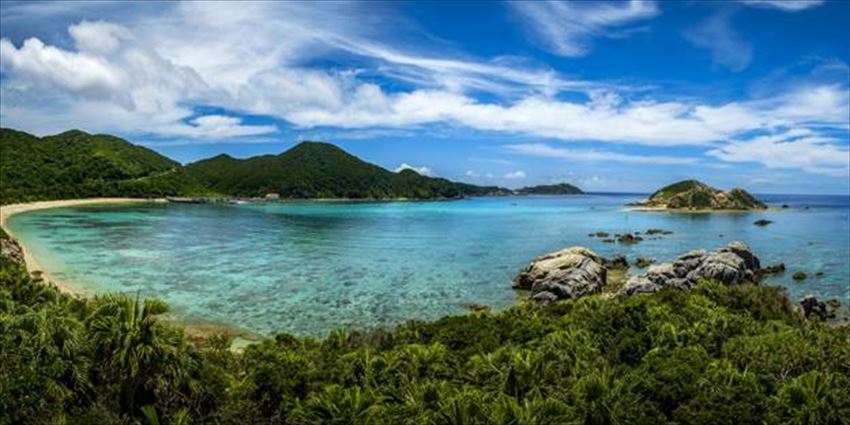 Getting here
There are two ferry services which come to the island from Tomari Port in Naha City. Marine Liner Takashiki makes a round trip twice a day, costing ¥4,200 for both directions. The trip takes 35 minutes each way. If you want to take your car, then Ferry Kerama makes one round trip each day, taking 70 minutes each way and costing ¥3,200 for both directions.
Ferry reservations can be made on the island's official website:
http://www.vill.tokashiki.okinawa.jp/en/index.htm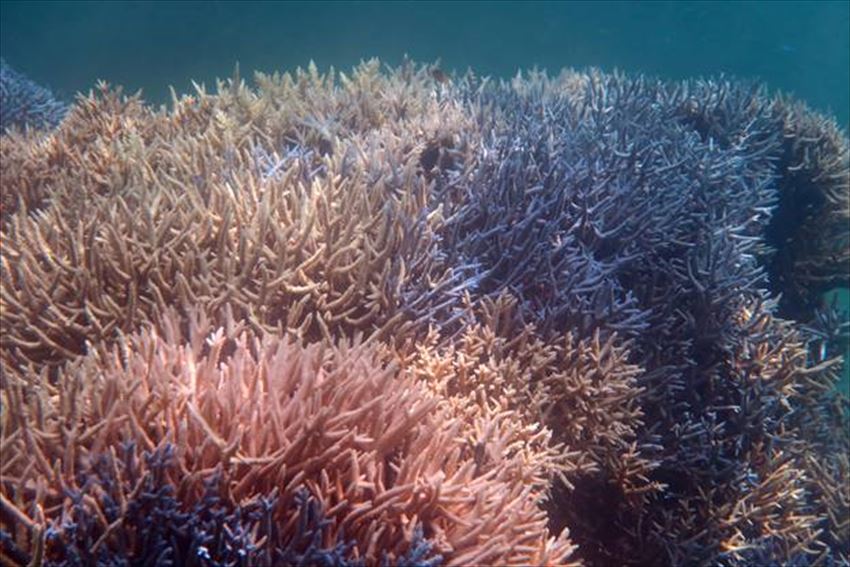 Taketomi
For a complete change in environment, try Taketomi Island, which is famous for its beautifully preserved Ryukyu village called Shuraku. You can see traditional, one-story houses with red-tiled roofs and lion statues enclosed by stone walls. Most of the roads are trails of white sand, which go through the town and lead to nearby beaches where there is plenty of space for swimming and diving.
Perhaps the only tourist activity aside from the village on this island is to ride a cart pulled by a water buffalo, with a storytelling guide for ¥1200. Information on them can be found at the port.
For those interested in staying overnight, there are some inns, including in a few of the traditional houses.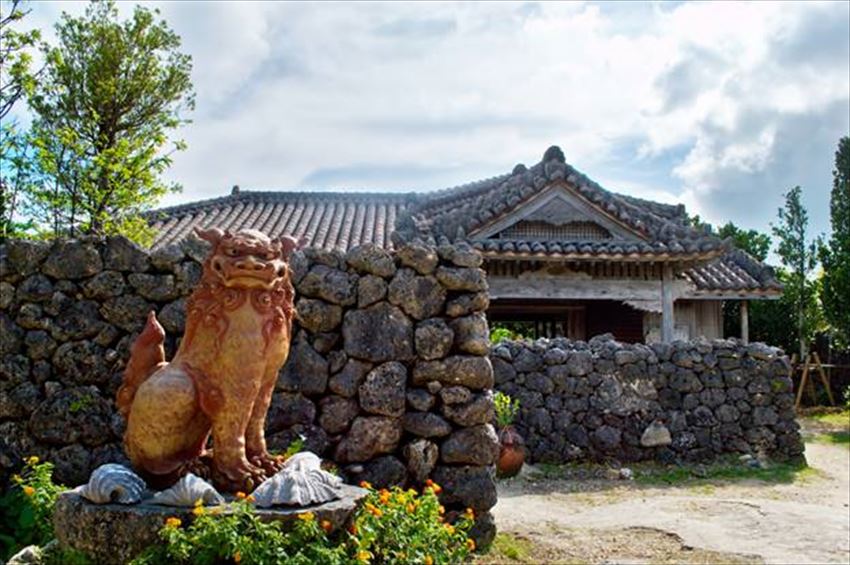 Getting here
The only way to get to Taketomi is through the nearby Ishigaki island, which has its own set of beautiful beaches.
First, fly to New Ishigaki Airport from Naha Airport; the trip takes one hour using a variety of domestic airlines. From there, two ferry companies, Anei Kankou and Yaeyama Kankou, operate connections every half hour from early morning until 5:30pm each day. The trip costs ¥580 each way and lasts 10 minutes.
Kuroshima
This small island's claim to fame is its cows. In fact, there are around 3,000 cows on this island and just about 200 people!
Because of this, the island is a perfect getaway for someone who wants to get away from the hustle-and-bustle of the rest of the world. There are no signals or lights on the streets. There are also no convenience stores, so make sure to bring whatever you might need. This includes your snorkeling equipment, as Kuroshima is home to the beautiful, isolated Nakamoto beach with a small reef off-shore.

Getting here
First get to Ishigaki, following the instructions for Taketomi above. Then, take a 30 minute ferry ride from Ishigaki's Ferry Terminal. Both Anei and Hirata operate ferries and sell tickets at their offices at the terminal. The last ferry each day is 5pm, and the round-trip ticket costs ¥2,150.
Miyako
The largest city on this island is Hirara, where there are businesses and an entertainment district. The rest of the island is fairly empty. So why should you come here? Due to its lack of man-made structures and rivers, the water surrounding Miyako is some of the clearest you will ever see! There are miles of white sand beaches, such as Sunayama, Aragusuku, Painagama, and Nishi-hama, as well as many more unnamed and unpopulated beaches all around the island. Miyako has some of the best snorkeling spots in all of Okinawa.

Getting here
You can get to Miyako Airport directly from Haneda Airport in Tokyo, Naha Airport, and New Ishigaki Airport.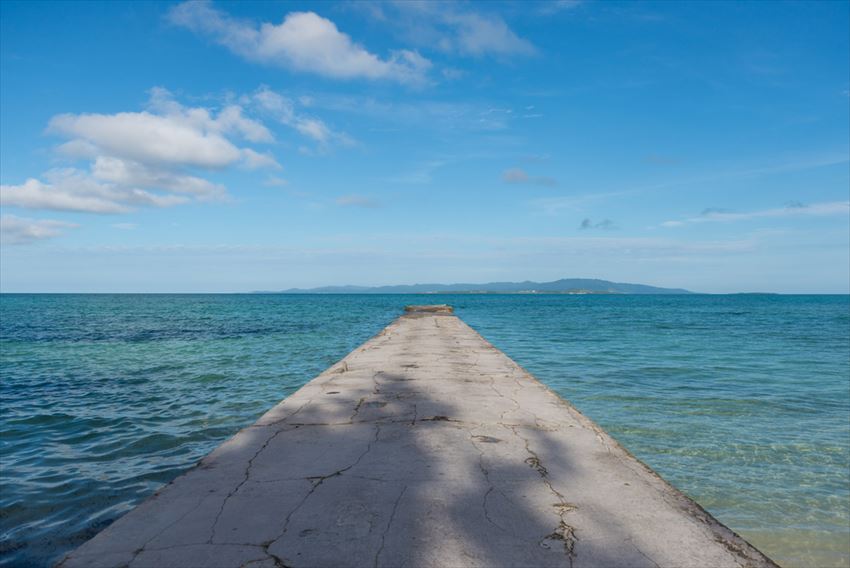 Akijima
Tourists from other islands in Okinawa often come here for snorkeling, scuba diving, and kayaking. There are also hiking paths and observation towers for viewing the surroundings. The island is also home to deer that like to swim in the water, as well as giant tree spiders, so be careful when hiking!
Getting here
Take the ferry from Tomari Port in Naha. The trip takes 1 hour one way and the round trip costs ¥3,000. The last ferry leaves around 5pm each day.
Iejima
Iejima is located to the north of Okinawa Island, a quick ferry ride from Motobu's port. There are two peaceful beaches, the 70 million year old Mount Gusuku that allows for a view of the whole island, and the annual Lily Festival.
For more information on Iejima, check out our in-depth guide:
https://malaysia.fun-japan.jp/Articles/2017/02/24/MY_20170308-17-okinawa-iejima