Tourist Attractions in Okinawa
It is also a very popular tourist destination for foreign travelers as well, some looking for the beautiful nature, some coming for a relaxing time, and others to experience the unique culture.
What does the island have to offer?
Churaumi Aquarium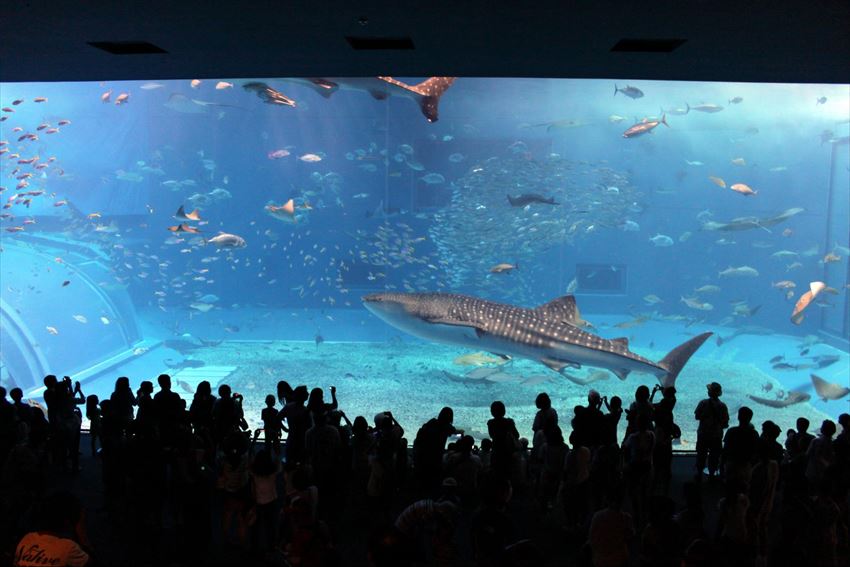 https://www.flickr.com/photos/imnakashima/7707586600/in/photolist-sq5L1N-gxA9pB-s8F8Fy-7N4Unh-cK6oY9-s6Vhc2-rtrxDT-gxA3Ac-s8E2Nw-gxzAKo-gxAa6Y-gxzBqm-cK6pTL-gxzx71-gxAwxc-gxA9sJ-gxA85n-gxzx2w-cK6oPo-gxzCpq-gxAzjz-gxA8xN-gxA8uv-gxAwFi-gxzxYS-gxAz9K-gxA5eo-gxA6y6-5reaM8-cK6pp9-gxAyQ8-gxzzmw-gxA6Rb-cK6qau-gxAyBn-gxAuRr-gxAxec-gxAzzz-gxA3gp-gxzwyh-gxzyPE-gxA53F-gxzyrq-gxzxb9-gxAy2e-gxAxwX-5rebUk-5riuPh-gxzymf-gxzBaS
One thing that makes Okinawa ever more special is its beautiful nature. Located in the Pacific, the island boasts a wide variety of sea creatures that are unique to the region. Evidently, it is home to the most popular aquarium in Japan, Churaumi Aquarium.
The biggest highlight of this spot is its whale shark and the thousands of other fishes swimming peacefully in the "Water World"-like tank. It is a perfect spot for people of all generations, but especially for kids!
Website:
https://churaumi.okinawa/en/
Map:
Shuri Castle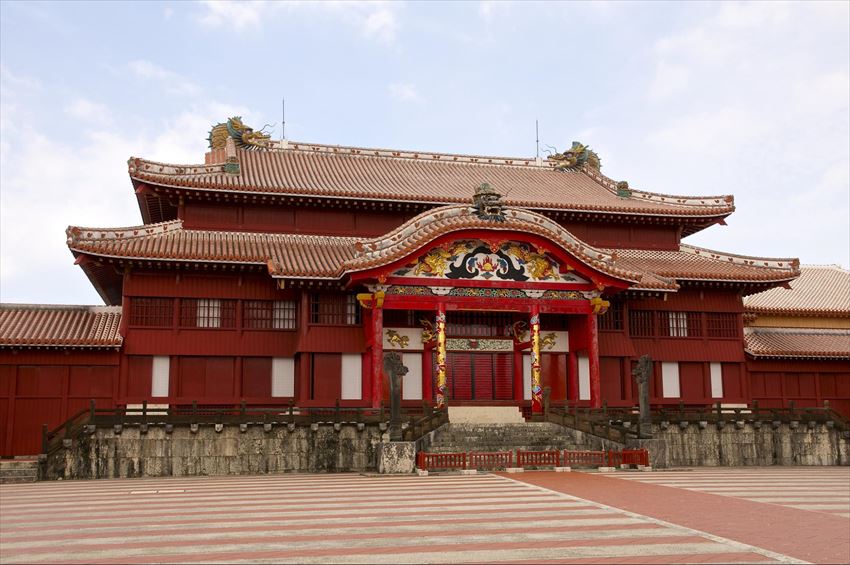 https://www.flickr.com/photos/lllnorikolll-300er/14365809554/in/photolist-nTswFC-e9oYpv-e9oP9M-e9ouN4-e9ps2z-e9uHpU-e9pjwi-7NkjA5-e9uhdh-e9p7dR-e9ujKL-e9uBgS-e9oKNa-e9ofzv-e9oJFX-e9uJ9q-e9osdP-e9tU6j-e9p5ya-e9utCq-e9pqX4-e9utZ9-e9u9fG-e9uHPo-e9uytU-e9usVE-zjAVAS-e9oxLZ-e9uUe5-AekuNj-e9pjYP-e9unb1-e9otsX-e9uGch-e9uchE-7NkjyE-e9oZTD-e9oH9a-e9pryi-e9pa9t-e9p6UP-e9uYDw-e9pctP-e9uEBs-e9oG4p-e9psVF-e9oWXM-8n6yE7-e9uJQy-e9oB26
Until it was officially incorporated as a part of mainland Japan in 1879, Okinawa was known as Ryukyu, getting its name from the kingdom that ruled the island since 1429. Shuri Castle was the home of this ruling family, and hence, has since been preserved as the staple of Okinawan identity.
As you could see from the image, the castle gets more of its influence from Taiwan and China rather than Japan, and that makes it one of the most unique castles in the nation. In fact, many designs and culture in Okinawa still gets its roots from the Ryukyu age, and naturally, knowing Shuri Castle would mean that you'd get a grasp of what Okinawan identity is.
Website:
http://oki-park.jp/shurijo/en/
Map:
Ishigaki Cave
https://www.flickr.com/photos/

[email protected]

/9141424385/in/photolist-fychcR-eVZzzE-fyckdM-eVZAv5-eVNbZg-eVZA4Q-eVNaQr-eVZBkN-eVNauZ-eVZAVb-cFBatf-eVZAvm-eVZBcm-eVZA61
Although Okinawa is known for its sunny weather, it is also home to the fastest growing stalactites in Japan. The Ishigaki Cave which is estimated to have developed over 200,000 years displays ancient coral reefs and the change that it has gone through over those years. The huge cave is illuminated with lights to create a majestic atmosphere, and you'd find fossils of ancient shellfishes on the floor.
Website:
http://www.ishigaki-cave.com/en/
Map:
Mihama American Village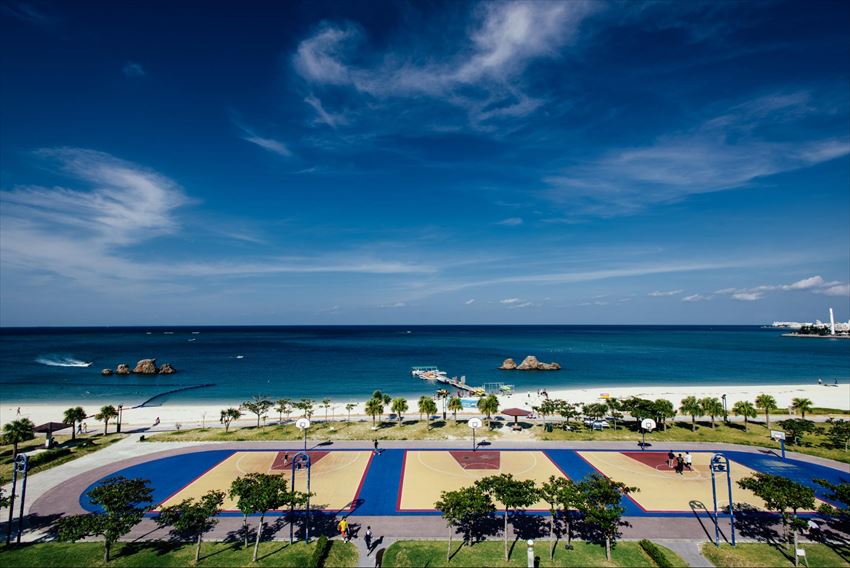 https://www.flickr.com/photos/alanwat/22229851930/in/photolist-cK6sUf-cK6tf7-cK6sAj-cK6tsU-zSnNv9-as8eCH-zS8qVo-asajbu-zcPdYV-asaSnQ-zStakV-zS7Eho-as7Bx2-AaGaLZ-zcFd83-asagfY-zS7Q3A-AaWvGT-AaErbR-zcPrW8-A9JCzp-zcFMxE-asaSBL-AaEPJr-zSoJdC-zcPAxX-zcRg4n-zScCvt-zSdtRc-zSefx6-A9Jnz4-zS8eyJ-zcPEox-zScH2H-zcQWEP-zS8kmq-zcQra6-A8y5q7-zcXh4h-zStwgx-zSdxLB-zS9Gdo-zS9HSf-AaF82n-AaFN8D-as8eWR-asaeNy-A7Gbru-A8PHVN-A8PtKJ
After Japan had lost the war against USA, Okinawa was taken under the administration of the Americans until 1972 when the island was finally handed back to Japan. This 27 year American rein wrote a whole new page in the history of Okinawa, where the unique Okinawan culture with the influence of mainland Japanese culture was combined with American culture.
This is still evident in the island in the form of the multiple military bases. Mihama American Village used to be a military base as well, however, after the base closed, the Okinawans decided to use the facility to make a huge amusement complex. The village comes in full package with hotels, restaurants, and shopping malls all together in one spot.
Website:
http://www.okinawa-americanvillage.com/?lang=en
Map:
Maehama Beach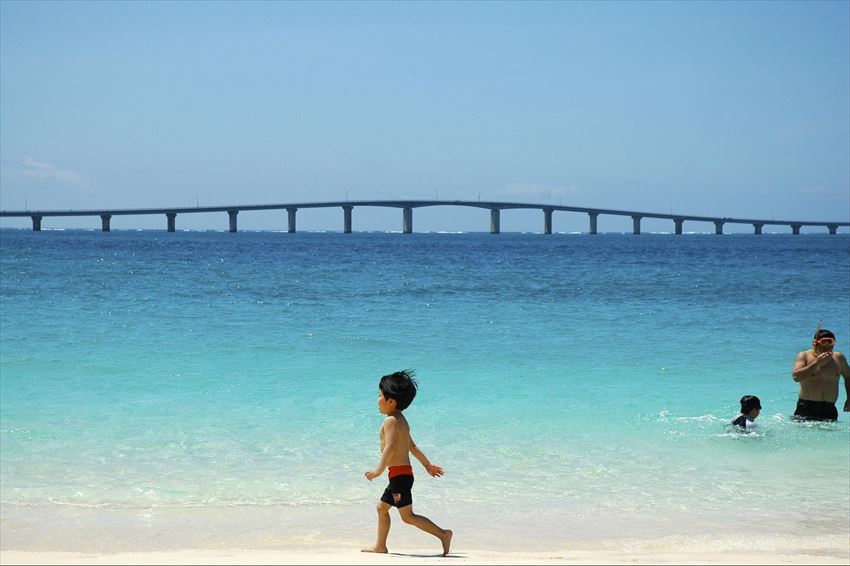 https://www.flickr.com/photos/k14/8712838106/in/photolist-egPMRZ-egVzdE-6Ejfex-dRMmJR-egVxDW-egPMVe-7ZGa7e-egPLkX-7ZKkUA-7ZKjb9-7ZKgf9-7ZG9nH-7ZKkiw-7ZKjmw-7ZG9aD-7ZG9ye-dRMk4Z-7ZKkGw-7ZG4HV
Finishing our list is the most beautiful beach Okinawa has to offer, the Mihama Beach. Okinawa has 363 islands in its territory, each with a stunning view of the Pacific wherever you go. Mihama Beach in Miyako Island prides itself as the most beautiful out of them all, and the images says it all. It is absolutely breathtaking with the contrast of the emerald green sea and the clear blue sky surrounding those who visit.
Naturally, it is one of the biggest tourist attractions for those visiting the island, and people come here repeatedly to see this beautiful scene again and again.
Map:
So there's our list of tourist attractions in Okinawa. Sure, beautiful beach resorts aren't exclusive to the islands, but Okinawa has plenty more to offer than just its nature. Come and experience Okinawa, the island of Gods, the most American prefecture in Japan, and its wonderful people!