ABC Cooking Dashimaki Tamago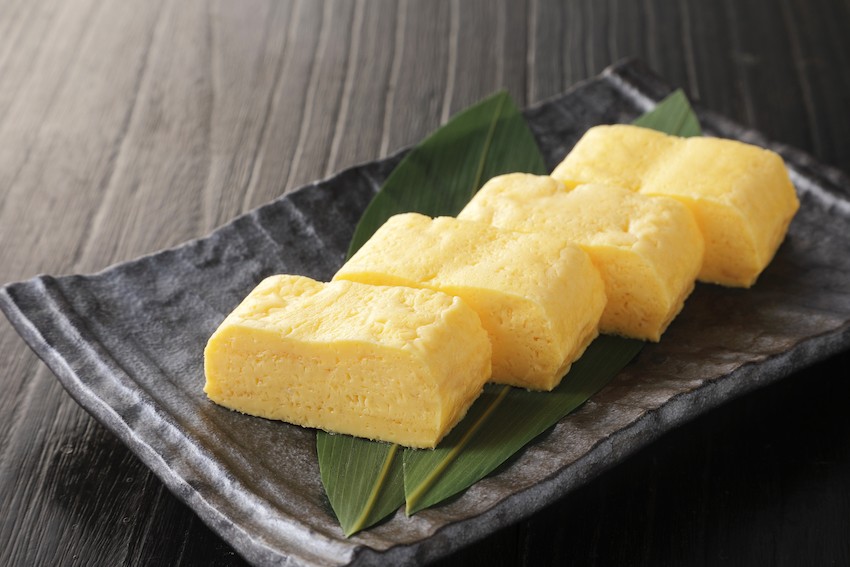 Today, you'll learn how to make ABC Cooking's Dashimaki Tamago. We'll be using ichiban-dashi or the first strain of katsuo-bushi stock, to create a more robust dish.

Ingredients (for 2 servings):
4 eggs

80ml ichiban-dashi
2 teaspoons mirin
1 teaspoon sake
1/8 teaspoon salt
1 teaspoon cooking oil
100g daikon radish
1 teaspoon soy sauce
Preparations
To prepare the seasoning sauce, add mirin, sake, and salt to the ichiban-dashi while it's still warm.
Prepare the daikon by thickly peeling the skin and grate right before serving. Place some paper towel in a strainer over a bowl and let it sit to cut the water in the daikon.
Instructions:
Crack eggs into bowl and scramble eggs with cooking chopsticks as if cutting through the egg mixture. Stir in seasoning sauce and continue to scramble.

Heat the tamagoyaki pan on medium heat spreading cooking oil evenly throughout. Check the heat of the pan by dipping the tips of the chopsticks in the egg mixture and spreading it on the pan. If it cooks quickly, the pan is properly heated.
Soak up any excess oil with a piece of paper towel then pour about 1/6th of the egg mixture into the pan. While the egg is still half-cooked, roll the egg from the back to the front of the pan.
Use the oil-soaked paper towel to spread oil over the pan again and move the rolled egg to the back of the pan.
Pour the remainder of the egg mixture into the pan, spreading it thinly. Make sure the egg spreads underneath the rolled portion of the egg as well.
Once the egg is half-cooked, roll it to the back of the pan.
Repeat the same process as before. Once all the egg mixture is finished cooking, place it in a sushi rolling mat covered in plastic wrap and roll tightly.
Once the cooked egg has taken shape, cut into pieces lengthwise.
Place the cooked dashimaki tamago on a plate and garnish with grated daikon radish on the side. Dip in grated daikon radish and soy sauce to taste.
Looks delicious right? This recipe is provided by the leading Japanese cookery school, ABC Cooking Studio.
Please have a go at making it yourself!
ABC Cooking Studio (English Classes)
Click here or scan the QR code to learn more!


[Survey] Traveling to Japan