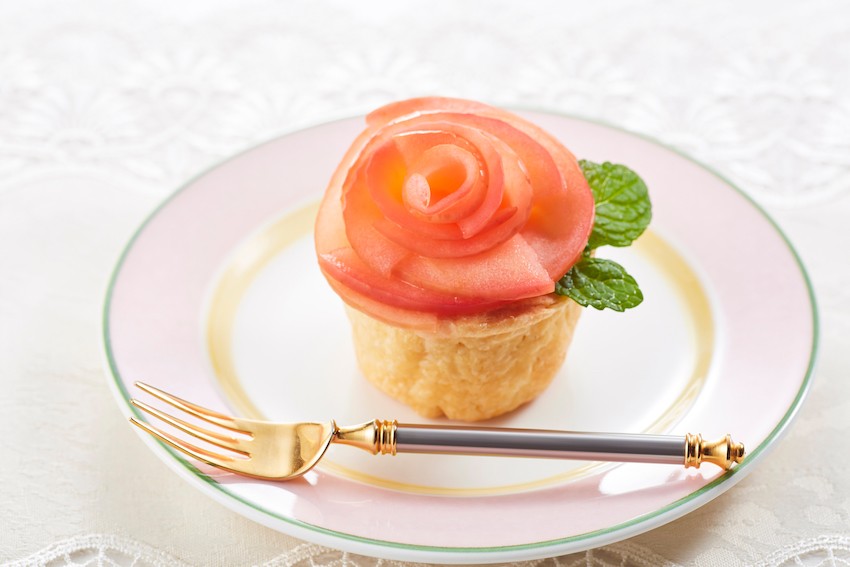 This tart is so cute, you won't want to eat it! Watch the following video for easy instructions on how to make this fancy rose tart.
Ingredients: makes 6 small tart cups

6 small tart cups

1 apple
50g custard powder
150ml milk
Moderate amount of spearmint
Instructions:
Cut the apple in half, remove the core, and cut into thin slices without removing the peel.

Place apple slices on a heat-resistant plate, cover with plastic wrap, and heat in microwave. (3 minutes for 600 Watt microwaves)
Combine custard powder and milk in a bowl and mix. Place in refrigerator to chill. (Custard cream)
Distribute custard cream into tart cups, line up heated thinly sliced apple pieces, roll into a circle from the outer edge to create a rose shape, and place into tart cups.
Garnish with spearmint.
Looks delicious right? This recipe is provided by the leading Japanese cookery school, ABC Cooking Studio.
Please have a go at making it yourself!
ABC Cooking Studio (English Classes)
Click here or scan the QR code to learn more!


[Survey] Traveling to Japan