Berry & Cream Cheese Wreath Tart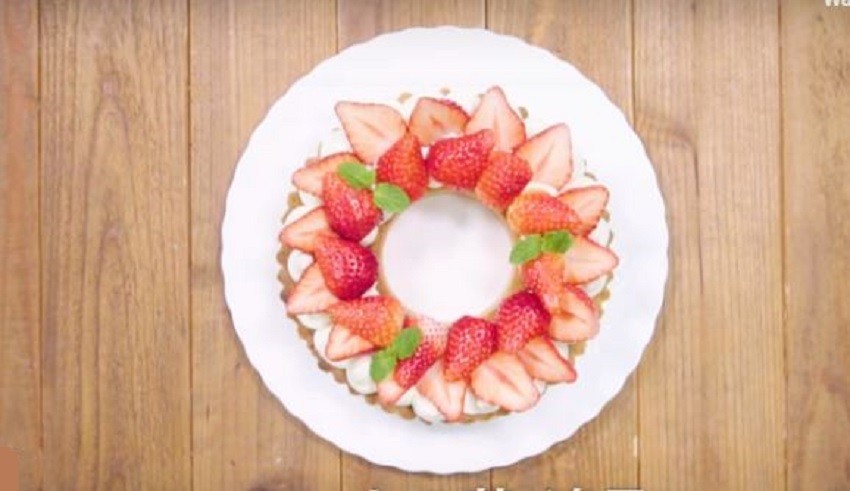 If you are entertaining at home, your guests will surely be impressed and delighted if you have prepared a homemade cake especially for them. Why don't you try to make a berry and cream cheese wreath tart?

Ingredients (For 1 18cm tart mold)
For the tart case:
 200g hot cake mix
 4 tablespoons salad oil
 2 tablespoons milk
 20g sugar
 A pinch of salt
For the filling*
 150g cream cheese
 20g sugar
 200g fresh cream
 300g strawberries
 Mint leaves
Preparation
Preheat the oven to 180 ° C.

 Combine sugar with the cream cheese and add fresh cream little by little, mix with an electric hand mixer, leave to stand for 9 minutes, and put in a piping bag.
 Remove leaves from the strawberries cut fruit in half.
Cooking method
Put the tart case ingredients in a plastic bag, mix and knead well, take out once it forms a single ball, and place it on wrapping film or a lightly floured surface.

Put more wrapping film over the top and roll it out with a rolling pin until it fits the greased tart mold.
Trim the overhanging edges, center a cake ring or circular cookie cutter (about 10 cm diameter) on the base of the tart case and die-cut it out. Use the circle you cut out to wrap around the the cake ring to a height of about 2 cm. Bake it in the oven for about 20 minutes.
Remove the tart case from the mold, pipe in the cream-cheese mix, and decorate with strawberries and mint leaves.
Looks delicious right? This recipe is provided by the leading Japanese cookery school, ABC Cooking Studio. 
Please have a go at making it yourself!
ABC Cooking Studio (English Classes)
Click here or scan the QR code to learn more! 



[Survey] Traveling to Japan