Nikujaga of ABC Cooking Studio Version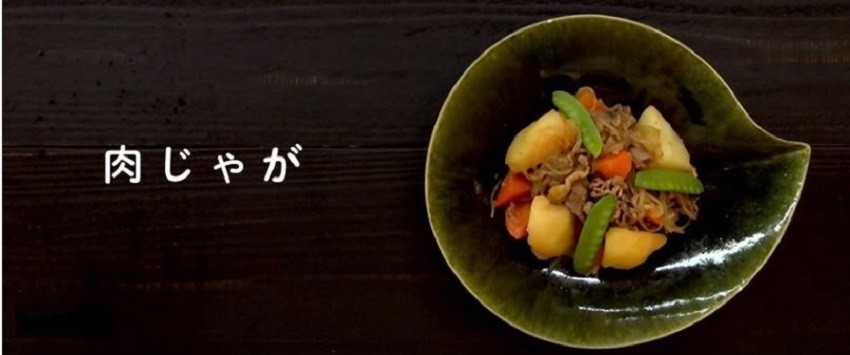 This is probably the most common Japanese homemade dish and is loved by almost everyone. In addition to the recipe, we have an easy-to-follow video which is prepared by ABC Cooking Studio!
Ingredients (serves 2)
120g thin sliced beef (short rib, chuck or rib eye)

 1/2 teaspoon of salad oil
 160g potatoes (Irish Cobbler or similar variety)
 50g carrot
 80g onion
 50g of shirataki (noodle-shaped konjac)
 40cc sake
 100cc dashi broth
 1/2 tablespoon cane sugar
 1 tablespoon mirin
 1 tablespoon soy sauce
 1/4 teaspoon soy sauce
 4 slices of snow peas
 hot water
 pinch of salt
Preparation
 Cut the beef into roughly 5 cm wide strips.

Peel the potatoes and remove sprouts, cut into bite-sized pieces and rinse under cold running water for about 5 minutes.
Chop the carrots into large pieces.
Cut the onion half, place flat cut side down and slice it into 2 cm-wide semicircular slices.
Boil the shirataki, drain off the water and cut into easy-to-eat lengths.
Remove the stem and the string of snow pea, boil it in salted water, remove and allow to cool. 
Cooking method
Heat up the frying pan, add the salad oil, and fry the beef.

When the color of the meat changes, add in the drained potato, carrot, onion, and shirataki, and sautée until the surface of the potato surface is completely transparent.
Add sake and simmer gently for a while to reduce the alcohol. Add the dashi broth and cane sugar, remove any froth from the liquid, cover with a lid and simmer on a low or medium heat for about 5 minutes.
Add mirin and soy sauce and simmer uncovered for a while longer, close the lid again and simmer on medium heat for another 10 minutes.
Add some soy sauce to finish and boil while turning the ingredients over constantly, turn off the heat and close the lid.
Serve in a bowl and decorate with the snow peas.
Looks delicious right? This recipe is provided by the leading Japanese cookery school, ABC Cooking Studio.
Please have a go at making it yourself!
ABC Cooking Studio (English Classes)
Click here or scan the QR code to learn more!


[Survey] Traveling to Japan