Recommended for Beginners! Character Lunch Box - Honey Bee-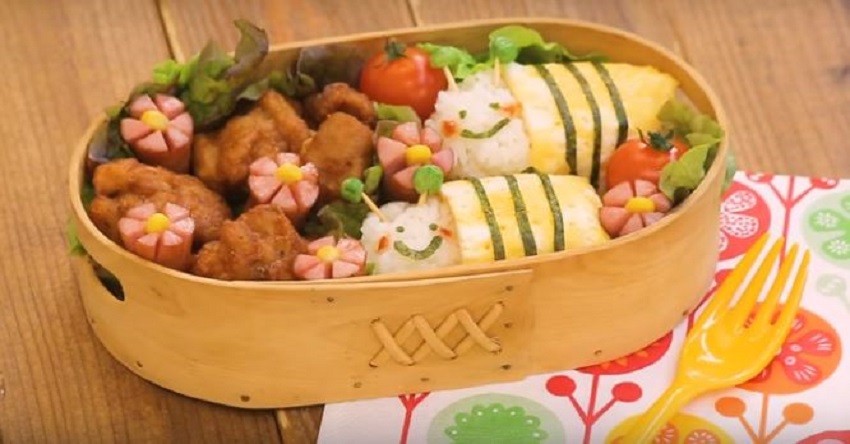 Would you like to prepare a cute lunch box for your kids or significant other? This one is easy even for beginners at making novelty lunch boxes! It is so cute that you might not want to eat it!
Ingredients (Serves one)
120g steamed rice

1 egg (beaten)
1 teaspoon of salad oil
A couple sheets of nori (roasted seaweed)
Tomato ketchup
3 small wiener-style pork sausages (pre-cooked)
6 sweetcorn grains (canned)
4 green peas
2 cherry tomatoes
3-4 pieces of karage chicken (Japanese fried chicken): optional
Preparation
Use scissors to cut the sheets of nori into 6 thin strips 8cm long and save the rest to make the eyes and mouth of the bees.

Cut the sausage into half across its length and make three equal incisions across the section to divide into 6 equal sections.
Cooking Method
Heat the salad oil in a rectangular (if you have) omelette pan, pour in the beaten egg and cook on both sides (approximately 1 minute on medium heat), then turn onto a board and cut the omelette in half.

Fry the sausages in a pan (about 2 minutes on medium heat).
Separate the rice into halves and use wrapping film to press the rice into a cylindrical shape. Cover 2/3 of each rice cylinder with omelette, and then lay the nori stripes across it. Decorate the exposed rice with tomato ketchup and remaining nori for the eyes and mouth, and insert toothpicks with a green pea on the end to make antennae. And there's your honeybee rice ball!
Arrange the rice ball, chicken garage and sausage in a lunch box container lined with lettuce and place a sweetcorn grain at the centre of each segmented sausage. Decorate with cherry tomatoes.
Looks delicious right? This recipe is provided by the leading Japanese cookery school, ABC Cooking Studio.
Please have a go at making it yourself!
ABC Cooking Studio (English Classes)
Click here or scan the QR code to learn more!



[Survey] Traveling to Japan