"Chikuzen-ni" or Chicken and Simmered Vegetables - A Japanese homemade favorite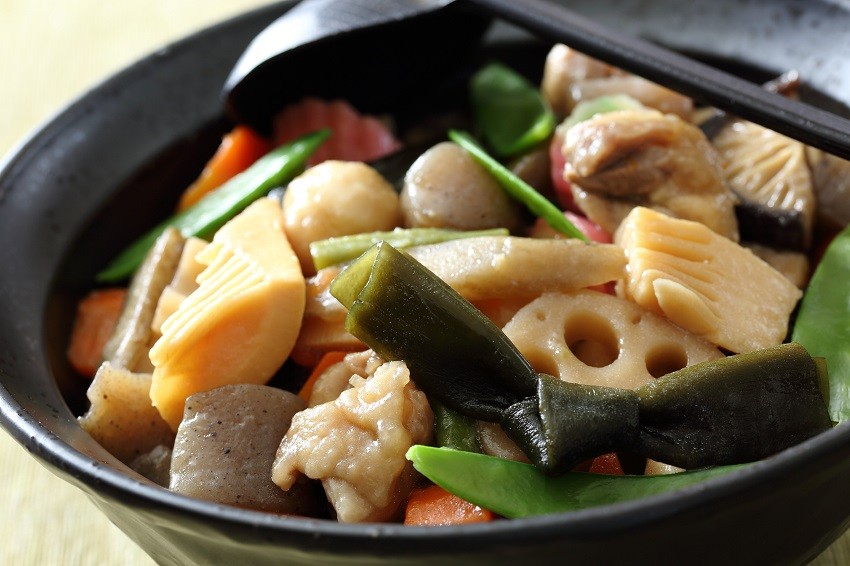 Chikuzen-ni or chicken and simmered vegetables is a popular homestyle dish. Simmered dishes are often served at Japanese dining tables and this one, originally from northern Kyushu, is also served at New Year. It is very nutritious with a balance of ingredients, so is good for people who take care of their health.

Ingredients (serves approx. 2)
chicken thigh 80g
seasoning
1 teaspoon of sake
1/2 teaspoon of soy sauce
60g of lotus root
60g of taro 
40g of konnyaku (gelatinous processed konjac corm)
30g of carrot 
30g of burdock 
4g of dried shiitake mushrooms
40cc of water 
1/2 teaspoon of sesame oil
dashi broth + water used to soak mushrooms 100-140cc
1 tablespoon of sugar cane
1/2 tablespoon of sake
1 tablespoon of mirin (Substitute for Mirin: grape juice + a little sugar)
1/2 tablespoon of soy sauce
1/2 teaspoon of soy sauce
4 snow pea pods
hot water
salt to taste
Preparation
Pat the chicken thigh dry with kitchen towel and trim the fat, cut into small pieces, season them and set aside for five minutes.
Peel and cut the lotus root and taro into large chunks.
Gently pound the konnyaku, and tear it into rough pieces. Boil it in the water for 1-2 minutes, then drain off the water. 
Peel and cut the carrot into pieces. Wash the burdock under running water, and cut into pieces.
Soak the dried mushrooms into lukewarm water. Cut away the base of the mushroom stem, but do not remove the stem itself. Cut it into 2-3 pieces if the mushroom is large. Add the soup stock to the water used to soak the mushrooms.
Remove the stem and the string of snow pea, boil it and take out for cooling down. Cut it into half.
Cooking method
Heat sesame oil in a frying pan, add the chicken pieces and sautee, turning them until they are a light golden color. Add lotus root, taro, konnyaku, carrot, burdock, and shiitake and cook for about 3 minutes at medium heat, stirring constantly.
Add sugar and sake to the dashi and mushroom water and bring to the boil, remove any froth from the broth with a sieve spoon. Cover with a lid and simmer gently for about 15 minutes, stirring occasionally.
Add mirin and soy sauce, and continue simmering it for another 5-6 minutes. Remove the lid, add a touch more soy sauce, stir, and boil for a couple of minutes.
Cover with a lid and turn off the heat. Leave to stand a while, so that the flavors steep in. Place the pieces in a bowl, pour in the soup and decorate with the snow peas.
How delicious is that? This recipe is provided by leading Japan cookery school, ABC Cooking. Please have a try at cooking it  yourself! 

ABC Cooking Studio (English Classes)
Click here or scan the QR code to learn more!


[Survey] Traveling to Japan