Enjoying Enchanting Beautiful Cherry Blossoms at the Kawazu Cherry Blossom Festival
In last early March, I visited the Kawazu Cherry Blossom Festival in Kawazu City located in Izu Peninsula - Shizuoka Prefecture. At this Festival, I can enjoy the beautiful scenery of 8000 Kawazu Cherry Blossom Trees. Besides its beautiful scenery, I also did a culinary tour enjoying both the unique and delicious local foods. The beautiful memories of this interesting flower festival keep staying in my mind.

At the beginning of last March, I went to visit Kawazu Cherry Blossom Festival that was held from February 10th to March 10th, 2017 in Kawazu City which is located in Izu Peninsula, Shizuoka Prefecture. This city is a beautiful small city located about 176 km from Tokyo. Every year, the city is visited by up to one million travelers who come to enjoy the beauty of the 8000 Cherry Blossom trees. The Cherry blossoms that bloom early before the coming spring are called Kawazu Cherry Blossom because the type of this Cherry Blossoms originated from Kawazu City. Kawazu Cherry Blossom Flowers look a little bit different from Cherry Blossom Flowers in general. The flowers have larger petals with bright pink colors.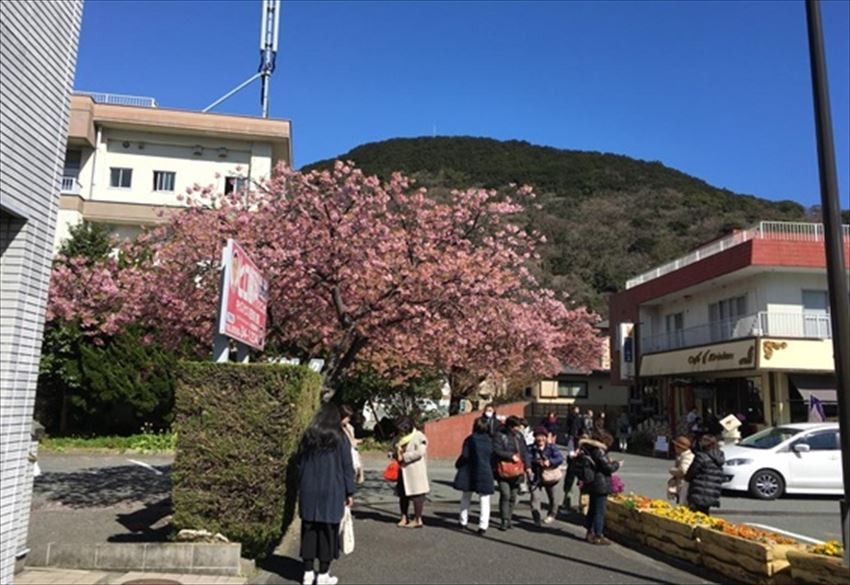 That day was very sunny and the temperature was warm enough considering it was winter, approximately 15 degrees celsius. I went from Tokyo to the Kawazu by riding a train named Odoriko, an express train directly linking Tokyo City to Kawazu City without any transfers. Travelers can choose to ride Odoriko Trains from two main stations in Tokyo, from Shinjuku Station and Tokyo Station. After traveling for 2 hours and 40 minutes, I arrived at Kawazu Station at around 11:30 am. When I arrived, the station was already crowded with both local and foreign travelers who were ready to visit the festival. Outside the station, I can see the scenery of Cherry Blossom Flowers that had full-bloomed on some Cherry Blossom Trees that grew there. After taking some photos, I immediately headed to the festival area.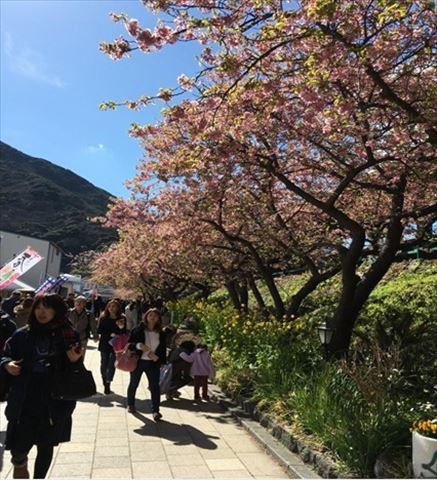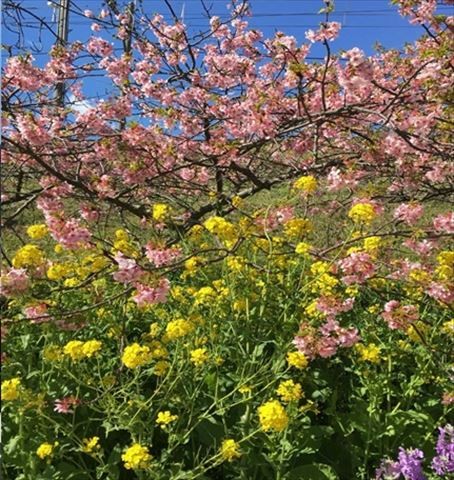 Kawazu Cherry Blossom Festival started from the existing footpath opposite the station. On the right side of the road, I was fascinated to see Cherry Blossom Trees lane that had bloomed beautifully. Besides Cherry Blossom, travelers could also enjoy the beauty of Canola Flowers that widely grew under the Sakura trees. I could not help myself and took some more photos. Actually, I was not the only one who enjoyed taking many photos, but also the other travelers as well. They also wanted to capture the scenic beauty of these Kawazu Cherry Blossom Flowers. Then I continued to walk toward the river. Along the riverside, I was fascinated to see the Cherry Blossom Trees lane planted on the left and right side of the riverside path, that forming such a tunnel. This scene made me feel like I was in a flower city from fairy tales.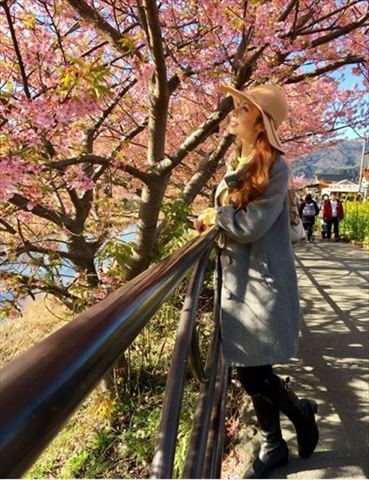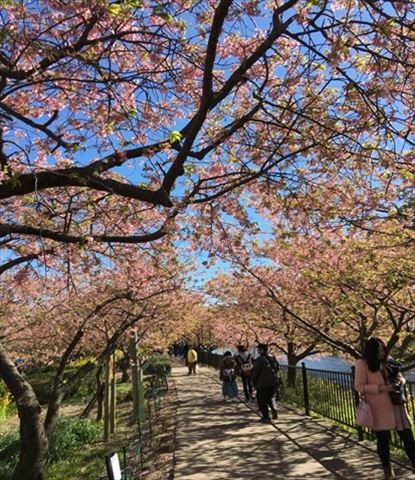 After I felt satisfied with my pictures, I wanted to try some foods sold at the food stalls. I saw a stall selling Taiyaki, a traditional Japanese cake-shaped fish filled with sweet red bean paste (azuki). This Taiyaki Cake was a little bit different, it was not a brownish-yellow color in general, but pink similar to the Kawazu Cherry Blossom color. After eating Taiyaki, I still felt hungry. I stopped by the stall selling snow crab satay. I bought one skewer at a price of 400 yen. Obviously, I made the correct choice! This snow crab satay was tasty and delicious. I felt very happy on that day. While I was fully enjoying the scenery of beautiful Kawazu Cherry Blossoms Flowers, I could also enjoy unique and delicious foods. I returned to Tokyo with some wonderful memories. I hope I can come back again to visit Kawazu Cherry Blossom Festival next year.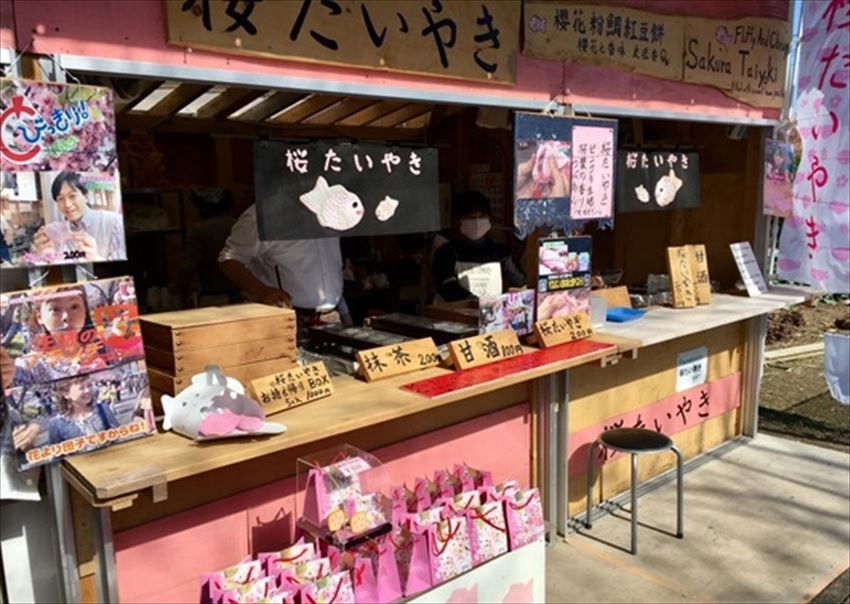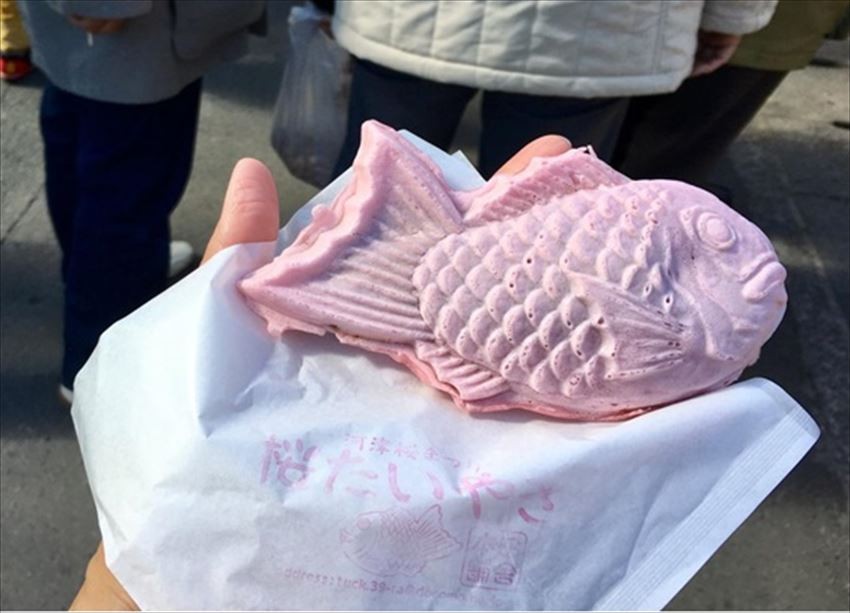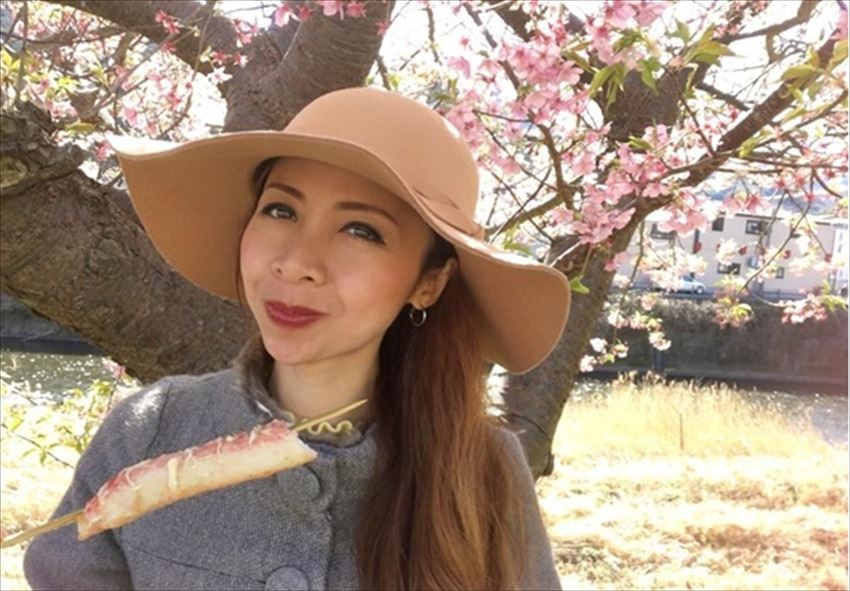 Information
Location: Kawazu Sakura Festival

Address : Kawaduzakurakankoukouryuukan, 72-12, Sasahara, Kawazu-cho Kamo-gun, Shizuoka, 413-0512

Phone : 0558-32-0290

Hours : 09: 00 ~

Holiday : no

Average budget : ¥13,000 - ¥15,000

Map :

[Survey] Traveling to Japan
Recommend