Discerning Women's Organic Lemongrass Rooibos Tea Bags【F_038】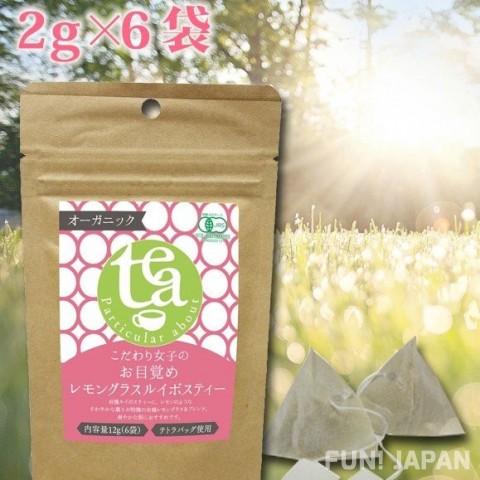 The Introduction of Discerning Women's Organic Lemongrass Rooibos Tea Bags
A blend of the popular organic rooibos tea with organic lemongrass, which has a refreshing scent like lemon. The refreshing scent of lemongrass and the refreshing taste of rooibos are perfect for waking up in the morning. Tetra Pak, which can be easily made even on a busy morning, goes well with breakfast.

The Product Information of Discerning Women's Organic Lemongrass Rooibos Tea Bags
Producing area: Tokushima Prefecture

Manufacturer name: Ogawa Seiyaku
Ingredients: Organic rooibos, organic lemongrass. No colorings, fragrances or preservatives are used.
Weight: 2g x 6 bags
Estimated delivery date
Any time from the middle towards the end of the following month after your purchase is made.

Cautions
* Delays to shipping times may occur depending on the order status, the supply of materials, manufacturing process, etc

* Depending on the monitor settings, the colors actual products may appear differently.
*After a product arrives, returns and refunds will only be accepted if the product is defective upon arrival.
*If the number of orders is much more than the prediction, delivery may be delayed, or the orders exceeded may be cancelled.