Kishu Red Sea Bream Plum【F_001】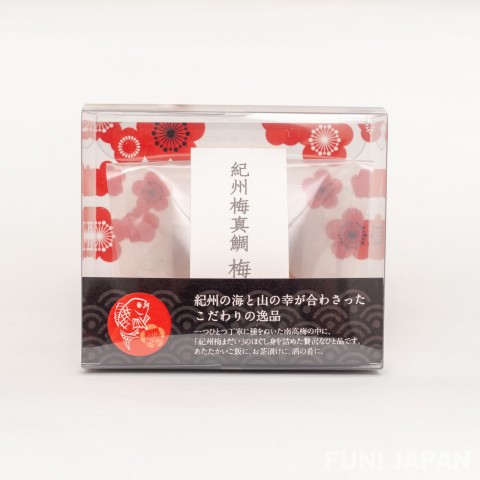 The Introduction of Kishu Red Sea Bream Plum
Made by seeds removed Kishu Nanko Ume and stuffing it with loosened meat of "Kishu Ume Madai" seasoned with sweet and sour miso.

The Product Information of Kishu Red Sea Bream Plum
Producing area: Wakayama Prefecture

Manufacturer name: Iwatani
Ingredients: Seasoned umeboshi (ume , reduced starch syrup, salt, fermented rice seasoning, protein hydrolyzate), tai, miso, grain vinegar, sugar / acidulant, sake spirit, seasoning (amino acids, etc.), sweetener ( Stevia), V.I. B1, (including some wheat and soybeans)
Size: Depth 4.5 x Width 9.5 x Height 8 cm
Estimated delivery date
Any time from the middle towards the end of the following month after your purchase is made.
Cautions
* Delays to shipping times may occur depending on the order status, the supply of materials, manufacturing process, etc
* Depending on the monitor settings, the colors actual products may appear differently.
*After a product arrives, returns and refunds will only be accepted if the product is defective upon arrival.
*If the number of orders is much more than the prediction, delivery may be delayed, or the orders exceeded may be cancelled.