Amazon JP Complete Walk-through : Amazon Japan Shopping Guide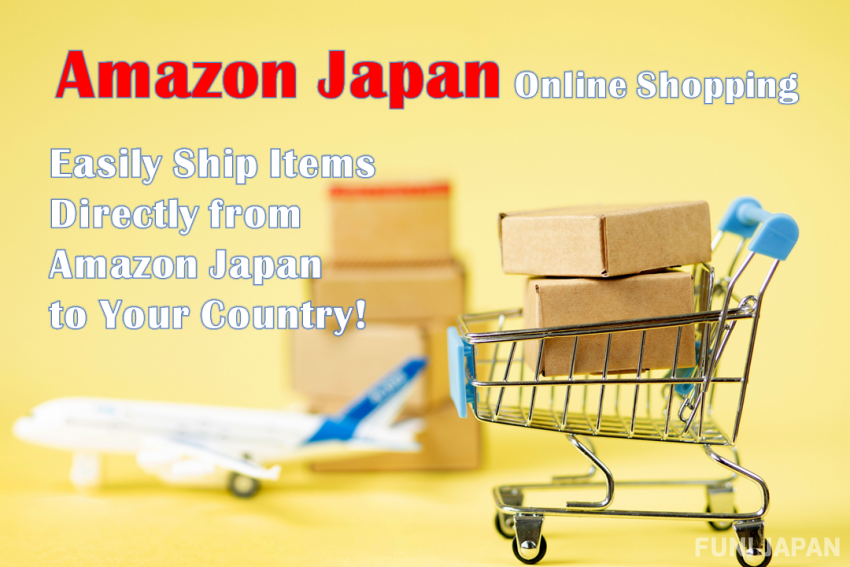 If you're someone who loves Japanese products and online shopping then we're sure you've heard of "Amazon JP". You can actually ship products from "Amazon JP" overseas, so even if you're not living in Japan, you can shop on "Amazon JP". In this article, we are going to introduce how you can easily purchase and ship Japanese products to your home country through "Amazon JP"!

By reading this article, you'll never need to have someone else buy your Japanese products for you again ♪
Let's Get Right Into it! Making an Amazon JP Account!
STEP 1
Head to Amazon JP's home page found here: https://www.amazon.co.jp
On the homepage, you can set your language to either English or Chinese and then press the save button (保存変更).

STEP 2
Click the "Account & List" button, then "Start here".
If you already have an Amazon JP account, then click the "Sign in" button and enter your details to sign in.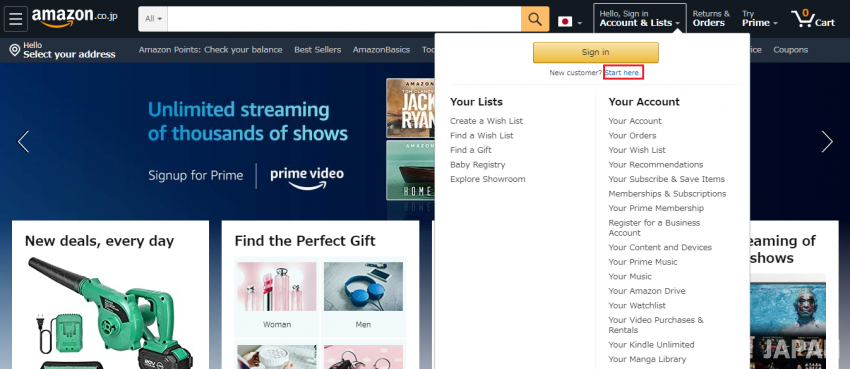 STEP 3
Creating an Amazon JP account.
Enter in your name, email, and password; after finishing, click the "Create your Amazon account" button.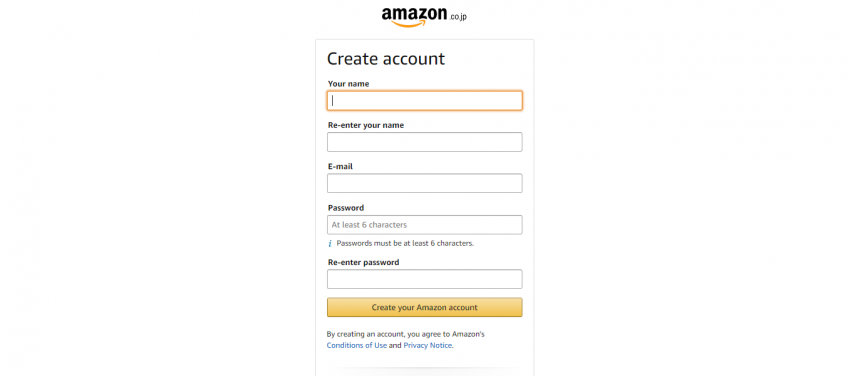 There it is! Your Amazon JP account is created!

Let's Start Shopping on Amazon JP!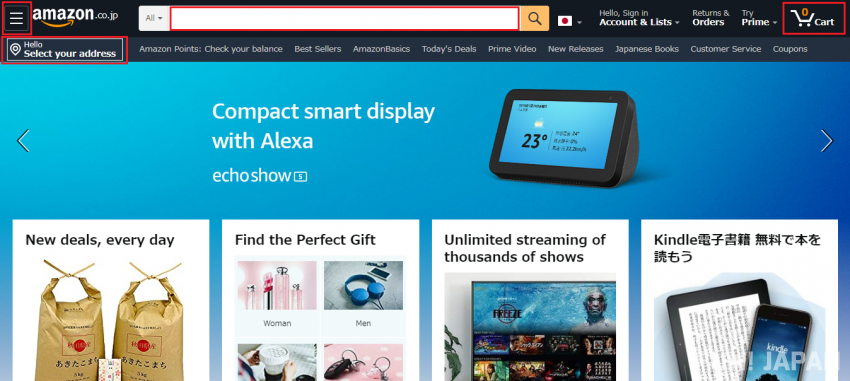 Step 1
When searching for products, click the "hamburger icon" in the top left of the screen, and then you are able to either search for the specific genres of items you want to buy from the "Full Store Directory", or you can search using English characters or Kanji in the search bar to find the items you want. 
Step 2
Click the "Select your address" in the top left, and select the region where you live.
After inputting your address & region, when you put items into your cart, it will tell you the shipping fee as well as the estimated delivery time which is super useful.
In the event that there is an item you choose which cannot be shipped to your specific country, it will be displayed clearly beforehand.
※If you wish to see only products that can be shipped abroad, then you should click "Amazon Global" which will only show you those specific products.
Step 3
Put the products you want into your cart.
Step 4
After finishing your online shopping, click the "Cart" button in the top right, and then "Proceed to Checkout".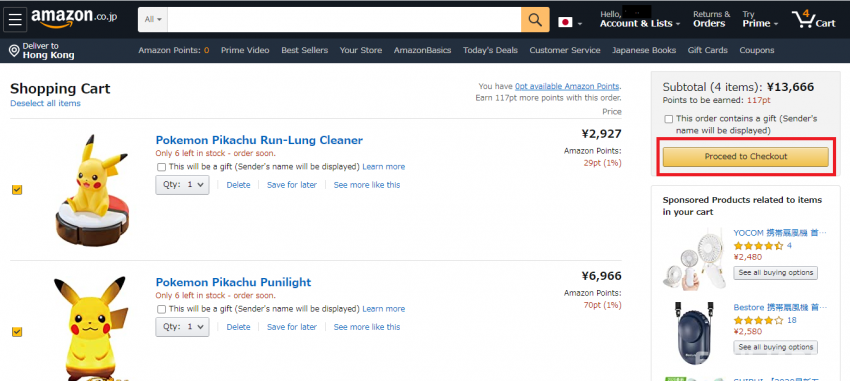 Step 5
After you have clicked "Proceed to Checkout", you will be able to enter your address and other information.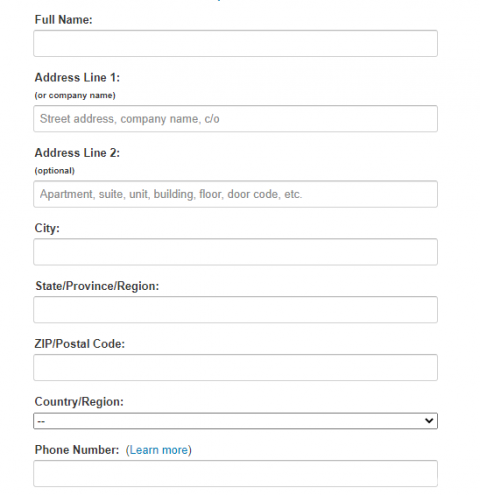 Step 6
After entering your payment information, you will be asked to confirm your order, you can then click "Place your order" and your shopping on Amazon JP is complete!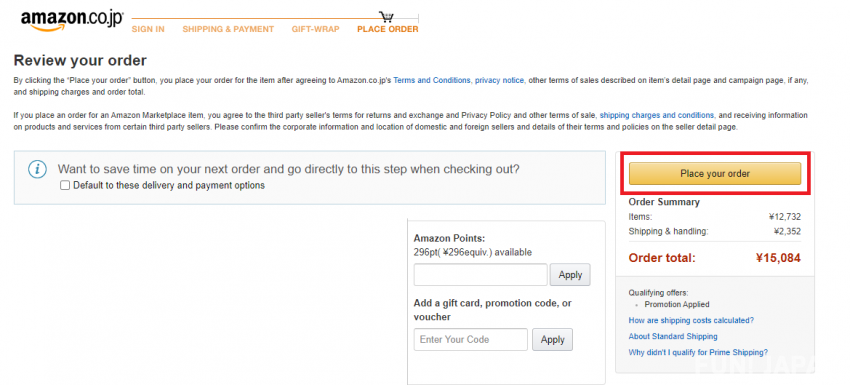 Highly Recommended! Try out Amazon Prime FREE for 1 month!
If you become a prime member, there are lots of useful perks you can use. One of them is "Prime Video" where you can watch various movies, drama, anime, and Amazon Original productions as much as you want!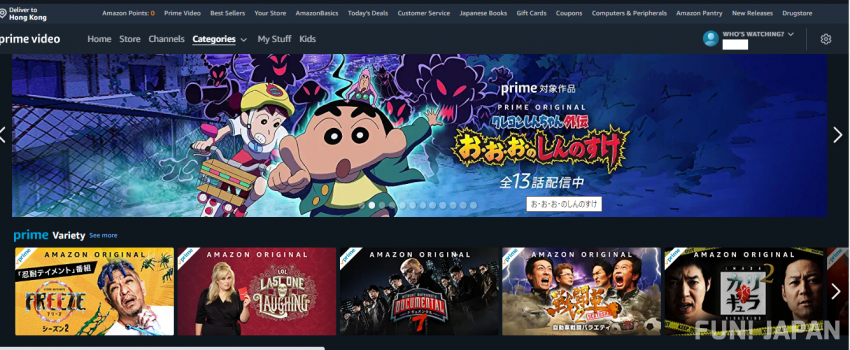 Listen to as much music as you like on "Prime Music" with over 2,000,000 to choose from.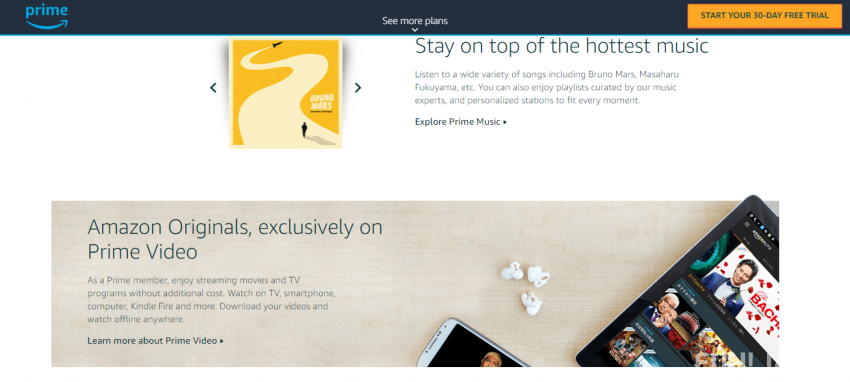 You can use "Prime Reading" to read as many of the books, manga, and magazines on offer as you want! Thanks to all of these amazing perks, Amazon Prime has been gaining popularity year-by-year. 
They also have a 30-day free trial allowing you to try all of the perks without paying a single penny, and you can even cancel it before the 30 days is up to ensure you are charged nothing if you don't like the service. We highly recommend this!

Let's see how to register for this 30-day free trial!
How to Register for the "30-day Free Trial" for Prime

Click "START YOUR 30-DAY FREE TRIAL"
Enter your payment information

Confirm your payment address

After confirming the information, the free trial will begin

You can use Amazon JP even when outside of Japan, look at Japanese products from the comfort of your own home, and order them if you want them which is super useful!

If you ever find yourself wanting some Japanese products, don't look for an agent, just search on Amazon JP yourself.
[Survey] Traveling to Japan