Perfect for a hot summer day! Whole tomato and meat sauce spaghetti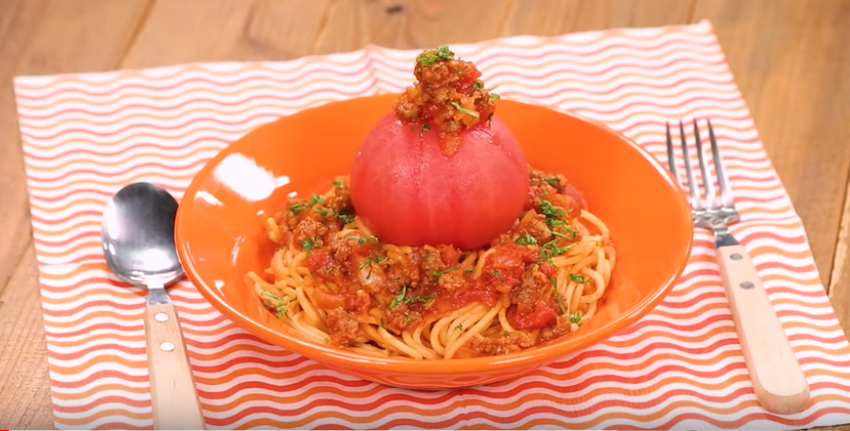 Tomatoes are a must-have ingredient for summertime cooking in Japan. We've tweaked a past recipe to create an even more delicious meat sauce spaghetti.
Ingredients (for 2)
2 whole tomatoes
180g spaghetti
Salt to taste
Pepper to taste
2 teaspoons olive oil
1 clove garlic
200g ground meat
1 whole onion
400g can diced tomatoes
2 tablespoons ketchup
1 tablespoon oyster sauce
2 teaspoons chicken bouillon
Prep
Remove the stem of the tomato and cut a cross shape on its opposite side.
Dice onion.
Instructions
Bring a pot of water to a rolling boil, add salt and spaghetti. Place tomatoes in the same pot, boiling for about one minute. Place the boiled tomato in an ice water bath immediately, then gently remove its skin.
Meat sauce:
・Add olive oil to pan, then garlic.
・Next, add ground meat, then diced onion to pan.
・Add can of diced tomatoes, ketchup, oyster sauce, chicken bouillon and cook at medium heat for approximately 8 minutes.
Add cooked spaghetti to the sauce.
Serve on a plate and top spaghetti with the boiled tomato. Garnish with parsley if desired.
Looks delicious right? This recipe is provided by the leading Japanese cookery school, ABC Cooking Studio.
Please have a go at making it yourself!
ABC Cooking Studio (English Classes)
Click here or scan the QR code to learn more!


[Survey] Traveling to Japan